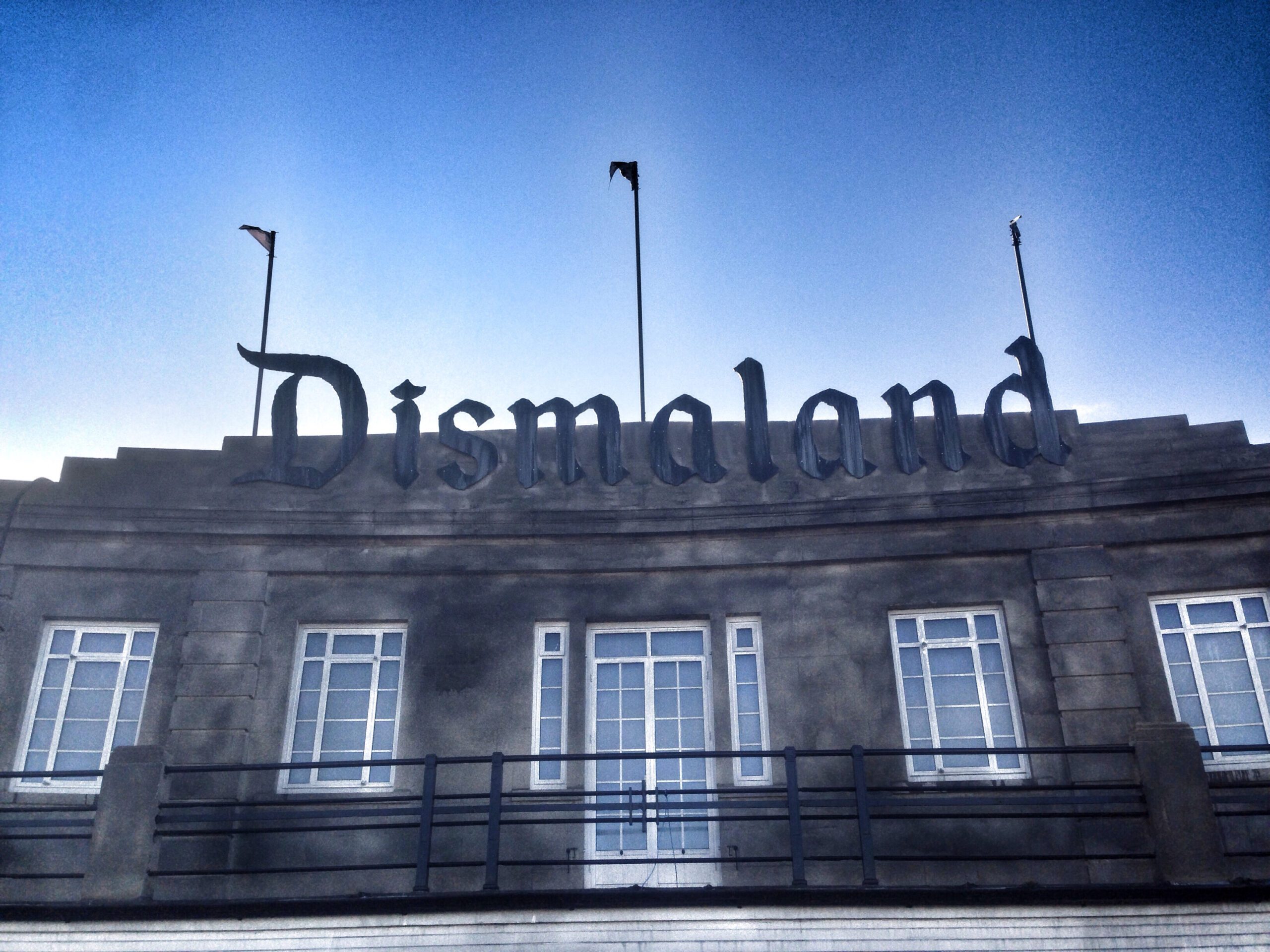 What Is Banksy's Dismaland ?
---
In August 2015, Weston-super-Mare — a sleepy seaside town in Somerset, England — suddenly became the top destination for the upper echelon, welcoming celebrity guests like Brad Pitt, Jack Black and Mark Ronson.
This quaint town, just 18 miles from Bristol, was transformed by anonymous street artist Banksy when he opened his own dystopian Disneyland-style theme park, Dismaland.
Built on the site of an abandoned lido of a seaside resort, Banksy described the pop-up location as a festival of art, amusements and entry-level anarchism.
What Is Banksy's Dismaland?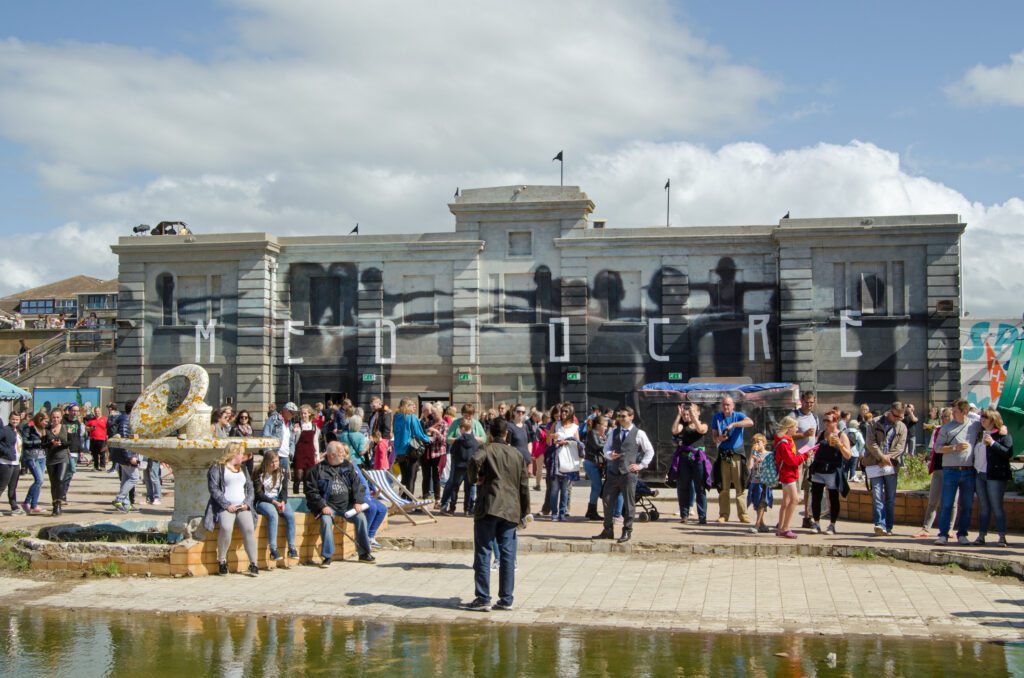 Dismaland was an experimental and interactive art installation that mimicked and mocked similar attractions and characters of the Disney franchise. He later referred to it as a 'bemusement park.' Although the bemusement park seemed to disappear as suddenly as it arrived, the exhibition lives on in the collective memory of the British public.
Seven years on and following, the exhibition remains as relevant as it was when it first opened in 2015. From the core themes of the artworks included to the sheer magnitude of the exhibit, Banksy's dystopian theme park still matters as much as ever.
What Was the Purpose of Dismaland?
Dismaland was a direct reflection of Banksy. Only revealed to the press two days before opening, Banksy's dystopian theme park was as secretive as the elusive artist himself. It's reported that only four members of the North Somerset council were aware of the project's true nature, whilst Weston-super-Mare residents were led to believe that the vast construction site stretching across the beach was a set for a Hollywood crime thriller called Grey Fox.
Many critics disregarded Dismaland as a mere publicity stunt. Yet, in many ways, Banksy's dystopian theme park was much more than just a flashy art exhibition. The 150,000 guests visiting the exhibition brought in over £20 million in extra revenue for Weston-super-Mare and the surrounding area, which was three times as much as initially projected.
Like much of Banksy's work, there is inherently political and social commentary within Dismaland. The premise of creating an attraction was to promote tourism and attention to smaller towns, but also deliver a message and to pull back the curtain on the reality of the fairytale that is not fit for Cinderella.
Banksy is fond of creating artwork in unusual and unknown locations, often placing small towns on the map and drawing in tourism.
For example, on 13th August 2021, the anonymous street artist confirmed that he was behind the British seaside 'spraycation' murals, a series of artworks that appeared across the British coast, including in Lowestoft in Suffolk, Gorleston, in Great Yarmouth and Cromer and King's Lynn, in Norfolk. These works have already begun to bring in extra tourism for the coastal towns, with busloads of tourists crossing the country to get a glimpse of Banksy's art.
What Kind of Art Was Featured in Dismaland?
Over 58 handpicked artists contributed to Dismaland, including Damien Hirst, David Shrigley, and the Connor Brothers. Every work took a satirical, more often than not, politically motivated stance, with the Connor Brothers curating and producing a refugee-themed act performed by the Russian feminist protest group Pussy Riot.
Calling to the visitors' attention public socio-political issues like global warming, immigration, and the rise of fake news, Banksy described Dismaland as "a theme park whose big theme is — theme parks should have bigger themes."
Dismaland also includes three galleries showcasing contemporary artworks created by the assembled international artists. The works on display were conveniently chosen to go along with the dystopian theme, and the UK street art legend described them as the finest collection of contemporary artworks ever assembled in a North Somerset seaside town.
One of the highlights of the Bemusement Park is an armored police riot vehicle transferred into a waterslide. Placed on a swampy area just outside the princess castle, this Water Cannon Creek installation offered visitors a delightful break front the summer heat, dipping into a pool with a glitched little mermaid-inspired statue at the end of the slide.
Two of the biggest installations placed on the Weston-super-Mare ground are the Stallion created out of scaffolding by Ben Long, and Big Rig Jig, a large-scale interactive piece by Mike Ross made in 2007.
Stallion is a massive sculpture comprised of scaffolding components to form the shape of stallion rearing. Long has been known to use the unique medium to create whimsical structures from something mundane and commonly associated with rigid construction.
Big Rig Jig follows a similar narrative as being made from repurposed semi trucks.  The sculpture was initially built for the Burning Man Festival at the American Steel art fabrication shop in Oakland, California, as a commentary on America's unsustainable oil economy.
Opening just a year before the political turmoil of 2016, the anonymous artist's theme park foreshadowed many humanitarian issues that remain pertinent to this day, including the increasing police presence, migrant and immigration rights, and the media's rising influence over society.
What Happened to Dismaland?
Like one of the artist's latest seaside murals, We Are All In The Same Boat, many artworks at Dismaland tackled ongoing socio-political issues and were used for later exhibitions.
However, following the theme park's closure in September 2015, all the dismantled materials were recycled and made into shelters for homeless immigrants to reduce waste and send a message on the possible sustainability measures other temporary attractions can take.
How Dismaland Affected Banksy
With tickets to the exhibition nearly impossible to attain and the theme park only running for one month, the monumental project undoubtedly fuelled the public's appetite for the anonymous street artist.
According to Sotheby's Mei Moses indices analysis, contemporary artists show an increment of 3% in their compound annual return after a noticeable exhibition. In the years following Dismaland, Banksy saw a considerable increase in auction sale pricing with exceptional peaks in 2018, with Girl With Balloon and the record-breaking Love Is In the Bin in 2021. 
Dismaland was, of course, just one of many catalysts in Banksy's rise to international stardom, but it certainly aided his success. Years after the exhibition opened, Banksy's Dismaland is still a popular topic for conversation, both within and outside the art world. Whether spoken of with fond nostalgia or used as a benchmark for outrageous art, Dismaland remains central to Banksy's practice and the wider world in 2022.
---