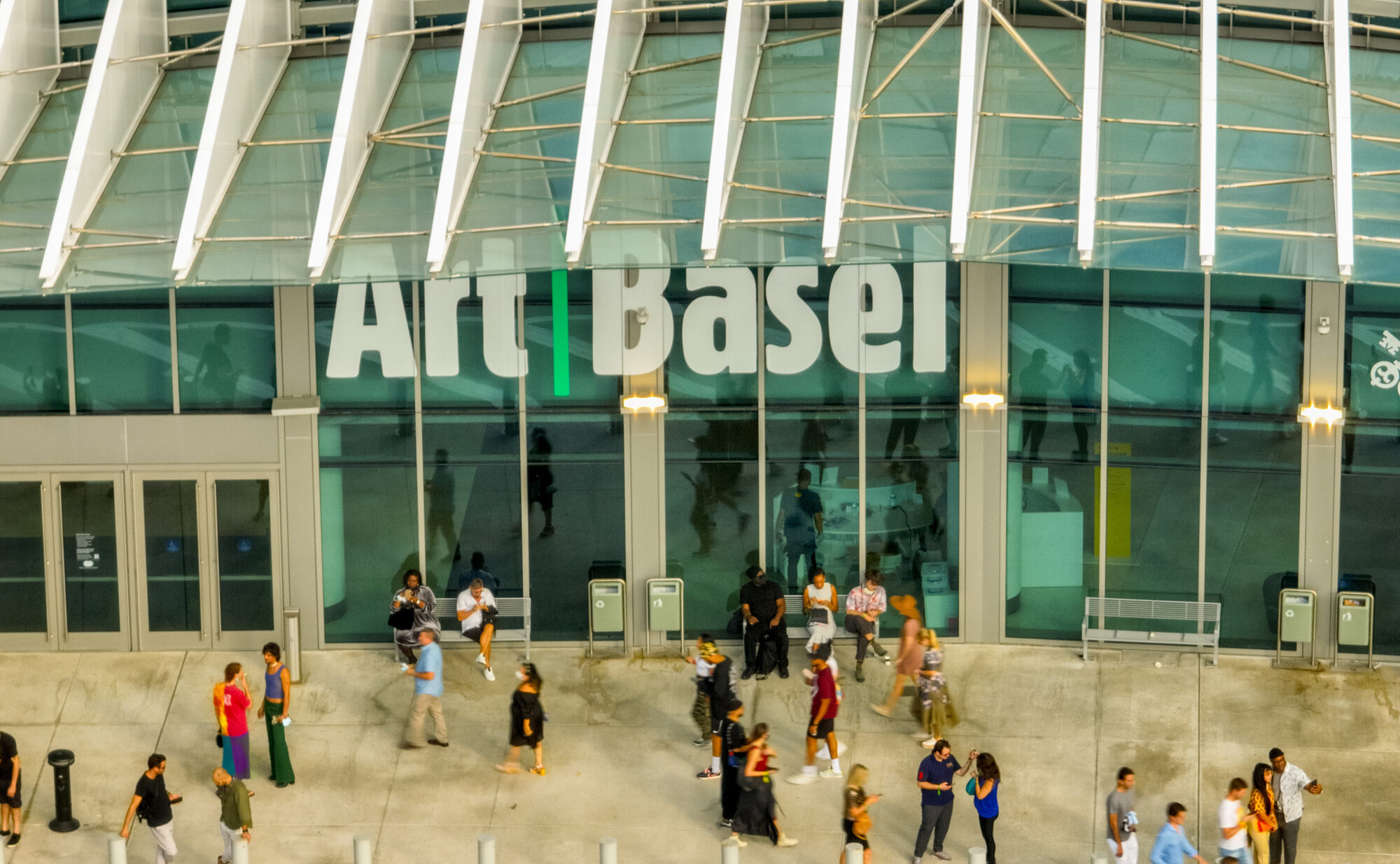 What Is Art Basel Miami Beach?
---
Art Basel Miami Beach celebrates its twentieth birthday this year, meaning the annual international art fair is poised to dominate the season once again. Since launching in 2002, Art Basel has become North America's premier art fair and an anticipated fall event in Miami, Florida.
This year's show is open to the public Thursday, December 1 through Saturday, December 3, with the invitation-only VIP, and media previews scheduled to take place between Tuesday, November 29 and Wednesday, November 30
What is Art Basel Known For?
Art Basel Miami Beach is an annual art show held in Florida, first staged in 2002. Art Basel is an extensive art fair that stages four significant fairs each year — in Hong Kong, Basel, Miami Beach, and Paris for the first time this year. The fair focuses on modern and contemporary artworks and puts nearly 300 galleries from across the globe in front of the art world's top curators, museums, and collectors.
The week of Art Basel has become a significant draw for Miami, with parties, satellite fairs, and major events being held in conjunction with the show—now known collectively as Miami Art Week.
The week-long affair is considered one of the world's most prominent Contemporary Art fairs, with the world's largest gallerists and collectors flocking to the various locations to purchase scope or be seen.
What Happens at Art Basel Miami?
Art Basel Miami Beach comprises eight sections:
Galleries: Works from leading galleries
Meridians: Large-scale, boundary-pushing projects
Nova: Works created within the last three years
Positions: Dedicated to emerging artists
Survey: Works highlighting artistic practices of historical relevance
Edition: Editioned pieces
Kabinett: Curated exhibitions
Magazines: International art publications
The show also includes a schedule of moderated panels as part of its Conversations series.
Where is Miami Art Basel?
Art Basel Miami Beach 2022 is at the freshly renovated Miami Beach Convention Center. The hours of the fair are:
Thursday, December 1, 2022, 11am to 7pm
Friday, December 2, 2022, 11am to 7pm
Saturday, December 3, 2022, 11am to 6pm
What Are Some Events at Art Basel Miami This Year?
Art Basel is the centerpiece of a week of exhibitions, fairs, and other arts and cultural events throughout Greater Miami & Miami Beach during Miami Art Week.
No matter what time of year you visit, you'll always find world-class arts and cultural activities here.
December 1st
On the first public day of the fair, various artist talks are taking place at the main convention center in South Beach.
Along with the booths and other demonstrations in the convention center, there are also other events to consider visiting around South Beach into downtown Miami and the Miami design district.
Start the day at NADA (New Art Dealers Alliance) Miami 2022, showcasing a diverse selection of 146 galleries, art spaces, and nonprofit organizations spanning over 40 cities around the globe. Doors open at 11:00 AM at the Ice Palace Studios
One mile from the NADA fair is the Wynwood neighborhood famed for its hundreds of street art murals. December 2 and 3, in the center of Wynwood at Soho Studios (2136 NW 1st Ave.; entrance on NW 22nd St), Prime Video presents a larger-than-life immersive art activation centered around the original series "Riches." The display celebrates elements from the show, exemplifying the freedom of expression and identity in the Black diasporic experience through photography, sculpture, painting, music, video, and performance art.
December 2nd
ICA Miami, or the Institute of Contemporary Art, a mile north of Wynwood, is where an exclusive, free concert by Russian protest punk band and performance artists Pussy Riot is taking place.
Doors open at 7:00, and RSVP online is required. NOTE: RSVP doesn't guarantee entry, and with limited room, attendees are asked to arrive at 7:00 if they expect to see the show.
December 3rd
The massive annual art fair will be bigger than ever, with 283 leading galleries from 38 countries and territories worldwide to Miami Beach, including 26 first-time exhibitors.
To mark the two-decade milestone, Art Basel will extend beyond the convention center floor and into the Miami community with a schedule of cultural programming across the city's world-class cultural institutions and private collections.
What Is the Significance of Art Basel Miami?
Success in Miami had been anything but guaranteed when a Florida edition of the Swiss fair was first introduced in 2001.
Indeed, the fair has met challenges ranging from its cancellation in its first year due to the 9/11 terrorist attacks, to the impact of hurricanes on both the city and the convention center site, and of course, the recent worldwide disruption caused by the Covid-19 pandemic
Like most international art fairs, Art Basel is designed to showcase the most current and significant Contemporary Art and the art scene to the public. The Florida edition and the expansion of Miami Art Week display integrity to the market and interest in Ultra-Contemporary Art.
Last year, Art Basel Miami Beach was a playground for NFTs and the Metaverse; this year, for the 20th anniversary, we wait with anticipation of what deals are occurring down south and how the market is responding to the recent New York sales.
---