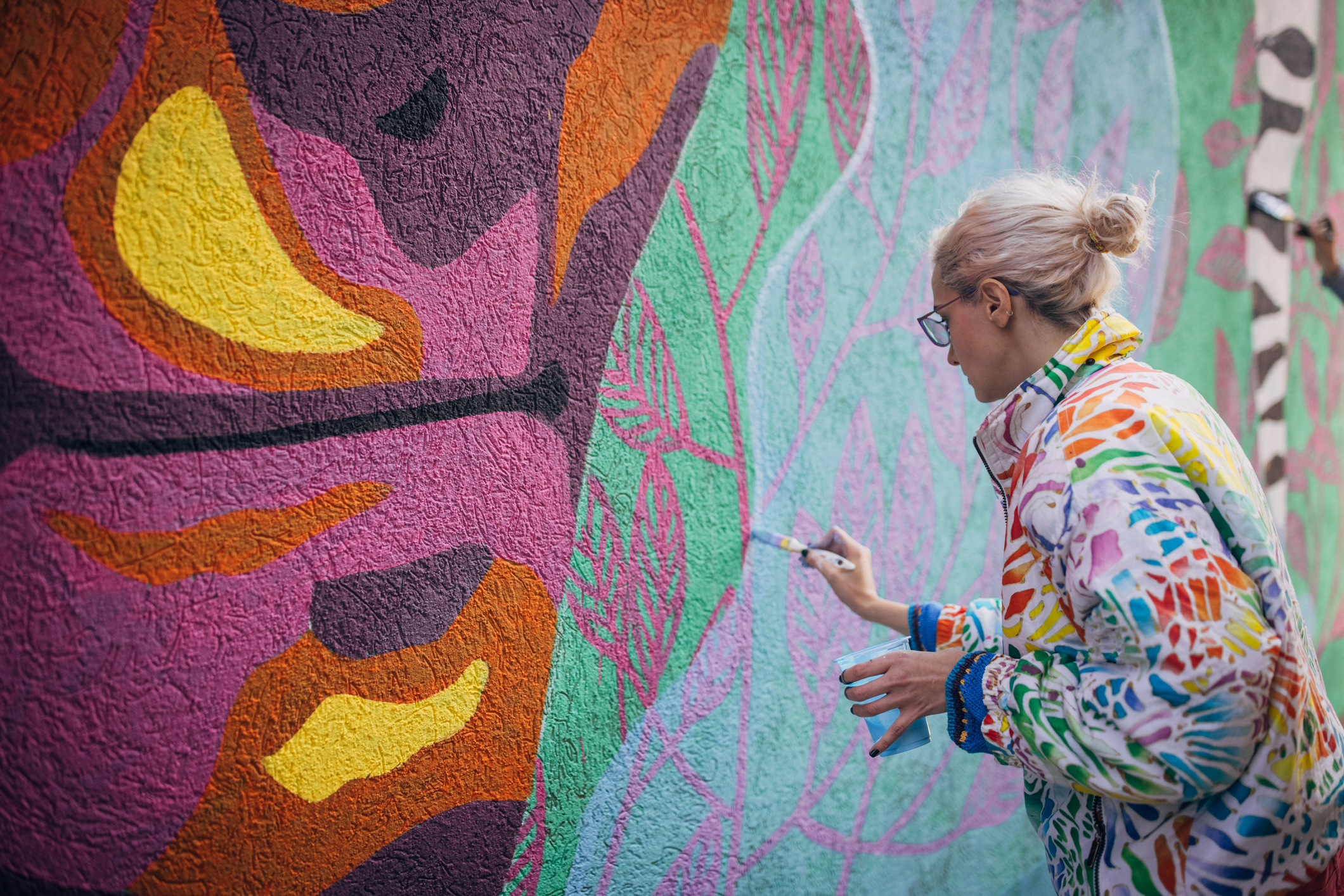 21 Famous Murals From Around The World
---
Urban art murals are integral to any city's uniqueness and identity. The movement grew in popularity in the 1960s in Philadelphia, setting the stage for other artists worldwide.
Mural artists don't just fuel creativity. Through their art, they raise awareness of important political and social causes, unite people during turbulent times, and voice out society's hopes for change.
Let's discover 21 of the most famous murals from all over the world, the street artists who designed them, and the messages they convey.
We'll also show you how you can invest in iconic artworks from some of these famous artists through Masterworks.
21 Famous Murals From Around The World
These are the most famous murals in the world:
1. My God, Help Me to Survive This Deadly Love by Dmitri Vrubel 
Location: Berlin Wall, Germany
This iconic mural by Dmitri Vrubel is based on a 1979 photograph by Régis Bossu, taken at the German Democratic Republic's 30th anniversary celebrations.
The mural painting (also known as Fraternal Kiss) features communist leaders Leonid Brezhnev and Erich Honecker kissing.
It's one of the most photographed mural art pieces on the Berlin Wall.
Did you know: A recent remake (Make Everything Great Again) featured Vladimir Putin and Donald Trump kissing.
2. Girl with Balloon by Banksy
Location: London
This iconic mural by Banksy features a young girl (with wind blowing through her hair and dress) trying to catch a heart-shaped balloon floating away.
A 2017 poll revealed that Girl with Balloon was Britain's favorite urban art piece.
Why is Banksy's mural so popular?
The piece symbolizes hope and love and their fleeting nature.
In 2014, the artwork was removed from the shop it was painted on and sold for over $800,000.
3. The Radiant Madonna by Owen Dippie  
Location: Brooklyn, New York
In The Radiant Madonna, Owen Dippie pays homage to one of his idols, Keith Haring. The New York City mural shows Madonna holding a baby drawn in Haring's signature style.
The art piece is now a part of the Bushwick Collective's mural collection in Brooklyn.
4. ​​Man, Controller of the Universe by Diego Rivera
Location: Palace of Fine Arts, Mexico City
Diego Rivera's iconic mural in Mexico is a recreation of his Man at the Crossroads, commissioned by John D Rockefeller.
The mural portrays a world coming to terms with politically unstable times. It also explores the themes of humanity's technological advances and what the future holds. Rivera paints a picture of hope where all races unite and work towards a brighter future.
The mural painting also features many portraits, including communist leaders and even Rockefeller. The latter is illustrated as a wealthy capitalist, unconcerned by the suffering and hunger of the lower class.
Fun fact: Man at the Crossroads was started at the Rockefeller Center.
The initial idea was to include a portrait of communist leader Lenin, which riled up Rockefeller, a capitalist. Rockefeller demanded Rivera remove the portrait but was refused. He never let Rivera complete the mural and had it destroyed.
Fortunately, Rivera had photographs of his work so he could replicate it with Man, Controller of the Universe.
5. Omniscience (Omnisciencia) by José Clemente Orozco
Location: House of Tiles, Mexico City
This 1925 mural is painted on the wall of a restaurant, formerly an 18th century palace. Francisco Sergio Iturbe, a patron of the arts, commissioned the mural.
Orozco portrays a symbolic figure representing Grace overlooking two masculine energies and their female counterparts.
6. Crack is Wack by Keith Haring 
Location: East 128th Street and 2nd St. – Harlem River Drive, New York
New Yorker Keith Haring painted this 1986 mural to create awareness about drug addiction in North America. Crack cocaine use became an epidemic in the mid-to-late 1980s, and Haring aimed to caution young people against its harmful effects.
Haring also had first-hand experience dealing with the fallout of this drug. His studio assistant Benny, who struggled with addiction for years, nearly died in 1984.
Benny had tried various methods to escape this addiction, including seeking help from hotlines and counselors. At the time however, there was hardly any support from such places, and health and government agencies were slow to react.
So Haring took matters into his own hands and created the Crack is Wack mural using his signature animated figures and abstract, bold outlines.
7. Tuttomondo by Keith Haring
Location: Church of Sant'Antonio Abate in Pisa, Italy
Tuttomondo ('all world' in Italian), painted in 1989, is the largest mural in Europe (about 180 square meters).
It all began when Italian student Piergiorgio Castellani, a winemaker, met Keith Haring in Manhattan in 1988. Castellani invited Haring to visit Pisa and create something impactful.
The amazing mural features 30 figures with an underlying theme of peace and harmony. When the mural was complete, Haring gave the Castellanis an original drawing they could use as a wine label.
The Castellanis used it on their Super Tuscan wines for the 30th anniversary of the mural. The proceeds went to the local artist residency program at Materia Prima.
8. Mt. Rushmore of Art by Eduardo Kobra
Location: 10th Avenue and 22nd Street, Los Angeles
Mt. Rushmore of Art honors some of the most iconic modern art creators, including:
Andy Warhol
Frida Kahlo
Keith Haring
Jean Michel Basquiat
Kobra even included some of the late artists' unique signatures, like Haring's bold figurine outlines and Basquiat's dinosaur with a crown, "Pez Dispenser."
Fun Fact: Kobra also created the famed Bob Dylan mural portrait in 2015 in Minnesota.
9. The March of Humanity on Earth and into the Cosmos by David Alfaro Siqueiros
Location: The Polyforum Cultural Siqueiros, Mexico City
This colorful mural by local artist David Alfaro Siqueiros is about 100,000 sq ft.
The public work is both a mural and a sculpture, with the outer part consisting of 12 panels. Each panel has either a theme or a symbolic concept (like the environment, destiny, Christ, dance, mythology and more).
The overall theme of Siqueiros' beautiful mural is humanity's constant struggle throughout history and the efforts to create a better society.
The mural painting has four main parts:
The March of Humanity Towards Bourgeois Democratic Revolution
The March of Humanity to the Revolution of the Future
Peace, Culture, and Harmony
Science and Technology
The March of Humanity, depicted in the mural, begins with a volcanic eruption. It also features an Adam and Eve type replication where two people stand before a poisonous tree. The message is that humanity's confidence is poisoned.
Another image shows hope — a different tree takes the place of the first and new leaders blossom from the struggle.
Siqueiros also depicts a female leader born from the volcano. Another woman, with geometric dimensions, portrays peace, harmony, and culture that will revolutionize society.
10. Ruth Bader Ginsburg by Elle Street Art 
Location: 177 1st Ave, East Village, New York
After Honorable Justice Ruth Bader Ginsburg (RBG) passed away in 2020, a jaw-dropping colorful mural portrait popped up in the East Village, NYC. It was created by Elle Street Art, together with the Little Italy Street Art Project (LISA).
This New York City mural showcases aspects of Ginsburg's impressive life.
For example:
The shade of blue behind RGB represents the Library of Congress' ceiling.
On her left is the Brooklyn Bridge, an ode to her childhood district.
The beautiful mural also depicts the Statue of the Contemplation of Justice that's outside the Supreme Court house.
11. Mexico Through the Centuries by Diego Rivera
Location: Palacio Nacional (National Palace), Mexico City
Mexico Through the Centuries is a stunning piece of art by Diego Rivera. It features a depiction of pre-hispanic Mexico and themes around revolution, independence, the struggle against capitalism, and more.
Many historical individuals are portrayed in this mura, including Frida Kahlo, Emperor Maximiliano de Habsburgo, and Pancho Villa.
Fun fact: It took Rivera 22 years to complete this wall mural.
12. MaestraPeace by Multiple Artists
Location: Women's Building at 3542 18th Street in the Mission District, San Francisco
The 1994 MaestraPeace mural displays the fearless contributions of women throughout history all over the world.
This San Francisco graffiti art is painted by an array of incredible artists, such as:
Susan Kelk Cervantes (also part of the famed Clarion Alley Mural Project)
Miranda Bergman
African American Edythe Boone
Yvonne Littleton
Meera Desai
Juana Alicia
Irene Perez
In 2012, it was cleaned and restored by these same dynamic artists, assisted by a new era of female muralists.
13. Chrome Dog by Bik Ismo
Location: Miami Beach Convention Center, USA
Chrome Dog is a 3D mural created for the Raw Project at the Jose De Diego Middle School during Art Basel Miami in 2014.
Its creator Bik Ismo, a Puerto Rican artist, took four days to complete this impressive mural.
Chrome Dog was created with spray paint and portrays scenes and objects from the area around the convention center.
14. Multi-colored Woman's Face by Hopare
Location: Hollywood Road, Central and Sheung Wan, Hong Kong
French street artist Hopare created a striking portrait of a woman's face on the side of a building in Hong Kong.
The mural art is painted in Hopare's signature style that features bold, geometric lines and curves over colorful faces.
15. Inkfam by BobD
Location: Woodstock, Cape Town, South Africa
Woodstock has transformed from a town rampant with drugs and crime to a community known for its dynamic street art.
Inkfam was part of a 2009 street art project, initiated to drive this change along.
Today, Inkfam and other beautiful street murals are a tourist attraction and even part of an exciting walking tour.
16. Louis Armstrong by Eduardo Kobra
Location: 300 Rampart Street, New Orleans
This 45-foot-tall painting depicts African American jazz musician Louis Armstrong. The mural features Kobra's signature graffiti style of colorful, geometric patterns.
The mural was painted on a century-old building, situated in a jazzy nightclub district of the music city.
The Brazilian street artist painted this to honor Louis Armstrong on the 118th anniversary of his birth.
17. Mirrors George Town by Ernest Zacharevic 
Location: George Town, Penang, Malaysia
Ernest Zacharevic, a Lithuanian graffiti artist, painted a series of beautiful public art murals on the walls of George Town, Penang.
The Penang Island Municipal Council commissioned Zacharevic for the 2012 George Town Festival Celebration.
The mural portraits and figure drawings emphasize the theme of celebrating life in the inner city.
Some of the street murals Zacharevic painted in Penang include:
Little Children on a Bicycle
Boy on a Bike
Little Boy with Pet Dinosaur
18. Marcus Rashford by Akse P19
Location: Manchester, UK
Akse P19 painted the mural of English Football player Marcus Rashford in 2020. It commemorates his work to reduce child food poverty during the pandemic.
But the mural was defaced after Rashford missed the penalty kick during the UEFA Euro 2020 Final in 2021.
Many locals stepped up and posted messages of support on the mural before Akse P19 restored it.
Akse P19 has also painted portraits of popular individuals like George Floyd, David Bowie and more in different locations. However the best place to view his work is his Rashford mural in Manchester.
19. Project M by Rone
Location: Berlin, Germany
Project M was curated by Strychinin Gallery, Melbourne Artist and a part of the Everfresh collective.
The massive mural, painted by Australian street artist Rone (Tyrone Wright), spans three stories of the Strychinin Gallery's five-story building. It features model Teresa Oman, a departure from Rone's usual Jane Doe paintings.
20. John Lewis Mural by Sean Schwab 
Location: Sweet Auburn District, Atlanta
This 65-foot tall mural, painted in 2012 by Sean Schwab, features the civil right icon John Lewis. Lewis (1940-2020) was famous for using his voice to fight during the civil rights movement.
When the mural was just about done, John Lewis added a personal touch. He painted a dot over the "i" in his name. The mural includes a portrait of the activist and one of his quotes.
21. Make Art Not War by Shepard Fairey 
Location: Santa Fe University of Art and Design, Santa Fe, USA
Shepard Fairey created the public work Make Art Not War on the campus of Santa Fe University of Art and Design (SFUAD) along with a few university students. Fairey is well known for being the street artist behind the Obama "Hope" posters.
On the wall mural, Fairey painted a woman with rose petals in her hair. He also added interesting elements like the peace sign, a medallion symbolizing his work, paintbrushes, and slogans ('Eyes open' and 'mind open') in this public art piece.
There's no doubt these famous masterpieces are breathtaking to look at. But they also carry powerful messages and invite dialogue within communities, taking their place in art history.
If you want to own your own piece of art history, one way to do that is to invest in shares of art with Masterworks.
Invest in Shares of Artworks Through Masterworks
Masterworks is an art investing platform that allows nearly anyone to invest in shares of famous artworks.
How does it work?
The Masterworks' research team identifies artists whose artworks can increase in value.
They purchase the art piece and file an offering with the Securities and Exchange Commission (SEC) to secure the art.
You can then invest in shares and wait — Masterworks may hold an artwork for 3-10 years.
If the art is sold for profit, you'll receive pro rata returns minus fees. (1.5% annual management fees and 20% of the profit from the sale of the painting).
Alternatively, you can also trade your shares on the secondary market.
Keen to discover more about contemporary art and how to invest in it? Visit the Masterworks website now.
This material is provided for informational and educational purposes only. It is not intended to be investment advice and should not be relied on to form the basis of an investment decision.
See important Reg A disclosures: Masterworks.com/cd
---