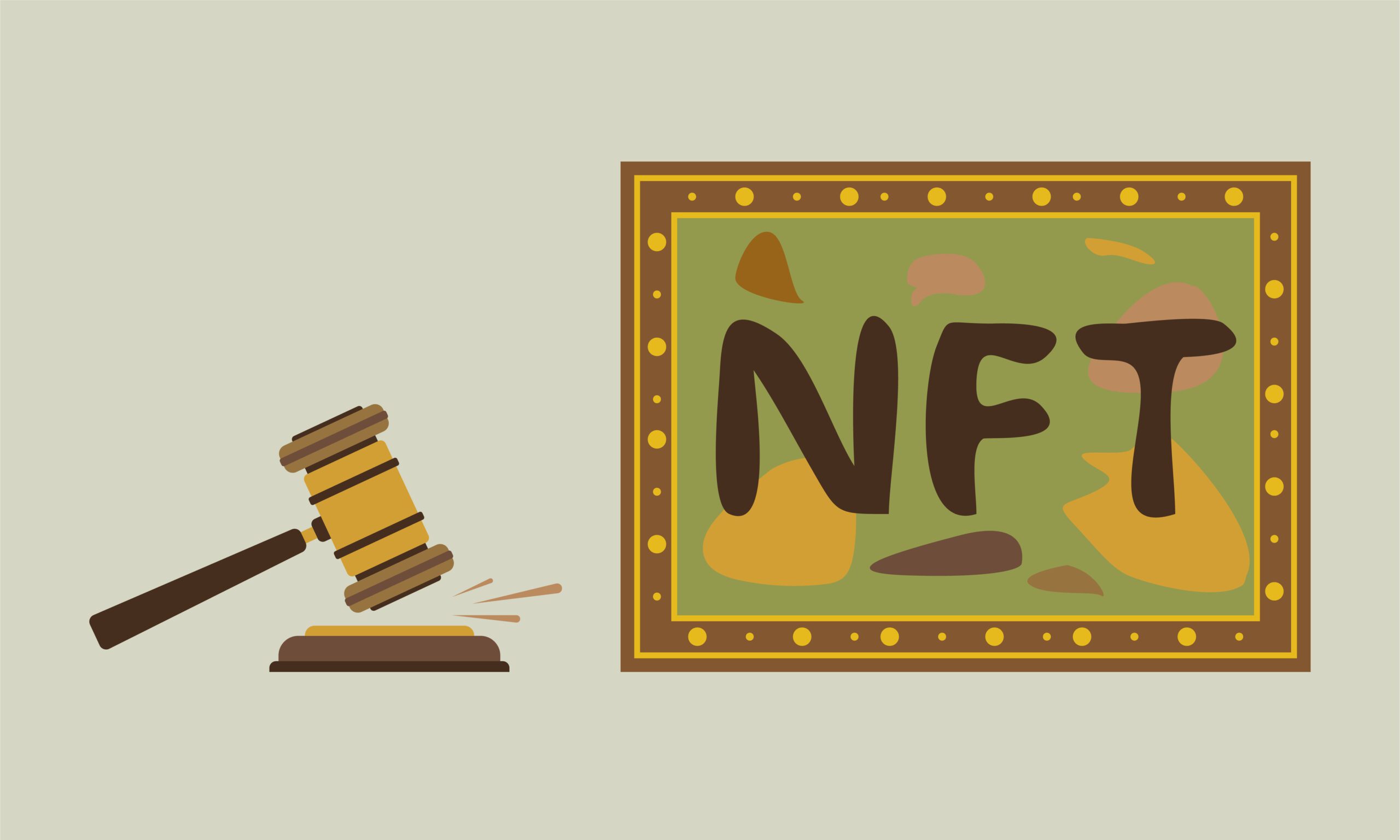 How NFT Art Auctions Work (Marketplaces & Top Pieces Sold)
---
In March 2021, Christie's sold Beeple's digital artwork named Everydays: The First 5,000 Days for a whopping $69 million.
The sale marked two industry firsts — a major auction house sold a digital work of art and accepted cryptocurrency alongside traditional payments.
Since this watershed moment, many traditional auction houses have followed suit, and some have even created their own NFT marketplaces.
In this article, we'll cover how NFT art auctions work, the 10 most expensive NFT artworks sold at auctions, and popular auction marketplaces.
We'll also show you how to invest in shares of iconic physical artworks through Masterworks.
What Are NFT Art Auctions?
As you may know, an NFT is a digital artwork that you can own in the form of a crypto token. These unique files exist on a blockchain like Ethereum and have a secure record of ownership.
NFT art auctions allow investors and art collectors to buy NFT art using cryptocurrency (like Ethereum's native cryptocurrency, Ether) or traditional modes of payment.
These auctions are usually held via online marketplaces like OpenSea and sometimes at traditional auction houses like Christie's or Sotheby's.
How Do NFT Art Auctions Work?
Just like any other auction, NFT art auctions can be virtual or live.
Here's how NFT auctions work for buyers:
The seller sets a minimum price for the piece. Buyers can then place bids and the highest bidder buys the piece at the end of the sale period.
What's different is that at the end of the auction, the auction house or website will transfer the NFT to the winning bidder through a digital wallet. The winning bidder will then own the NFT artwork on the blockchain.
Here's how to sell art as NFTs on an online marketplace:

Step 1: Set up a digital wallet (MetaMask, CoinBase, WalletConnect, or others) and add funds (cryptocurrency) to it.
Step 2: Connect the wallet to the NFT art platform.
Step 3: Upload the artwork and set the auction parameters.
There are usually three different types of auctions to choose from:
Reserve auction: An auction where interested buyers can only make bids equal to or higher than your reserve price.
Scheduled auction: A timed auction has specific start and end times. It's an ideal option to sell a piece quickly or during a particular event.
Unlimited auction: In this case, interested buyers bid until you accept one.
Choose a minimum price that covers all the fees — commission, transaction, and listing fees. Come up with a creative name and description for the artwork, then specify the percentage of royalties.
Step 4: Pay the listing fee: The NFT artwork will be up for sale once this final step is completed.
Now, let's look at some awe-inspiring auction numbers.
10 Most Expensive NFT Artworks Sold at Auctions
Here are the top 10 NFT art pieces that have been sold at auctions:
Pak, The Merge ($91.8 million, December 2021, Nifty Gateway)
Beeple, Everydays: The First 5,000 Days ($69.3 million, Mar 2021, Christie's)
Beeple, Human One ($28.9 million, Nov 2021, Christie's)
Pak, Clock ($26.5 million)
Larva Labs, CryptoPunk #5822 ($23.7 million, Feb 2022)
Larva Labs, CryptoPunk #7523 ($11.75 million, Jun 2021, Sotheby's)
Larva Labs, CryptoPunk #3100 ($7.58 million, Mar 2021)
Larva Labs, CryptoPunk #7804 ($7.57 million, Mar 2021)
Xcopy, Right-Click And Save As Guy ($7.09 million, Dec 2021, SuperRare)
Dmitri Cherniak, Ringers #109 ($6.9 million, Oct 2021, Art Blocks)
Let's look at where you can buy some of these iconic pieces.
7 Best-Known NFT Art Auction Marketplaces
Here are some of the most popular NFT art auction marketplaces:
Christie's
Sotheby's
Bonhams
OpenSea
SuperRare
Nifty Gateway
Foundation
1. Christie's
Christie's is the first top-tier auction house to introduce NFTs onto the global auction stage.
Noah Davis, a former leading NFT expert at Christie's, played a major role in the sale of Everydays: The First 5000 Days by Beeple (also known as Mike Winkelmann).
Since the momentous sale, the auction house hosted the first NFT art auction in Asia in September 2021 where they allowed investors and collectors to bid in Ether.
Christie's also launched Christie's 3.0 — an online platform dedicated to NFT sales. It offers a virtual gallery where you can interact with other collectors. Christie's 3.0 recently sold Phases, which consists of nine NFT artworks by 18-year-old visual artist Diana Sinclair.
Top NFTs Sold:
Everydays: The First 5,000 Days, Beeple, 2021, $69 million
Block 21, Robert Alice, 2020, $131,250
CryptoPunks: 2, 532, 58, 30, 635, 602, 768, 603, and 757, Larva Labs, 2021, $16.9 million
Human One, Beeple, 2021 $29 million
2. Sotheby's
Sotheby's has its own NFT art auction department that curates NFT digital artworks.
The auction house offers sellers various options, including auctions, generative drops, edition sales, and buy-now events.
The auction house also has its own NFT trading platform — Sotheby's Metaverse. The Metaverse allows collectors and investors to participate in auctions and pay for pieces in cryptocurrency or cash.
Top NFTs Sold
101 Bored Ape Yacht Club NFTs, Yuga Labs, 2021, $24.4 million
101 Bored Ape Kennel Club NFTs, Yuga Labs. 2021, $1.8 million
3. Bonhams
Bonhams hosts digital art auctions featuring NFT artists like Xcopy, Coldie, Osinachi, Matt Kane, Sarah Zucker, and Miss Al Simpson. The auction house hosts online auctions and live NFT exhibits in New York, Los Angeles, London, and more.
Top NFTs Sold
The Unfolding Dream: Master, Coldie x John Van Hamersveld, 2021, $150,312.50
M87 Black Hole Deconstruction #9, Matt Kane, 2021, $62,812.50
The Death of Cash, Xcopy, 2021, $200,312.50
4. OpenSea
OpenSea is one of the most popular online NFT marketplaces. Here, you can buy and sell land in virtual worlds, NFT artwork, trading cards, and more. The platform is well-known for selling Ringers #879 — a piece from Dimitri Cherniak's generative art collection.
OpenSea supports Ether (ETH), Solana (SOL), Avalanche (AVAX), USD Coin (USDC), and Dai (DAI) cryptocurrencies.
Top NFTs Sold
Ringers #879, Dimitri Cherniak, 2021, $5.8 million
CryptoPunk #5822, Larva Labs, 2021, $23.7 million
5. SuperRare
SupeRare is a popular NFT marketplace for established artists. Positioning itself as an art gallery, SuperRare only sells exclusive, single-edition pieces.
The platform only supports Ether (ETH) for transactions.
Top NFTs Sold
Right Click Save As Guy, XCOPY, 2021, $7.1 million
Freeross, Genesis Collection, Ross Ulbricht, 2021, $5.93 million
6. Nifty Gateway
Thanks to collaborations with celebrities and brands, Nifty Gateway often offers limited-edition collections. It is best known for selling the most expensive NFT artwork to date — Pak's The Marge and Beeple's iconic Crossroad (the Trump NFT).

Nifty Gateway accepts credit and debit card transactions alongside cryptocurrency.
Top NFTs Sold
The Merge, Pak, 2021, $91.8 million
Crossroad, Beeple, 2021, $6.6 million
Ocean Front, Beeple, 2021, $6 million
7. Foundation
Launched in February 2021, Foundation is an invite-only platform where established members (who have sold at least one NFT) can invite other artists to join the platform.
The most valuable NFT sold on Foundation is Edward Snowden's Stay Free.
The platform only supports Ether (ETH).
Top NFTs Sold
Stay Free, Edward Snowden, 2021, $4 million
Nyan Cat, Chris Torres, 2021, $600,000
Apart from these seven popular platforms, the other notable ones you could look at are:
Rarible
VIV3
BakerySwap
Axie Marketplace
NFT ShowRoom
Other FAQs Related to NFT Art Auctions
Here are the answers to some other questions you may have about NFT art auctions:
1. How do artists benefit from NFTs?
Blockchain technology has made it easier for artists to sell digital art securely. Additionally, unlike traditional art sales, NFT artists can receive royalties every time the piece is sold in the future.
2. Are NFT artworks authentic?
When an NFT artwork is sold, the owner receives a token that certifies them as the authentic owner of the digital file. Moreover, the sale is registered in the blockchain, ensuring the certificate of ownership is verifiable, traceable, and public.
3. What are some of the concerns around NFT art?
There are five main concerns around NFT artworks:
Illiquid asset: The NFT art market is new, and there are only a few potential buyers and sellers in the sector. So, it can be challenging to trade art NFTs, especially when the market takes a nosedive — which it did in early 2022.
According to ChainAnalysis, NFTs saw the biggest average weekly drop in transactions from May 2022 to July 2022 among all categories of decentralized finance.
Fraud: Some NFT artists like Prasad Bhat discovered that their artworks were being copied and sold on online marketplaces as fake NFTs. Dutch artist Lois van Baarle found over 100 of her artworks for sale online — none of which were put up by her.
Environmental concerns: There are concerns around energy consumption during the production of NFT artwork. Most NFT artworks are produced on the Ethereum blockchain, which uses the proof-of-work method.
The problem?
This method can generate excess carbon if it uses energy from non-renewable sources. According to research by Digiconomist, minting a single NFT consumes as much energy as an average US household would in around 49 days.
Proof-of-stake is an alternative method to proof-of-work. However, proof-of-stake only reduces the amount of electricity required while energy consumption remains the same.
Cyber security concerns: Cybercriminals have been targeting NFT artwork via social media scams and phishing attacks. In Feb 2022 NFT investors lost $1.7 million due to a phishing attack on the OpenSea marketplace.
On the other hand, physical blue-chip art has an established track record, helping you make a more informed investment decision.
Alternative assets such as contemporary artwork aren't tied to stocks and bonds. This asset class has also performed well in both historical and recent periods of volatility.
For example, the first half of 2022 concluded with one of the highest auction sales ever — a grand total of $7.4 billion. Approximately $3.2 billion worth of art was sold this autumn at a series of auctions at Christie's, Phillips, and Sotheby's in New York.
But, what if you don't want to shell out millions of dollars to buy physical artwork?
Invest in fractional shares of museum-grade art instead.
Here's how:
Masterworks is an art investment platform that lets you invest in shares of multi-million dollar works of art by Picasso, Bansky, Kaws, and more.
Share prices start at just $20, making it easy for you to start investing in your favorite pieces.
Here's a quick breakdown of how the platform works:
The research team identifies which artist markets have growth potential.
The team then locates the piece and purchases it.
Masterworks files an offering with the Securities and Exchange Commission (SEC) to securitize the artwork.
After you've invested in shares, all you need to do is wait. Masterworks can hold the painting for 3–10 years. If the piece is sold at a profit, you'll receive pro rata returns after fees are subtracted (1.5% annual management fees plus 20% of the profit from the sale of the artwork).
Alternatively, you can sell your shares on the secondary market.
Get started by completing Masterworks' membership application.
See important Reg A disclosures: masterworks.com/cd
---
This material is provided for informational and educational purposes only. It is not intended to be investment advice and should not be relied on to form the basis of an investment decision.
---