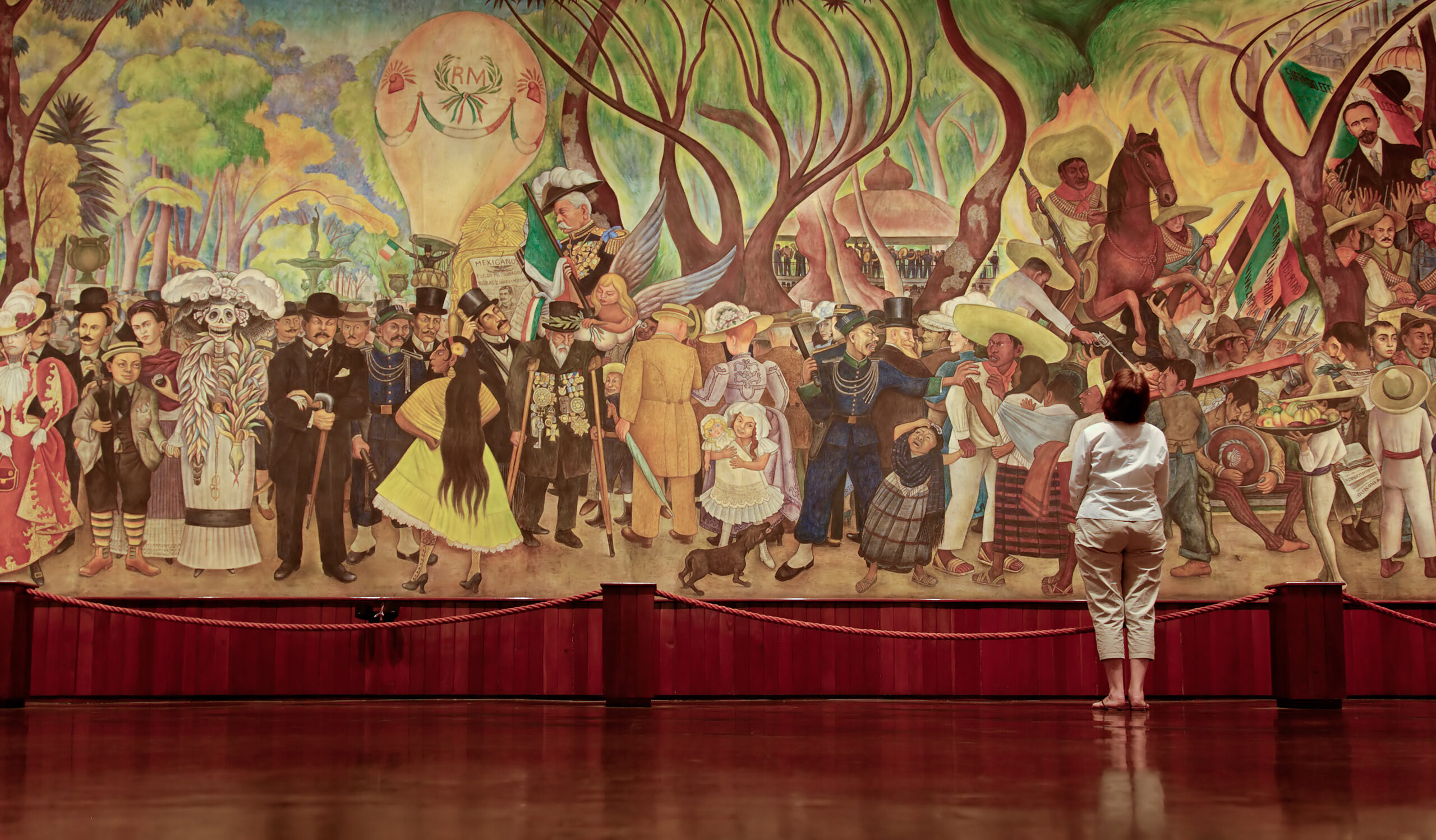 The Story of Diego Rivera
---
Widely regarded as one of the most influential Mexican artists of the 20th century, Diego Rivera was truly a larger-than-life figure. Rivera spent significant periods of his career in Europe and the U.S., in addition to his native Mexico and also known as being the partner and husband of Frida Kahlo.
Together with David Alfaro Siqueiros and José Clemente Orozco, Rivera was among the leading members and founders of the Mexican Muralist movement.
Diego deployed a style informed by disparate sources such as modern European masters and Mexico's pre-Columbian heritage and executed in the technique of Italian fresco painting. Rivera handled major themes appropriate to the scale of his chosen art form: social inequality, the relationship of nature, industry, and technology; and the history and fate of Mexico.
More than half a century after his death, Rivera is still among the most revered figures in Mexico, celebrated for both his role in the country's artistic renaissance, the re-invigoration of the mural movement and his outsized persona.
Diego Rivera Biography
Childhood
Diego Rivera and his fraternal twin brother, who died at age two, were born in 1886 in Guanajuato, Mexico. His parents were teachers; his mother was a devoted Catholic mestiza (part European, part Indian) and his father a liberal criollo (meaning Mexican of European descent).
Diego's exceptional artistic talent was obvious to his parents from an early age, and they set aside a room in the house for him where he painted his first "murals" on the walls.
When Diego was six, his family moved from Guanajuato to Mexico City to avoid the tensions caused by his father's role as co-editor of the opposition newspaper El Democrata. Once in Mexico City, his mother decided to send Diego to the Carpentier Catholic College.
Early Training
By the age of ten, Rivera decided he wanted to attend art school, despite his father's desire that he pursue a military career.
A government scholarship enabled Rivera to study art at the Academy of San Carlos in Mexico City from age 10. By the age of twelve, Rivera was enrolled full-time at the San Carlos Academy of Fine Arts. He received training modeled on conservative European academies.
Trained in traditional techniques in perspective, color, and the en plein air method, Rivera also received instruction from Gerardo Murillo, one of the ideological forces behind the Mexican artistic revolution and a staunch defender of indigenous crafts and Mexican culture. With Murillo's support, Rivera was awarded a travel grant to Europe in 1906, heading to Spain in 1907.
In Spain, Rivera studied the work of El Greco, Velazquez, Goya, and the Flemish masters he saw in the Prado Museum, providing him with a strong foundation for his later painting.
At the studio of the Spanish realist painter Eduardo Chicharro, Rivera became acquainted with the leading figures of the Madrid avant-garde, including the Dada poet Ramón Gómez de la Serna and the writer Ramón del Valle-Inclán.
In 1909 Rivera traveled to Paris and Belgium with Valle-Inclán, where he met the Russian painter Angelina Beloff, who would be Rivera's partner for twelve years. During this time, he also became a friend of Pablo Picasso, Georges Braque and other leading modern painters.
Returning to Mexico City in 1910, Rivera was offered his first exhibition at the San Carlos Academy. Rivera's return coincided with the onset of the Mexican Revolution, which lasted until 1917. Despite the political upheaval, Rivera's exhibit was a great success, and the money earned from the sale of his work enabled him to return to Europe.
Back in Paris, Rivera became a fervent adherent of Cubism, which he regarded as a truly revolutionary form of painting. However, Rivera's difficult relationships with the other members of the movement came to a tumultuous end following a violent incident with the art critic Pierre Reverdy. This resulted in a definitive break with the circle and the termination of his friendships with Picasso, Braque, Juan Gris, Fernand Leger, Gino Severini, and Jacques Lipchitz.
About 1917, he abandoned the Cubist style in his own work and moved closer to the Post-Impressionism of Paul Cézanne, adopting a visual language of simplified forms and bold areas of color.
Mature Period
Rivera returned to Mexico with a reawakened artistic perspective, deeply influenced by his study of Classical and ancient art. There, he was afforded the opportunity to visit and study many pre-Columbian archaeological sites under the auspices of the Ministry of Education's art program.
Yet his first mural painting, produced for the National Preparatory School and entitled Creation (1922), shows a strong influence of Western art.
Rivera soon became involved with local politics through his membership in the Revolutionary Union of Technical Workers and his entry into the Mexican Communist Party in 1922.
At this time, he painted frescoes in the Ministry of Education in Mexico City and the National School of Agriculture in Chapingo. During the latter project, he became involved with the Italian photographer Tina Modotti, who had modeled for his murals; the affair prompted him to separate from his wife at the time, Lupe Marin.
In 1927, Rivera visited the Soviet Union to attend the celebrations of the tenth anniversary of the October Revolution, an experience he found extremely inspiring. He spent nine months in Moscow, teaching monumental painting at the School of Fine Arts.
His radical ideas about education earned him enemies among the conservative faculty and student body. At the same time, he was expelled from the Communist Party for his cooperation with the government.
Politically cornered, Rivera found support in the American ambassador to Mexico, Dwight W. Morrow, who commissioned him to paint a mural in the Cortes Palace in Cuernavaca depicting the history of that city. A great admirer of Rivera's work, Morrow offered the artist the opportunity to travel to the United States with all expenses paid.
Rivera remained in the U.S. for four years. There, the always-prolific artist worked around the clock, painting murals in San Francisco, New York, and Detroit, celebrating the powerful forces of unions, education, industry and art.
While in New York City, he met with enormous popularity as well as controversy. Rivera's American adventure ended in 1933, when John D. Rockefeller, Jr. ordered the destruction of the mural he had commissioned for the lobby of Rockefeller Center, Man at the Crossroads, because of both Rivera's unwillingness to eliminate the portrait of Lenin and for what the Rockefeller family regarded as an offensive portrait of David Rockefeller.
Later Years and Death
Upon his return to Mexico, he married the painter Frida Kahlo in 1929, who was twenty-one years his junior.
From 1929 until 1945, Rivera worked on and off in the National Palace, creating some of his most famous murals there.
In 1937, he and Kahlo helped Leon Trotsky, ther Russian Communist leader, and his wife obtain political exile.  The Trotskys lived with Rivera and Kahlo for two years in Casa Azul in the suburb of Coyoacan.
Two years later, Rivera and Kahlo divorced, although they remarried a year later in San Francisco, while Rivera was working for the Golden Gate International Exposition. The two had a tremendously passionate and tumultuous relationship that can be interpreted by viewing Kahlo's personal artworks. The couple would ultimately remain together until Kahlo's death in 1954.
During his last years, Diego continued to paint murals, sometimes working on portable panels. He also produced a large number of oil portraits, usually of the Mexican bourgeoisie, children or American tourists. These works are only sometimes remarkable, and they are often infused with a kitschy aesthetic reminiscent of Pop Art. However, they were very successful during his lifetime, and provided a way for the artist to acquire more pre-Columbian objects for his spectacular collection.
Today, his collection is housed in the Anahuacalli Museum, a building inspired by the Great Temple of Tenochtitlan and designed by Rivera himself.
Widowed and already sick with cancer, Rivera married for the third time in 1955 to Emma Hurtado, his art dealer and rights holder since 1946. Following a trip to the Soviet Union made in the hope of curing his cancer, Rivera died in Mexico in 1957 at age seventy. His wish to have his ashes mingled with those of Kahlo was not honored, and he was buried in the Rotunda of Famous Men of Mexico.
Marriage to Frida Kahlo
The 25-year marriage between Deigo and Frida was far from placid. Their relationship included marriage, divorce, re-marriage, affairs, rumors of other affairs, miscarriages and abortions.
Upon meeting Frida, Diego Rivera was still married, divorced once, had a mistress, and produced children with almost all of these former women. This wouldn't be the last time that Rivera would be unfaithful, and Kahlo also had her fair share of lovers. Rivera's extramarital affairs include Kahlo's sister, Cristina, an experience Kahlo processed with a violent portrayal in A Few Small Nips (1935).
Still, Diego Rivera left all of his Parisian exploits behind, found Frida Kahlo, and both began contributing to the post-revolution reinvention of Mexico. Between 1930 and 1934, the married couple traveled to the United States, where Diego was commissioned to paint a mural at the Pacific Stock Exchange Luncheon Club and the San Francisco Art Institute. 
Active members of the Communist Party, Frida and Diego, both abhorred the American capitalist way and often depicted Communist motifs in their artwork. They made a good artistic team that encouraged the others in their strong ideals and beliefs.
Frida's inability to deliver a child with Diego was perhaps her biggest regret of all, underlining their incredible connection.
Kahlo suffered a series of miscarriages during this time, which she depicts in her piece Henry Ford Hospital in 1932, another painting that makes sense of her life experiences. Of the many symbols hovering above and below the bed is a decaying purple flower, which likely represents Diego, who Kahlo never thought would make a good father.
Over the course of their relationship, Frida and Diego would often illustrate the other in ways that were true to their hot and cold dynamic, at once adoring and spiteful.
Art would, naturally, play a big part in their lives and their relationship, with each inspiring the work of the other. Frida would produce portraits of her husband alone and the couple together, and for all their problems, it seemed that initial spark would never die.
Diego Rivera Political Ideology
A lifelong Marxist who belonged to the Mexican Communist Party and had important ties to the Soviet Union, Rivera is an exemplar of a socially committed artist.
His art expressed his outspoken commitment to left-wing political causes, depicting such subjects as the Mexican peasantry, American workers, and revolutionary figures like Emiliano Zapata and Vladimir Lenin.
At times, his outspoken, uncompromising leftist politics collided with the wishes of wealthy patrons and aroused significant controversy that emanated inside and outside the art world.
Famous Artworks of Diego Rivera
La creación, 1922–1923
On returning to Mexico, Rivera painted his first important mural, Creation, for the Bolívar Auditorium of the National Preparatory School in Mexico City. Creation is a large mural (over a thousand square feet) in a classical renaissance fresco style and full of religious imagery. The fresco-style mural was his first commissioned work in Mexico.
Líder Campesino Zapata, 1932
Diego Rivera painted Agrarian Leader Zapata in 1932 as a replica of a mural in Mexico, to be part of an exhibition in New York for the Museum of Modern Art. It's a portrait of Emiliano Zapata, one of the foremost leaders of the Mexican Revolution. It memorialized him as a hero to the Mexican people, despite his unpopularity with the actual Mexican government.
The Detroit Industry Murals, 1932–1933
The following year Rivera was commissioned to paint Detroit Industry in 1932 by Edsel Ford, the son of Henry Ford. Though it may seem odd for the Marxist-oriented Rivera to work with a large automobile company, he painted this enormous work of 27 panels from the perspective of the workers and the working class.
Sueño de una tarde dominical en la Alameda Central, 1946–1947
Dream of a Sunday Afternoon in Alameda Park portrays famous figures in Mexican history strolling through Alameda Central Park (including Frida Kahlo and La Catrina, as shown in the second image).
Most people are shown wearing elegant clothing from the early 20th century, to represent the upper-class. This contrasts to a peasant family being driven away by a police officer. The busy panorama also references colonization from the Spanish and the events of the Mexican Revolution.
Man, Controller of the Universe: A portrait of 1930s society, 1934–1935
His Man at the Crossroads fresco in Rockefeller Center offended the sponsors because the figure of Vladimir Lenin was in the picture; the work was destroyed by the center but was later reproduced by Rivera at the Palace of Fine Arts, Mexico City.
Rivera's composition depicted many aspects of contemporary social and scientific culture. In the center, a workman was depicted controlling machinery. Before him, a giant fist emerged holding an orb depicting the recombination of atoms and dividing cells in acts of chemical and biological generation. From the central figure, four propeller-like shapes stretched to the corner of the composition, depicting arcs of light created by giant lenses anchoring the left and right edges of the space.
---