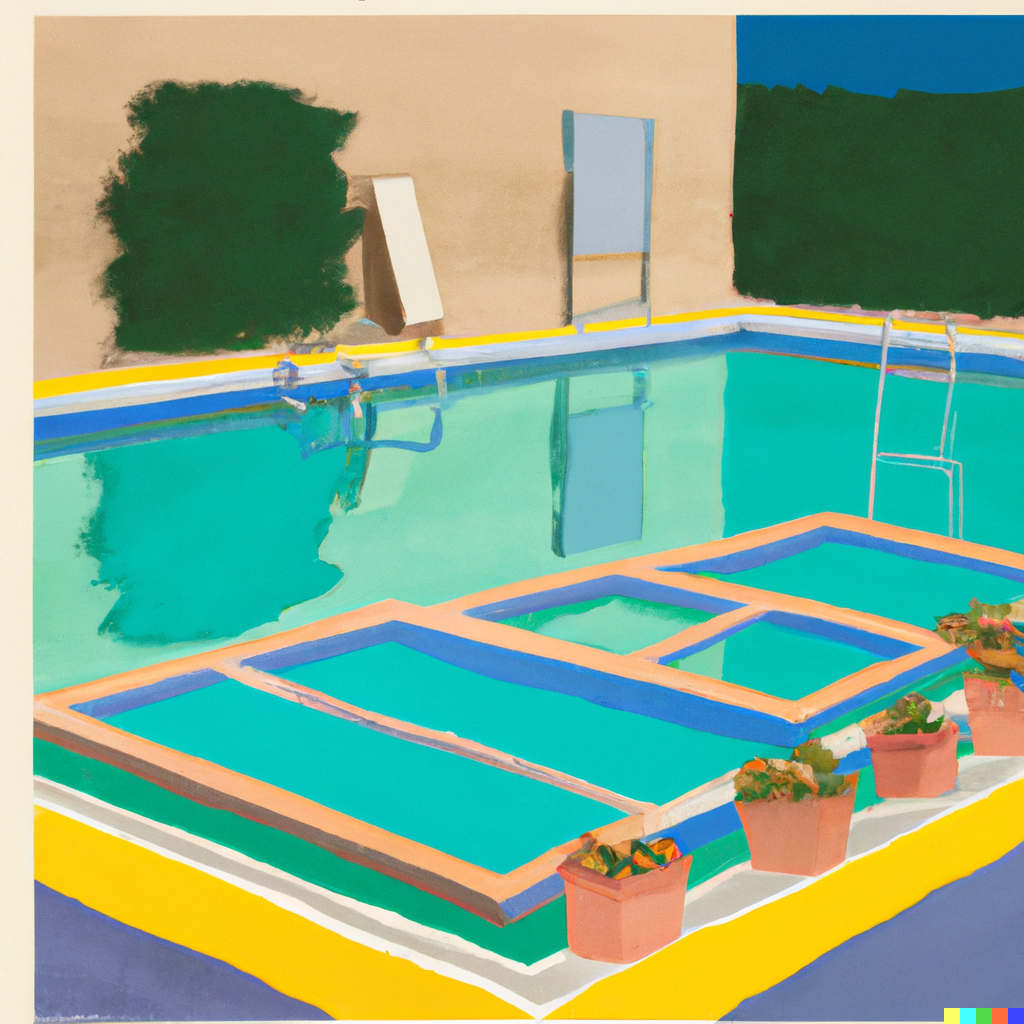 The David Hockney Buying Guide
---
David Hockney is one of the most influential British artists of the 20th century and remains the top selling living artist to-date. One of the major players of the Pop Art movement of the 60s. Thousands flock to his exhibits worldwide to see the casual elegance and luminosity of his work. 
Read below to learn about where to begin your own David Hockney collection.
About David Hockney
Born in England, David Hockney attended the Bradford College of Art in the mid 1950s before studying at the Royal College of Art, London. Throughout the 60s he crossed the pond back and forth to teach at universities in Iowa, Colorado and California.
In 1978, he moved permanently to Los Angeles. He was inspired by mid-century architecture and the laid-back, casual elegance of the "California Modern" lifestyle. Hockney broke the rules of color theory, linear perspective and proper proportion, deliberately teetering between calm serenity and hyperactive disruption.
His work became world-renowned, earning him recognition from both everyday art enthusiasts and heavy-hitting patrons of the arts.
In 2012, the late Queen Elizabeth II appointed him to the exclusive British honorary institution, the Order of Merit. In 1989, the Japan Art Association awarded him the prestigious Praemium Imperiale Prize for Painting, to name just a few accolades.
Movement and Mediums
David Hockney famously said, "I love new mediums. I think mediums can turn you on, they can excite you; they always let you do something in a different way."
Drawing inspiration from Matisse, Picasso, Dufy and Fragonard, he utilized their techniques in his early 'Impressionistic' photography, which led the foundation for his future work.
Hockney began as a painter, became obsessed with printmaking at Bradford College of Art, was talented in drawing and illustration, and even designed sets for the opera and ballet.
The paintings he created during his first few years out in Malibu and the Hollywood Hills were autobiographical. Consisting of portraits of friends and family as well as self portraits, he depicted intimate, tranquil scenes of daily life.
Hockney was inspired by a sense of mundane realism, and had a preoccupation with light — evident in his luminous landscape paintings.
Pop Art
The Pop Art movement emerged in the 1950s in America and England, peaking in the 1960s. The style is an ironic and critical commentary on commercial mass media and a rebellion against traditional fine art.
David Hockney was openly gay in a time when homosexuality was still taboo and largely unaccepted. His early works were inspired by the male models in the fitness magazine Physique, which was marketed towards gay men. One of his first paintings to explore Pop Art and homosexuality was We Two Boys Together Clinging (1961), where he experimented using words and lettering.
Hockney's work also examined consumerism and packaging, as seen in his painting Tea Painting in an Illusionistic Style (1961). He depicted a box of British brand Typhoo Tea, his mother's favorite, and explored depth and perspective in a different way. An odd and curious figure seems to be driving the box, drawing a line of commercialism to the consumer by using such a popular brand.
Painting
David Hockney's painting style has evolved significantly throughout his career, and will presumably continue to do so. Although he painted non-representational imagery at times, he always returned to his passion for portraiture, still lifes and plein-air landscape painting.
In the 50s he painted portraits, still lifes and landscapes in oil paint that used a more muted color palette. Although traditionally trained, he strayed from the technique and explored Abstract Expressionism.
The AbEx movement was a popular artistic style in the United States at the time, which broke from the more stringent and academic painting. While his early work showed evidence of his formal training, as his career progressed he found his own way of seeing and sought to further differentiate himself from the status quo.
When he moved to California in the 60s, his style changed and he began to use brighter colors.
He abandoned oil paint, becoming one of the first artists to favor acrylic paint because of how quickly it dried. He felt it was a more evocative way to depict the dry, hot California landscapes.
Paintings such as Peter Getting Out of Nick's Pool (1996), Man in Shower in Beverly Hills (1964), and Domestic Scene, Los Angeles (1963) all feature the male nude, expanding his theme of homoeroticism.
Portraits of An Artist (Pool with Two Figures, (1972) is perhaps his most famous painting, breaking the record for a living artist when it sold for $90 million at the Christie's auction in 2018. This sleek, almost magazine-quality piece disrupts our sense of distance with its lack of shadows and perspective.
From the 80s to present day he carried on the theme of painting landscapes, interior domestic scenes and portraits with distorted perspectives. Although he favored acrylic paint for many years, Hockney painted in oil again in the 80s and 90s, and in the early 2000s created luminous watercolor pieces.
Printmaking
Fresh off the plane to New York City, David Hockney brought his portfolio of etchings straight to curator William S. Lieberman at the Museum of Modern Art, who bought them on the spot. Many of his lithographs and prints were a collaboration with American printmaker Kenneth E. Tyler throughout the 1960s, '70s and '80s.
He created hundreds of prints snatched up as investment pieces throughout his career, all signed and dated by the artist himself.
Drawing/Illustration
In the early 2000s, Hockney focused on a series of drawings in colored and graphite pencil, pen and ink, gouache, crayon and charcoal. His first collection of portrait drawings were in the 1950s, the 60s focused on gouache, the 70s crayon drawing of still lifes, the 80s included charcoal portraits, the 90s pencil and crayon, and in the early 2000s portraits and landscapes in ink and pen. In 2013, David Hockney established a collection of 25 black and white charcoal landscape drawings.
As a living artist relishing in the bore of quarantine, he began experimenting with drawing on an iPad, creating a giant multi-panel exhibit A Year in Normandy at the Musée de l'Orangerie, Paris.
Photography
David Hockney began experimenting with photography in the 1980s after a friend left a roll of Polaroid film at his Hollywood Hills house.
Hockney created a series of composite polaroids that used dozens of photos that together make one image, stating, "If you put six pictures together, you look at them six times. This is more what it's like to look at someone."
The works are a nod to Synthetic Cubism due to their distortion. His composite Imogen + Hermiane. Pembroke Studios, London, 30th July 1982 was made up of 63 Polaroid SX-70 photos. In 2010, it was sold at Sotheby's Polaroid Collection auction for $194,500.
Hockney also created photo collages; most notably Pearblossom Hwy. 11–18th April (1986). He would take dozens of photographs and cut them up, transforming them into a completely different image.
In the 2010s, he began experimenting with photographic drawing. He would take pictures of friends and colleagues separately, and digitally stitch them together. The pieces made the people look like paper dolls in a dollhouse.
Perspective Should Be Reversed (2014) depicts a crowd of people viewing one of the artist's own exhibitions. Two men sit at a distorted table in the center which has random objects sitting on it, including the title cut out into block letters, a pair of scissors, and the book "Picasso and the Truth."
Authenticity
While the David Hockney Foundation offers an extensive record of his work on their website and extensive monographs are dedicated to it, there is no formal authentication process. Therefore, buyers must conduct their own due diligence on the work.
This includes verifying that the object, style and materials align with his practice, verification of the works' complete provenance, exhibition history and any mentions in scholarly publications such as the Hockney Foundation's website, Simon Maidement's David Hockney Current or David Hockney: Prints published by the Scottish Arts Council.
Due to his popularity and success at auction, owning a work by Hockney may seem unattainable to most. Two years before the record breaking $90.3 million sale of Portraits of An Artist (Pool with Two Figures), his auction record was $11.7 million with the sale of Woodgate Woods in 2016.
David Hockney as an Investment
With regard to buying artwork by David Hockney as an investment, there are a few things you may want to consider.
Subject, style and period play an important role.
To date, the most desirable works by David Hockney, as evidenced by their success at auction, have been landscapes and portraiture created during his time in the United States during the 1960s and 1970s.
These large, colorful paintings, often set against the Los Angeles canyons and depicting poolside parties as well as his noteworthy acquaintances, have realized the most dramatic prices at auction. 
The value of Hockney work can be affected by several factors, including the quality, subject, size, rarity and condition of the work as well as its provenance, exhibition history and critical reception.
In terms of numbers, according to a report by Arttactic, David Hockney currently is the most valuable Pop artist from the UK. His total sales by value amounted to $590 million between 2015 and June 2022, with individual paintings accounting for 97% of the auction sales and editioned prints only 3%. During this same period the auction record was set for Hockney in 2018, when Portrait of an Artist (1972) sold for just over $90 million at Christie's in New York. 
Investing in Hockney through Masterworks
David Hockney has countless fans and followers who would love to buy an original work.. Unfortunately, with the high prices at auction and the possibility of copies, buying a Hockney can sometimes feel unattainable.
However, thanks to the art investing platform Masterworks, investing in shares of Hockney artwork, as well as other blue-chip artists, is now more accessible than ever. 
Masterworks has already added Hockney to their offerings. For individuals that would like to invest in shares of one of their favorite artist's original artworks, it is now possible.
See important Reg A disclosures: masterworks.com/cd
---