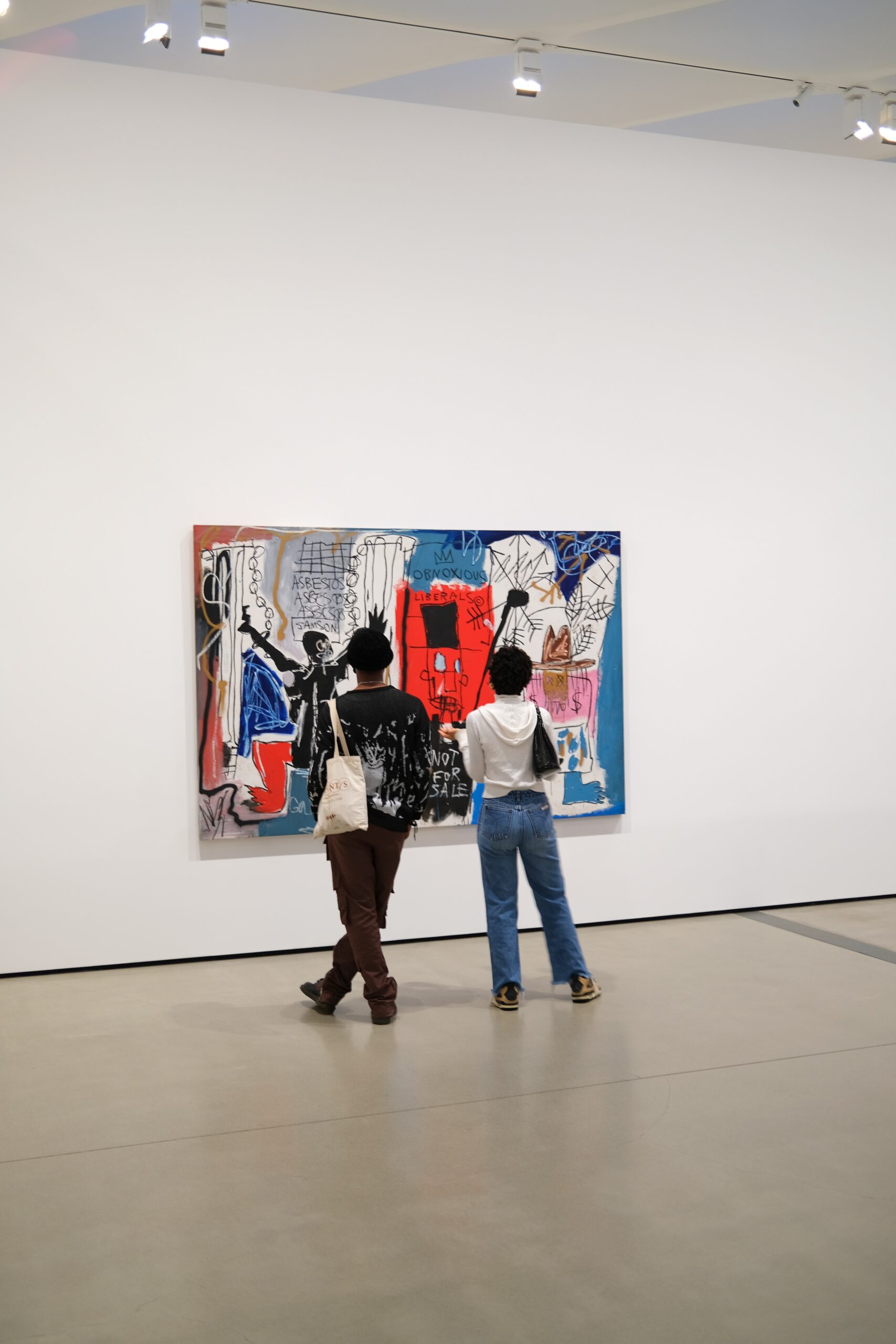 Basquiat's Top Brand Collaborations 
---
Jean-Michel Basquiat was undoubtedly one of the world's most critically acclaimed and influential postmodern artists.
One of the highest-selling American artists to date, his Untitled, a striking painting of a skull that typifies Basquiat's style, sold for $110.5 million at Sotheby's in 2017.
The buyer, Japanese billionaire Yusaku Maezawa, just so happens to be the founder of Zozotown, Japan's most prominent fashion e-commerce site. His purchase is just one example of the fashion industry's ties to the Brooklyn-born artist.
Despite his passing, Basquiat's work continues to inspire designers, and his estate is regularly called upon by an impressive gamut of brands hoping to collaborate. Below, we look at a selection of our favorite Basquiat collaborations.
Tiffany & Co.
Working in collaboration with the estate of Jean-Michel Basquiat, the luxury jeweler adapted the artist's 1982 painting Equals Pi into a limited-run cabinet of curiosities, with 24 individually wrapped gifts. Yes, this collaboration was an advent calendar.
This posthumous union of the consummate street artist and the iconic luxury company could only be considered a true New York moment. Much press circulated regarding the painting's uncanny resemblance to the Pantone color 1837, Tiffany Blue, and art lovers were able to view this in person at the flagship store on Fifth Avenue.
Since then, it's been transferred to a private collection, but the imagery of this collaboration remains engraved in memory. It continues to be instantly recognizable, placed next to Beyonce and Jay Z for Tiffany's About Love campaign.
Reebok
Originating in 2009, Reebok announced a collaboration with the Estate of Jean-Michel Basquiat as part of their Fall/Winter 2009 line-up.
The collaboration featured classic Reebok silhouettes from the classic later, workout mid, and Ex-o-fit, all decorated with Basquiat's seminal artworks. Fusing art and fashion, the line looked to channel Basquiat's bold messages and attitude.
Lasting five years, the Reebok project overlapped with a renewed demand for Basquiat's work, both at the highest echelons of the art world and among those looking for affordable derivatives.
Basquiat x Supreme
In September 2013, hypebeast brand Supreme announced their own Basquiat collaboration. Taking a deep dive into Basquiat's archive, the collaboration incorporated his artwork and a portrait of the artist on pieces ranging from T-shirts and hoodies to button-downs and M-65 jackets.
The majority of the collection features tiny graphics linked from a variety of the artist's archives, such as the painting Replicas.
Basquiat x Comme des Garçons
Basquiat's earliest high fashion collaboration was when the artist himself walked in Rei Kawakubo's Spring/Summer 1987 Comme des Garçons Homme Plus show.
Thirty years later, designer Kawakubo unveiled a shirt collection filled with references to and reproductions of Basquiat's work. Working with the artist's estate, the fashion house featured eight pieces in collaboration, ranging from tunics to T-shirts.
Unlike the Supreme x Basquiat pieces, which either treated the garments as canvases or incorporated only more minor details from the artist's archive, the CDG shirt collection featured the whole artwork printed front and center on the garment. Rather than leveraging Basquiat's scribbled style to contribute to a DIY aesthetic, this collection featured a true homage to the very same artist who walked for the brand three decades prior.
Funko Pop
In 2019, the famous toy brand Funko released a collaboration with the late artist's estate to bring a variety of different Basquiat Funko Pops.
The small vinyl toys were designed in different signature looks donned by the artist, including his signature gray suit.
The collaboration is part of the Pop! Series comprises other miniature artists, including Keith Haring and Andy Warhol.
Uniqlo
Japanese fast fashion behemoth Uniqlo has an extensive history of incorporating pop culture references in its clothing. KAWS has had a long and fruitful partnership with the brand, as have Marvel, Sesame Street, and high fashion designers such as J.W. Anderson, Christophe Lemaire, Jil Sander and many more.
One of the earliest pop culture partnerships that Uniqlo's US operations struck was SPRZ NY (Surprise, New York) in the Spring of 2014. The inaugural SPRZ NY collection featured a collaboration with New York's Museum of Modern Art. Inspired by some New-York centric pieces in the MoMA's permanent collection, the SPRZ NY capsule included work by Jean-Michel Basquiat, Andy Warhol, and Keith Haring plastered onto Uniqlo basics.
In subsequent SPRZ NY collections, the Japanese imprint has continued to feature Basquiat's work. Graphically, Uniqlo's take on Basquiat has tended to skew towards how Supreme approached the legendary artist's work, with the brand integrating elements of his work — written words, crowns, portraits, objects — in a way that makes the pieces look as if Basquiat had customized them himself.
The ongoing collaboration is undoubtedly the most affordable way to rock Basquiat's designs, with Uniqlo's famously inexpensive garments coming in at considerably less than, say, a coffee table book, poster, or any of the aforementioned collectibles.
Louis Vuitton Foundation
In 2018, Basquiat was the star of a blockbuster show at the Louis Vuitton Foundation. The exhibition spanned the artist's entire career, from 1980 – 1988, focusing on 120 artworks loaned from numerous collections worldwide.
Bernard Arnault, chairman and CEO of LVMH masterminded the Louis Vuitton Foundation, a fine art museum and cultural center, and is also an avid collector of Basquiat paintings.
The show held in Paris highlighted Basquiat's enduring appeal and included artworks that have never landed on European soil. Collaborations included Basquiat and Warhol.
Casetify
The popular phone and electronic case company Casetify released their collab with the late artist back in 2020, and has since revamped with new designs from his archives.
Some cases incorporate full images of signature Basquiat paintings, and others focus on particular motifs such as skulls, crowns, and his iconic Pez Dispenser.
Saint Laurent
Saint Laurent Rive Droite has worked with the Estate of Jean-Michel Basquiat and the Galerie Enrico Navarra for a Basquiat-indebted range and a complementing in-house exhibition. The exhibition — which was shown at Saint Laurent Rive Droite's Paris and Los Angeles stores — will showcase "a silkscreen, the 18 original lithographs, several drawings, ceramic plates which belonged to Andy Warhol."
In honor of this, Saint Laurent Rive Droite has also made a capsule collection inspired by the artist's work and legacy. In Creative Director Anthony Vaccarello's usual ways, there was far more than just apparel in the collection. It included a tote bag, a backpack, tops and cross-body bags, but that's not all.
The star of the show is the Basquiat-covered skimboard and skateboard triptych, which are already collector's items. Additionally, Saint Laurent offered books on the artist, phone cases for various iPhone types, posters and even a limited range of vintage-inspired YSL-branded undergarments.
---