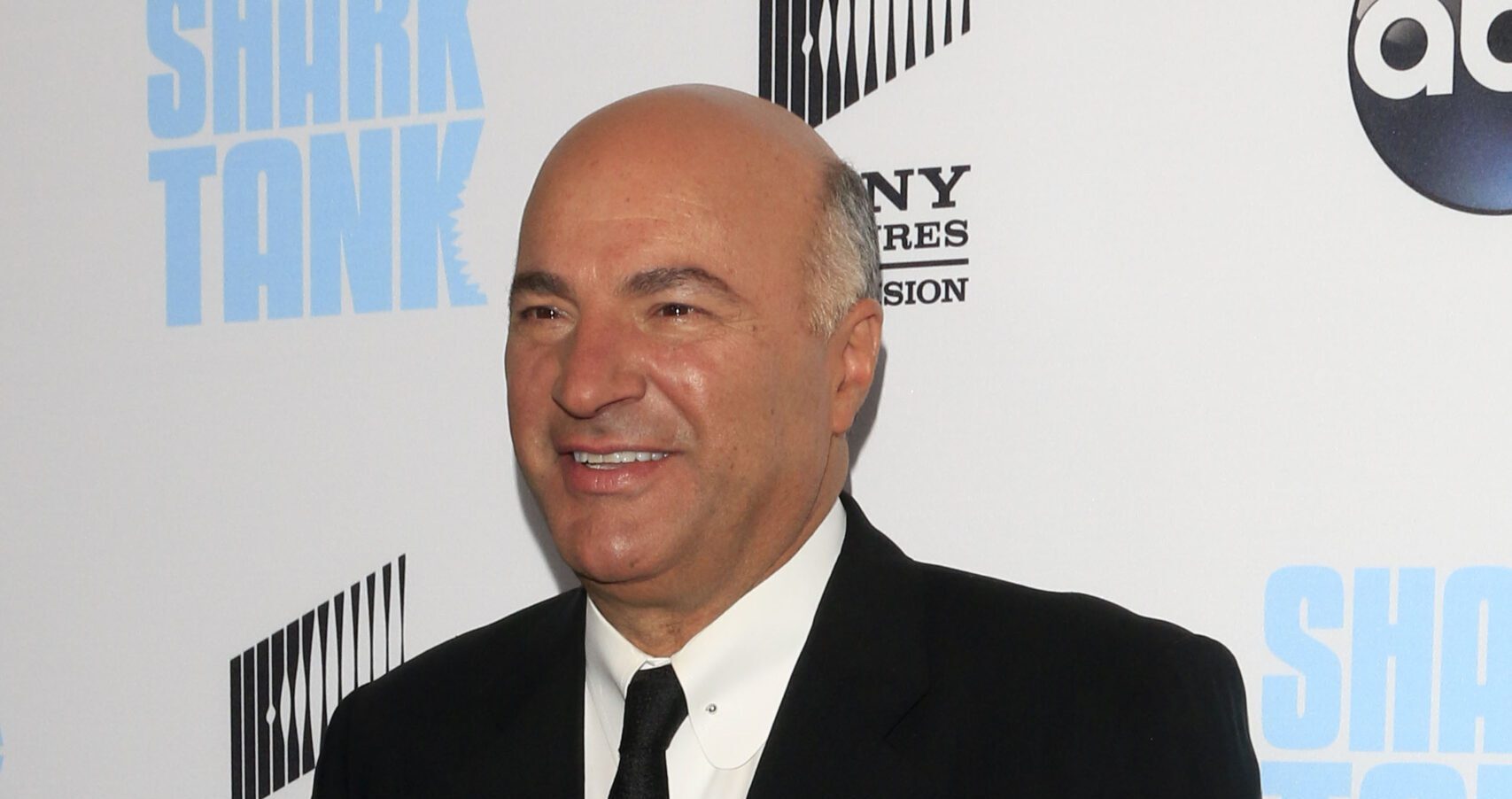 What Is Kevin O'Leary's Net Worth?
---
Who is Kevin O'Leary?
Terence Thomas Kevin O'Leary, also known as Mr. Wonderful, is a Canadian businessman, television personality, investor and author.
He is the co-founder and former co-host of the reality TV show Shark Tank and a co-host of the program Dragon's Den on the Canadian Broadcasting Corporation (CBC). He is also a founder and chairman of O'Leary Funds and the O'Leary Foundation.
He is known for his criticism of government spending and regulations and for his strict approach to business and investing.
Kevin O'Leary's Personal Life
Born Terence Thomas Kevin O'Leary in Montreal, Quebec, Kevin is one of two sons of Georgette and Terry O'Leary. His mother was a small business owner and investor, inspiring Kevin from a young age to save money and invest.
O'Leary's parents divorced when he was a child. His mother ran the family business alone, then later married economist George Kanawaty. Each of O'Leary's parental figures influenced his focus on investment and wealth planning.
O'Leary received his Bachelor's degree in environmental studies and psychology from the University of Waterloo in 1977 then went on to receive an MBA from the Ivey Business School at the University of Western Ontario in 1980.
Kevin married his now-wife, Linda, in 1990. They have two children together, son Trevor, an engineer at Tesla and daughter Savannah, a multimedia producer and filmmaker in New York City.
Kevin O'Leary's Net Worth
As of January 2023, Kevin O'Leary's net worth is estimated to be roughly $400 million. He has a diversified investment portfolio that includes mutual funds, venture capital, cryptocurrency and passion investments such as Contemporary Art and vintage guitars.
Kevin O'Leary's Business Ventures
Kevin O'Leary was born in Montreal, Quebec, Canada in 1954. He was greatly inspired by his mother Georgette, who would set aside 20% of each paycheck to invest in large-cap stocks and Telco bonds.
In the middle of his MBA program, O'Leary was selected for an internship at Nabisco in downtown Toronto, then worked as an assistant brand manager for Nabisco's cat food brand.
After leaving Nabisco, O'Leary co-founded Special Event Television (SET), an independent TV production company. After limited success, he sold his shares to his partners for around $25,000.
Softkey & The Learning Company
Out of his Toronto basement, O'Leary's developed software company SoftKey. In 1995, SoftKey acquired The Learning Company and took its name. O'Leary's big break came at the age of 45 when he sold The Learning Company to Mattel for $4.2 billion, making him a multi-millionaire.
StorageNow Holdings
In 2003, Kevin O'Leary invested in StorageNow Holdings, a Canadian company that specializes in developing climate-controlled storage facilities. StorageNow became the operator of storage facilities in 11 Canadian cities.
It was later acquired by Storage REIT for $110 million. O'Leary's shares earned him more than $4.5 million.
Additional Ventures
O'Leary has been involved in a wide variety of business ventures including being the founder of many of his own ventures. This includes O'Shares Investments (a mutual fund with $1.5 billion in assets under management), O'Leary Ventures (a private early-stage venture capital investment company), O'Leary Mortgages, O'Leary Books and O'Leary Fine Wines.
How Does Kevin O'Leary Invest His Millions?
While O'Leary is best known as a venture capitalist on ABC's Shark Tank, alongside Mark Cuban, Daymond John, Robert Herjavec, Lori Greiner and others, he also has a diverse investment portfolio that extends beyond venture capital.
While the specific details of his $400 million portfolio are not publically available, there are some parts that he has shared.
Overall, his portfolio consists of approximately 60% stocks, 20% crypto, 10% startups, 5% gold and 5% collectibles.
O'Leary's Crypto Holdings
Kevin O'Leary, also known as "Mr. Wonderful," has had a change of heart when it comes to cryptocurrency. Initially, he was not a supporter of the digital assets, but over time, he has become a vocal advocate, slowly building up a crypto portfolio that now comprises 32 positions and 20% of his net worth.
Based on his investment principles and risk management strategies, it's likely that he follows the same approach for his crypto investments, limiting the max position for each crypto to 3-5%.
While it's unclear his specific holdings, he has confirmed owning the following crypto coins:
FTX Token
Avalanche
Solana
Helium
Polygon
Ethereum
Bitcoin
O'Leary was once a spokesperson for the now-bankrupt crypto exchange, FTX. Following the collapse of FTX, O'Leary has stated that crypto exchanges that are unwilling to be regulated or audited will likely continue to fail. However, he still believes in crypto for the long term, especially if regulation improves in the coming years.
O'Leary Collectibles Collection
In addition to investing in stocks, cryptocurrencies, and startups, Kevin O'Leary is a passionate collector of luxury watches, classic guitars, and modern art.
Kevin O'Leary views his collectibles, not only as investments but also as items that he is passionate about. 
According to an interview with stockinvestor.com, O'Leary also has a sizeable modern art collection curated by his wife. His collection includes one iconic Andy Warhol print featuring an exclusive image of Mick Jagger from 1975.
One concern O'Leary has brought up regarding collecting fine art is the cost of insurance and proper storage or display. One way investors can avoid these concerns is by investing in fractional shares of Contemporary Art through the Masterworks platform.
Masterworks allows investors to partake in the capital appreciation of artwork without the stress of insurance or storage by taking on these logistics in-house. Along with storage and insurance, Masterworks handles research and acquisition using proprietary data and art market expertise to curate a collection of Contemporary Art.
Unfortunately, he hasn't disclosed the exact number of watches or guitars he owns after an unfortunate incident where he was robbed by someone he knew.
Kevin O'Leary Books & Media
In September 2011, O'Leary published his first book, Cold Hard Truth: On Business, Money & Life. In this book he shares his views on relationships, investing, money and life.
He went on to write three additional books in the Cold Hard Truth series discussing various topics.
Dragons' Den and Shark Tank
O'Leary began his career as a TV personality in 2006 as one of five venture capitalists on the CBC reality show Dragon's Den.
Discovery Channel's Discovery Project Earth
In 2008, O'Leary served as a co-host on the Discovery Channel's Discovery Project Earth, a program that examines creative solutions for reversing climate change.
Who Is the Richest Member of ABC's Shark Tank?
All sharks are extremely successful; however, as of 2023, there is only one billionaire among the main sharks.
Barbara Corcoran, a real estate mogul, has a net worth of around $100 million.
Lori Greiner, "The Queen of QVC," has a net worth of approximately $150 million.
Robert Herjavec, the owner of one of the largest cybersecurity firms in Canada, has around $200 million in net worth.
Daymond John, founder and CEO of FUBU clothing brand, sits on around $350 million.
Kevin O'Leary is the second richest shark with an estimated net worth of $400 million.
Mark Cuban, owner of the Dallas Mavericks, is the richest shark in the tank and the only billionaire. After selling his video portal company, Broadcast.com to Yahoo for $5.7 billion, he has a net worth of around $4.5 billion.
The Bottom Line
Kevin O'Leary, also known as "Mr. Wonderful," started his entrepreneurial career by building a software company in his basement. Since then, he has grown his investments to include crypto, mutual funds, and collectibles such as Contemporary Art.
Today, O'Leary is the second-richest member of the hit reality show Shark Tank, with an estimated net worth of $400 million.
Invest Like Mr. Wonderful with Masterworks
Contemporary Art is one of the strongest portfolio diversifiers because its returns are not correlated with traditional market fluctuations. This means during bear markets or periods of high inflation, Blue-Chip Contemporary Art tends to outperform and can minimize risk for your entire portfolio.
In 2021, UBS reported that the fine art market had an annual transaction volume of $65.1 billion and a total estimated global value of $1.7 trillion. This makes art comparable in size to other major private markets such as private debt, real estate, and private equity.
According to Citi's Global Art Market report, Contemporary Art price appreciation has outpaced the S&P 500 over the last 26 years, offering a 13.8% annual return compared to the S&P 500's 10.2% annual return. Art's appreciation remains strong during periods of high inflation and recessions due to its uncorrelated valuations.
However, it can be difficult for an individual investor to own a piece of a $10 million painting because of the high cost — we can't all be Sharks.
The Masterworks platform offers fractionalized shares of some of the most sought-after contemporary art, including works by Banksy, KAWS and Basquiat, this allows you to own a piece of a $10 million painting for a fraction of the cost.
---
This material is provided for educational purposes only. It is not investment advice and should not be the basis of an investment decision.
Diversification and asset allocation do not ensure profit or guarantee against loss. There are significant differences between art and other asset classes. Investing involves risk, including loss of all principal. See important Regulation A disclosures at masterworks.io/cd
---