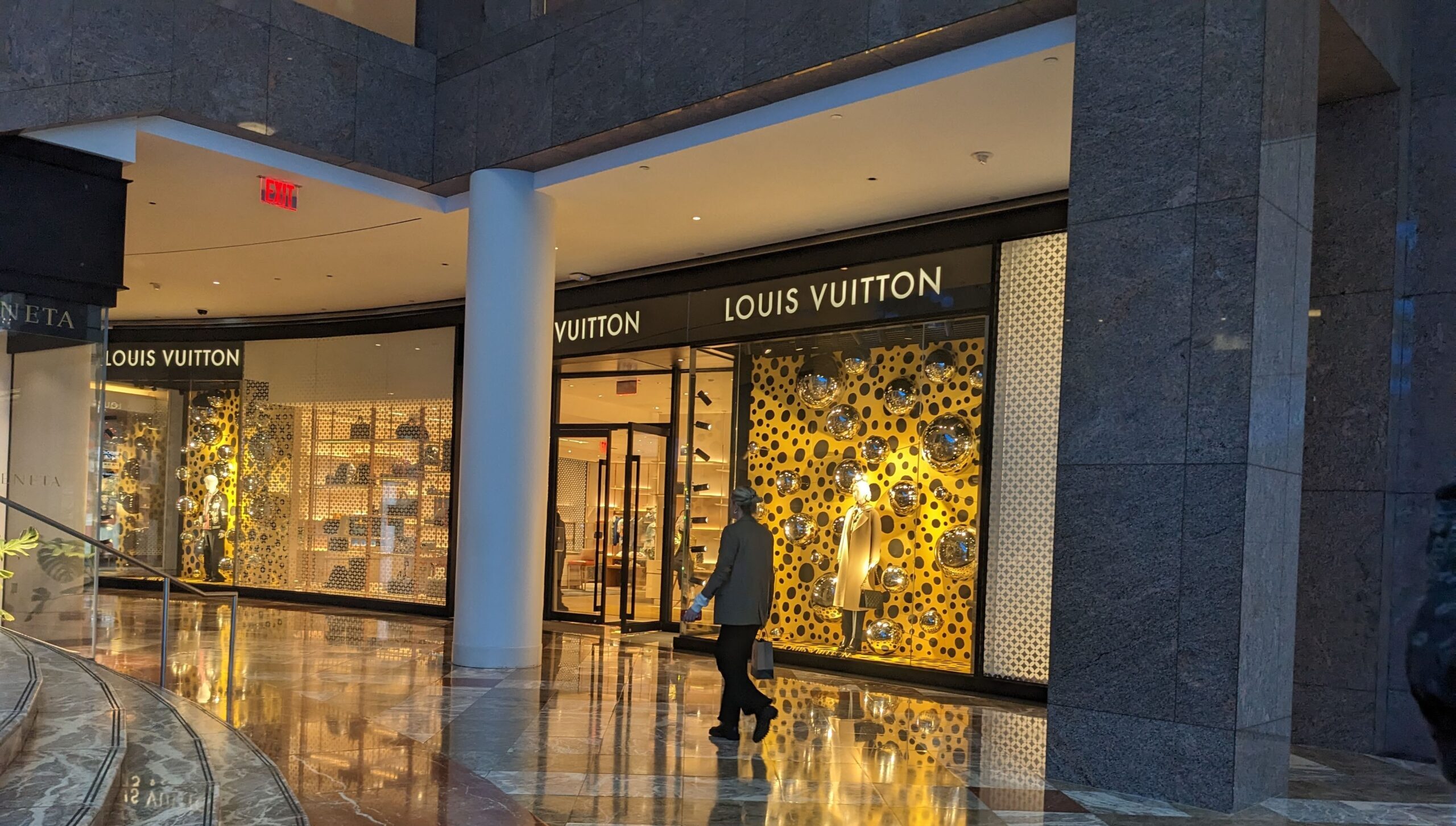 All About The Yayoi Kusama and Louis Vuitton Collaboration
---
When you walk into select Louis Vuitton locations over the next few months, you'll be greeted by polka dots, a signature motif of Japanese artist Yayoi Kusama.
The 93-year-old artist known for her whimsical artworks incorporating polka dots and charming pumpkins is back collaborating with the luxury house. The partnership collection celebrates her signature artistic style on a wide range of bags, accessories, and ready-to-wear.
The collection, titled Creating Infinity, is currently available online and in select stores across the world. It launched in the United States this past Friday, Jan 6th.
Who is Yayoi Kusama?
Yayoi Kusama is a Japanese artist who is sometimes called "the princess of polka dots." Although she makes lots of different types of art — paintings, sculptures, performances, and installations — they have one thing in common, which are her iconic dots.
She also creates environments of dots so that we can experience this feeling of self-obliteration too. She calls these rooms her "Infinity Rooms" and creates them by installing hundreds of colored LED lights into mirrored rooms. The pinpricks of light in the dark room reflect endlessly in the mirrors, making you feel like you're in an endless space.
Louis Vuitton X Yayoi Kusama, Take 2
This is the second time Yayoi Kusama has partnered with Louis Vuitton. Previously in 2012, the brand and artists released the first collaboration that still to this day is remarked as one of the most successful brand partnerships.
Under creative Director Marc Jacobs, the first partnership featured the artist's signature dots atop LV bag silhouettes, including the Keepall, Neverfull, Papillion and Speedy.
Now, those bags are worth a hefty premium on the secondary market. Everything from the original Yayoi Kusama x Louis Vuitton collab is highly sought after by fashion enthusiasts and collectors on resale sites.
The collaboration is a celebration of Vuitton's longstanding partnership with Kusama and the massive success of that initial team-up.
Louis Vuitton's partnership with Kusama was first teased as part of the luxury label's cruise 2023 show and can now be found in select stores worldwide, such as in Tokyo, New York and LA.
Features of the Collaboration
Plenty of the LV signatures are part of the collection, including the speedy purse, archlight sneakers, bucket hats, sunglasses, and trench coats.
Louis Vuitton Executive Vice President Delphine Arnault has promised over 450 individual items.
Chief among the collection are a host of Louis Vuitton bags, which all offer a twist to a signature Kusama motif of the red obliterated dots, psychedelic flower and multicolored paint dots.
There's a Louis Vuitton duffle, resplendent on monochrome paint splatters and canvas; the Louis Vuitton square bag sporting full-color paint and monogram canvas; and a tote bag in pure white leather, with a tonal rendering of Kusama's beloved flowers.
It's cliché to say, but there's something for fans of any LV bag.
The apparel and accessories are similarly expansive, covering ground ranging from bikinis and swims trunks to tailored suits, puffer jackets and scarves.
Kusama's touch even extends to a special edition of Louis Vuitton's Spell on You perfume, complete with a matching monogrammed canvas case.
There's also the appeal of the innovative processes applied to certain items. Louis Vuitton's craftspeople developed a special technique to make some of the 3D paint daubs look "wet," as if they had just been hand painted by Kusama herself — and this is the first time that Kusama's art has been applied to LV men's ready to wear.
Luckily, this drop isn't the only one of the collection. A second drop, which will explore some of Kusama's other art, is coming in March.
Creating Infinity Campaign
No expense was spared in creating such a celebrated collection.
The launch was celebrated with a campaign starring internationally renowned supermodels, including Gisele Bündchen and Anok Yai.
The collection, and the pop up-spaces selling, are clearly built for the social media era. it The space in New York's meatpacking district, with the entire store covered in floor-to-ceiling infinity dots and lined with extra large, metallic orbs are as primed for Instagram as Kusama's Infinity Rooms.
What is also built for the social media era is the expansive Alternate Reality experience incorporated into the collection's marketing campaign. Each space is accompanied by a QR code reader, where a visitor is able to experience the infinity world of Yayoi Kusama's dots.
This feature has been blended into filters on Instagram and Snapchat, where participants can wear a Kusama pumpkin-fashioned helmet or live amongst the dots.
In a display that bordered the uncanny valley, a hyperrealistic robot of the artist is gracing the window of the NYC flagship store on 5th avenue. The robot paints Kusama's signature dots onto the window. This erie robot has recently gained notoriety across social media platforms due to its striking lifelike to the artist and movements.
Now Why Collaborate With an Artist?
Kusama, who's consistently produced variations of her signature polka-dot art since the 1970s, is one of the world's most famous artists thanks to the enduring popularity of her Instagram-friendly Infinity Rooms and instantly-recognizable polka-dot pumpkins.
And Kusama's partnership with Louis Vuitton wasn't the house's first – then-creative director Marc Jacobs invited other blue-chip artists such as Richard Prince and Takashi Murakami to put their spin on the LV designs, foretelling the LV collectibles of today. However, it was and perhaps still is the biggest line to bear the reclusive Japanese artist's name.
This second collaboration is equally important to both Kusama and Louis Vuitton; the luxury house is so adamant about the collection's success that it's ready to factor into its Q1 2023 financial reports.
For collectors and Kusama fans alike, Louis Vuitton's capsule offers a rare opportunity to get luxury goods with the artist's touch.
Original items from LV's 2012 Kusama collection make even the new collection look affordable, so this is a comparably low barrier to entry, although still firmly luxe.
Invest In Kusama With Masterworks
If leather goods are not your MO, but you are still fascinated by the artwork of contemporary artists, think about including Kusama's work in your investment portfolio.
Learn more about how you can begin building your own masterpiece collection online with Masterworks.
Masterworks is an art investment platform that lets you invest in fractional shares of investment-grade art.
With prices starting at $20 per share, investing in your favorite artworks has never been easier.
Here's a quick overview of how the platform works:
The research team identifies which artist markets have potential.
The acquisitions team then locates a piece they believe could appreciate in value and purchases it.
Masterworks files an offering with the Securities and Exchange Commission (SEC) to securitize the artwork.
After you've invested in shares, all you need to do is wait. Masterworks can hold the painting for 3–10 years. If the piece is sold at a profit, you'll receive pro rata returns after fees are subtracted (1.5% annual management fees plus 20% of the profit from the sale of the artwork).
Alternatively, you can opt to sell your shares on the secondary market.
Get started by completing Masterworks' membership application.
See important Reg A disclosures: Masterworks.com/cd
---