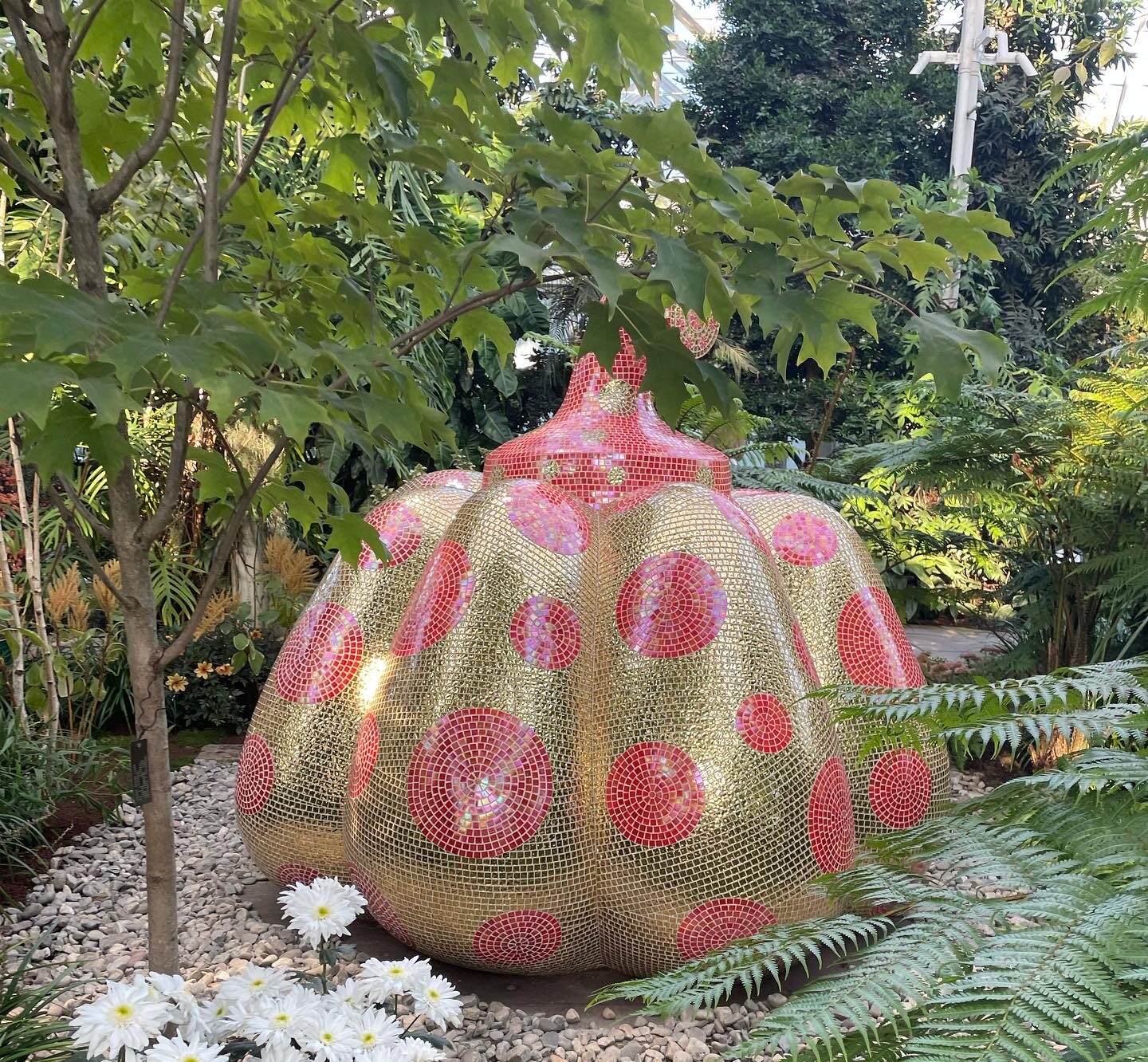 Significance of Yayoi Kusama's Pumpkin Motif
---
The pumpkin is to Yayoi Kusama what the Campbell's soup can is to Andy Warhol: an everyday comestible elevated to the status of fine art.
Yayoi Kusama has created pumpkin sculptures and paintings, pumpkin infinity rooms, pumpkin charm bracelets, and pumpkin polka-dot print shoes.
However, Kusama's first pumpkin work, created when the 93-year-old was still in her teens, was a much less ambitious artistic undertaking.
Who Is Yayoi Kusama?
Yayoi Kusama is a Japanese Contemporary artist who works primarily in sculpture, installation, and painting.
Her work is based on conceptual art, shows some attributes of feminism, Minimalism, Surrealism, Art Brut, Pop Art, and Abstract Expressionism, and is infused with autobiographical, psychological, and sexual content. She has been acknowledged as one of the most important living artists to come out of Japan.
Kusama was raised in Matsumoto and trained at the Kyoto City University of Arts in a traditional Japanese painting style called Nihonga. American Abstract Impressionism inspired her.
She moved to New York City in 1958 and was a part of the New York avant-garde scene throughout the 1960s, especially in the Minimalism and Pop Art movements.
Since the 1970s, Kusama has continued to create art, most notably her Infinity Room installations in various museums worldwide.
The Origin of Yayoi Kusama's Pumpkin
Born into a farming family in 1929, Kusama began drawing pictures of pumpkins as an elementary school student. During this time, the artist began experiencing vivid hallucinations, which she has since attributed as the inspiration behind many of her distinctive motifs: polka dots, flowers, and, of course, pumpkins.
Unlike polka-dots and flowers, whose hallucinatory forms frightened the budding artist, Kusama found comfort in the pumpkins, noting that she was "enchanted by their charming and winsome form."
Much more than a childhood interest, Kusama's love of gourds lasted well into her teenage years. At the age of 17, she made her penchant for pumpkins public with Kabocha, a Nihonga-style painting she exhibited in a traveling exhibition in Nagano and Matsumoto, Japan. The work was accepted as a fine example of Nihonga, the new, nationalistic style of traditional Japanese painting, which developed around the turn of the 19th century.
After making its grand debut, the pumpkin motif disappeared from Kusama's portfolio for decades, as the artist decided to dedicate herself to performance art instead.
The Resurgence of Pumpkins in Kusama's Oeuvre
However, in the 1970s and 80s, Kusama rediscovered her artistic interest in the pumpkin. She started creating paintings, prints and drawings of the subject during this time.
In addition to their distinctive polka-dotted rinds, vivid color schemes, and bulbous silhouettes, her pumpkins (which, today, remain essentially unchanged) are recognized for their anthropomorphism — a characteristic that can perhaps be attributed to Kusama's earlier, hallucinatory visions of a talking pumpkin.
In the late 1990s, Kusama fully realized the pumpkins' sculptural capabilities when she incorporated them into one of her famous Infinity Mirror Rooms, a series of interactive installations that invite viewers to wander through surreal environments.
Kusama created Mirror Room (Pumpkin) for a 1991 exhibition in the Fuji Television Gallery, a space credited with popularizing Contemporary Art in Japan.
To craft Mirror Room (Pumpkin), Kusama covered a room's walls, floor, and ceiling in a coat of yellow paint adorned with black polka dots. In the center of the space, she installed a mirrored cube filled with paper-mache pumpkins. Visitors could view this makeshift pumpkin patch through a peep-hole-like opening, which is an endless sprawl due to the cube's reflective interior.
Kusama's Pumpkin Took 3D Form
In 1994, Kusama again turned to sculpture to channel her love of pumpkins. This time, however, she opted to imagine her muse as a massive, free-standing sculpture.
Perched at the end of a pier in the Benesse Art Site — a Naoshima Island-based arts organization renowned for its growing collection of Contemporary Art — this spotted yellow Pumpkin has played a pivotal role in Kusama's career and Contemporary Art legacy.
In addition to kick-starting the island's celebrated collection, the piece laid the groundwork for Kusama's later open-air sculptures, which she continues crafting today.
Kusama has created several new works of pumpkin art since the start of the new millennium. In 2016 and 2017, she debuted two new pumpkin themed Mirror Rooms titled All the Eternal Love I Have For the Pumpkins and The Spirits Of the Pumpkins Descended Into the Heavens. In addition to illustrating her lifelong love of pumpkins, these installations draw on several of Kusama's characteristic themes, including infinity, the sublime, and obsessive repetition, which work together to create an immersive experience for visitors.
What Is the Meaning Behind Yayoi Kusama's Pumpkin?
To Yayoi Kusama, pumpkins are representative of stability, comfort and modesty. According to Kusama, she prefers to use pumpkins because not only are they attractive in both color and form, but they are also tender to the touch. Therefore, the inclusion of pumpkins in her artwork can be said to be due to the childhood memories that the vegetable triggers.
Commonly repeated through her artwork and installation, Kusama started using this repetitive theme of pumpkins to overcome her fears, make some sense of her hallucinations, and also to gain control over her feelings and emotions.
In her work, she uses pumpkins and other components such as dots and phalluses as a tool to re-experience something that once instilled fear in her.
By reproducing the forms of things that terrify her in real life, Kusama has found a technique that has allowed her to suppress her fears, turning something frightening into something amusing and inspiring.
Read More: What Is The Meaning of Yayoi Kusama's Infinity Nets?
Where To View Kusama's Pumpkins
Naoshima Island Pumpkin, Naoshima Island, Japan
In 1994, Kusama created this massive pumpkin installation, consisting of a huge yellow sculpture with black dotted patterns. It was exhibited at Naoshima Island in Japan's Seto Inland region.
Today the large sculpture can be found at the end of the pier at the Benesse Art Site, where it hovers over the water blending in nicely with the surrounding landscape.
The sculpture was the focus of a major news story when in 2021, a typhoon trashed the sculpture into the sea.
It has since been reinstalled and restored to its previous position as of October 2022.
West 42nd Street, New York, USA
New Yorkers can take a walk over to the Sky building on West 42nd Street to view Yayoi Kusama's Bronze Pumpkin at its entrance.
The bronze pumpkin measures eight feet on all sides, weighs 2,668 pounds and is Kusama's first permanent public artwork in NYC.
Hirshhorn Museum and Sculpture Garden, Washington DC, USA
The Hirshhorn were responsible for 2017's Yayoi Kusama: Infinity Mirrors. This astonishingly successful exhibit took the internet by storm on its two-year tour of the US and Canada.
Now the artist returns victorious with One with Eternity: Yayoi Kusama in the Hirshhorn Collection, which includes Infinity Mirror Room — Phalli's Field (Floor Show), a recent reimagining of the artist's 1965 breakthrough installation, and Pumpkin, which immerses viewers in floor-to-ceiling polka dots.
Final Thoughts
Kusama's work, which typically tackles depersonalization or, instead, the phenomenon of experiencing a loss of personality, serves as a much-needed reflection of today's society.
Her distinctive motif and use of pumpkins have allowed Kusama to make an easily recognizable artistic statement that has helped her become a legend.
At 93 years of age, she still actively paints with no signs of slowing down, which is a testament to her influence and brilliance.
---