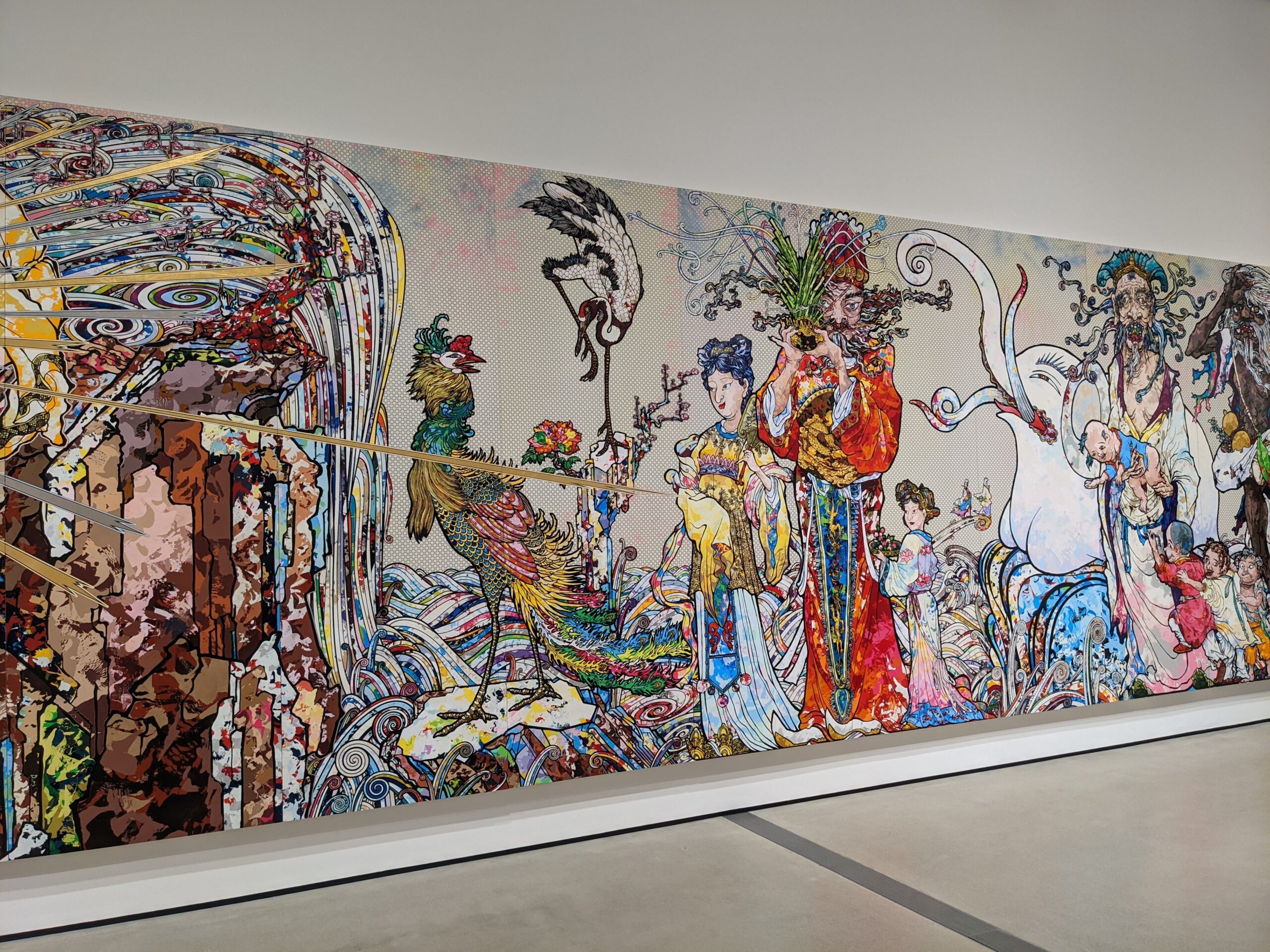 Inside Takashi Murakami's Favorite Characters
---
Takashi Murakami is the undisputed father of Japanese Pop Art. Murakami's universe is colorful and strange and is populated by a series of imagined characters inspired by anime, manga and Western animation.
Murakami is known for merging his interest in the traditional flat style of Japanese painting with Western commercial culture. This wry approach to instantly recognizable big-brand mascots and video game characters has earned Murakami celebrity status, with a clientele of star-studded collectors like Kanye West and Billie Eilish. 
Here are some of Takashi Murakami's most iconic characters.
Murakami's Art and Style
Born and raised in Tokyo, Japan, Murakami was a fan of anime and manga (Japanese cartoons and comics), and his love for these cartoons shines through in his artistic style.
Despite this strong interest, the artist studied nihonga, the traditional Japanese painting style, at the Tokyo University of Fine Arts and Music. Not only did Murakami complete his BA there, he also went on to do a Master's and Ph.D. specializing in the traditional art form.
Murakami gradually became disillusioned with the insular and highly political art world, which led to his experimentation with more contemporary artistic styles.
Murakami's Superflat
Murakami's innovative aesthetic combines skills he developed from his classical training in Japanese art with elements of contemporary Japanese pop culture. This combination is a key feature of what Murakami calls his 'super flat' style.
Murakami created this term in 2000, when he published his theory regarding Japanese popular culture. Murakami argued that there is a legacy of flat, two-dimensional imagery from Japanese art history that continues in manga and anime. The artist contrasts this style with Western art's emphasis on depth and texture.
As well as being used to describe the aesthetics of artworks, the term is also used by Murakami to address the nature of post-war Japanese culture and society. His work diminishes the distinction between 'high' and 'low' culture, which has led to the flattening of differences in social classes and taste.
Murakami's Characters
Taking popular cartoon characters as the inspiration for his prints, Murakami elevates these symbols of popular culture to the realm of fine art, flattening the distinction between the two.
Mr. DOB
Acknowledged as Murakami's alter ego, Mr. DOB, is his most repeated and recognizable character.
Clearly inspired by Mickey Mouse, Mr. DOB is a parody of Walt Disney's iconic character and the consumer culture the animated cartoon represents. From the cradle to the grave, we are raised by cutesy mascots of capitalism like Mickey, and Murakami's Mr. DOB makes a wry dig at this. Murakami uses this character to highlight the futility and emptiness of consumer society.
However, we can't ignore the irony of Mr. DOB. After all, what may have started out as a mockery of western consumer culture has become a commercialist mascot, fetching record-setting prices at auction.
Murakami's Tan Tan Bo, a darker iteration of the Mr. DOB character, sold for $3.9 million at Christie's in 2018. Mr. DOB, invented to scorn the pretentious Western hierarchy of fine art and consumerism, has become one of Murakami's most covetable characters on the global art market and art world. It would seem Murakami has discovered the secret of market survivability and mastered it himself.
Miss Ko2
Miss Ko2 is one of Murakami's most provocative and sexy characters. Perhaps it was her alluring look that caused her sale at Phillips for $4.2 million. Her towering legs and exaggerated chest play with the conventions of anime porn and the otaku subculture — a Japanese geek subculture obsessed with the fantasy aesthetic of anime.
The name for this character derives from the word "ko," which means child, young woman or geisha, and is also related to restaurant servers, hence Miss Ko2's waitress costume.
Through this character, Murakami promotes otaku culture and satirizes the West's misunderstanding of it.
Read More: What Is Takashi Murakami's My Lonesome Cowboy?
Murakami's Kaikai and Kiki
Created in 2000, this kawaii duo have become two of Murakami's most important characters. Their names form the expression "kaikaikiki", which was used in the 16th century to describe the traditional Japanese painting of Eitoku Kanô.
This Japanese artist was described as being both powerful and sensitive, qualities that Murakami tried to emulate in his designs for Kaikai and Kiki. Within the ears of these cutesy characters are their names in Japanese lettering.
The straddling of these anime-inspired characters with the qualities of Kanô and traditional Japanese culture made Kaikai and Kiki some of Murakami's most repeated icons.
So important were these duo that Murakami created and named his groundbreaking artist collective, Kaikai Kiki co ltd, after them. Originally founded in Tokyo, this collective was established to support radical contemporary art and rising artists in Japan. Nowadays, Kaikai Kiki co ltd spans Tokyo, New York and LA, with large workshops and studio spaces providing a breeding ground for Japanese art to thrive.
Louis Vuitton Panda
Famous for his fun and innovative approach to fashion, Marc Jacobs enlisted the help of Takashi Murakami back in 2002.
Under his creative directorship of Louis Vuitton, Jacobs chose Murakami to help him rejuvenate the designer's branding for the millennium. Murakami began this collaboration by re-imagining the iconic Louis Vuitton monogram with his Monogram Multicolore collection in 2003. 
This innovation of the classic design saw the LV monogram filled with 33 different colors, and it instantly became the must-have accessory of fashion icons like Naomi Campbell and Paris Hilton.
By 2004, Murakami was designing special characters to live on the surface of Louis Vuitton's accessories.
The Louis Vuitton Panda, in particular, was plastered over classic monogram leather goods and made them playful and fresh. Murakami's intervention at Louis Vuitton was a striking success.
The bags and accessories with his designs are now highly covetable on the resale market, with some larger Panda luggage pieces fetching over $30k. 
Kanye West's Graduation Bear
Kanye West has been one of Murakami's most loyal celebrity fans over the years. After meeting the Japanese artist at his studio in Tokyo, West commissioned Murakami to design the cover for his seminal album Graduation in 2007.
The cover artwork features characters typical of Murakami's art throwing their mortar boards in the air as West's alter ego is being launched into the sky. The bear had been an important motif for West since his 2004 album The College Dropout, symbolizing his continuous pursuit of success and happiness.
West also commissioned Murakami to direct an animated music video for this album for the song Good Morning. Immersing the viewer in Murakami's weird and wonderful world of animated cartoons, the video follows West's bear en route to his graduation.
Mr. Pointy
A combination of Buddhist and animist iconography and cartoon influences, Mr Pointy (Tongari-kun in Japanese) is the least slick and most historically influenced of all Murakami's characters. Rendered in fiberglass, sculptures of him can sometimes resemble colorful found objects.
Despite being imbued with historical significance, the character alludes to futuristic technology as well.
Murakami once described Mr. Pointy's spire-like head as "a communication center with outer space." In some renderings, the character appears like a shrine himself, guarded by miniature figures and standing atop an ornate plinth.
Murakami's Oval Buddha
Another instance of Murakami merging traditional Japanese art with Western popular culture is his Oval Buddha. Executed in 2007, Murakami's work was inspired by a 10th-century sculpture of Buddha that the contemporary artist saw in a Japanese museum.
When producing his Oval Buddha, Murakami imitated the lotus pedestal of this traditional sculpture, but the Oval character itself takes stylistic inspiration from anime and manga.
Murakami himself has described this work as a Pokemon cuteness character who is "sitting at the Shaka Nyorai's lotus petal."
Murakami's Oval, rendered in immaculate platinum plating, appears tranquil and contemplative when viewed from the front, as we would expect from a Buddha figure. From the rearview, however, Oval's mouth gapes open in a terrifying smile, presenting us with the dual nature of this character.
Murakami's reimagining of Buddha, merging Japanese popular culture and tradition with Western influences, was initially conceived in 1999.
Murakami's quasi-religious character was the result of a commission from the late Issey Miyake, who wanted an iconic character for a new line of T-shirts. Once again, Murakami's art world production fraternized with the fashion world to produce a character that speaks to modernity and tradition.
Pom
The most beloved of all his characters is Murakami's Pom. However, Pom is no mere imaginary character but Murakami's own pet dog.
Appearing in photographs and painted works by the contemporary artist, Pom has been Murakami's most trusty sidekick and the character most rooted in reality.
---