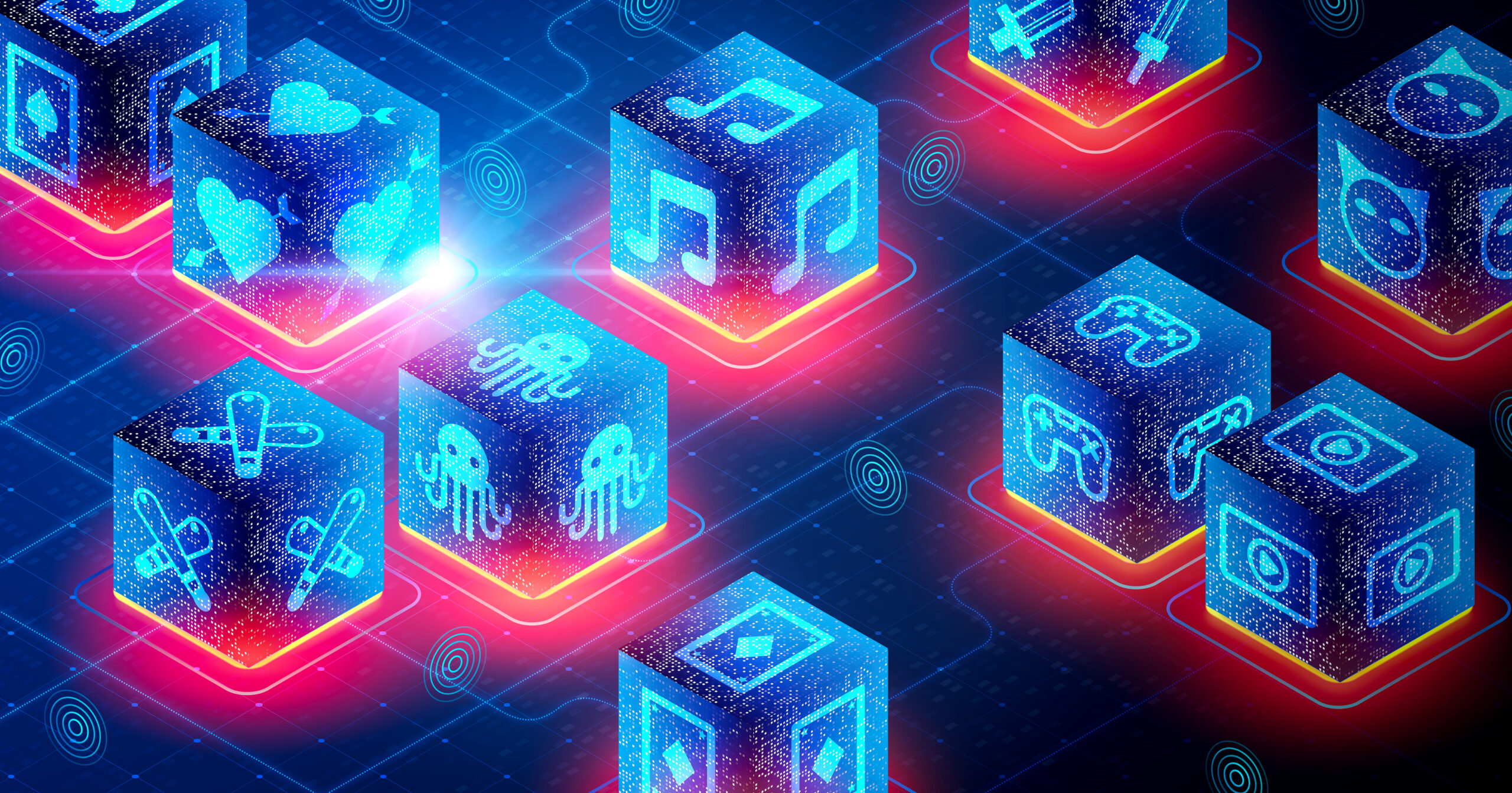 Generative Art NFTs (How They Work and 10 Iconic Projects)
---
Amid the hype around NFTs (non fungible tokens), generative art NFTs have emerged as a popular sub-sector within the crypto art space.
Created via generative art platforms like Art Blocks, these digital artworks made NFT news when they sold for millions of dollars.
In this article, we'll cover the basics of generative art NFTs, iconic projects you can check out, how to buy and sell a generative art NFT, and the concerns around collecting this type of NFT artwork.
We'll also introduce you to an alternative art investment option — investing in fractional shares of contemporary artworks through Masterworks.
What Are Generative Art NFTs?
Generative art NFTs are digital artworks created via autonomous systems (creative code, artificial intelligence, or an algorithm). These digital artworks rely on smart contracts and blockchain technology.
Although the algorithm or autonomous systems generate the art randomly, the artist can control some traits like colors, patterns, and themes.
Consequently, generative art relies on the collaborative effort between humans and machines. The AI artist outlines the process, and the computer produces the art.
The result is an NFT artwork that even the artist can't predict.
How did generative NFTs become so popular in the art world?
Generative art gained momentum as an innovative way to create NFT art. High-profile artists in the NFT space, like Pak, Snowfro, and Tyler Hobbs, have leveraged AI algorithms to develop hugely successful NFT art pieces.
Generative art platforms allow artists to experiment with thousands of ideas in seconds. These systems can generate unique pieces quickly, allowing the AI artist to focus on other creative elements.
The origins of algorithmic art date back to the 1960s. The first generative art exhibition, Computer Graphik, was held by Georg Nees in Germany in 1965.
While generative art isn't new and has been around in the art world for years, the connection with NFTs has revitalized the art style.
Why are generative NFTs popular amongst the NFT collector audience?
Generative art NFTs allow artists to reach and connect with a global audience of collectors.
Generative art is a creative medium that produces art that relies on the imagination of the collector, making it easier for the collector to connect with the piece.
However, it's important to note that the success of a generative artwork usually depends on the artist's popularity and the artwork's historical significance.
Now, let's look at 10 generative art NFT collections that took the world by storm.
10 Iconic Generative Art NFT Projects
Here are some of the high-profile generative art NFT projects:
1. Autoglyphs by Larva Labs
Larva Labs is world-renowned for creating the iconic CryptoPunks NFT collection.
Larva Labs describes the Autoglyphs project as a series of generative art experiments created via creative coding. The digital art project also made NFT news as it's considered the first on-chain generative art NFT collection — tokens solely written on the Ethereum blockchain.
It's estimated that this generative art NFT project reached a total sales volume of $41 million.
2. Fidenza by Tyler Hobbs
Tyler Hobbs' Fidenza is one of the most recognized generative art NFT projects on the Art Block platform. The collection includes 999 unique NFTs featuring colorful structured curves and blocks.
Interestingly, Fidenza buyers didn't know what their chosen piece of art would look like until the hash was generated. The Fidenza smart contract would then feed data into the Fidenza algorithm, creating a unique NFT.
The most affordable piece in this Art Blocks NFT collection will cost you at least $102,000.
3. Ringers by Dmitri Cherniak
Dmitri Cherniak is a Canadian generative artist and coder. He created Ringers – a generative art NFT collection of 1,000 unique NFTs. The NFT collection was generated on the Art Block platform and features a series of strings and pegs.
One of the most notable pieces from this Art Blocks NFT collection is Ringers #879, which sold for $5.8 million in 2021.
4. Solvency by Ezra Miller
Created by Ezra Miller, Solvency is a high-profile generative non fungible token collection that incorporates dynamic WebGL simulations.
These WebGL artworks have random attributes determined by seeded values generated by the token hash of the NFT.
Every piece in the digital art collection has unique traits, patterns, and textures — some are deemed rarer than others.
5. Lost Poets by Pak
Launched in September 2021, Lost Poets by Pak is a generative art collection and strategy game created by AI.
Pak is a digital artist most well-known for creating the most expensive NFT artwork sold to date — The Merge, which sold for $91.8 million in 2021. However, Lost Poets is considered his most in-depth project yet and achieved an initial sales volume of $70 million.
6. Grifters by XCOPY
Well-known for creating the iconic Right-Click and Save As Guy NFT, XCOPY is the NFT artist behind the Grifters collection.
The generative art collection features 666 editions of blue, yellow, and green spectral faces set against a black background.
7. Artificial Intelligence Art by AI Art House
Developed by AI Art House, the Artificial Intelligence Art collection consists of over 1000 pieces, available on the OpenSea marketplace.
Unlike Eponym — a text-to-image generator created by Art AI, Art AI House completed this generative NFT project without much human intervention (apart from the initial AI programming).
The bonus?
Every NFT sale gives the original buyer a physical free print of their piece framed in the canvas they choose.
8. Chromie Squiggle by Erick Calderon (aka Snowfro)
Created by the founder of the Art Blocks platform, Chromie Squiggle is a generative art NFT where each squiggle represents the character of the Art Blocks platform.
What is Art Blocks?
Art Blocks has become the leading generative art NFT marketplace and curation platform. Since its inception, the platform has made over $700 million in generative art sales.
9. Edifice by Ben Kovach
Edifice by NFT artist Ben Kovach is a series of 976 deteriorating structures built on strange terrain. The generative art NFT project explores how buildings are constructed and eventually erode.
The OpenSea marketplace is currently selling Edifice #196 for approximately $30,000.
10. Gazers by Matt Kane
Created by generative artist Matt Kane, the pieces in this generative NFT collection form a lunar calendar. The NFT collection celebrates crypto art, astronomy, color theory, and generative art in general.
Where Can You Buy And Sell Generative Art NFTs?
Art Blocks is the leading NFT marketplace where any NFT collector can buy unique generative NFT artworks. Other marketplaces include OpenSea, LooksRare, KnownOrigin, and more.
You can also create and buy generative art NFTs on fxhash — a platform based on the Tezos blockchain.
Artists can sell generative NFT art on marketplaces like OpenSea, Nifty Gateway, Rarible, Foundation, VIV3, BakerySwap, Axie Marketplace, and more.
Now, are generative art NFTs a good choice for you?
Concerns Around Investing in Generative Art NFTs
One of the major concerns around generative artwork is copyright.
On February 14th, 2022, The US Copyright Office Review Board ruled that copyright law cannot protect a work created entirely by a machine. Instead, copyright only protects creative works from the human mind.
Now you're probably wondering:
How does this affect NFT art investors?
If you've purchased a generative art NFT, you won't have exclusionary rights over that particular artwork. Consequently, anyone can commercialize the NFT because a computer generated the artwork without human creative inputs.
Additionally, it's challenging to know what the future holds for generative art NFTs since there's still a lot of trial-and-error associated with using autonomous systems to create art.
Moreover, the success of NFT artworks, in part, depends on crypto prices and the NFT market, which can be volatile. For example, in June 2022, there was an 88% drop in the number of addresses transacting on NFT marketplaces. In addition, the average price of an NFT sale dropped by 90% in May 2022, falling from $3,894 to $293.
These factors in the NFT ecosystem indicate that there's still a long way before generative NFT art has a chance to reach the level of value of physical artworks.
Looking for an alternative investment option?
Consider investing in blue-chip art.
Blue-chip art has a well-established history at auction and sale, giving you the information you need to make a knowledgeable investment decision.
An easy way to access the art market is to invest in fractional shares of contemporary blue-chip art through Masterworks.
Here's how:
Masterworks is an art investment platform that lets you invest in shares of multi-million dollar works of art by Andy Warhol, Bansky, KAWS, and more.
Share prices start at just $20, making it incredibly easy for you to start investing in your favorite pieces.
Here's how the platform works:
The research team identifies which artist markets have growth potential.
The acquisitions team then locates the piece and purchases it.
Masterworks files an offering with the Securities and Exchange Commission (SEC) to securitize the artwork.
After you've invested in shares, all you need to do is wait. Masterworks can hold the painting for 3–10 years. If the piece is sold at a profit, you'll receive pro rata returns after fees are subtracted (1.5% annual management fees plus 20% of the profit from the sale of the artwork).
Alternatively, you can sell your shares on the secondary market.
Get started by completing Masterworks' membership application.
See important Reg A disclosures: Masterworks.com/cd
---