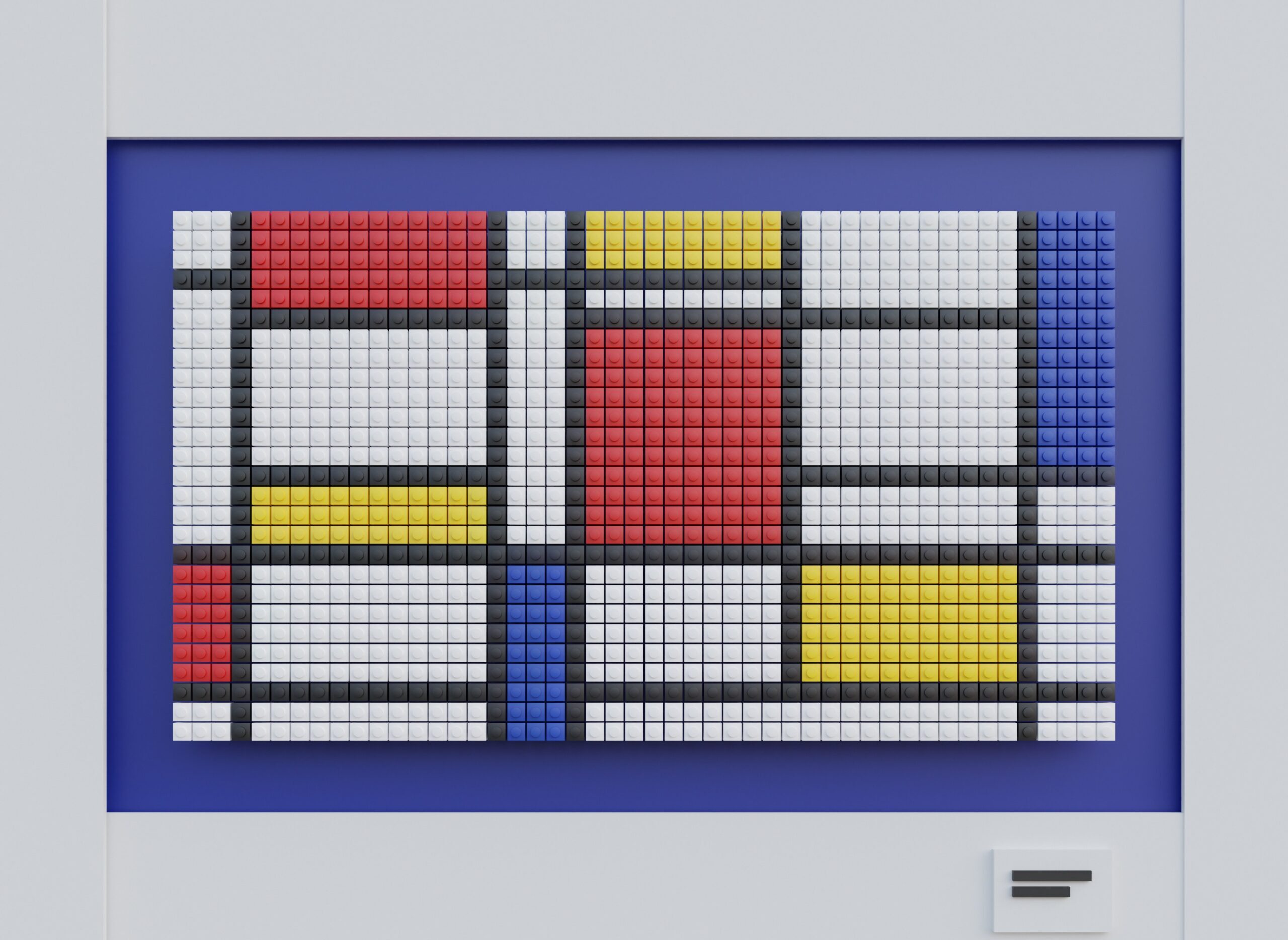 Who Was Piet Mondrian?
---
Piet Mondrian (b. 1872- 1944) was a prominent Dutch painter best known for his contribution to the De Stijl movement, the Avant-Garde movement, and Modernism in art.
He is recognized for the purity of his abstractions and the methodical practice by which he arrived at them. Mondrian radically simplified the elements of his paintings to reflect what he saw as the spiritual order underlying the visible world, creating a clear, universal aesthetic language within his canvases.
His simplified approach to color theory and composition fledged the earliest signs of minimalism in art history and was a precursor to abstract art in Europe.
Early life
Piet Mondrian, born Pieter Cornelis Mondriaan Jr., grew up as the second of five children in a devout Calvinist home in central Holland. Art and music were encouraged in his household, as was religion. His father, the headmaster of the local primary school, was an enthusiastic amateur artist who gave drawing lessons to a young Piet, nurturing his talents.
In 1892, Mondrian enrolled in the Rijksakademie van Beeldende Kunsten (aka the Royal Academy of Visual Arts) in Amsterdam. His three years of academic training focused on drawing from a model, copying Old Masters, and genre painting, a popular style of still lifes in the Netherlands.
In the following years, he relied on these skills to support himself by producing scientific drawings and copies of museum paintings. He also gave private drawing lessons in his studio.
Starting in 1905, his traditional landscape compositions revealed a new sense of drama and light. Jan Toorop, a leading Dutch Luminist artist, introduced Mondrian to the French Post-Impressionists.
Mondrian's paintings changed dramatically after this interaction. He began integrating the bold color and brushwork of Vincent van Gogh and the pointillist technique of Georges Seurat into his paintings.
Even in these early works, it is apparent that Mondrian tended to work in series, focusing on a singular subject. These facets would be invaluable to developing his mature, abstract style.
Mondrian's Mature Period
The influence of Cubism marks a turning point in Mondrian's career. In 1912, he moved to Paris, the thriving center of the Avant-Garde art world. He became fully conversant in the works of Pablo Picasso, George Braque and others, shifting from a representational, Neo-Impressionist style to modern abstractions.
Cubism gave Mondrian the structure necessary to distill his landscapes to their sparest elements of line and shape. He used the Cubist grid, reducing his images of trees and buildings to a schematized framework.
During his first years in Paris, Mondrian temporarily adopted the Cubist muted gray and yellow/brown palette and dark black lines, as in The Gray Tree (1912).
However, unlike the Cubists, Mondrian wished to stress the flatness of the painting surface rather than allude to three-dimensional illusionistic depth, as the Cubists depicted.
In 1914, Mondrian was visiting his sick father in Holland when World War I broke out. He was unable to return to Paris until 1919. While removed from his artistic contemporaries in Paris, Mondrian continued to develop his style toward pure abstraction.
In his later work, curved lines gradually disappeared from his paintings as well as all references to objects or nature. During this crucial period, Mondrian and architect Theo van Doesburg founded the journal De Stijl in 1917.
Mondrian and De Stijl
De Stijl, or "the style," was a movement among Dutch artists, architects and designers that presented an ideal of total abstraction as a model for harmony and order across the arts. Mondrian and these artists developed a vision of modernism independently from that found in Paris.
Mondrian termed the resulting artistic style Neo-Plasticism, or the new plastic art. For Mondrian, "plastic" merely referred to a different way of representing reality found upon the surface of the painting itself.
Dedicated to the absolute devaluation of tradition, the artists of De Stijl emphasized the need for abstraction and simplification.
They limited the elements in their paintings to straight horizontal and vertical lines, right angles, the three primary colors (red, yellow, and blue), and the three achromatic colors (gray, white, and black). The De Stijl movement had a significant international influence on architecture, art, typography, and interior design throughout the 20th century.
Mondrian's Final Years
After the end of the first world war, Mondrian moved back to Paris and, at the age of forty-seven, began creating the iconic abstract paintings for which he is best known.
Within the milieu of 1920s Paris, he created a unique mode of abstraction compared to the contemporaneous movements of Surrealism and Paris Dada. Mondrian's paintings of the 1920s are the most explicit expression of his ideal of purity and universal harmony in Neo-Plastic expression.
It was only around 1925 that Mondrian received recognition for his contribution to modernism, with his paintings entering the collections of wealthy Europeans and Americans.
While in London in 1938, Mondrian met and became friends with Peggy Guggenheim. A mutual connection led to Guggenheim's staunch support of the Dutch artist. Guggenheim exhibited Mondrian's work both in London and later in New York City at her Art of This Century Gallery.
Mondrian was introduced to the burgeoning New York City art scene and joined the American Abstract Artists, legitimizing the new group's role in Modern Art through his mentorship in European abstraction at the Art Students League.
Devoted to his work, Mondrian's life reflected the purity and discipline of his art. He remained unmarried and lived simply with few possessions. He died of pneumonia in 1944 at the age of 71.
The Legacy of Mondrian's Work
The refinement of Mondrian's abstractions, as well as the utopian ideals behind his work, had an immense impact on the development of Modern art, both while he was still alive and after his death.
His work was immediately referenced by the Bauhaus movement, particularly in the simplified lines and colors of the school's aesthetic, as well as its ideal in which the arts could bring concord to all aspects of life.
Later on, Mondrian's art and style can be seen in the developments of the Minimalists of the late 1960s, who also opted for reduced forms and a pared-down palette.
Critical Features Of Piet Mondrain's Artwork
Mondrian's early works were saturated with Post-Impressionist motifs and themes, such as landscapes, portraits, and flower paintings. Due to the influence and guidance of his uncle and father, he painted following the approach of the Hague School, where a particular style following Dutch traditions was mixed with the use of color by Barbizon painters.
His paintings from this period are also masterpieces, especially those from the turn of the century that stand out with their vibrant brushwork and bold and exotic colors heavily influenced by the Luminists painters.
The late 1910s marked the first significant change in Mondrian's style when he became fascinated by an occult spiritual movement called theosophy, which later provided roots for his aesthetic philosophy. These works are marked by deviating from his more natural landscapes to works focusing on basic elements and geometric shapes.
His mature and seminal series incorporates heavy vertical and horizontal lines and limited color palettes. The simplicity and abstraction of these elements provided the foundation for the De Stijl and following art movements.
Mondrian's Auction History
Since his death, Mondrian's paintings have changed the course of art history from an educational lens to the art market. For decades, his paintings and prints have had an impressive run at auction.
Composition No. III, with Red, Blue, Yellow, and Black (1929)
Around 1929, Mondrian produced a series of compositions that perfectly summarized the ideas underlying his aesthetic philosophy, Neo-Plasticism.
The paintings, dominated by black lines and primary colors, represent a mature stage of his transition toward abstraction. This example is his most successful painting at auction, being sold at the Impressionist & Modern Art Evening Sale – Including Property From The John C. Whitehead Collection at Christie's in 2015.
The piece sold for $45 million.
Composition avec bleu, rouge, jaune et noir (1922)
This earlier work of art beautifully showcases Pier's transition during his career transitional period. Here we can see the theosophical society's influence and the early stages of his abstraction begin to take form.
This painting was sold by Christie's Paris in 2009 from the collection Yves Saint Laurent et Pierre Berge for $24,627,840.
Composition with red, blue and gray (1927)
The composition is similarly reduced to the simplest of rectilinear forms, squares and rectangles defined by vertical and horizontal lines.
The lot was offered by Sotheby's London in 2014 at the Impressionist & Modern Art – Evening Sale and sold for $22,972,950.
---