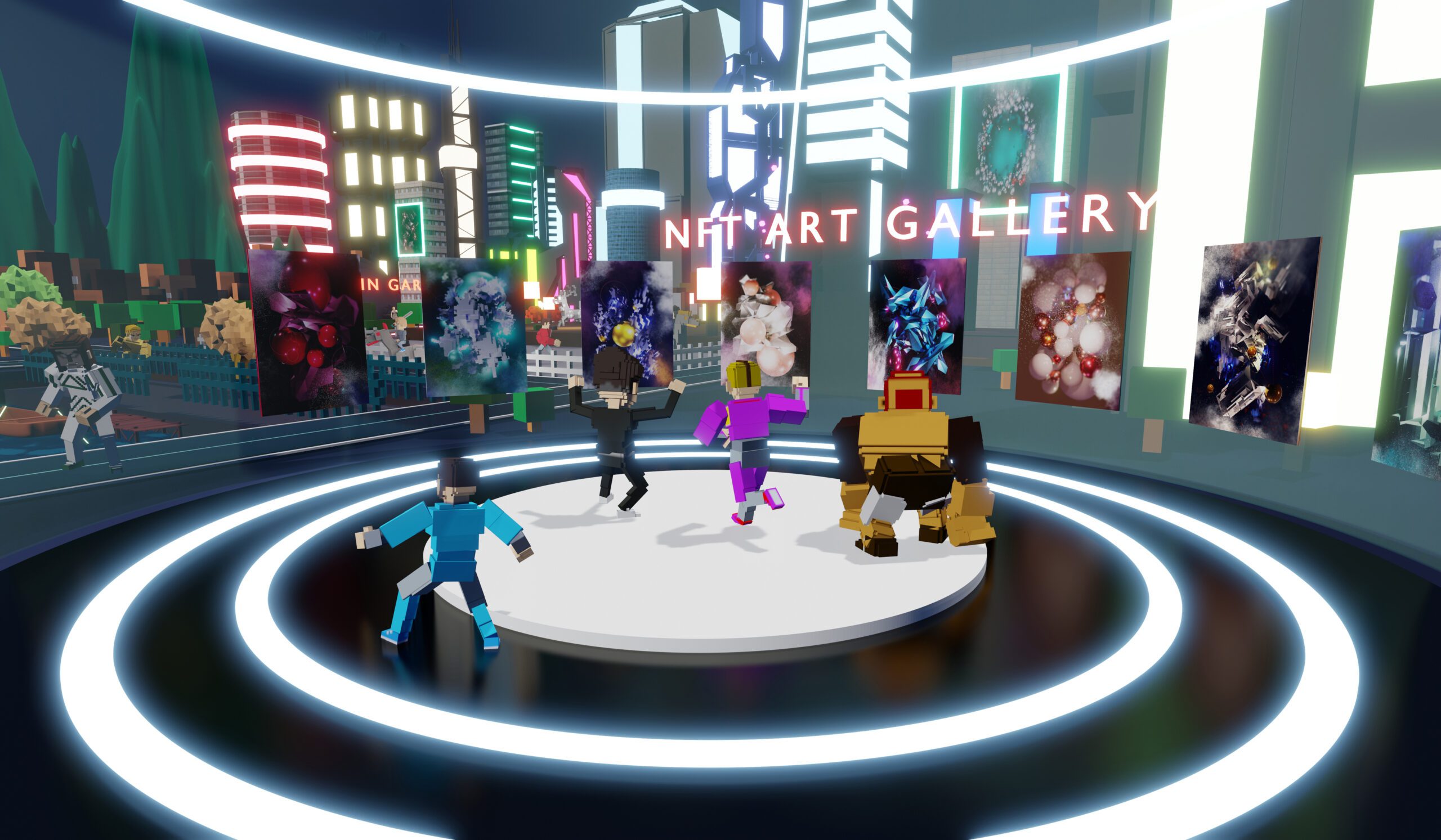 What is Metaverse Art? (Popular Platforms, Famous Artists & More)
---
Ever since NFTs (Non-Fungible Tokens) and blockchain technology were introduced, several artists have been selling their artworks virtually. In fact, the global online art market grew from $7.9 billion in 2020 to around $13.6 billion in 2021.
Interestingly the metaverse, a virtual world, is also revolutionizing the art world.
But what exactly is the metaverse, and what does it mean for the fine art world?
Let's explore everything about metaverse art, popular metaverse platforms, and the artists who showcase their work in the metaverse. 
You'll also discover a platform that helps you invest in the shares of extraordinary art pieces.
What Is the Metaverse, and How Does It Work?
The metaverse is a virtual shared space where you can interact with others using computer-generated objects and avatars (3D representations of people). This technology can be used to make a digital replica of the world or to create new imaginary environments.
The metaverse can be used for various purposes, including organizing art exhibitions, online shopping, education, social networking, playing online video games, and more. For instance, it comprises blockchain-based worlds like Decentraland — an Ethereum-based 3D virtual platform where Sotheby's digital art gallery is based.
This means that you may come across well-known New York or San Francisco buildings or even famous paintings by Frida Kahlo, Vincent Van Gogh, and other reputed artists, on the Metaverse.
In summary, the metaverse is a combination of virtual worlds, augmented reality, and the internet. The common devices that let you access this virtual space include augmented reality (AR) glasses and virtual reality (VR) headsets.
What Does Metaverse Mean for the Fine Art World? (Key Benefits)
Here's how the metaverse is revolutionizing the art world:
1. A Place Where People Can Interact Regardless of Their Physical Locations
The metaverse makes it easy for you to learn, play, and interact with others from the comfort of your home. This means you can visit your favorite metaverse art gallery or metaverse museum from anywhere in the world.
Also, in the metaverse, you don't have to worry about issues like where to store or display your artwork.
2. A Safe Space for Buying and Selling Fine Art
Non-fungible tokens (NFTs) ensure that the metaverse is a safe space for buying or selling art and other assets. Simply put, NFTs are blockchain-based tokens representing a piece of any unique asset.
Before NFT art and blockchain technology were introduced, it was easy to reproduce digital artwork. Now, these technologies ensure that artists can prove ownership of their work and that transactions can be recorded.
3. Artists and Buyers Get Access to Larger Marketplaces
There are no limits on the number of art galleries and museums you can visit in the metaverse. Also, artists can create virtual reality art galleries for all kinds of audiences.
Connecting and communicating with other devices in the metaverse is smooth — thanks to AI (artificial intelligence) and IoT (Internet of Things) technologies.
Meanwhile, cryptocurrencies allow you to buy and sell any piece of art in the metaverse.
Examples of Art in the Metaverse
Landscapes by Cassie McQuarter: A project that involves overlaying landscapes from Google Earth with digital art.
Your Progress Will Be Saved by LaTurbo Avedon: A virtual art gallery that uses the video game Fortnite as the medium. This metaverse art gallery is also presented within the game.
Kent Sheely's Metastudio: A digital art studio in the metaverse.
4 Popular Metaverse Platforms for Art
Here are some of the art metaverse platforms worth checking out:
1. Decentraland
Decentraland lets you trade collectibles like fine art, play games, socialize, and explore other virtual experiences.
It allows you to create your own virtual surroundings, applications, and marketplaces — offering you an immersive experience. For example König Gallery, a German art gallery, owns a piece of virtual land on Decentraland's metaverse platform.
Famous neighborhoods in the Decentraland metaverse include the Soho Plaza (aka Art Plaza) and the Voltaire Art District.
Several events are hosted on Decentraland, including the annual Metaverse Art Week (a digital art exhibition event) and the Metaverse Fashion Week. In 2022, the Metaverse Fashion Week was hosted in March, while the Metaverse Art Week took place in August.
Decentraland's 2022 Metaverse Art Week event included immersive art installations, an NFT exhibition, conceptual art, performance art, and more.
Let's check out some of the highlights from the event:
Frida Kahlo Family's Red House: Frida Kahlo's family celebrated the Metaverse Art Week by launching the Frida Kahlo Family Red House — a structure showcasing the first half of Frida's life and her rare artwork.
Makers Place: Alan Bolton collaborated with the Makers Place Gallery to bring his art to the Art Plaza during the annual Metaverse Art Week. During the event, Alan Bolton showcased THE SUCCESSOR — a digital artwork that's part of his REBIRTH Collection.
Art Plaza's Outdoor Sculpture Garden: The Decentraland Foundation allowed artists to exhibit their work in the outdoor sculpture garden of Soho Plaza. Some famous people who participated in the event include Lady Gaga's Creative Director, Nicola Formichetti.
Decentraland Community Activations: Artwork from various communities and those made by members of the Decentraland Foundation were displayed during the Metaverse Art Week. The Decentraland metaverse also hosted a series of immersive art installations by artists like Burton Morris.
Cash Labs Gallery: The Cash Labs Gallery launched its permanent collection during Metaverse Art Week and hosted different shows on its four floors. Its NFT exhibition showcased the works of NFT artists like Damien Hirst.
UXart Lab: This lab displayed the best Latin American pop, kinetic, and crypto art. Some of these artworks are currently exhibited at the Venice Biennale — an international annual cultural exhibition hosted in Venice, Italy.
Pop!Wall: The pop artist Burton Morris (in collaboration with the House of Tang) installed Pop!Wall — a 3D art wall resembling a notorious popcorn kernel artwork.
2. Cryptovoxels
Cryptovoxels comprises digital art galleries and any form of virtual space that you can access through your mobile device, a desktop browser, or a VR headset. Most of the virtual galleries on this platform have a combination of 2D and 3D art objects.
Cryptovoxels also has a marketplace where you can buy and sell digital collectibles like art. It often hosts various events, like the Async Art Gallery Cryptovoxels Tour.
3. Efinity
Efinity is a platform that offers a quick and easy way to make NFTs. It allows artists to turn their existing digital artwork into NFTs.
The platform allows you to integrate your NFTs with blockchain games or sell them on the Efinity Marketplace.
4. Substrata By Epoch Gallery
Substrata is a virtual art exhibition platform hosted by Epoch Gallery (a virtual art gallery) and the Los Angeles Museum of Art (LAMOA). It lets you create your own environment where you can buy and sell digital art, play games, and explore any other immersive experience.
6 Artists Who Showcase Their Virtual Artwork in the Metaverse
Here are some famous artists you should check out:
1. Beeple
Michael Winkelmann, aka Beeple, is a digital artist, animator, and graphic designer who sells NFTs. He creates his artwork using various mediums and his pieces usually focus on political and social topics.
2. KAWS
Brian Donnelly, aka KAWS, is an American designer and graffiti artist. In early 2022 he displayed his virtual artwork in the metaverse through a partnership with Fortnite and London's Serpentine Gallery.
As part of his virtual exhibition, New Fiction, he created a skeletal figure that lives in the virtual world within the Fortnite game.
3. Federico Clapis
Federico Clapis is an Italian visual artist. He developed a violent video game and NFT experience that has an artist as the main player. In the video game, the player (the digital artist) has to destroy museums and various gaming characters in pursuit of a highly sought-after Clapis NFT.
4. Maylee Todd
Maylee Todd is a Canadian artist and musician. For her "Maloo" album, Todd showcases a series of "science fiction lullabies" narrated by a digital avatar in a metaverse world called "The Age of Energy." The album features elements of sci-fi and performance art.
5. Cassie McQuater
Cassie McQuater is a US-based new media and video game artist. In her Landscapes project, she uses Keyhole Markup Language, a file format for displaying geographic data, and a tour feature on Google Earth to overlay geographic features with her digital art.
6. Refik Anadol
Refik Anadol is an American designer and new media artist. He's famous for his "Machine Hallucinations — Space: Metaverse" project, which was made in collaboration with NASA Jet Propulsion Laboratory (JPL). In it, Anadol uses machine learning algorithms to create richly diverse artworks representing unknown space objects.
Now, for the big question:
Is it worth investing in metaverse art?
While metaverse art holds promise, it's still too early to know for certain whether they will deliver results as a long term investment.
But even during the age of the metaverse, NFT art, and crypto art, there's still a large market of physical artworks you can invest in. Blue-chip art has a longer performance history, giving you more information to make an investment decision.
And, one of the easiest ways to invest in this asset might be to put your money into fractional art shares.
Masterworks is the largest platform that lets you invest in fractional shares of fine artworks. You can invest in multimillion-dollar blue-chip artists like Andy Warhol, Pablo Picasso, and others.
This is how the platform works:
The Masterworks research team finds artists whose work has the potential to rise in value. They review several paintings and buy less than 5% of what they're offered.
Masterworks securitizes the artworks by filing an offering circular with the Securities and Exchange Commission (SEC). This makes it easy for anyone to invest in fractional shares of contemporary art.
Masterworks lets you buy and sell shares on the secondary market.
You can also wait until a painting is sold so you can receive returns if the artwork sells for a profit.
The platform has a straightforward fee structure — it charges a 1.5% annual management fee held in equity by Masterworks, and receives 20% of profits after selling an artwork.
Over the last 26 years, contemporary art has also shown a price appreciation of 13.8%. Here's how it compares to other asset classes (as of December 31, 2021):
S&P 500: 10.2%
Real Estate: 8.9%
Gold: 7.2%
Apply for membership at Masterworks today and join an exclusive community that invests in the fractional shares of blue-chip art.
This article is sponsored by Masterworks. This material is provided for informational and educational purposes only. It is not intended to be investment advice and should not be relied on to form the basis of an investment decision.
See important Reg A disclosures: Masterworks.com/cd
---