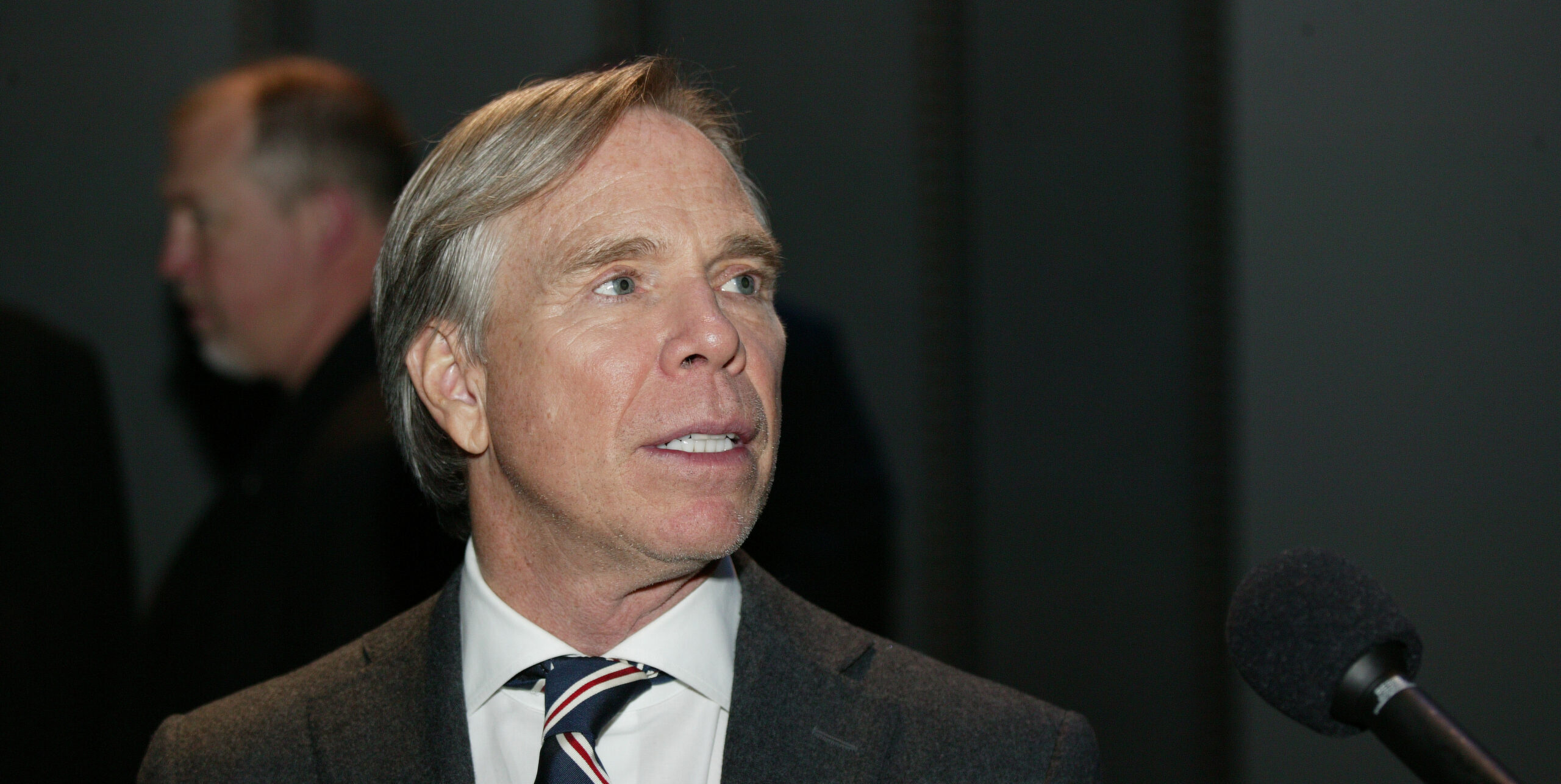 What is Tommy Hilfiger's Net Worth?
---
Tommy Hilfiger is a name that needs no introduction in the fashion world. With his signature red, white, and blue designs and his preppy aesthetic, he has built an empire that spans across the globe.
But just how much is the fashion mogul worth?
Who is Tommy Hilfiger?
Thomas Jacob Hilfiger is an American fashion designer and the founder of Tommy Hilfiger Corporation.
He began his career by co-founding a chain of fashion stores called the People's Place in upstate New York in the 1970s. In the 80s, he launched his eponymous menswear line.
Tommy Hilfiger collections gained immense popularity, and Hilfiger worked with many music artists and television shows at the height of his popularity. This included serving as a guest judge on Project Runway and a fashion consultant on American Idol.
In 2012, Hilfiger was awarded the Geoffrey Beene Lifetime Achievement Award from the Council of Fashion Designers of America.
Tommy Hilfiger's Personal Life
Hilfiger was born in 1951 in Elmira, New York as the second of nine children. His father, Richard, was a watchmaker while his mother, Virginia, was a nurse.
He had an early interest in sports, fashion and the music industry, like many of his siblings.
After graduating from Elmira Free Academy high school in 1969, Hilfiger attended the Greater Southern Tier BOCES Bush Campus in Elmira very briefly before dropping out.
In 1976, Hilfiger met Susan Cirona, an employee at the People's Place in Ithaca. They married in 1980 and went on to have four children — Ally, Richard, Elizabeth and Kathleen.
In 2000, Susan and Tommy divorced and eight years later Tommy married Dee Ocleppo and welcomed a son, Sebastian, in 2009.
Tommy Hilfiger's Net Worth
As of 2023, Tommy Hilfiger's estimated net worth is $450 million. While most of his fortune was made as a fashion designer, he has also been involved in a number of other business ventures including real estate and venture capital investments.
How Did Tommy Hilfiger Make His Fortune?
The People's Place & Early Lines
Hilfiger worked in a clothing store on Cape Cod in the summer of 1969 which inspired him to use his life savings of $150 to open a clothing store in 1971.
The first People's Place opened in downtown Elmira. To stock the store, Hilfiger would grab some friends and drive into New York City to buy clothing.
Eventually, he found this unsatisfying and decided to sketch his own designs, which would be the beginning of his eponymous clothing brand.
The People's Place went bankrupt in 1977, so Hilfiger moved to New York City and enrolled in classes to learn more about the business side of the fashion industry.
He set up a company called Tommy Hill in 1979, then founded 20th Century Survival in 1981 and Click Point in 1982, which specialized in women's clothing.
Tommy Hilfiger Corporation
With support from businessman Mohan Murjani, Hilfiger launched his eponymous menswear line and founded the Tommy Hilfiger Corporation. After leaving Murjani International in 1989, investors Silas Chou and Lawrence Stroll instead acquired the brand.
His brand quickly became known for its classic, preppy style and signature use of red, white and blue colors.
Over the years, the Tommy Hilfiger brand has expanded to include a wide range of products, including women's clothing, fragrances, home furnishings and eyewear. The company has also grown globally, with a strong presence in Europe and Asia as well as in North America.
Hilfiger has sponsored several musical events including Sheryl Crow's 1997 tour, Britney Spears' 1999 tour and Lenny Kravitz's 1999 tour.
Tommy Hilfiger went public in 1992. Hilfiger was named Menswear Designer of the Year by the Council of Fashion Designers of America in 1995.
The Sale of Tommy Hilfiger
In 2005, Tommy Hilfiger sold his clothing brand for $1.6 billion to Apax Partners, a private investment company.
In March 2010, Phillips-Van Heusen, owner of Calvin Klein and Izod, bought the Tommy Hilfiger brand from Apex Partners for $3 billion.
Tommy Hilfiger Investment Portfolio
Art Collection
After marrying Dee Ocleppo, Hilfiger created an art-filled dream house in Miami in 2015.
Inspired by the disco era, the interior looks like a vivid and colorful showcase of Contemporary Art bestsellers.
The collection includes works by Andy Warhol, Tracey Emin, Jean-Michel Basquiat and Damien Hirst.
Includes the iconic ten print set of "Cowboys and Indians" by Andy Warhol, Jean-Michel Basquiat's Untitled (Devil's Head), Jean Dubuffet's Le Gommeaux, Keith Haring's Snake and Man and Dogs and Men and Damien Hirst's Disintegration — The Crown of Life.
Real Estate
In 2008, Hilfiger bought a $25.5 million penthouse in New York City's Plaza Hotel which he eventually sold in 2019 for $33.25 million.
In 2013, Tommy purchased a 14,000-square-foot Miami mansion that he later sold for $28 million.
In 2016, Tommy purchased a $35 million mansion in Palm Beach which he sold in 2018, then purchased a more modest $9 million mansion in Palm Beach which currently serves as his primary residence.
In 2020, Hilfiger sold his 22.4-acre estate in Greenwich, Connecticut for $47.5 million.
In 2021, Tommy bought a ski-in, ski-out mansion in Aspen, Colorado for $31 million then flipped it for $50 million just three months later.
Tommy Hilfiger Philanthropy
In 1995, Hilfiger launched The Tommy Hilfiger Corporate Foundation. The organization places a strong emphasis on health, educational and cultural programs and supports charities that assist at-risk American youth.
In 1998, Tommy Hilfiger was a sponsor of the charity LIFEbeat – The Music Industry Fights AIDS, along with Moet and Chandon, Christie's Auction House and The Advocate.
He is personally invested in causes such as Autism Speaks and the MLK, Jr. National Memorial Project Foundation, and has served on the board of directors for The Fresh Air Fund, a New York-based organization that provides underprivileged children with summer camp opportunities.
In 1999, The Fresh Air Fund's Camp Pioneer program was renamed Camp Tommy in honor of Hilfiger's support.
Since 2008, Hilfiger has designed limited-edition handbags to support Breast Health International (BHI), a global organization focused on finding a cure for breast cancer. A portion of the handbag sales is donated to BHI's Fund For Living program, and each seasonal campaign features a celebrity ambassador.
The Bottom Line
Tommy Hilfiger is a fashion mogul who has made a significant impact in the industry. Through his visionary designs and business acumen, he has built a successful global brand that has earned him a substantial fortune — $450 million.
While the majority of Hilfiger's fortune was made from his fashion brand, he has been able to break through the fashion industry and into mainstream pop culture.
In 2005, he hosted the CBS reality series The Cut, a show on which 16 designers competed for a design job with Hilfiger. He also had a cameo in Zoolander and its sequel, and has published seven books, including All-American and American Dreamer: My Life in Fashion & Business.
Invest Like Millionaire Tommy Hilfiger With Masterworks
While we can't all quickly become millionaires with our names plastered across runways at fashion week, it is pretty easy to begin investing in fine art.
Contemporary Art, a favorite of designer Tommy Hilfiger, can help with portfolio diversification because it has a very low correlation with traditional markets. This means during bear markets or periods of high inflation, blue-chip Contemporary Art has historically outperformed the traditional market, providing a hedge for your portfolio (per MW All Art Index).
In 2021, UBS reported that art as an asset class had an annual transaction volume of $65.1 billion and a total estimated global value of $1.7 trillion.
According to the Masterworks All Art Index, contemporary art prices appreciated by about 20.3% during high inflation — making it one of the best inflation-hedging assets. Contemporary Art specifically has also shown strong price appreciation, increasing on average 13.8% annually over the past 26 years.
However, it can be difficult for an individual investor to own a piece of a $15 million painting because of the high cost.
The Masterworks platform answers this challenge by offering fractionalized shares of some of the most sought-after Contemporary Art, including works by Banksy, KAWS and Basquiat. Your Masterworks account allows you to invest in a piece of a $10 million painting for a fraction of the cost.
See important Reg A disclosures: Masterworks.com/cd 
---