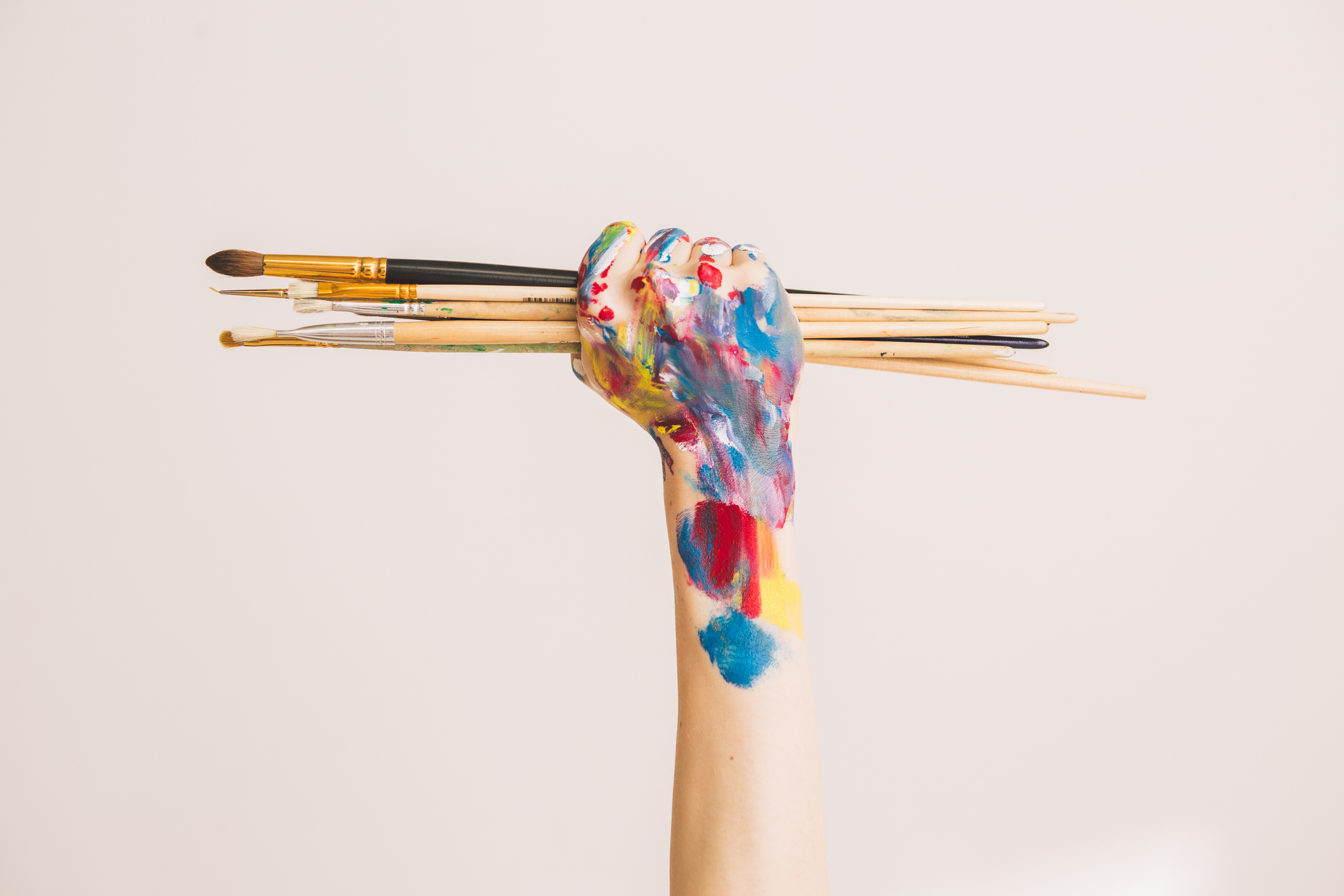 What Is Protest Art?
---
It has been taken as truth for decades now that art is a form of expression which can be used for protest and activism.
Art can effectively illustrate narratives and perspectives, sometimes open to interpretation and sometimes highly explicit. Due to the expressive nature of art, artists are often activists, devoting their artistic output to a cause near and dear to their hearts.
From fighting for AIDS awareness to protesting government censorship, artists have been at the forefront of social movements for centuries. Due to the highly visible nature of their output, not to mention the power of their communications, they are often influential voices within their sphere.
Explore just a few examples of how artists have acted as activists and see how they have contributed to local and global protest movements in promoting awareness of their causes.
What Kind of Medium Is Protest Art?
It is difficult to establish a history for protest art, because many variations of it can be found throughout history. While many cases of protest art can be found as early as the 18th century such as The Death of Marat by Jaques Louis Davide, commenting on the French Revolution. The last thirty years have experienced a large increase in the number of artists adopting protest art as a way to relay a message to the public.
Activist art cites its origins from a particular artistic and political climate.
In the art world, performance art of the late 1960s to the 70s worked to broaden aesthetic boundaries between visual arts and traditional theater, blurring the rigidly constructed distinction between the two.
Protest art involves creative works grounded in the act of addressing political or social issues. Art is a medium that is accessible to all socioeconomic classes and represents an innovative tool to expand opportunity structures.
These mediums create a broader scope for political art forms to be viewed by their audience.
Graffiti
Street Art and graffiti have long been associated with political unrest.
From its modern inception, the very act of producing a piece of Street Art could be seen as a form of protest: as a challenge to the dreariness of the urban landscape, a reaction to the creeping privatization of public spaces, or simply as a public message to a society fraught with inequality, discrimination and prejudice.
Performance Art
Politically motivated art and performance are not new. Before and after the first world war, art movements in Europe, such as the Futurists in Italy, spread their political or anti-establishment ideals through various art forms, including performance art.
During the civil rights movement in the US in the late 1950s and early 1960s, art forms, including performance art, were used extensively to highlight and protest the racial segregation of public areas. These actions, such as sit-ins on segregated transport, set the model for protest and mass actions in public spaces.
Conceptual Art
Conceptual Art sought to expand aesthetic boundaries in its critique of notions of the art object and the commodity system within which it is circulated as currency.
Conceptual artists experimented with unconventional materials and processes of art production. Grounded by strategies rooted in the real world, projects in conceptual art demanded viewer participation and were exhibited outside of the traditional and exclusive space of the art gallery, thus making the work accessible to the public.
Parallel to the emphasis on ideas that conceptual art endorses, protest art is process-oriented, seeking to expose embedded power relationships through its process of creation.
Feminist Art
Emerging forms of feminism and feminist art of the time was particularly influential in protest art.
The Feminist Art movement emerged in the early 60s during the Second Wave of Feminism. Feminist artists worldwide set out to re-establish contemporary art's founding pillars and reception.
The movement inspired change, reshaped cultural attitudes and transformed gender stereotypes in the arts. The idea that "the personal is the political," that is, the notion that personal revelation through art can be a political tool, guided much activist art in its study of the public dimensions to private experience.
The strategies deployed by feminist artists paralleled those by activist artists. Such strategies often involve collaboration, dialogue, a constant questioning of aesthetic and social assumptions. This new respect for the audience and are used to articulate and negotiate issues of self-representation, empowerment, and community identity.
What Is the Goal of Protest Art?
While some protest art is associated with trained and professional artists, extensive knowledge of art is not required to participate in protest art. The art of protest art isn't subscribed to the nature of the market, meaning this art is not created for the purpose of profit or fame of the artist. Instead, it's meant to serve a broader reach to send a message and further illicit a change.
Protest artists frequently bypass the art-world institutions and commercial gallery system in an attempt to reach a wider audience. Furthermore, protest art is not limited to one region or country, but is rather a method that is used around the world.
What Are Some Examples of Art as a Protest?
Mexican Murals
In North America during the 1920s, the Mexican Muralists were in revolution against tyrannical industrialization. Their intention was to protect workers' rights.
Artists such as Diego Rivera were painting large-scale public frescos illustrating the strife of the proletariat. The group aligned under Leninist ideals and engaged with politics through the standards of the history of painting.
They emulated traditional painting strategies, most notably painting large-scale frescoes. Like Renaissance artists, they communicated to masses of people through their didactic and powerful scenes.
Kara Walker and Racial Inequality
American contemporary artist Kara Walker is best known for her panoramic silhouette work and stop-motion films that explore the intersections of race, gender, sexuality, and colonialism. In 1994, Walker gained instant notoriety with her cut-paper silhouette mural, Gone, An Historical Romance of a Civil War as It Occurred Between the Dusky Thighs of One Young Negress and Her Heart, depicting the sexual violence of slavery in the Antebellum south.
Walker now has works in multiple mediums. In 2014, she installed a massive, sphinx-like sculpture of white sugar, portraying a racist stereotype of a black woman within Brooklyn's former Domino Sugar Factory — alluding to the shared history of slavery and the sugar industry in the United States.
More recently, Walker established a fountain in the Tate Modern that drew on the colonial legacy of the British Empire and the transatlantic slave trade, while obviously aesthetically inspired by the Queen Victoria Monument outside of Buckingham Palace.
Keith Haring's Social Activism
American artist Keith Haring's graffiti-esque Pop Art grew to global popularity from the humble beginnings of his spontaneous drawings scrawled in New York City's subways throughout the 1980s.
After gaining notoriety, Haring focused his primary-colored creations on street culture and social activism, portraying characters in sexualized situations to advocate for safe sex and AIDS awareness. Due to a lack of proper government response to the American AIDS crisis, Haring and his fellow artists led the fight against the virus through grassroots education, die-in demonstrations, and awareness-sparking initiatives.
This included the deeply moving NAMES Project AIDS Memorial Quilt, which now displays the names of over 94,000 individuals who died of the virus.
Haring is one such name, having passed away in 1990 due to AIDS-related complications after a very short lifetime of advocacy and activism, but only after having crafted iconic imagery that continues to live on in the public consciousness.
Banksy's Crude Oils
Aside from Banksy's graffiti stencil work that revolves around themes of police brutality, the horrors of capitalism, and the pandemic's effects, Banksy has always had politics and protest as a core element of his work.
Crude Oil was a gallery of re-mixed "masterpieces, vandalism, and vermin" that ran for over a week in a small shop at 100 Westbourne Grove, London. The subject matter was Banksy's take on the potential danger of continued oil drilling and its effects on the environment and planet.
The artworks were reworked copies of well-known art world standards, including Monet, Warhol, Jack Vetrianno, and Van Gogh, by taking subjects of their popular paintings and then appropriating them to include a Bansky twist to comment on climate change and the effects of fossil fuels. For example, in Sunflowers From the Petrol Station, Banksy appropriates Van Gogh's sunflowers to be dried and wilted in their pot.
The oil paintings were an optimal choice, as they garnered the attention of the masses due to their likeness to a notable fine art but also conveyed its message when taking a closer look at the effects of pollution and fossil fuels inflict.
Barbara Kruger and Women's Rights
American conceptual artist, Barbara Kruger's iconic works of black-and-white photography overlaid with white-on-red declarative captions, often address identity, consumerism and gender-related constructions of power and sexuality with billboard-like directness.
By combining the postmodernist theory of writers like Walter Benjamin and Pierre Bourdieu with mass cultural imagery, she is able to shine a light on assertions that we take for granted as truths — about women's value, the role of consumerism in postmodern society and gender representation. In 1989, Kruger created Untitled (Your body is a battleground) for the Women's March on Washington in support of reproductive freedom and women's right to choose.
Simultaneously art and protest, the piece is emblematic of both the timeliness and timelessness of Kruger's artistic activism.
Ai Weiwei and Censorship
The son of an exiled political dissident, Chinese artist and activist Ai Weiwei's work is inherently political.
Since 1995, Ai Weiwei has been traveling the world, photographing himself flipping off iconic monuments of power in his Study of Perspective series.
Describing his photographic project as his personal rebellion against government authorities that disregard the freedoms of the citizens they claim to protect, his series has been extremely controversial.
In addition to his photographic work Ai Weiwei also installs large-scale installations and sculptures that aim to spur conversation about abuses of power, exclusionary political borders, governmental censorship and reductions of freedoms.
By utilizing traditional Chinese forms such as the ubiquitous stool that can be found in any parochial Chinese town, Weiwei alludes to the social and political issues of his home country though his work.
The Bottom Line
Protest art has played an integral role in defining social movements and reshaping art's role in history. In the contemporary age, with an expansion of mediums and accessibility to sharing platforms such as social media, protest art has become much more popularized than previously.
The work of artists like Banksy has now set the tone of taste and continues to elevate the standard of freedom of speech and expression — with a touch of fine art.
In a world where artists become activists, the broader gap of art as a form of protest continues to shrink and redefine the constructs of activism in art history.
Art is not just a visual appeal or a form of protesting for a cause you believe in, but much more.
If you're interested in becoming a part of the art history being created by artists like Banksy, learn more about how you can start investing in art.
Invest in Shares of Contemporary Art With Masterworks
Masterworks is a unique and exclusive art investing platform that lets art buyers and fellow activists invest in fractional shares of physical art by famous contemporary artists like Yayoi Kusama, Pablo Picasso, and Keith Haring.
Share prices start at just $20, making it easy for art buyers to invest in their favorite fine art pieces.
Here's a quick overview of how the platform works:
The research team identifies which artist markets have growth potential.
The acquisitions team then locates the painting and purchases it.
Masterworks files an offering with the Securities and Exchange Commission (SEC) to securitize the artwork.
All you need to do is wait once you've invested in the shares of your choice. Masterworks can hold the painting for 3–10 years. If the piece is sold at a profit, you'll receive pro rata returns after fees are subtracted (1.5% annual management fees plus 20% of the profit from the sale of the artwork).
Or opt to sell your shares on the secondary market.
Start investing in shares of iconic artworks and build a diversified portfolio by completing Masterworks' membership application.
See important Reg A disclosures: Masterworks.com/cd
---