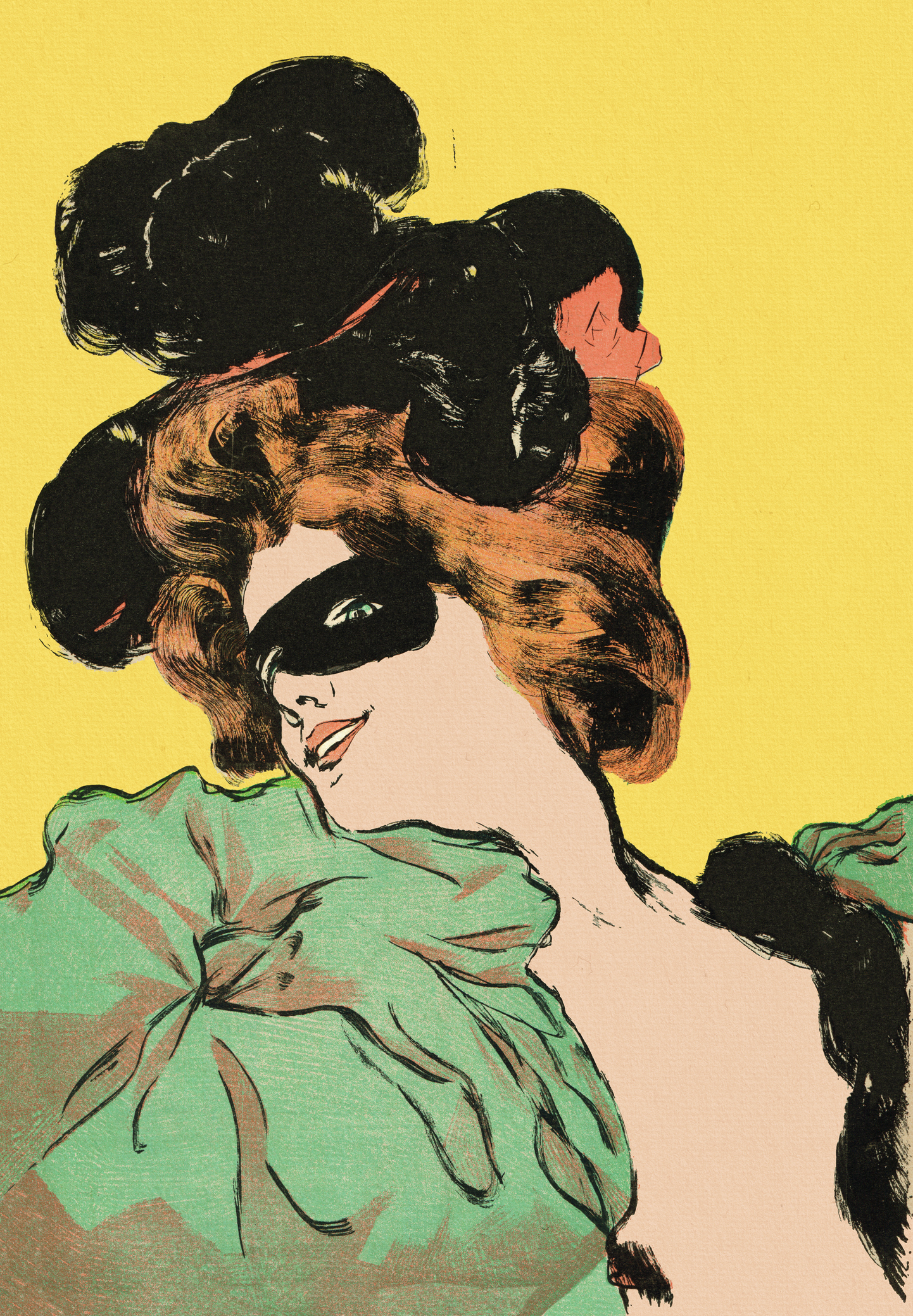 Art Deco vs Art Nouveau: 7 Differences (Period, Themes & More)
---
Art Deco and Art Nouveau are art movements that emerged in reaction to major world events. Both presented a radical, modern alternative to the classic imitative style of traditional art.
Despite these similarities, they really are two distinct art movements of the late 19th and 20th centuries.
Even today, the influence of these movements is found in graphic design, interior design, architecture, clothing and more. For instance, the Empire State Building in New York is an iconic Art Deco masterpiece, while Barcelona's grand Casa Batlló is an Art Nouveau landmark.
But how do you distinguish between these two styles?
Let's check out the key Art Deco vs Art Nouveau differences and some of the most renowned artists representing the two movements. We'll also cover some common FAQs and how you can invest in artwork shares through Masterworks. 
Art Deco vs Art Nouveau: 7 Key Differences
Here's a quick overview of the main differences:
| | | |
| --- | --- | --- |
| Differences | Art Deco | Art Nouveau |
| Time Period | 1920-1940 | 1890–1914 |
| Known by Different Names | Arts Décoratif, Style Moderne | Jugendstil (Germany), Sezessionstil (Austria), Tiffany Style (USA), Glasgow Style (UK) |
| Influences | Inspired by Egyptian, Aztec, and Central American art, influenced by World War I | Inspired by natural imagery and Japanese prints, influenced by the Industrial Revolution |
| Themes and Motifs | Geometric patterns and straight lines | Organic form, flowers, plants, and the female body |
| Shapes and Colors | Sleek, streamlined, and symmetrical – uses bold colors | Shape more significant than color – uses muted shades of burnt orange and mustard yellow |
| Disciplines | Architecture, design, clothing, jewelry, furniture, and handicrafts | Graphic arts to furniture, interior decoration, architecture, and fine art |
| How They Ended | Survived until the 1980s with the emergence of Modernism and was then replaced by Art Moderne | Ended in the late 1910s with the decline of the enlightened bourgeoisie and industrial patrons of the arts |
| Examples | Chrysler Building and the Empire State Building in New York,Autoportrait (Tamara in a Green Bugatti) by Tamara De Lempicka, Antoine Bourdelle's Hercules, the Archer | Historic Center of Riga and Hotel Tassel in Belgium, Aubrey Beardsley's The Dancer's Reward, Ferdinand Faivre's The Riddle |
1. Flourished in Different Time Periods
Art Nouveau (or 'new art') is often regarded as the first modern art style. Victor Horta pioneered the movement towards the end of the 19th century, alongside other innovative designers, artists, and architects in Belgium.
It flourished against the backdrop of Europe's industrial revolution, embraced craftsmanship, and depicted stylized forms of automation in its designs. Textile designer William Morris popularized the style in the UK.
On the other hand, Art Deco emerged in the aftermath of World War I following the decline of Art Nouveau. Its origins date back to the International Exhibition of Modern Decorative and Industrial Arts in Paris in 1925.
Art Deco, like Art Nouveau, paid homage to modern artistry and enmeshed creativity with technological progress.
2. They Go by Different Names in Different Countries
Art Deco is often referred to as Arts Décoratif or Style Moderne.
Art Nouveau goes by a few different names in different countries:
Jugendstil in Germany
Sezessionstil in Austria
Tiffany Style in the USA
Glasgow Style in the UK
3. Has Varied Influences and Inspirations
Art Deco drew inspiration from Aztec, Central American, and Egyptian art introduced to the western world during the early 20th century. It was also heavily influenced by modernist Cubist art, known for its sharp, angular, and geometric designs.
In contrast, Art Nouveau used natural imagery inspired by the curved and floral patterns found in Japanese art. Unlike most traditional art movements which often focused on scenes from the past, the Art Nouveau movement portrayed the present and future.
4. Uses Different Themes and Motifs
Art Deco artworks celebrated themes of innovation, technology, luxury, and prosperity. The predominant motifs include sunbursts, chevrons, fans, portholes, and ocean waves.
Art Nouveau radiated an otherworldly vibe, focusing on bold and sensuous subjects. The most common motifs were natural forms like plants, flowers, and the female form.
5. Uses Unique Shapes and Colors
Art Deco is a balanced style incorporating symmetrical and streamlined geometric shapes, vertical lines, and zigzags inspired by modern technology. Its designs were rendered in bold colors like:
Emerald green
Canary yellow
Peacock blue
Brilliant red
Metallic shades
You'll find several of these stylized elements in Rio de Janeiro's Christ, the Redeemer Art Deco statue.
One unique style of Art Deco that emerged in the 1930s was the 'Streamline Moderne.' Inspired by aerodynamic design, Streamline Moderne highlighted curves, horizontal lines, and even nautical elements which became prominent parts of industrial design.
Meanwhile, Art Nouveau's design elements consisted of graceful bends and smooth, twisting lines, replicating organic form. The style emphasized shape and design over color, but did frequently use muted hues of:
Burnt orange
Olive green
Mustard yellow
Soft blue
A prominent feature in many Art Nouveau pieces is the 'whiplash' curl – a decorative 'S' shape signifying sinuous energy with a bold, confident form.
Created by Victor Horter, the symbol stood for creative liberty and can be found in the work of artists like Aubrey Beardsley and Hector Guimard.
6. Influenced Different Design Disciplines
The main disciplines that adopt the Art Deco style are:
Architecture
Graphic design
Clothing
Jewelry
Art Nouveau encompasses a broad spectrum of disciplines:
Sculpture
Furniture
Interior design
Architecture
Graphic design
Fine art
Of the two, Art Nouveau is more broadly used and remains part of several diverse artistic fields.
7. How They Ended
The Art Deco period lasted for several decades, thanks to Hollywood movies popularizing it in the public eye. Hollywood adopted the style in the 1920s-1940s to portray opulence and luxury. Though the Art Deco movement suffered a setback during the 1929 Great Depression, it didn't disappear entirely.
The decorative art style remained relevant till the end of World War II. It also showed up intermittently in the 1960s and 1980s following the advent of postmodernism.
Art Nouveau was relatively short-lived since only industrial sponsors, the educated bourgeoisie class, and other elites patronized it. As the art movement had little traction among working class people, it declined by the 1910s.
5 Iconic Art Deco Artists & Designers
Here are five of the most famous artists and designers known for their Art Deco style:
1. Tamara de Lempicka
Tamara de Lempicka portrayed themes of high society and splendor in her artworks. She garnered fame for her exceptional Cuban-inspired nudes and vivid portraits of aristocrats.
Her standout Art Deco piece is a1929 self-portrait showing her as the epitome of 20's opulent, feminine beauty. "Autoportrait" shows her sitting in a sleek, green Bugatti as a celebration of female independence.
2. Erté
Romain de Tirtoff, or Erté, was a renowned fashion stylist who designed impressive Art Deco-inspired movie posters and costumes.
Besides working on popular films like Ben Hur and Paris, Erté designed an iconic 1967 poster, Symphony in Black, for his London exhibition. The poster depicts a slender female figure in black walking her dog. It has now been reproduced numerous times on apparel, greeting cards, dishes, and more.
Erté's influence on the Art Deco movement earned him the title 'Father of Art Deco.'
3. René Lalique
René Lalique started his career as a jewelry designer specializing in the Art Nouveau style. But in his later years, Lalique switched to designing Art Deco-style glass sculptures.
One of his most famous Art Deco artworks is an automobile mascot, the Spirit of the Wind, designed in 1905. What's most intriguing about the masterpiece is its windswept hair – a probable homage to the marvels of automobile engineering.
4. Le Corbusier
Le Corbusier began his career with Cubism and coined the term Art Deco in his journal, 'L'Esprit nouveau.' His contribution to town planning redefined traditional architectural designs and propagated a new approach to urban housing.
However, Corbusier also believed that decorative art was a dying medium and popularized a more minimalist approach distinct from Art Deco architecture.
An example of his architectural style is the UNESCO World Heritage site of Notre-Dame du Haut, a Roman Catholic chapel in France.
5. Jean Dunand
Setting him apart from other celebrated Art Deco pioneers, French and Swiss artist Jean Dunand is known for designing objects like metal trays, glossy screens, and vases. His Art Deco style shines in the interior design of Parisian luxury apartments and the elegant paneling of cruise liners.
Dunand's famous Fortissimo screen (1925-26) depicts Art Deco design through typical geometric patterns and sharp edges.
5 World-Famous Art Nouveau Artists & Designers
Here are five of the best Art Nouveau artists and designers and their iconic creations:
1. Alphonse Mucha
Alphonse Mucha, a Czech painter, illustrator, and graphic designer, was a prominent figure of the Art Nouveau movement. In fact, the movement was dubbed 'Le Style Mucha' in Paris because of his influential contributions.
Mucha painted beautiful women amidst vivid natural imagery,primarily plants, using muted colors. His work incorporated sensual elements, floral lines, and decorative patterns.
With the advent of lithography, Alphonse Mucha began using the technique for his printed posters. His unique 1896 poster, The Four Seasons, captured the mood of the seasons, using women as metaphors for life, death, and rebirth.
2. Gustav Klimt
Renowned Symbolist painter Gustav Klimt was one of Austria's leading figures in the Art Nouveau movement. Klimt chose the female form as his primary subject and portrayed open eroticism in his pencil drawings.
In his iconic 1908 oil-paint masterwork, The Kiss, Klimt uses several distinct Art Nouveau elements like swirls, circles, and floral designs.
3. Josef Hoffmann
Celebrated architect Josef Hoffmann was a co-founder of the Wiener Werkstätte design movement and an Art Nouveau pioneer. He is well-known for designing furniture, jewelry, metalwork, and textiles.
In his creations you'll come across several Art Nouveau architecture elements, including parabolic curves and nature-inspired interiors.
The Stoclet Palace in Brussels, built in the Vienna Secession style, boasts artistic windows, upright balustrades, and other Art Nouveau flourishes.
4. Louis Comfort Tiffany
Artist and designer Louis Comfort Tiffany was a leading proponent of the Art Nouveau movement in the United States. He promoted opalescent window glass art and developed a new iridescent type of glassware called 'Favrile.'
His creations boast nature-inspired elements like peacocks, butterflies, and flowers. Tiffany studio's magnificent stained-glass lampshades symbolize the luxury and splendor typical of the Art Nouveau movement.
5. Henri de Toulouse-Lautrec
French artist Henri de Toulouse-Lautrec is famous for his one-of-a-kind Art Nouveau posters. He drew inspiration from the Japanese ukiyo-e prints.
Lautrec's posters frequently portrayed bohemian Montmartre entertainers as celebrities and elevated lithography as high art. He also gained traction for his idyllic portrayal of the Parisian underworld.
Lautrec's famous 1892 Le Divan Japonais poster encapsulates the Art Nouveau style in its sensual subject depiction and sweeping curves.
FAQs about Art Deco and Art Nouveau
Here are the answers to some common questions you may have about Art Deco and Art Nouveau:
1. Can Art Deco Be Mixed with Art Nouveau?
Yes, Art Deco and Art Nouveau have been used alongside each other in modern decorative design. Contemporary art frequently merges geometric Art Deco patterns with the organic shapes and curves of Art Nouveau.
Eclectic Art Deco designs are common in interior design today, you'll often find them complementing natural plant life in office spaces. Some modern residential spaces employ interior design that nods to Art Nouveau.
Both styles remain relevant and continue to evolve as new trends emerge.
2. What Is Art Moderne?
Art Moderne (an American art movement of the 1930s and 40s) was the style that succeeded Art Deco and is considered a later phase of the artistic movement.
It comprises a horizontal design, focusing on movement and smoothness, underscored by bold and brassy themes.
In contrast, Art Deco highlights vertical patterns and geometric shapes.
3. Did Modern Art Replace Art Deco?
In a way, it did.
Following the Great Depression of the 1930s, modern materials, rich textiles, and luxurious furniture became unaffordable for Art Deco enthusiasts.
The advent of modern architecture, pioneered by Le Corbusier and the German Bauhaus movement, furthered Art Deco's decline in Europe.
Architecture schools also began replacing the aesthetics of Art Deco with the emerging modern style. However, Art Deco isn't completely dead and can occasionally be seen in elements of modern interior design.
Art Deco and Art Nouveau were groundbreaking styles that laid the foundation for modern art. To this day, some of the most collectible contemporary artworks feature borrowed elements from both these styles.
Now, if you're keen to invest in high-quality blue-chip contemporary art, you should consider investing in fractional shares of paintings.
Here's how you can:
Invest in Shares of Artworks through Masterworks
Masterworks is a unique art investment platform that lets you invest in fractional shares of iconic artworks. With Masterworks, you can build a diversified portfolio of iconic artworks curated by their industry-leading research team.
The Masterworks all art index indicates that contemporary art prices have outpaced the S&P 500 by 131% over 1995 to 2021.
Here's how the platform works:
Their research team determines the artist markets with the most momentum using their proprietary data.
The acquisitions team finds an attractive piece available at a fair price from their research and purchases it.
They then file an offering circular with the Securities and Exchange Commission letting anyone invest in the artwork.
Usually, Masterworks holds a work for 3 to 10 years, and if it is sold for a profit, you get your pro rata returns after fee deduction.
You can also sell your shares in the secondary market.
Visit the website today to begin investing in shares of coveted art pieces. 
See important Reg A disclosures: Masterworks.com/cd.
---