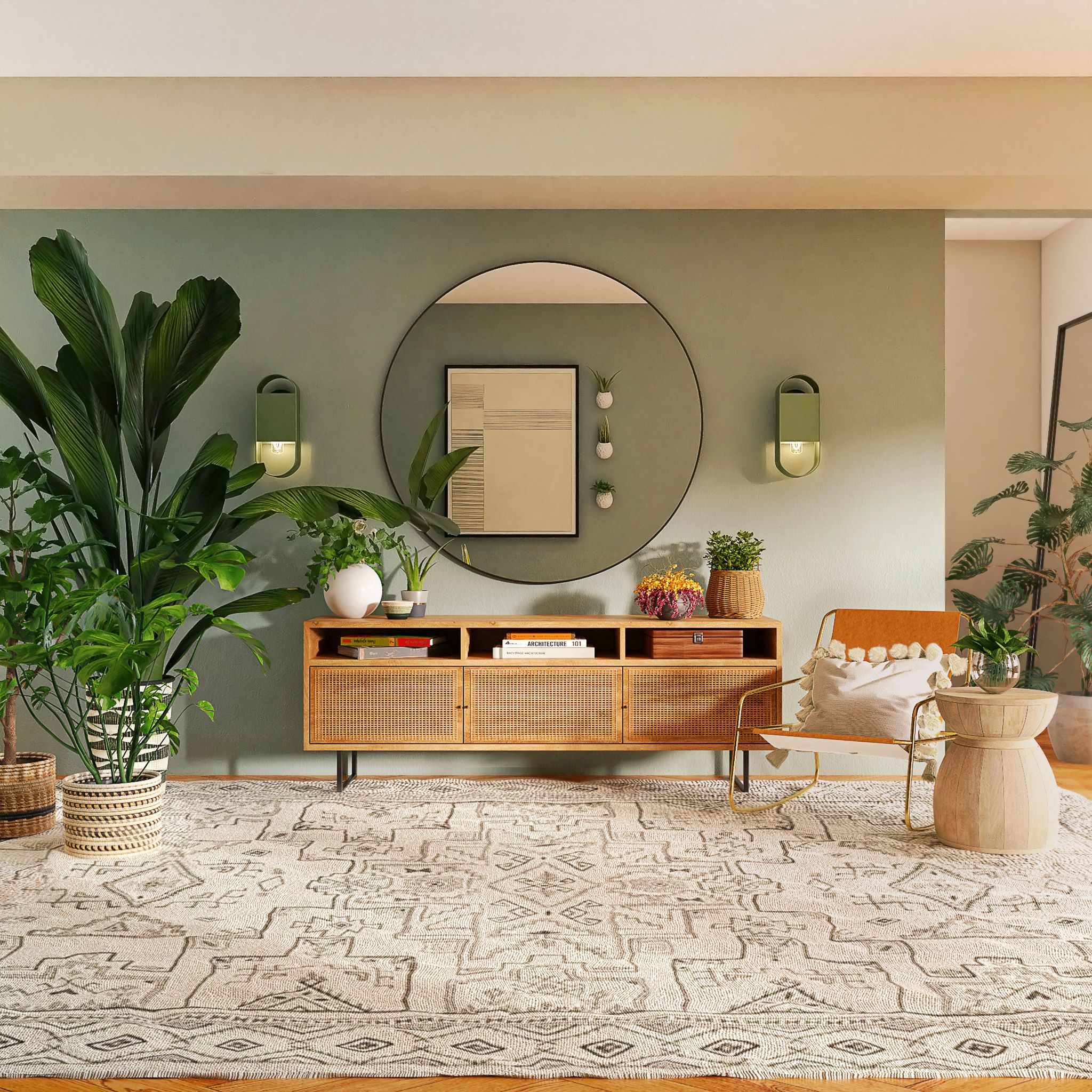 Interior Decorating Trends for 2022
---
Decorating trends come and go based on various influences from pop culture to the environment all around us. In 2022, there are plenty of new interior decorating trends that are just getting started, while others are finally making their way out. Whether you are revamping your entire entryway or looking to spruce up your existing bathroom with vibrant colors and new textures, 2022's interior decorating trends have something for just about everyone.
What's in for 2022?
Natural Materials
Using both reclaimed and natural materials is becoming increasingly popular, especially as the trend of going Green and living more eco-friendly catches on worldwide. From traditional woods to rattan, marble, and even fancy bamboo, natural and reclaimed materials make great additions when it comes to home decor this year. 
Plaster
This one might not sound quite right, but we assure you, plaster is, in fact, making a comeback in 2022. Plaster was once a staple in many home interior magazines and decor features, especially in the late 80's and early 90's. However, the use of plaster is making its comeback due to its neutral color base and simplicity with a hint of texture. Thinking of updating your bathroom this year? A bit of plaster might help you to incorporate a natural textured look. 
Neutral Color Palettes
Choosing the right color scheme for your next interior decorating project can be exciting, or it can be a frustrating nightmare if you're not interested in choosing a color palette yourself. In 2022, the focus is on neutral, natural, and minimalist. Minimizing clutter, removing excessive patterns, and limiting designs to what is not only beautiful, but also hyper-functional are all major focus points of 2022 interior decorating. Some colors to consider when putting a color palette together may include:
Shades of white, such as ivory, cream, and eggshell.
Shades of black, including alloy and pure black
Grays that range from light and medium grays to dark gray.
Pewter colors
Beige and brown colors
Taupe colors
If neutrals and pale colors are too bland, you can always incorporate a lively and vibrant focal color for each room you intend to paint and/or overhaul. Using neutral colors blends seamlessly with the natural elements of wood, metal, and plaster, which are also interior decorating trends of 2022.
Bold Focal Colors
For those who cannot simply live in a home that is black and white or covered in neutral materials, choosing a bright focal color that is vibrant and eye-catching is also making its way back into the interior decorating industry trends.
If you're feeling the urge to add a giant fuschia, bright orange, or dark navy wall to attract the attention of your guests the next time they stop in, go for it. While using bright colors on each of your walls may not be the trend of 2022, reintroducing funky and flashy colors most definitely is.
Smart Tech
Creating your very own smart home is not too far off in the realm of possibilities, even if you are working on a strict budget. Introducing wireless technology, LED lighting, and even app-controlled thermostats can help you on your way to a truly smart home. Installing smart tech into the home can also eliminate the need for additional clutter and unnecessary tools or items that are no longer required. 
Cottagecore
The term "cottagecore" may be newer, but it represents a simpler time and a simpler way of life. Cottagecore decor includes everything from comfortable soft sofas to eco-friendly storage solutions for small spaces and tiny homes. Cottagecore decor includes rustic furniture to vintage collectibles and floral wallpaper, creating a warm, yet nostalgic atmosphere.
What's on the way out in 2022?
Too Much Black and White
Sure, everyone wants to live a clutter-free lifestyle, but that doesn't have to mean using black and white in everything you decorate and update. The use of just black and white can quickly become overkill, especially if you are someone who genuinely enjoys using interior decorating as a means of expressing yourself, your style, and your unique personality. Skip the minimalist look and add a splash of color to your space instead.
Open Floor Plans
While open floor plans will more than likely always exist and will likely always be a preferred floorplan for many, they are not as trendy as they once were in recent years. Floor plans are now becoming much more suitable for specific lifestyles and needs without wasting space and keeping space unused altogether.
Clutter Decor
For anyone who enjoys collecting non-functional items and decor, you may not like this trend too much. Removing clutter decor in favor of items that are strictly functional and useful for your household is a major trend that is just getting started. Rather than stockpiling items that serve no purpose and only add to the waste you are collecting and contributing to the environment, why not opt for items that truly introduce meaning and purpose into your life?
Square and Boxy Furniture
The idea of modern design may invoke imagery of boxes, sleek buildings, and plenty of shiny metal and reflective material. However, the trend of boxy sofas and square decor is slowly but surely making its way out of the interior decorating industry. In 2022, you can expect to see plenty of curved furniture and decorative items, especially for those who are working in smaller and more compact spaces. Reintroducing curved furniture such as sofas, vases, and even tables is another way to add more texture and personality to your decor choices, especially if you are otherwise decorating with a minimalist style in mind.
Interior decorating is one industry that is ever-changing, just like the seasons in nature. While some trends may come and go, others may linger on and provide us with plenty of inspiration for the next decade to come. With this year's 2022 interior decorating trends, rediscover your love for nature, functional items, and your own personality when it comes to choosing the colors that will help your next room makeover stand out.
---