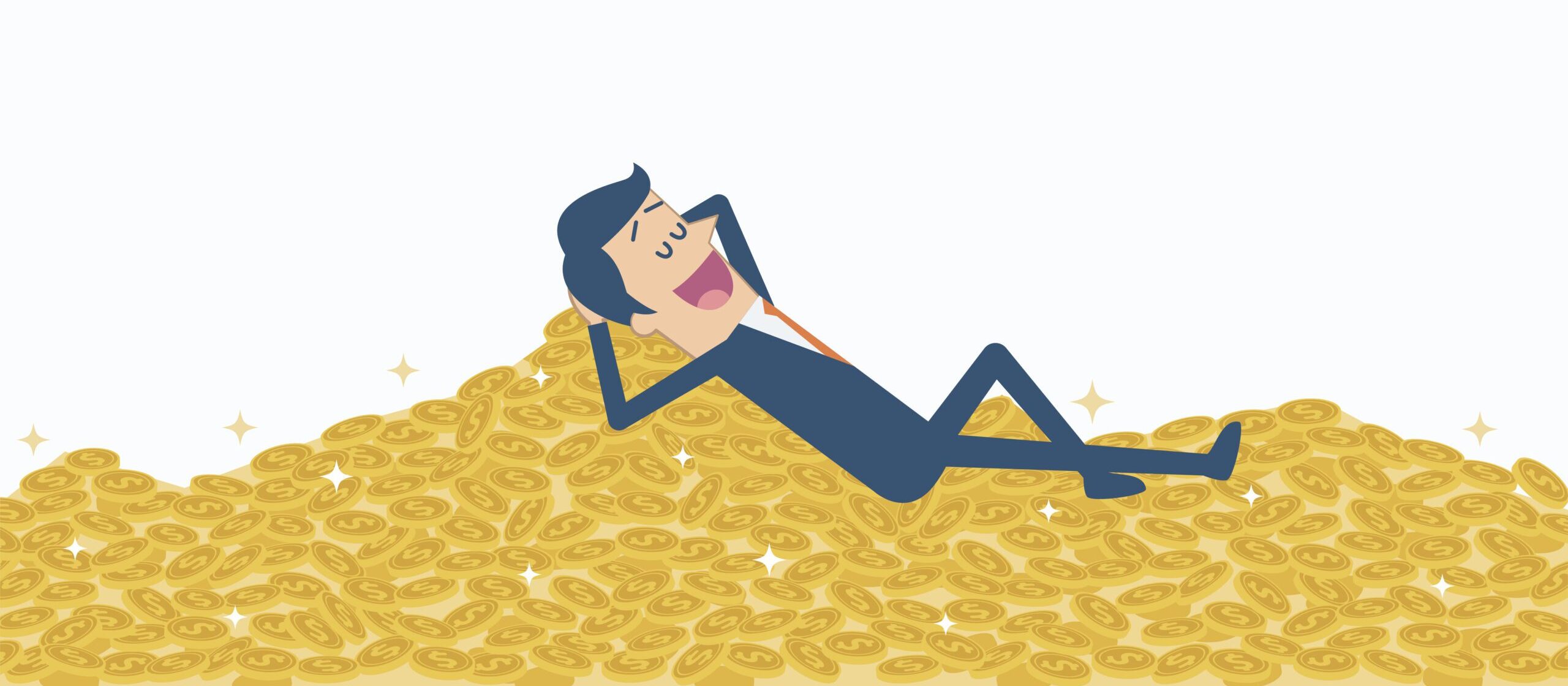 10 Gold Coins To Buy (+ an Alternative Investment Option)
---
Collecting investment-grade gold coins can be a good way to diversify your portfolio. 
Gold is believed to have good price stability and also believed to have a good track record as an effective long-term inflation hedge.
However, not all gold bullion coins may be lucrative as an investment. 
In this article we'll cover the 10 gold coins to buy and a few FAQs related to investing in this precious metal.
We'll also introduce you to an alternative investment option — investing in shares of contemporary art (through Masterworks).
(Insert TOC)
10 Popular Gold Coins For Long-Term Investment
Here are 10 of the best gold coins to buy based on their uniqueness, rarity, and popularity among investors.
1. Gold American Eagle
Manufacturer: The United States Mint
Available sizes: 1 oz, 1/2 oz, 1/4 oz, and 1/10 oz
The American Gold Eagle is the official bullion coin of the United States.
The American Gold Eagle coin contains 22-karat gold with small amounts of alloy. This bolsters the gold's durability, prevents scratches, and protects the coin's resale value.
The American Gold Eagle bullion coins are available in various fractional sizes, making them popular among beginner and experienced investors.
2. American Gold Buffalo
Manufacturer: The United States Mint
Available sizes: 1/10 oz, 1/4 oz, 1/2 oz, 1 oz, and 20 oz
On the obverse, the Gold Buffalo coin depicts a portrait of a Native American chief. On the reverse is Black Diamond — a beloved buffalo housed in the Central Park Zoo in the 1900s.
The American Gold Buffalo contains .9999 fine gold, making it the purest American gold coin on the market.
3. South African Gold Krugerrand
Manufacturer: The South African Mint
Available sizes: 1/50 oz, 1/10 oz, 1/4 oz, 1/2 oz, 1 oz, 1.85 oz, and 2 oz
The South African Krugerrand was the world's first bullion coin, so it's no surprise that it's one of the most prestigious and widely traded gold bullion coins.
These coins from the South African Mint fall on the more affordable side of the spectrum and contain .9167 fine gold and 8.33% copper to boost the gold's durability.
Just like the American Buffalo Gold coin, the Krugerrand features an iconic animal — the springbok antelope, national animal of South Africa.
4. Canadian Gold Maple Leaf
Manufacturer: The Royal Canadian Mint
Available sizes: 1/20 oz, 1/10 oz, 1/4 oz, 1/2 oz, 1 oz, 10 oz, and 1 gram
Struck by the Royal Canadian Mint, the Canadian Gold Maple Leaf is considered one of the purest gold bullion coins. Every coin has 0.9999 millesimal fine gold. In other words, the Gold Maple coins have next to zero impurities.
These rare coins are also visually-rich. On one side of this pure gold coin you'll find the design of a maple leaf. On the obverse, a portrait of Queen Elizabeth II.
The 1 oz Canadian Gold Maple Leaf coins have anti-counterfeiting security marks.
5. Gold British Britannia
Manufacturer: The Royal Mint
Available sizes: 1 oz and 10 oz
As the name suggests, the Gold Britannia by the Royal Mint features Britannia — a woman representing British strength.
These bullion coins also come with lower premiums since they have only been around since 1987. This is why the coin is sought-after by beginner investors who want to start building a portfolio.
These coins from the British Royal Mint have a unique design and 0.999 fineness.
6. Gold Austrian Philharmonic
Manufacturer: The Austrian Mint
Available sizes: 1/25 oz, 1/10 oz, 1/4 oz, 1/2 oz, 1 oz, and 10 oz
The Austrian Gold Philharmonic is a magnificent coin, with one side featuring the Austrian Philharmonic Orchestra's musical instruments and the other showcasing the Golden Hall in Vienna — the location of the orchestra's annual New Year's day performance.
In addition to its beautiful design, the Austrian Gold Philharmonic is the only gold bullion coin issued in Euros and guaranteed by the well-established Austrian Mint.
This Philharmonic coin is also available in many sizes, making it an easy choice for investors on a budget.
7. Gold Australian Kangaroo
Manufacturer: The Perth Mint
Available sizes: 0.01 oz, 1/10 oz, 1 oz, 10 oz, and 1 kg
The Australian Gold Kangaroo bullion coin has a unique two-tone design effect and is protected by hard plastic so it can't be easily damaged or scratched.
With a face value of 100 AUD, the Australian Gold Kangaroo coin features a new kangaroo design every year, making it quite unique.
This gold bullion coin by the Perth Mint is considered to be highly collectible and liquid thanks to its international recognition and beautiful artwork.
8. Chinese Gold Panda
Manufacturer: China Mint Company
Available sizes: 1/20 oz, 1/10 oz, 1/4 oz, 1/2 oz, 1 oz, 5 oz, 12 oz, 1 gram, 8 gram, 15 grams, 30 grams, 100 grams, and 1 kg
Minted by the China Mint Company, the Chinese Gold Panda is another investment-grade coin featuring a panda design that changes every year.
It's one of the more limited mintages compared to other bullion coins and is available in unique sizes.
9. Gold Somalian Elephant
Manufacturer: the Bavarian State Mint
Available sizes: 1 oz, 1/2 oz, 1/10 oz, and 1/2 gram
The Gold Somalian Elephant coin has an ever-evolving reverse design. Every year, the reverse of this gold bullion features an exciting new design of the African elephant.
With a purity of .9999, the Gold Somalian Elephant is available in various fractional sizes.
10. Gold Mexican Libertad
Manufacturer: Mexican Mint
Available sizes: 1/20 oz, 1/10 oz, 1/4 oz, 1/2 oz, 1 oz, and 1.9 oz.
Struck by the Mexican Mint, The Gold Mexican Libertad is known to be one of the most beautiful gold bullion coins.
With a gold content of 99.9%, this gold coin features similar designs to the famous 50 Peso Gold Coin.
The Gold Mexican Libertad is the only gold bullion coin that doesn't carry face value but is still accepted as a currency. There's only a limited number of these rare coins available today.
FAQs Related To Buying Gold Coins
If you have any questions about investing in this precious metal, we've got you covered.
1. What size gold coin is the most popular?
One-ounce is the most popular size amongst gold coin investors.
The one-ounce gold coin is well-recognized among global gold dealers. These coins are also easy to transport and sell, boosting the liquidity of your gold investment.
2. Should you buy gold coins or bars?
Generally, gold bars are considered to be better for investors with a larger budget. On the other hand, gold coins are popular among smaller investors who want to start building a gold investment portfolio.
Here's a table summarizing the key differences between gold coins and bars:
| | | |
| --- | --- | --- |
| | Gold Coins | Gold Bars |
| Premiums | Gold bullion coins have slightly higher premiums compared to gold bars due to additional minting costs. | Gold bars are priced closely to the spot price and offer lower premiums due to lower manufacturing costs. |
| Storage | Gold coins can be easily stored in safes and smaller boxes. But since coins are smaller, they can also be easily misplaced. | A gold bar can also be easily stored in a safe. |
| Flexibility | Gold bullion coins are a more flexible investment since they come in various designs, sizes, and prices. Additionally, gold coins have high liquidity. So, investors buy and sell them over more extended periods to take advantage of varying prices. | By only purchasing one large gold bar, you'll be limiting your portfolio to that one asset. Moreover, you'll have to trade on a single gold price — the price at the time you purchased the bar. |
3. How are gold coins valued?
The value of a pure gold coin is calculated by multiplying its weight or gold content by the current price of gold in the buyer's chosen currency.
4. Where can you buy gold coins?
Investors buy gold coins through online dealers such as APMEX, JM Bullion, and SD Bullion, or from local dealers and pawn shops.
5. Is gold bullion a good investment?
Here are a few benefits of gold bullion as a long-term investment:
Easy to liquidate: According to the World Gold Council, physical gold is highly liquid since the commodity is in high demand and very scarce.
Price recovery: Gold tends to recover its value from a downswing relatively quickly, according to the World Bank. For example, during the COVID-19 crisis in 2020, the gold price boomed, reaching one of the highest prices in history — $2,032.16 per troy ounce in August.
Effective long-term Inflation hedge: Physical gold has historically proven to be an effective long-term hedge against inflation. For example, when annual inflation in the US hit 8.8% from 1973 to 1979 due to oil price shocks and energy shortages, gold generated a 35% annualized return (Source: Forbes.)
However, here are a few drawbacks of buying gold coins:
Price volatility: In the short-term, gold prices can be highly volatile. For example, gold investors lost 10% on average from 1980-1984, when the annual inflation rate was about 6.5%, according to Amy Arnott (a portfolio strategist at Morningstar).
Additional costs: There are additional costs associated with investing in physical gold, such as premiums, storage charges, and insurance fees.
No passive income: Pure gold coins don't offer a passive, steady source of income (interest or dividends) like stocks and bonds. Investors usually see a return on their investment once they sell the asset.
Looking for another reliable alternative investment option?
Consider investing in contemporary art.
According to internal research conducted by Masterworks (an art investment platform), contemporary art prices have appreciated faster than gold and real estate prices over the last 26 years.
Moreover, contemporary art prices outpace gold prices during high inflationary periods.
From 1973 to 1981 (when annual inflation in the US was around 9%), gold averaged an annualized growth of 31.1%. On the other hand, the contemporary art market had an average annual appreciation of 33.2%. (Sources: Masterworks internal research, Yahoo Finance)
But, now you don't need to shell out millions of dollars to invest in art.
Instead, invest in fractional shares of iconic art pieces.
Invest In Fractional Shares Of Contemporary Art Through Masterworks
Masterworks is an art investment platform that lets you invest in shares of multi-million dollar masterpieces by world-renowned artists like George Condo, Banksy, Albert Oehlen, and more.
Here's how the platform works:
The Masterworks' research team identifies which artist markets have growth potential.
The team then locates the piece and purchases it.
Masterworks files an offering with the Securities and Exchange Commission (SEC) to securitize the artwork.
After you've invested in shares, all you need to do is wait. Masterworks may hold the painting for 3–10 years. If the piece is sold at a profit, you'll receive pro rata returns after fees are subtracted.
Alternatively, you can sell your shares on the secondary market.
Masterworks has sold eleven paintings, each handing investors a positive net return*.
Ready to diversify your portfolio?
Get started by completing Masterworks' membership application.
Net returns refer to the annualized internal rate of return net of all fees and costs, calculated from the offering closing date to the date the sale is consummated. IRR may not be indicative of Masterworks paintings not yet sold, and past performance is not indicative of future results. 
This article is sponsored by Masterworks. This material is provided for informational and educational purposes only. It is not intended to be investment advice and should not be relied on to form the basis of an investment decision.
See important Reg A disclosures: Masterworks.com/cd 
---