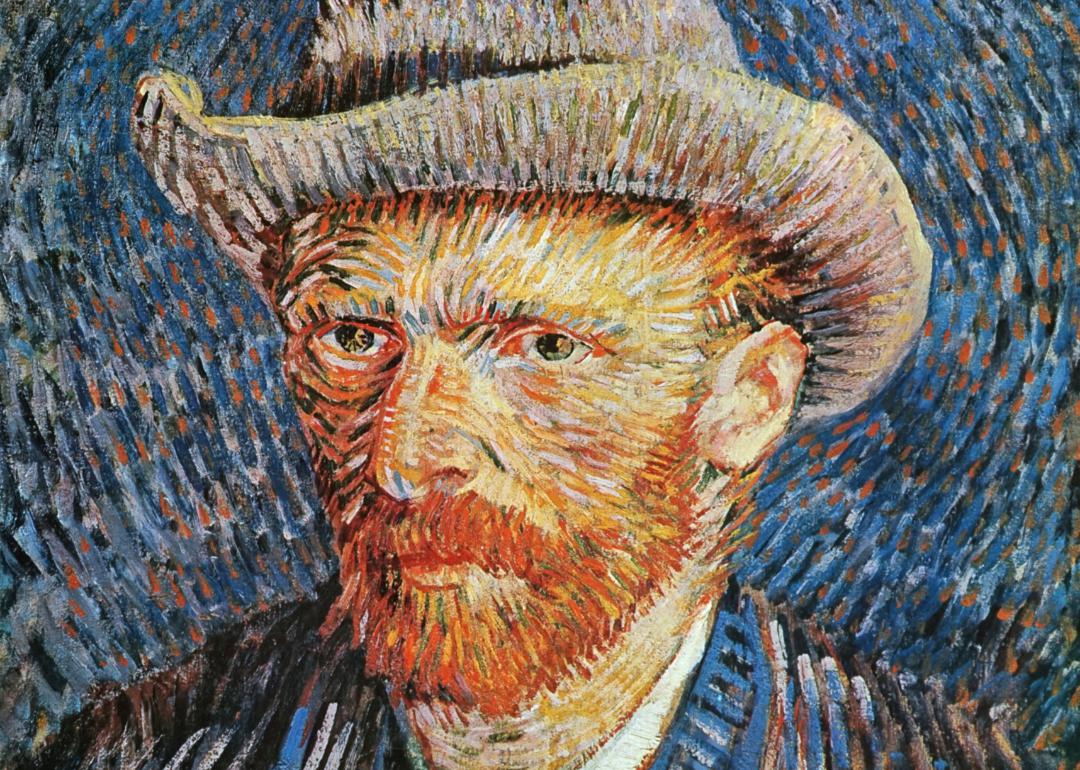 Vincent van Gogh: The Life Story You May Not Know
---
The life and works of Vincent van Gogh have enamored lovers of fine art since the late 20th century, many years after his tragic death in 1890. His work in expressionism greatly influenced modern art, and his numerous letters and paintings have created a mythos around the late artist, with many considering him one of the greatest and most influential painters of all time.
Van Gogh produced some of the most notable and well-known paintings in the world, yet the Dutch painter lived a tormented life and never experienced the fame his work found after he died. Although living a life full of financial woes and a deteriorating mental state, Van Gogh still painted regularly to ease his mind, often with fervor. Plagued by mental illness and as a servant to his vices, Van Gogh's eccentricity and periods of insanity create a thrilling yet tragic story, of a man tortured by his demons and yet bestowed with an amazing gift curated meticulously over his decade as a painter.
Masterworks has rendered an intriguing portrait of the artist you may not know, including some of the most famously debated facts and speculations about the enigmatic painter.
Van Gogh's nature-loving family
Vincent Willem van Gogh was born on March 30, 1853, in the Brabant village of Zundert, Netherlands, to Protestant minister Theodorus and Anna Carbentus van Gogh. His birth was followed by five siblings. The close-knit family would often venture around Zundert for walks, which helped instill an appreciation and love for nature in the young Van Gogh. His mother was also an amateur artist who encouraged her son to take up drawing and painting.
Named after his deceased brother
A year to the date before Vincent van Gogh was born, his mother gave birth to a stillborn child named Vincent Willem van Gogh after his paternal grandfather. Upon the artist Van Gogh's birth, he was given the same name as his deceased brother and even spent his childhood walking past a gravestone emblazoned with the full name they shared. According to historical records, there were four Vincent Willem van Goghs—the artist's deceased older brother, his grandfather, himself, and his brother Theo's son, born in 1890.
Left school at 15
When Van Gogh was 11 and had completed half of his elementary schooling, he was sent to a boarding school in Zevenbergen, about 15 miles from his home in Zundert, Netherlands. His time there was miserable, he missed his home, and although he would draw occasionally, he showed little artistic talent. In 1864, at 13, he entered King Willem II secondary school in Tilburg, Netherlands.
Van Gogh did well at the school, which offered art classes in addition to foreign languages, math, and sciences, but he left at 15 during his second year for reasons unknown, though his father's lack of funds to pay for schooling, a change in school personnel, an outbreak of disease, and even the beginnings of Van Gogh's mental illness have been considerable possibilities for his abrupt departure.
Worked as an art dealer
At 16, after leaving school and having nothing to keep him occupied, Van Gogh joined Goupil & Cie with the aid of his Uncle Cent, a partner at the firm who was also named Vincent. Goupil & Cie was known across Europe for its fine art collections and print dealers who'd worked in various branches worldwide. Van Gogh worked there for six years as an art dealer, first serving the firm in The Hague, Netherlands, then in London. He later joined Goupil's branch in Paris but was dismissed in 1876 due to his poor temperament.
Varied careers before decade as a painter
After his dismissal as an art dealer from Goupil & Cie in 1876, Van Gogh's jobs seemed to come and go in short stints. He worked briefly as a teacher in Ramsgate, England, and was a book clerk in Dordrecht, Netherlands, in early 1877. At 25, he attempted following in his father's footsteps by becoming a pastor in a Belgian mining village but failed to connect with the miners despite valiant efforts. His time there did influence his future career, and his brother Theo suggested he pursue work as an artist during this time.
Influenced by Parisian painters to brighten his artwork
Van Gogh's early work, done when he worked among the Belgian miners, was full of dark colors and earth tones, illustrating peasants and moody landscapes influenced by the Dutch painting style at the time. Upon moving to Paris, he was prompted by Henri de Toulouse-Lautrec and Paul Gauguin to use colors with symbolic intention. He was directly influenced by artist Camille Pissarro, whose landscape paintings are full of intentional light and brightness. Van Gogh's palette became notably brighter during his time in Paris.
Self-portraits born from financial woes
It is estimated that in his 10 years as an artist, Van Gogh painted 36 self-portraits, his collection cementing him as one of the most prolific self-portraitists in art history. The majority of his self-portraits were done in Paris from 1886 to 1888, while he faced financial struggles that limited his practice of painting human subjects. Unable to afford models, Van Gogh often did studies of himself, helping to hone and develop his painting skills while also gleaning a somber side of the artist.
Possible genetic mental illness
Van Gogh struggled with mental illness throughout much of his life. Wilhemina "Wil" Jacoba van Gogh, his youngest sister, also lived with intense mental illness, spending the last 40 years of her life in a psychiatric facility until her death at 79 in 1941. Van Gogh and Wil were very close, and both shared a love of art. After he died in 1890, the family was able to pay for Wil's medical care with the 17 paintings he'd made for her.
Love of nature inspires still-life sunflowers
Van Gogh produced 11 still-life paintings of sunflowers, one of his signature motifs. The sunflower's coarse features and lack of elegance created a stigma against the flower, although these were reasons Van Gogh fell in love with it.
The sunflowers he painted can be seen at different parts of their life cycle throughout the series. They often seemed more whimsical than real, which was attributed to his alleged mental illness, but it's been determined that in certain types of sunflowers, these really are genetic mutations. The color yellow was dominant in his paintings before 1889, as can also be seen in pieces such as "The Night Café" (1888) and "The Reaper" (1889).
Creates best-known painting in an asylum
Possibly Van Gogh's most famous painting, "Starry Night," was created in 1889 at the Saint-Paul-de-Mausole asylum in France. In a bout of depression and experiences of hallucinations, his work exemplified a shift to darker colors. The view from his window in the asylum brought him inspiration, but as he was not allowed to paint in his room, he began painting it from memory and imagination in a studio provided to him by the asylum, creating the dreamlike piece that is now one of the most recognized paintings in the world. Upon its completion, Van Gogh considered the work a failure.
Debate on Van Gogh's medical history continues
Van Gogh's medical history has been a hotly debated topic despite little evidence to point to a proper diagnosis. More than 150 physicians have attempted various diagnoses, although very little is confirmed, according to the American Journal of Psychiatry. Mental illness, paired with excessive alcohol consumption, and the use of absinthe and other toxins make a proper diagnosis near impossible.
Nearly 2,000 works of art deem Van Gogh incredibly prolific
To master painting, Van Gogh strongly believed that one must master drawing first. He produced more than 1,100 drawings and often sketched drawings as a part of his process before creating new paintings.
Van Gogh began painting seriously in 1881 at 28, a practice that brought him great joy, according to letters written to his brother Theo, considering it the start of his true career. In addition to his drawings, Van Gogh created a staggering amount of beautiful work at a rapid pace, producing about 900 oil paintings during his 10-year art career.
Exhausting time in Paris greatly influences work
Van Gogh went to Paris in 1886, where he shared an apartment with Theo, his younger brother, who supported him financially. The impressionist painting style and the city life of northern Paris highly influenced Van Gogh's work. His paintings during this time depicted much of the gorgeous architecture and rural scenery. He also found great inspiration in Japanese prints, which further removed him from his background in Dutch-style painting. While Van Gogh's time in Paris was highly influential, it was physically taxing on the artist.
Move to southern France ends with time in an asylum
In February 1888, Van Gogh moved to Arles, in southern France, to enjoy the country life, to sever his financial dependence on his brother Theo, and possibly set up a colony with other artists. His work gravitated toward using simplified colors and light that seemed to radiate its own warmth without casting shadows. One of his most notable paintings, "The Night Café," was painted in September of that year.
Although Van Gogh experienced good health at the beginning of his time in the country, he began experiencing seizures and fainting. The townspeople also turned against him, and during the end of a two-month visit from his friend Paul Gauguin that started in October 1888, Van Gogh famously severed his left ear. After this incident, he admitted himself to a mental asylum.
Formation of the art world's most well-known post-impressionists
Van Gogh developed friendships with artists who were often tumultuous or wrought with conflict. During Van Gogh's Dutch painting period, fellow artist Anthon van Rappard criticized "The Potato Eaters" (1885), considered one of Van Gogh's first masterpieces. This infuriated Van Gogh; however, the two artists did stay in touch through letters, giving fresh criticism of each other's work during their five years of friendship.
While studying art in Paris, Van Gogh was under the tutelage of artist Fernand Cormon and met Émile Bernard and Paul Gauguin during his time there. Van Gogh looked up to Gauguin, though their relationship would become fraught. Theo van Gogh also introduced his older brother to such avant garde artists as Henri de Toulouse-Lautrec, Paul Cézanne, and Georges Seurat. Including Van Gogh, the group became known as the post-impressionists.
Seriousness of Van Gogh's ear severing clarified
The buzzing speculation around the truth and lies of Van Gogh's severed left ear has baffled historians for decades. What is known for sure is that on Dec. 23, 1888, Van Gogh was in the midst of a terrible mental breakdown that resulted in him severing his left ear.
In 1930, Dr. Félix Rey, who originally treated Van Gogh for the injury, wrote and illustrated a note detailing the severment, calling into question historian conclusions that only the lobe had been severed.
Art historian Bernadette Murphy's research into census records and tracking family history gleaned that the ear may have been given to a cleaner named Rachel who'd worked at a brothel Van Gogh had frequented.
Another take: Speculation that Paul Gauguin cut off Van Gogh's ear
While the Van Gogh Museum in the Netherlands stands by the narrative that Van Gogh cut off his own ear, German art historians Hans Kaufmann and Rita Wildegans have cited inconsistencies in Paul Gauguin's story, hinting at a more complex truth as reason to reconsider the storyline.
After 10 years of research into letters, witness accounts, and police records, the two historians argue that fencing aficionado Gauguin severed Van Gogh's ear in their famous brawl in 1888. They theorize that Gauguin may have acted in self-defense due to Van Gogh's aggressive nature and declining mental health. However, their evidence is weak, and there is no smoking gun to prove that any of this theory is more than hearsay.
Self-taught despite dabbling in art school
The artist Van Gogh was largely self-taught and received criticism for his unique style while in art school. At 27, when beginning his career, he studied at an artists academy in Brussels under the tutelage of Anthon van Rappard for nine months.
When Van Gogh moved to The Hague, Netherlands, in 1881, he again joined an artists academy and took classes from his cousin by marriage, Anton Mauve, before they had a falling out. While these short stints in art school may have drawn some inspiration for Van Gogh, the best strides in his work were pushed by his personal experiences.
Unknown number of Van Gogh's paintings sold in his lifetime
It's a common rumor often taken as fact that Vincent Van Gogh only sold one painting during his lifetime. This rumor seems to only add to the tragic, tortured artist narrative. While Van Gogh did not see monetary success during his career, he did often barter and trade his paintings for art supplies or food. He also received a commission from his uncle, Cornelis Marinus van Gogh, for 19 cityscapes of The Hague. The first painting Van Gogh sold was to Julien Tanguy, a Parisian art dealer, and his brother Theo sold another of his works to a London gallery. His most famous sale is "The Red Vineyard" (1888), purchased by Anna Boch, the sister of Van Gogh's friend Eugène Boch. While historically there is no accurate number of what paintings were sold, it was surely more than a couple.
Excessively drank absinthe and used other toxins
Van Gogh's letters indicate that he drank absinthe—a strong liqueur flavored with wormwood and herbs known to cause hallucinations—heavily in the later years of his life. Wormwood contains a terpene called thujone, known to cause stomach problems, convulsions, permanent brain damage, and even death. When exposed to nicotine, it can have more powerful effects, and Van Gogh was an admitted heavy smoker.
Van Gogh was also known to use camphor to combat insomnia, and before being admitted to an asylum, he was restrained from drinking turpentine. Biochemist Wilfred Niels Arnold hypothesizes that Van Gogh may have had a strong affinity for terpenes and developed an addiction to these chemicals.
Plagued by unrequited love throughout his life
Van Gogh experienced a love life full of rejection and eventually accepted his fate at 35—as a solitary man after repeated heartbreak. He notably proposed to three women in his lifetime: Caroline Haanebeek, in 1872; Eugénie Loyer, in 1873; and his cousin Kee Vos-Stricker, in 1881. All of them rejected his proposals.
In 1884, at 31, he fell for Margot, a neighbor's daughter. The marriage was not to be, as Margot's family rejected the idea of it. Their love affair ended after Margot poisoned herself, as she experienced mood swings and nervousness, and was affected by gossip around town about the affair. Though she survived, the relationship did not last.
Infamous love interest and relationship
Perhaps Van Gogh's most famous lover was Clasina Maria Hoornik, better known as Sien. One of the sex workers that the artist often hired as models for his work, Sien was a single mother when she met Van Gogh in 1882, when he was 29.
He invited the pregnant Sien and her young daughter to live with him in his studio. Sien gave birth while with Van Gogh and named her newborn son Willem, although he was not the father. The relationship fell apart 18 months later due to financial woes, the intense disapproval of the relationship from Van Gogh's family, and the fact that Sien turned to sex work to support herself financially. Van Gogh then abandoned Sien and her children, moving to Drenthe, Netherlands, although he had become attached to the children, especially Willem.
Biggest supporter was younger brother, Theo
Theodorus "Theo" van Gogh was a loyal friend to his older brother, Vincent, throughout their lives, with the nearly 700 surviving letters between them illustrating Theo's role as a confidante. As a prominent art dealer who popularized the avant-garde, impressionism, and post-impressionism art movements, many attribute Vincent's fame to Theo.
He supported Vincent financially throughout the years and encouraged and supported his artistic practice. Vincent sent Theo numerous works after he had created a collection of 150 paintings while in a mental asylum, and Theo secured 16 of his works exhibition spots, which were well-received and began to gain traction before Vincent's death.
After his brother's death in 1890, Theo's health declined rapidly; he died just six months later, in January 1891.
Speculation around Van Gogh's suicide
Van Gogh's life came to an end on July 29, 1890, from a gunshot wound to his belly. Art historians have widely accepted that Van Gogh died by suicide, but a 2011 book by Pulitzer Prize-winning biographers Steven Naifeh and Gregory White Smith claim the artist was murdered.
Their research stipulates René Secrétan accidentally killed the painter, as Secrétan confessed that his gang of friends would drunkenly bully the artist and brandish a pistol outside the Ravoux Inn, where Van Gogh resided in Auvers-sur-Oise, France. The authors have woven a century-old yarn that a stray bullet hit Van Gogh while he was in the fields of Auvers—with no solid proof and forensic data, however. There is not enough evidence to formally state this as a plausible theory; there is only speculation.
Van Gogh's legacy
Vincent van Gogh's legacy has made his paintings eternal. His signature brushstrokes and intentional use of color continue to move viewers. After the death of Theo, one of Vincent's younger brothers, Theo's widow, Jo van Gogh, inherited both her husband's and Vincent's art collections, where she raised awareness around Vincent's work, prompting buyers and curators to take notice.
Vincent Willem, Theo and Jo van Gogh's son, inherited the collection when his mother died and eventually transferred Van Gogh's works to the Vincent van Gogh Foundation so fans of his uncle's work could enjoy them in a museum. The Van Gogh Museum opened in Amsterdam in 1973 and is visited by 2 million people yearly. Van Gogh will never know of his posthumous legacy, of all the hearts he has touched or the eyes he has wetted, but he can be thanked for all of the beauty he created during a life, which was cut short too soon.
---