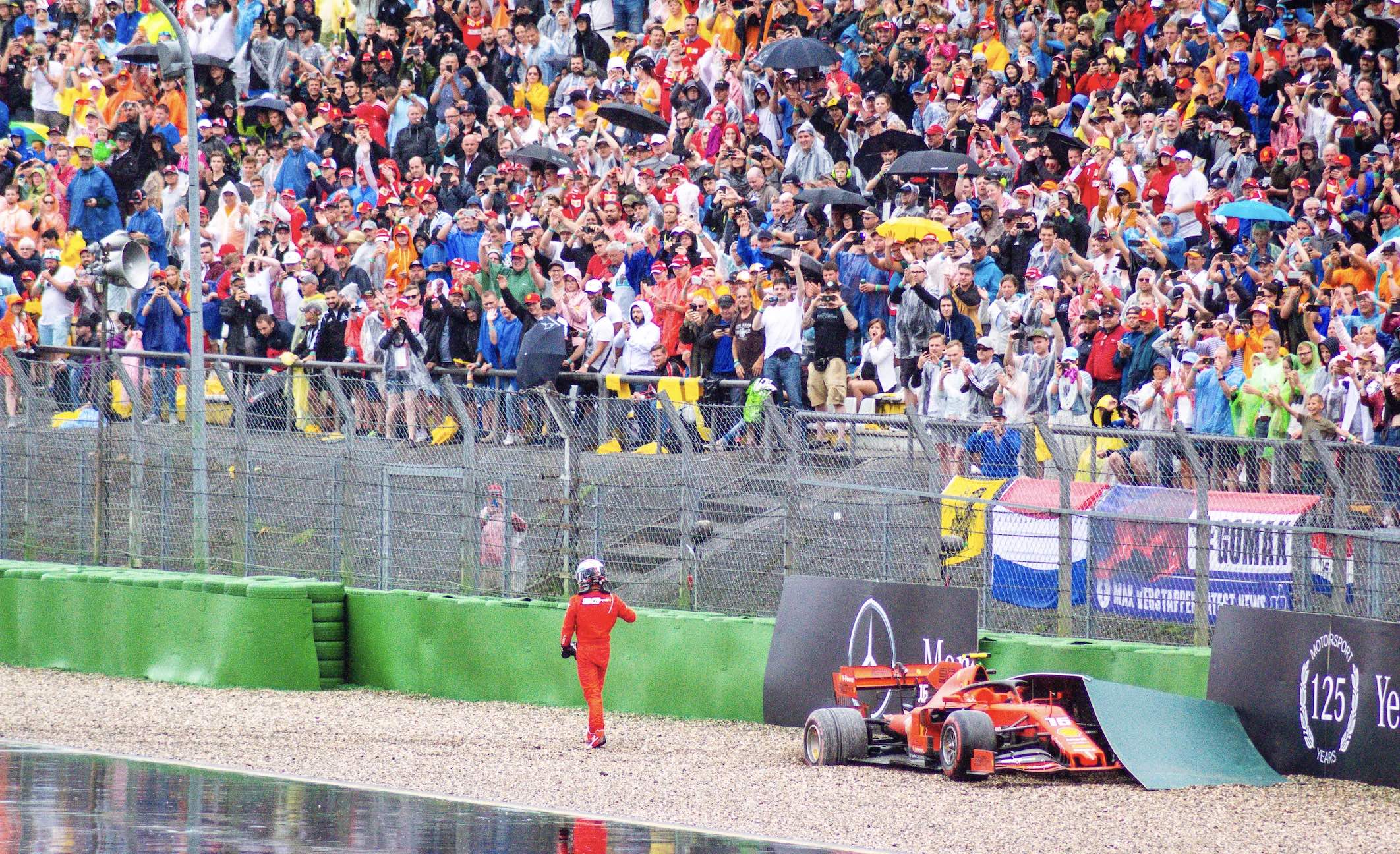 The American Rise of F1: Why You Should Care
---
"It's going to be a very hedonistic experience," said Jeff Zalaznick, managing partner of Carbone's parent company, Major Food Group, about the 2022 Miami Grand Prix.
Over the first weekend in May, Crypto.com hosted the inaugural Formula One Miami Grand Prix. Formula One (F1) has always been synonymous with glamor, European royalty, and superyachts, so Miami did not want to disappoint. The city spent much of 2021 building its 3.4-mile track and touting the over-the-top viewing experiences at every turn.
2022 marks the first time since 1984 that F1 has hosted two grands prix in the United States. In 2023, the US will host more Grands Prix than any other country with one in Austin, Miami, and Las Vegas.
F1 has experienced its highest ratings ever in the US with an average audience of 949,000 viewers per race in 2021. April 2022's Saudi Arabian Grand Prix is the most-viewed F1 race on ESPN and the most viewed F1 event on cable since 1995. So what's behind this change?
What's Behind the American Rise of F1?
Formula One (F1) is the highest class of international racing sanctioned by the Fédération Internationale de l'Automobile (FIA). Formula 1 enjoys a reputation of luxury with Rolex and Emirates Airline & Group as partners and Aston Martin, Mercedes, and Ferrari as teams. F1 cars are the fastest regulated road-course racing cars in the world. Since the 1950s, the championship has gained international popularity, especially across Europe, but it never managed to reach widespread popularity in the US.
For a country dominated by car culture, and considering the popularity of Indycar and NASCAR, it seems odd that F1 never got a foothold. It's difficult to say for sure why that was the case. It could have been the lack of American promotion of the sport, or the existing saturation of racing tournaments in the US that halted F1 from gaining popularity stateside. So… how did it gain a foothold?
1. Liberty Media Acquisition of Formula 1
In 2017, US-based Liberty Media acquired a controlling stake in F1 for $4.4 billion and began pushing F1 stateside. Liberty Media is a cable television conglomerate with stakes in SiriusXM radio and the Atlanta Braves. In the past five years, Liberty has reengineered Formula One to become an American Luxury passtime.
Starting with transforming race weekends into luxurious festival-like spectacles, Liberty has successfully begun the Americanization of Formula One. Liberty's strategy for F1 can be described as the combination of sports, culture, and lifestyle to create a luxurious racing spectacle for global audiences.
2. Netflix's Docuseries Formula One: Drive to Survive
Netflix's documentary series, "Formula 1: Drive to Survive" is a major driver of F1's recent rise in popularity. The show brings the audience behind the scenes of the racing world and gives F1 drivers the celebrity treatment. The latest season drew in 4 million viewers in the first weekend alone. This makes it one of the most watched streaming shows in existence. According to a Morning Consult survey, 74% of US F1 fans under 45 said Drive to Survive is what got them into the sport.
According to Nielsen data, nearly 16 million people watched at least part of the Netflix docuseries. Of those 16 million, only 2.3% did not watch any of the last three race weekends of 2021 F1 programming. At the same time, 41% of Drive to Survive viewers also tuned into the first three weeks of the new F1 season in 2022.
Liberty Media developed Drive to Survive as part of a strategy to expand F1 into new markets. After its launch in 2019, F1 saw a massive increase in viewership. ESPN reported that average American viewership was up 56% in 2021 compared with the 2020 season.
3. ESPN Coverage
In the mid-2010s, motorsports seemed to be cooling down in the US. ESPN did not renew its NASCAR contract at the end of the 2014 season, and their NHRA and IndyCar coverage ended following the 2015 and 2018 seasons respectively. However, F1 came to ESPN in 2018 and debuted a new concept for American fans – commercial-free coverage.
John Suchenski, ESPN's director of programming and acquisitions, claimed that the lack of commercials and F1's strict two-hour format hold particular appeal for American audiences. "The product itself is very consumable," Suchenski told the Washington Post. "The nature of how condensed F1 is, in that two-hour window, is another element we feel has helped us retain viewers longer."
A New F1: Miami Grand Prix
How Much did the Miami Grand Prix Cost?
The May 2022 Miami Grand Prix pulled out all the stops to bring the glitz of a Monaco Grand Prix to South Florida. The venue, named the Miami International Autodrome, circles the exterior of Hard Rock Stadium, and cost around $40 billion to create. Event organizers projected an economic impact of $400 million to the city of Miami Gardens, where the Hard Rock Stadium and track are located.
What Made the Miami Grand Prix Unique?
This track is unique for many reasons. First, the track circles the Hard Rock Stadium, home of the Miami Dolphins, right near the city center. Most race tracks have historically been set up far from city centers due to the need for space. Secondly, the makeshift Monaco-style marina featured in the venue made the event kitschy and opulent. This "marina" was made for real yachts, but did not include any real water. Instead, the venue was covered in a vinyl material that is made to look like real water.
Crypto.com and Mercedes sponsor FTX transformed 165,000 square feet of oceanfront space of Miami's South Beach into an "electric beach" themed entertainment venue. The venue hosted concerts, exhibitions, NFT art galleries, fashion shows, and a gaming lounge for race attendees all weekend. Countless celebrities attended and posted about the event and surrounding activities, creating even more buzz on social media about the inaugural Grand Prix.
How Much Did Tickets Cost for the Miami Grand Prix?
The cost of tickets to the "Yacht Club" on the fake water ranged from $9,500 to $38,000. The cost of tickets reflected the luxury of the sport. Tickets to Sunday's race sold out in 40 minutes, according to the Miami Herald, and began selling on the secondary market for as much as $32,000. The average price for Sunday's race was $2,179 – three times the average price for the US Grand Prix in Austin last year.
The price surges did not stop there. Miami's top hotels charged more than $100,000 a night for their top suites. Chefs offered special dinners for over $3,000 a plate and nightclubs brought in top DJs and sold tables for up to $100,000 a night, according to CNBC.
The race beat US TV viewership records for F1, and had the largest crowd on record for the Hard Rock Stadium as 85,000 fans saw the race on Sunday.
Why Should You Care?
Formula 1 has always been a sport for the rich. Whether fans were watching from their yacht in Monaco or the SkyPark at the Marina Bay Sands in Singapore, they have always been willing to spend big for a weekend of racing. Now, Miami brings a new level of spending for a US sports event, events that are not often demonstrations of wealth and class stateside.
NFT and Crypto Engagement
In the past 15 months, there has been a substantial influx of Crypto-related companies joining the highly sought-after space of F1 sponsorship deals. Crypto.com kicked off this trend by announcing a $100 million partnership with Formula 1 in 2021.
Crypto.com had a large hand in the off-track engagement with fans at Miami this year. The platform provided a number of opportunities for fans to walk away with NFTs and more. Given Miami's status as an influential crypto city, it only makes sense that NFTs would be involved in the Grand Prix.
Research by global analytics company Nielsen Sports found that F1 has the potential to reach around 1 billion fans globally in 2022, with 77% of those new fans under 35 years old. It makes sense that a growing global industry like cryptocurrency and digital assets would want to jump on board. To this point, there are 10 F1 teams for the 2022 season and crypto companies are currently sponsoring eight of them.
A Deloitte Global study anticipates that in 2022 alone, sports NFTs will generate more than $2 billion in transactions – double the volume seen in 2021. This study also predicts that by 2022 year end, roughly 5 million sports fans globally will own an NFT sports collectible.
F1 has been ensuring they are not left out of this market. Alfra Romeo released a limited edition NFT to its fan token holders at last year's Brazilian Grand Prix that triggered a spike in the team's coin price. McLaren has launched McLaren Racing Collective where fans can buy individual components to then build up their own full car in the metaverse.
The Miami F1 Grand Prix signals a marked change in the structure of F1 races. No longer is a Grand Prix just about the race, but is about networking, entertainment, luxury, and investments. Americanized F1 makes a lot of sense: this country loves nice cars and an appearance of opulence.
F1 in America isn't Going Anywhere
Miami is the second American F1 race in recent history. The US Grand Prix has run in Austin, Texas since 2012. Following the first season of Drive to Survive, Austin's Grand Prix saw a 15% increase in attendance to 250,000 fans. In 2021, that number nearly doubled to 400,000, making it the largest crowd at a F1 race in global history.
In 2023 another US race is being added, making the US the country with the most grands prix globally. The Las Vegas Grand Prix is set to make its Formula 1 debut in 2023 at a track designed around the Strip. It was confirmed in 2021 that the Super Bowl would take place at Las Vegas' Allegiant Stadium in 2024; yet, according to F1 CEO Stefano Domenicali, the Las Vegas GP announcement garnered quadruple the interest on social media.
Miami changed the game for motorsports in the US. Not only was the 2022 Grand Prix a display of opulence, but the crowds looked a lot more like music festival crowds than like Nascar crowds.
New Formula 1 fans are, on average, younger, more affluent, and more female than other motorsports fans in the US. According to Nielsen Sports research, 46% of F1 viewers from Drive to Survive are younger than 34, 69% earn more than $100,000 a year, 23% are Hispanic, and 70% work white collar jobs. A massive F1 survey in 2021 reported the highest percentage of female fans, at 18.3%, up from 10% just four years prior.
This material is provided for informational purposes only and should not be relied on as investment advice.
---