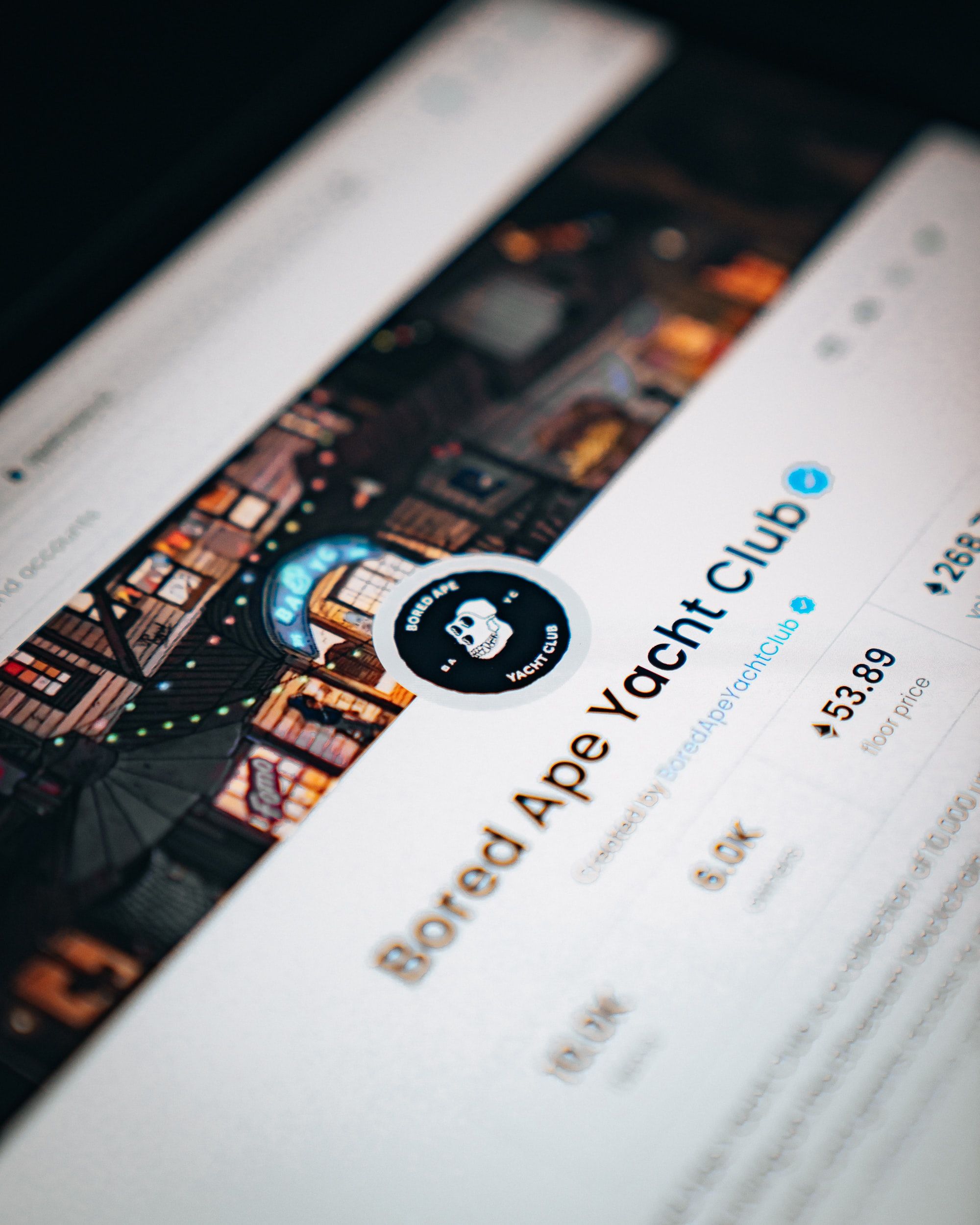 NFT Marketplaces leading the charge in 2022
---
If 2021 proved anything in the crypto space, it's that NFTs are likely here to stay. Crypto exchanges and startups are racing to capture the demand of speculators and creators alike by establishing their own destination for everything NFTs.
The WAGMI flag is flying high for NFT collectors. (That stands for "we're all gonna make it" – a crypto bull catchphrase.)
Just look at the explosion in trading volume for NFTs within the last three years:
Bored apes, disgruntled apes, and really any NFT project that your favorite influencer wants to put their name behind have been all the rage this past year. Now, more than ever, have your options increased for where to purchase NFTs.
To give you an idea, this space is growing so fast that China banned cryptocurrencies, but they're going all-in on NFTs.
Here's a look into the NFT marketplace space, but also, another art investing destination you might not have considered before (that is probably nothing…).
---
---
Opensea.io
Opensea.io is regarded as one of the top and largest destinations to discover, purchase and collect NFTs. Think of Opensea as the E-bay of NFTs.  
Opensea's easy-to-use design interface is attractive to many new NFT users and artists. Opensea's marketplace supports over 150 digital tokens as payments. Opensea allows anyone to mint an NFT on their platform as well as list other NFTs from different marketplaces. Discover Bored Apes, Cryptopunks, and all of the top-selling NFT collections.
To put Opeasea into the perspective of other tech companies, the most popular NFT marketplace was recently valued at $13.3 billion. Probably nothing…

Nifty Gateway
Nifty Gateway is a top NFT marketplace and destination for eye-catching collections and has taken a unique approach to the content that is listed on their marketplace. Nifty Gateway has created an NFT marketplace that works exclusively with top artists and brands to list limited-edition collections of NFTs known as Nifties.
As an NFT creator, Nifty Gateway requires an application for your project to be listed on their platform. Once approved, your NFT project will be listed and revealed for a specific time. Consider Nifty Gateway as a great NFT marketplace to buy and collect limited-edition NFTs from vetted and established artists from names like Beeple, Pak, and Grimes.
Rarible

Rarible is a fully decentralized NFT marketplace that facilitates listing and acquiring NFTs for creators and collectors. Rarible's goal is to turn their marketplace into a decentralized autonomous organization, also known as a DAO, which will allow the NFT marketplace users to have all decision and governance rights.
Rarible's strategy behind the DAO is to allow both creators and collectors to vote on platform upgrades, allowing the community to build and decide democratically the best course of action for the marketplace and the community.
SuperRare

SuperRare's NFT marketplace is an interesting intersection between an NFT gallery and auction house. SuperRare's approach to their NFT marketplace is less of the to-the-moon art and instead, curated NFT projects from established artists.
For SuperRare, think of it like Instagram meets Christie's. SuperRare's slick and intuitive interface allows you to follow creators, as you would on Instagram, and browse a feed to discover and purchase from selected artists.
---
---
Coinbase NFT Marketplace

Coinbase's NFT Marketplace is new to the NFT scene but the parent company isnt. Coinbase has always been an early advocate of the NFT space as an early investor in Opensea.io. Although not yet live, Coinbase's NFT Marketplace will be the all-in-one location for minting, buying, displaying, and discovering new and existing NFT projects.
In fact, Brian Armstrong, CEO of Coinbase, even said their new NFT marketplace could be bigger than their crypto business…
Coinbase's NFT marketplace will have a strong focus on both the creator and the creator's community. Coinbase's NFT marketplace will allow users to curate a personal feed and engage in other social features that allow you to connect with friends and like-minded NFT enthusiasts.
But instead of digital art, what might be the art world's best-kept secret?
The wild-west of the NFT market has proved that creators and collectors are resources into what they believe could be the next gold rush.
However, given the recent rocket in demand for projects – like Cryptopunks, Bored Apes, and hundreds of others– it's incredibly difficult to determine the value of these projects years from now.
GaryVee, a long-time NFT bull and collector, has expressed his concerns about the mentality of the recent NFT craze.
A major NFT collector and crypto-billionaire, Justin Sun, the owner of Beeple's EVERYDAYS: OCEANFRONT purchased for $6 million, has taken a different approach to art investing…
Investing in physical art
Recently, Justin Sun has been investing his wealth into fine art. Just a few months ago he was announced as the winning bidder for "Le Nez" by Alberto Giacometti, paying $78,396,000 for the sculpture. He's also spent millions of dollars on works from KAWS and Warhol.
Your expert partner in art investing: Masterworks
We know that art investing can be a real challenge, especially for art investors who don't have millions to drop on a Picasso.
Fortunately, there's finally a solution.
We're on a mission to democratize the world of blue-chip art investing and provide access to an asset class that was once only accessible to the ultra-wealthy Masterworks is the first platform that allows investors to purchase shares representing an investment in authenticated, multi-million-dollar artworks.
We handle the pricing, authentication, and purchasing for you (with help from our expert research team, our partners at Citi Bank and Bank of America, and our team of art world experts). It's now possible for regular investors like you to invest in multi-million-dollar artwork and share in the proceeds from the sale of valuable art without the need for Bezos-sized net worth. Become an investor in masterpieces from artists like Banksy, KAWS, Basquiat, and more.
Let's bring together your love of art and your passion for investing with Masterworks.io.
---
---
---