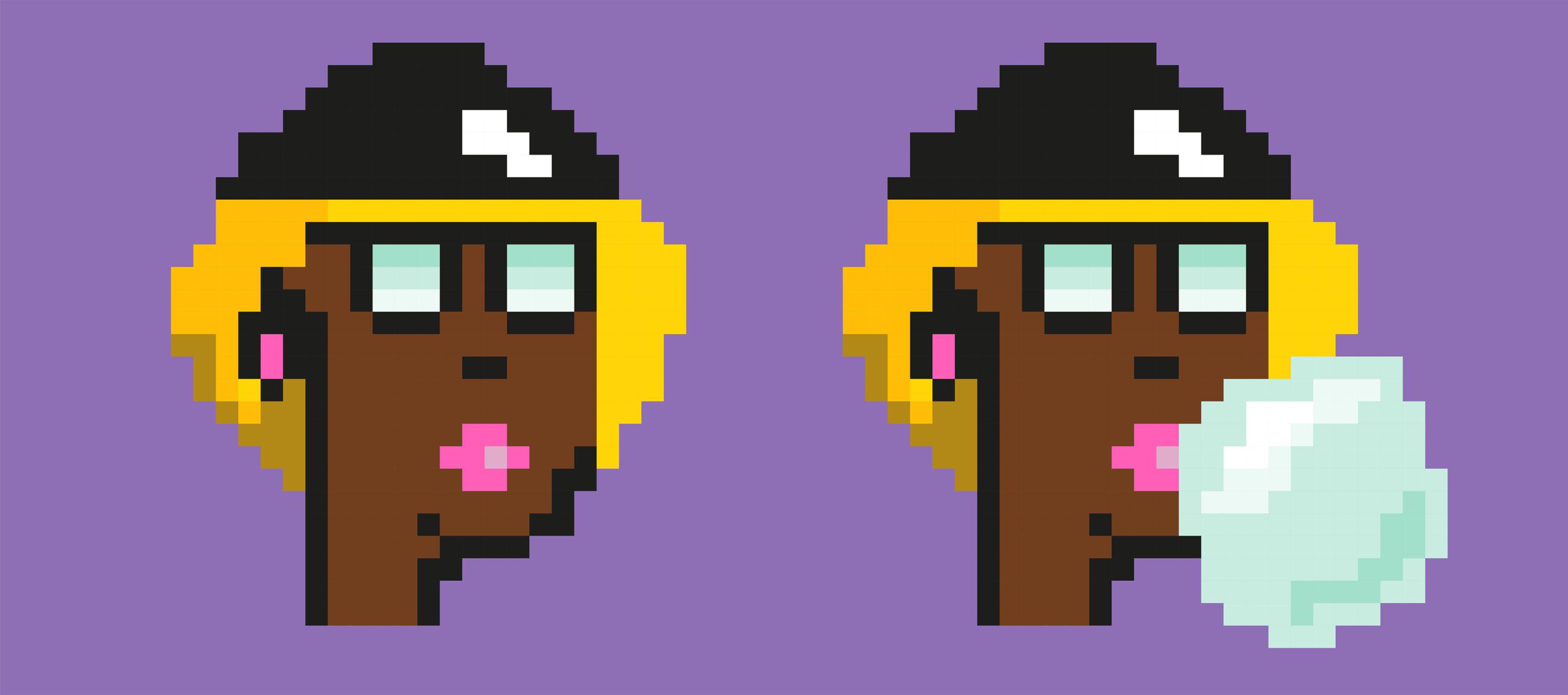 Most Expensive NFT Art
---
In 2021, NFTs took the world by storm — transactions skyrocketed as the world watched celebrities and popular brands spend millions of dollars on NFT art.
The world was left in awe when Beeple sold Everydays: The First 5000 Days for $69.3 million in March 2021.
Beeple's time in the limelight was short-lived, though, as Pak's The Merge was then sold for a whopping $91.8 million — making it the most expensive NFT ever sold (October 2022).
In this article, we'll highlight the 15 most expensive NFTs ever sold. We'll also cover why NFT artworks are so pricey, where you can buy them, and the risks associated with investing in them. (Keep in mind that consumer confidence in NFTs as investment products has been waning following the cryptocurrency collapse in mid-2022 and more recent crypto turbulence.)

We'll also introduce you to an alternative investment option — investing in shares of physical artworks through Masterworks.
1. Pak, "The Merge" ($91.8 million)
Artist: Pak
Auction: Nifty Gateway
Buyer: Over 28,000 collectors
Date: 2 December 2021
What sets The Merge apart from other NFT artworks is that it wasn't purchased by one buyer only. Instead, 28,000 people purchased around 266,445 pieces of it for $91.8 million.
The artwork features three white masses on a solid black background. The more portions or pieces people bought, the larger the masses on the artwork would become. As a result, buyers contributed to how the artwork looked in real time.
The Merge has made Pak the world's most expensive living artist, in the ranks of other blue-chip artists such as David Hockney and Jeff Koons.
However, Jeff Koons still holds the auction record for a single artwork sold publicly by a living artist — Sculpture Rabbit (1986), which sold for $91 million in May 2019.
2. Beeple (Mike Winkelmann), Everydays—The First 5000 Days ($69 Million)
Artist: Beeple
Auction: Christie's
Buyer: Vignesh Sundaresan (MetaKovan)
Date: 11 March 2021
Everydays features a collage of 5,000 digital artworks created by Mike Winkelmann since 2007. The artwork was sold for $69 million to Vignesh Sundaresan at a Christie's auction in March 2021, making it the most expensive NFT sold to a single owner.
In addition to being one of the most expensive NFTs ever sold, the sale drew a great deal of attention to the NFT art space worldwide.
3. Julian Assange and Pak, Clock ($52.7 Million)
Artist: Julian Assange and Pak
Auction: Online auction
Buyer: Over 10,000 AssangeDAO contributors
Date: 7 February 2021
Created by Julian Assange and Pak, this artwork features a timer with the number of days Julian has spent in prison.
Who is Julian Assange?
Julian Assange is the founder of WikiLeaks. He's been imprisoned in Belmarsh in London since April 2019 for skipping bail and other charges.
This piece aims to shed light on freedom of information, censorship, and free internet. So, it's no surprise that Pak — an artist well-known for hiding their identity — would partner with Assange.
Assange DAO, an organization fighting for the freedom of Julian Assange, bought the artwork for $52.7 million. The proceeds of the sale will support Assange's legal fees.
4. Beeple, Human One ($29.8 Million)
Artist: Beeple
Auction: Christie's
Buyer: Ryan Zurrer
Date: 9 November 2021
Human One is a hybrid NFT — the project features an evolving physical sculpture and a digital counterpart. Christie's auctioned off the project as a single lot in November 2021.
Interestingly, although Ryan Zurrer purchased the project, Beeple still maintains creative control and has remote access to the artwork.
5. CryptoPunk #5822 ($23.7 Million)
Artist: Larva Labs, the studio founded by Canadian developers Matt Hall and John Watkinson
Auction: OpenSea
Buyer: Deepak Thapliyal
Date: 12 February 2021
The success of the CryptoPunk NFT project is a bit of a head-scratcher since these artworks feature blurry, pixel-art people with random attributes.
Why was this NFT project such a success?
The CryptoPunk NFTs were one of the first digital artworks created on the Ethereum blockchain. There are also only 10,000 CryptoPunks available — only nine of which are alien punks — making it highly sought-after among collectors.
CryptoPunk #5822, which features an alien wearing a blue bandana, was sold for $23.7 million to Deepak Thapilyal (the CEO of Chain) on February 12, 2022.
6. CryptoPunk #7523 ($11.75 Million)
Artist: Larva Labs, the studio founded by Canadian developers Matt Hall and John Watkinson
Auction: Sotheby's Natively Digital Auction
Buyer: Shalom Meckenzie
Date: 10 June 2021
CryptoPunk #7523 is one of nine pieces in the CryptoPunk alien series. This piece is known as the "COVID alien" since it's the only alien wearing a medical mask.
The buyer, Shalom Meckeznie, owns this iconic digital artwork. It's a sought-after piece since it represents an integral part of our recent times — the COVID-19 pandemic.
7. XCOPY, 'Right Click Save As Guy' ($7.1 Million)
Artist: XCOPY
Auction: SuperRare
Buyer: Cozomo de' Medici (Snoop Dogg)
Date: 9 December 2021
XCOPY created Right Click Save As Guy in 2018 as a meme. The piece showcased that anyone can right-click and save the artwork for free instead of spending millions to own it on the blockchain.
Ironically, Cozomo de' Medici, also known as Snoop Dogg, purchased the piece for a whopping $7.1 million — not bad for a meme!
8. Beeple, Crossroad ($6.6 Million)
Artist: Beeple
Auction: Nifty Gateway
Buyer: Pablo Fraile and later bought by anonymous10
Date: 25 February 2021
Crossroad is a 10-second video featuring a graffitied Donald Trump lying on a field. It depicts some passersby ignoring the body.
Beeple created the NFT in response to the US presidential election in 2020. The artist had several versions of the piece ready, depending on who won the elections. So, Nifty Gateway auctioned off a token that would change depending on the winner.
The video was initially sold to Pablo Fraile but was purchased by an anonymous buyer for $6.6 million four months later.
9. Beeple, Ocean Front ($6 Million)
Artist: Beeple
Auction: Nifty Gateway
Buyer: Justin Sun
Date: 23 March 2021
Beeple's Ocean Front sheds light on the climate crises and is a response to the environmental concerns around minting NFTs. The artwork features minivans and trailers on a scaffolding with a tree on top.
In collaboration with the Open Earth Foundation, Nifty Gateway sold the piece as part of the Carbon Drop collection.
Justin Sun, the founder of the TRON blockchain, bought the piece for $6 million. Nifty Gateway donated the proceeds to the Open Earth Foundation.
10. Ross Ulbricht, Freeross, Genesis Collection ($5.93 Million)
Artist: Ross Ulbricht
Auction: SuperRare
Buyer: FreeRossDAO
Date: 9 December 2021
Freeross is a graphite pencil drawing featuring eyes within an eye that Ross Ulbricht created in prison.
Just like Clock by Julian Assange and Pak, Ross Ulbricht released this piece to raise awareness about his imprisonment and to raise legal funds.
SuperRare donated the proceeds to the Art4Giving fund, which aims to support the incarcerated and their families.
Who is Ross Ulbricht?
Ulbricht is the creator of Silk Road — a dark web market that used Bitcoin and Tor to trade legal and illegal goods anonymously.
Since Ulbricht has always been tied to blockchain tech, releasing the artwork let him reassociate his name with blockchain tech in an innovative way.
11. Dimitri Cherniak, Ringers #879 ($5.8 Million)
Artist: Dimitri Cherniak
Auction: OpenSea
Buyer: Three Arrows Capital
Date: 27 August 2021
Ringers #879 is a piece from Cherniak's Ringers collection, created using his p5js script.
Since 2021, the Ringers collection has been one of the most sought-after generative art projects.
12. Edward Snowden, Stay Free ($4 Million)
Artist: Edward Snowden
Auction: Foundation
Buyer: PleasrDAO
Date: 16 April 2021
Created by Edward Snowden, NSA whistleblower, Stay Free features Snowden's portrait alongside documents related to court rulings against the NSA's mass surveillance program. 
PleasrDAO (a group of crypto investors) purchased the piece in April 2021, and proceeds from the sale went to the Freedom of the Press Foundation.
13. Mad Dog Jones, Replicator ($4.1 Million)
Artist: Michah Dowbak "Mad Dog Jones"
Auction: Phillips
Buyer: Anonymous buyer
Date: 23 April 2021
As the name suggests, the Replicator is an NFT that can produce unique pieces every 28 days, making it the first self-replicating NFT artwork.
The piece features a copy machine, which can create up to seven generations of unique NFTs. The first-generation NFT will produce six NFTs. Every subsequent generation will create one less NFT artwork until it reaches the seventh generation.
14. Bored Ape #8817 ($3.4 Million)
Artist: Seneca
Auction: Sotheby's Metaverse
Buyer: Brandon Buchanan or "rhincodon"
Date: 26 October 2021
Bored Ape #8817 is one of the rarest pieces in the Bored Ape Yacht Club collection. It's a collector favorite because the Bored Ape NFT sports many rare traits, including gold fur, a colorful spinner hat, a party horn and silver hoop earrings.
The piece was sold for $3.4 million, making it the most expensive Bored Ape NFT.
15. Chris Torres, Nyan Cat ($600,000)
Artist: Chris Torres
Auction: Foundation
Buyer: Anonymous buyer
Date: 19 February 2021
Nyan Cat is a GIF of a Pop-Tart-bodied cat with a rainbow behind it. Initially uploaded as a YouTube video in 2011, the GIF became a popular meme and eventually an NFT that sold for $600,000.
Chris Torres only made one Nyat Cat NFT, so the anonymous buyer owns the only piece in existence.
There you have it — 15 of the most expensive NFT artworks.

Now, you're probably wondering…
Why Are Art NFTs So Expensive?
Before we tell you why, keep in mind that the NFT market experienced a sharp decline in mid 2022.
According to Dune Analytics, the NFT market declined by 97%, falling from $17 billion in early 2022 to $470 million in September 2022. Data from Chainalysis shows that the average price of an NFT decreased by 92% since May 2022.
Let's look at why the NFT art market had such inflated prices.
1. Easily Available
There's a high learning curve associated with buying collectibles like baseball cards and comic books. For example, you'll need to verify the item's authenticity and ensure it's in good condition.
On the other hand, buying NFT art is much easier and less time-consuming. While you need to set up a cryptocurrency wallet and join a marketplace like OpenSea, this process is usually straightforward.
Once the setup process is complete, all you need to do is find an artwork you like, review the metadata, and verify the creator's details. Then you make the purchase.
The simplicity of buying and selling NFT art makes it easier for anyone to participate, raising the value of NFT artwork.
However, there's a flip side. The NFT market's reliance on cryptocurrency makes it incredibly volatile. As crypto prices have been extremely volatile through 2021 and 2022, many NFT investors felt the repercussions.
2. Easy to Store & Access
Since NFT artworks are digital assets, they can be easily stored, displayed, and traded.
NFT art is also easier to show off.
Think of it this way: Imagine you've bought a portion of Pak's The Merge. You can now set the artwork as your social media profile picture, post it online, and show it off to friends instantly.
The result? More people will see your investment, instead of a few close friends who spot the artwork in your home.
But, while digital assets have their benefits, they're also an easy target for cyber-criminals.
According to Elliptic research, more than $100 million worth of NFTs were stolen through social media scams between July 2021 and July 2022.
3. Easy-to-Track Ownership History
Another reason why NFT art pieces have hefty prices is that it's easy to track their ownership history — thanks to Blockchain technology.
How does this boost NFT art prices?

The artwork instantly becomes more valuable if a celebrity or other famous person previously owned it.
For example, Eminem recently purchased a Bored Ape NFT for $460K on OpenSea and set the artwork as his Twitter profile picture. If he decides to sell the piece, the artwork's value will increase with each subsequent sale since Eminem owned it.
Of course, the value of the NFT depends on the buyer's opinion, but the hype around celebrities almost always raises prices. For example, in December 2021, Snoop Dog launched Snoopverse, and a fan paid $450,000 just to become his virtual neighbor.
But remember: The hype and celebrity endorsement in the NFT space caused NFT art prices to increase unsustainably. Like other markets driven by hype and impulse purchases, the NFT market seems to have lost momentum (for the short term at least).
NFT Artworks
You can buy NFT artwork through marketplaces like OpenSea, Coinbase, Nifty Gateway, and SuperRare. NFTs are occasionally available through auction houses like Christie's and Sotheby's.
Sure, NFTs offer an exciting avenue for alternative investors. But as we've seen, there are also risks associated with such an investment:

Illiquid secondary markets
Volatility due to the crypto market
Opaque and inflated pricing
The risk of theft
Now, regardless of what the future holds for NFTs, investing in physical, blue-chip artworks instead can help you diversify your portfolio and potentially earn returns.
Blue-chip artworks and their artists have an established track record at auctions and through sales, helping you make a more informed investment decision.
Also, if you don't want to shell out millions of dollars to buy artwork, you can instead invest in fractional shares of investment-grade art easily.
Here's how:
Masterworks is an art investment platform that lets you invest in shares of multi-million dollar works of art by Picasso, Andy Warhol, Banksy and others.
Share prices start at just $20, making it incredibly easy for you to start investing in your favorite pieces.
Here's a quick overview of how the platform works:
The research team identifies which artist markets have growth potential.
The acquisitions team then locates the piece and purchases it.
Masterworks files an offering with the Securities and Exchange Commission (SEC) to securitize the artwork.
After you've invested in shares, all you need to do is wait. Masterworks can hold the painting for 3–10 years. If the piece is sold at a profit, you'll receive pro rata returns after fees are subtracted (1.5% annual management fees plus 20% of the profit from the sale of the artwork).
Alternatively, you can sell your shares on the secondary market.
Seven of Masterworks' eight recent exits have handed investors +17.8% net returns.
Get started by completing Masterworks' membership application.
This material is provided for informational and educational purposes only. It is not intended to be investment advice and should not be relied on to form the basis of an investment decision.
Net returns refers to the annualized internal rate of return net of all fees and costs, calculated from the offering closing date to the date the sale is consummated.
IRR may not be indicative of Masterworks paintings not yet sold and past performance is not indicative of future results. See important Reg A disclosures: Masterworks.com/cd
---