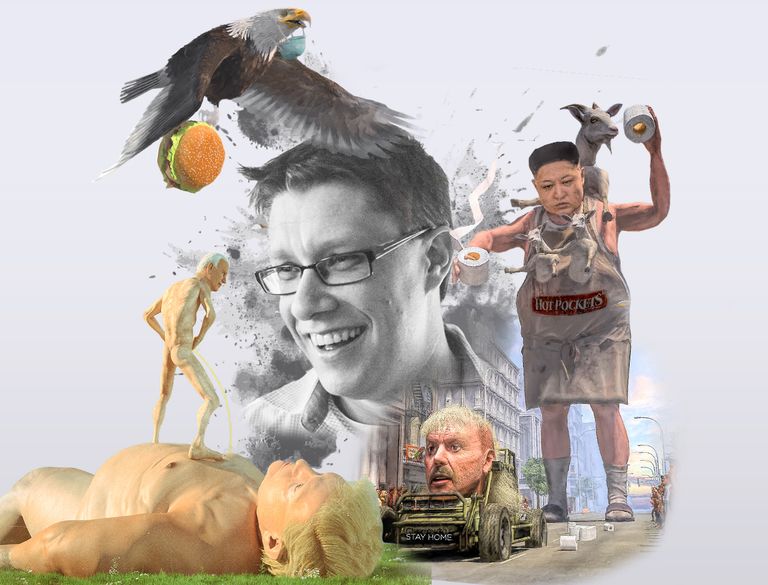 Beeple: Digital Art Disruptor
---
Who is Beeple?
Beeple is Mike Winkelmann, a 41-year-old digital artist, graphic designer, and animator that has created dystopian-like and head-scratching visuals every day for the last 13 years. Beeple is one of the most popular NFT artists today for his ridiculous imagery and record auction sales.
Beeple's digital art has propelled him to the top of the contemporary art world, rising to the status of one of the highest-selling living artists, amongst names like David Hockney and Jeff Koons. British auction house Christie's has called him "a visionary digital artist at the forefront of NFTs."
Where did Beeple come from?
Despite Beeple's global exposure for his record auction sales at Christie's, don't confuse Beeple for an overnight success. The Midwestern digital artist is known for using Cinema 4D to produce his outlandish and iconic Beeple-imagery that has collectors in awe. Today, Mike Winkelmann lives in a suburb of Charleston, South Carolina with his wife and two children.
Beeple has collaborated and worked on visual art projects for brands such as Louis Vuitton, Apple, and Nike, and pop-culture icons like Justin Bieber and Katy Perry. Don't mistake Beeple's digital art for your generic desktop wallpaper. Beeple's pixel art crosses into topics that come across as troll-like, provocative, and unforgettable.
Where can I buy a Beeple NFT?
Anyone is able to view a Beeple NFT on his Instagram account (@beeple_crap), which touts 2.5 million followers. But do you know what's better than just looking at a Beeple image? Owning a Beeple image. The blockchain gives Beeple's digital art scarcity and ownership through the use of NFTs (non-fungible-tokens). The tokenization of digital art has allowed Beeple to shock the art world both online and in Christie's auction rooms.
How much digital art has Beeple sold?
Beeple is the only digital artist who has made $3.5 million USD in a single weekend through art sales. As of writing, Beeple has sold more than 1300 NFTs of his digital artwork, totaling Beeple's artwork value at over $175 million.
---
Take a look into the wild-west of Beeple's recent NFT craze with a list of Beeple's Top 10 NFT sales:
#10. Beeple's EVERYDAYS: HEY, 2021
Beeple's artwork has finally arrived at infinity with HEY from the Beeple EVERYDAYS collection. Beeple portrays a match made in heaven: Buzz Light Year riding on top of a Jeff Koon's balloon dog toy.
---
#9. Beeple's EVERYDAYS: BLOOD MONKEY, 2021
Beeple's BLOOD MONKEY from his EVERYDAYS collection is anything but a bored ape. Beeple's art shows the aftermath of pong-game at Nueralink gone wrong.
---
#8. Beeple's EVERYDAYS: 30K, 2021
For Beeple's crypto-inspired artwork, there are no bears in sight for the Bitcoin halving celebration! Titled 30K, Beeple's crypto art shows how the Bitcoin mining process is really accomplished…
---
#7. Beeple's THE COMPLETE MF COLLECTION, 2020
Beeple's COMPLETE MF COLLECTION is exactly what the title says. The esteemed creation of twenty unique images features Beeple's unique spin on pop-culture icons like a Beeple Baby Yoda, a Beeple Mario, and a Beeple Pikachu.
---
#6. Beeple's EVERYDAYS: ABUNDANCE, 2021
Beeple's ABUNDANCE from his EVERYDAYS collection marks the first Beeple sale of over a million dollars. Beeple's art portrays something identifiable as a suspended Archangel Smegal – does it embody good or evil? Only Beeple knows.
---
#5. Beeple's TIME The Future of Business (Beeple Edition), 2021
Beeple's meteoric rise into icon status landed his NFT art on the front page of TIME Magazine. @beeple_crap said on his Instagram, "I wanted to show my canvas to illustrate that these works do not "magically" appear by pure virtue of being digital." Try screenshotting that!
---
#4. Beeple's EVERYDAYS: OCEAN FRONT, 2021
Beeple's work titled OCEANFRONT addresses the earth's current climate change crisis, featuring a tree sitting on shipping containers atop a platform in the ocean. Beeple mentioned on Twitter (@beeple) his commitment to donating the proceeds of this NFT sale to charity. Not long after, Justin Sun, a crypto-entrepreneur and billionaire, stepped forward to pay $6,000,000 for the winning bid.
---
#3. Beeple's CROSSROAD, 2021
Beeple's iconic CROSSROADS piece featured a token that would change based on the outcome of the election. Depending on the USA election's outcome, Beeple crafted a victorious Trump and a despondent one, and the election result would determine which Beeple NFT would loop for eternity.
---
#2. Beeple's HUMAN ONE, 2021
Beeple unveiled his HUMAN ONE sculpture at Christie's as his first-ever seven-foot-tall physical and digital hybrid work of art that fetched a nearly $29 million dollar price tag. Beeple's HUMAN ONE features the first human walking through the metaverse, encountering larger-than-life Pikachus, exoplanet terrains, and endless Beeple-esque surprises.
---
#1. Beeple's EVERYDAYS: The First 5000 Days, 2021
Beeple created a record when Everydays – The First 5000 Days sold for $69.3 million USD at Christie's auction in March 2021. For Beeple, for Christie's, and for NFTs, this was a monumental moment in the art world. Beeple's The First 5000 Days is a massive collage of 5,000 images that took 13 years to make.
It started at a $100 opening bid, but then fevered competition between 350 bidders kicked in, and a crypto-billionaire named MetaKovan, stepped in to place the winning bid at over $69 million dollars. MetaKovan, later revealed as cryptocurrency investor Vignesh Sundaresan, called it "a steal" while speaking with the New York Times.
The First 5000 Days was the first purely digital NFT-based artwork offered by a major auction house. In 2022, it remains the second most expensive NFT to be sold.
---
Beeple, now an NFT Millionaire, remains wary…
If you're still scratching your head trying to determine how Beeple's art is selling at these record prices, don't worry, you're certainly not alone. I don't think Beeple can fathom his newly minted net worth.
Beeple was quoted saying that, "just making an NFT does not give it any value. There's going to be a moment where we realize we got a little crazy and assigned insane value to crap."
---
---
How are the whales thinking about Beeple's NFTs?
The wild-west of the NFT market has proved that billionaires aren't afraid to put their money where their mouth is. However, given the recent rocket in Beeple's price action and demand, it's incredibly difficult to determine how these will be valued years from now.
A Beeple NFT collector and crypto-billionaire, Justin Sun, the owner of Beeple's EVERYDAYS: OCEANFRONT purchased for $6 million, has taken a different approach to art investing…
Investing in physical art
Recently, Justin Sun has been pouring his wealth into fine art. Just a few months ago he was announced as the winning bidder for "Le Nez" by Alberto Giacometti, paying $78,396,000 for the sculpture. He's also spent millions of dollars on works from KAWS and Warhol.
Why consider investing in fine art over a Beeple NFT?
Fine art isn't just a trophy for the ultra-wealthy to hang in their 5th mansions. In fact, it's been making many of them even richer this entire time.
The Wall Street Journal reported in November of 2021:
Collecting art has always been the domain of the wealthy, and plenty have reaped tidy profits lately from all kinds of assets such as stocks, homes and private equity—yet it is their art holdings that could prove the biggest payday, market watchers say.
You don't have to be an eccentric tech CEO to invest in these types of works. While the multi-million dollar price tag makes them unaffordable for many, it's finally possible to invest in a piece of these paintings with Masterworks.io.
Regardless of what the future holds for NFTs and art investing, blue-chip art remains an incredibly valuable investment asset.
So, are Beeple NFTs worth investing in?
Beeple NFTs aren't fully established in the art world yet. You're mostly dealing with first-generation NFT buyers, and like any other fine art asset, the value of fine art comes from its resale value. It remains to be seen whether NFTs will offer the same economic growth as physical art, and can be a price appreciating, uncorrelated asset class, much like physical blue-chip art is.
Time will tell if Beeple's NFTs stick, but for now, art investors should be wary of trends that make it extraordinarily difficult to value items that are already volatile in value.
Instead, it might be better to stick to tried-and-true art investment practices, consult the experts, and apply your common sense.
Your Expert Partner in Art Investing: Masterworks
We know that art investing can be a real challenge, especially for art investors who don't have millions to drop on a Picasso.
Fortunately, there's finally a solution.
We're on a mission to democratize the world of blue-chip art investing and provide access to an asset class that was once only accessible to the ultra-wealthy Masterworks is the first platform that allows investors to purchase shares representing an investment in authenticated, multi-million-dollar artworks.
We handle the valuation, authentication, and purchasing for you (with help from our expert research team, our partners at Citi Bank and Bank of America, and our team of art world experts).
It's now possible for regular investors like you to invest in multi-million-dollar artwork and share in the proceeds from the sale of valuable art without the need for Bezos-sized net worth. Become a fractional-owner in masterpieces from artists like Banksy, KAWS, Basquiat, and more. Let's bring together your love of art and your passion for investing.
---
---
See important disclosures here.
---