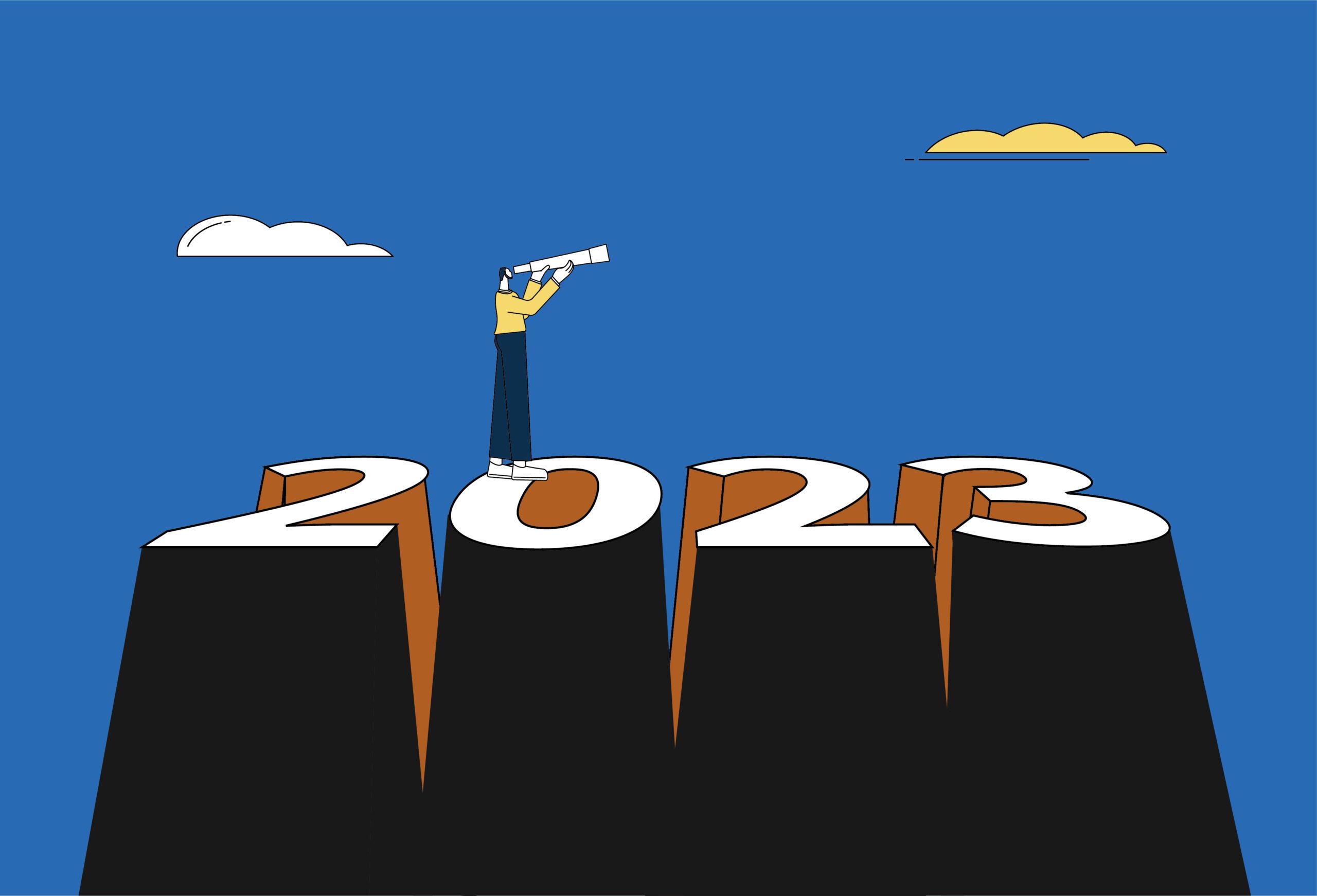 Top Investing Trends for 2023
---
At the beginning of 2022, pandemic-induced supply chain issues were already beginning to push prices higher. At the same time, consumers had some of the highest levels of cash seen in recent decades.
Of course, the rosiness of pandemic lockdowns lightening and travel opening back up was short-lived. The Federal Reserve began its steep quantitative tightening program early in the year to fight against high inflation.
With the stock market in bear territory and many consumers and investors concerned about an impending recession, let's look at what investing trends can likely be expected in the next year.
Top Investing Trends for 2023
Inflation Hedges
A red-hot inflation rate dominated every sector of the US economy in 2022, and 2023 is unlikely to look much different. Because inflation touches nearly every part of our consumption, production and investments, whether inflation will slow or remain high is a vital question for most Americans (and every investor).
Many experts suggest that it is unlikely the inflation rate will fall closer to the Federal Reserve's target rate of 2%. However, the aggressive interest rate hikes the Fed has done in 2022 should begin to help calm inflation.
Morningstar economists have predicted that the Fed will ease its aggressive monetary policy program and lower interest rates to around 3% by the end of 2023.
For this reason, typical inflation hedges will likely remain a staple investment strategy for the new year. Inflation hedges are investments meant to protect a portfolio from the effects of diminishing purchasing power.
Inflation hedges include alternative assets such as Contemporary Art and real estate, Treasury Inflation-Protected Securities (TIPS) and floating-rate bonds.
Alternative Assets
Alternative assets, especially collectibles, saw significant market growth in 2022 as investors were looking for broader portfolio diversification.
Because alternative investments have a low correlation to traditional asset classes such as stocks and bonds, alternatives can be a way to hedge against inflationary pressures and recession-induced market volatility.
Historically, alternatives have been reserved for accredited investors and the ultra-wealthy. Today, retail investors have far more opportunities to gain exposure to alternative asset strategies such as commodities, Contemporary Art or real estate through fractionalized investments or low-cost exchange-traded funds (ETFs).
Masterworks is the first platform to offer fractionalized shares of fine art investments, broadening who can get portfolio exposure to Contemporary Art. Masterworks' industry-leading research and acquisition teams use proprietary data and art market expertise to curate a collection of iconic works of art.
Alternative alternatives are increasingly popular amongst younger investors and will continue growing in popularity over time. In 2022, more advisors recommended a higher allocation to alternative assets than in any year prior.
According to a 2022 Preqin report, the global market for alternative investments is estimated to reach $23.31 by 2026. This is up from an estimated $13.32 trillion at the end of 2021.
"Safe Haven" Assets
The impressive growth of the stock market in late 2020 and 2021 during and following the COVID-19 pandemic crashed quickly in 2022, becoming a bear market in June 2022.
While stocks have recovered since the summer of 2022, most markets still remain double-digits below their highs of 2021. Similar to inflation hedges, investing trends in 2023 are likely to continue prioritizing stable growth and stores of value.
Because many forecasts say market conditions will likely remain in bear territory, investor sentiment will likely remain relatively low. When volatility and market downturns are impending, investors tend to turn to safe-haven assets.
Safe haven assets are investment vehicles that have historically retained or even gained value during periods of economic downturns. These assets are largely uncorrelated or negatively correlated with traditional financial markets.
Some examples include stores of wealth such as Contemporary Art, luxury collectibles and precious metals, as well as the US dollar and short-term bonds.
Cryptocurrency Winter & Future Legislation
It's hard to imagine that any year could be worse for the Crypto market than 2022 was.
In mid-December, Bitcoin is down 64% and Ethereum is down 66% for the year, compared to the S&P 500 Index falling 15% in the same period.
Multiple stablecoins fell from their pegged currencies in 2022, wiping out hundreds of billions in market value. The rapid downfall of crypto exchange FTX also worried investors about future prospects in the industry.
2023 should be a year of large developments in cryptocurrency regulation.
The Fed launched its 12-week central bank digital currency (CBDC) proof-of-concept project in mid-November 2022. Legislators have been eager to further crypto market regulation for a while now.
Defensive Sectors & High-Yield Stocks
While financial advisors and Wall Street experts are forecasting continued volatility in the stock market, Morgan Stanley points to high-yield equities as a way to see returns.
Higher-yielding stocks include consumer staples, financial, healthcare and utilities.
BlackRock's 2023 Outlook also notes that defensive sectors — healthcare, utilities and consumer staples — will likely be the best chance for returns.
Defensive sectors are parts of the US economy that have historically performed well during downturns. This is because these three sectors are areas that consumers rely on, regardless of economic conditions.
One way investors can retain a level of liquidity when investing is to prioritize dividend stocks
Renewable Energy
The Inflation Reduction Act of 2022 and the $1.2 trillion infrastructure bill of 2021 both made trillions of dollars in investments for renewable energy projects.
Growing financial support for green energy is not a new trend by any means, but the supply chain issues caused by the pandemic shutdowns put a halt to many clean energy initiatives.
Along with shutdowns, Russia's invasion of Ukraine led to global shortages of oil, which made energy costs skyrocket globally. There is heightened demand for reducing energy costs through decreasing the world's reliance on natural gas and oil.
As these issues begin to ease, green developments such as electric vehicles and solar panels are finally seeing renewed interest and new investment opportunities.
More investors are turning to ESG investing trends, which include fixed-income and equity products that prioritize sustainability and social welfare.
Emerging Markets Recovery
2022 was not only a major bear market for the US but impacted most emerging markets even more.
Morgan Stanley's 2023 Investment Outlook cites that mid and large-cap companies in emerging markets will likely see the tides turn in the new year.
Benefiting from low valuations and the easing of global inflation, emerging market equities and debt could be a great investment opportunity for US investors in 2023.
The Bottom Line
Every individual investor is going to have their own risk profile, time horizon and investment strategy, so these trends may influence investment decisions to varying degrees.
Markets are always subject to change — and as we know from the first half of 2022, what we anticipate at the beginning of the year can be far off from what actually occurs.
If you are considering changing your investment strategy or have questions about any investing trends, working with a financial advisor or financial services provider can help to ensure your investment management stays on track.
Information provided in this article is for educational purposes only, and is not to be construed as investment advice.
---