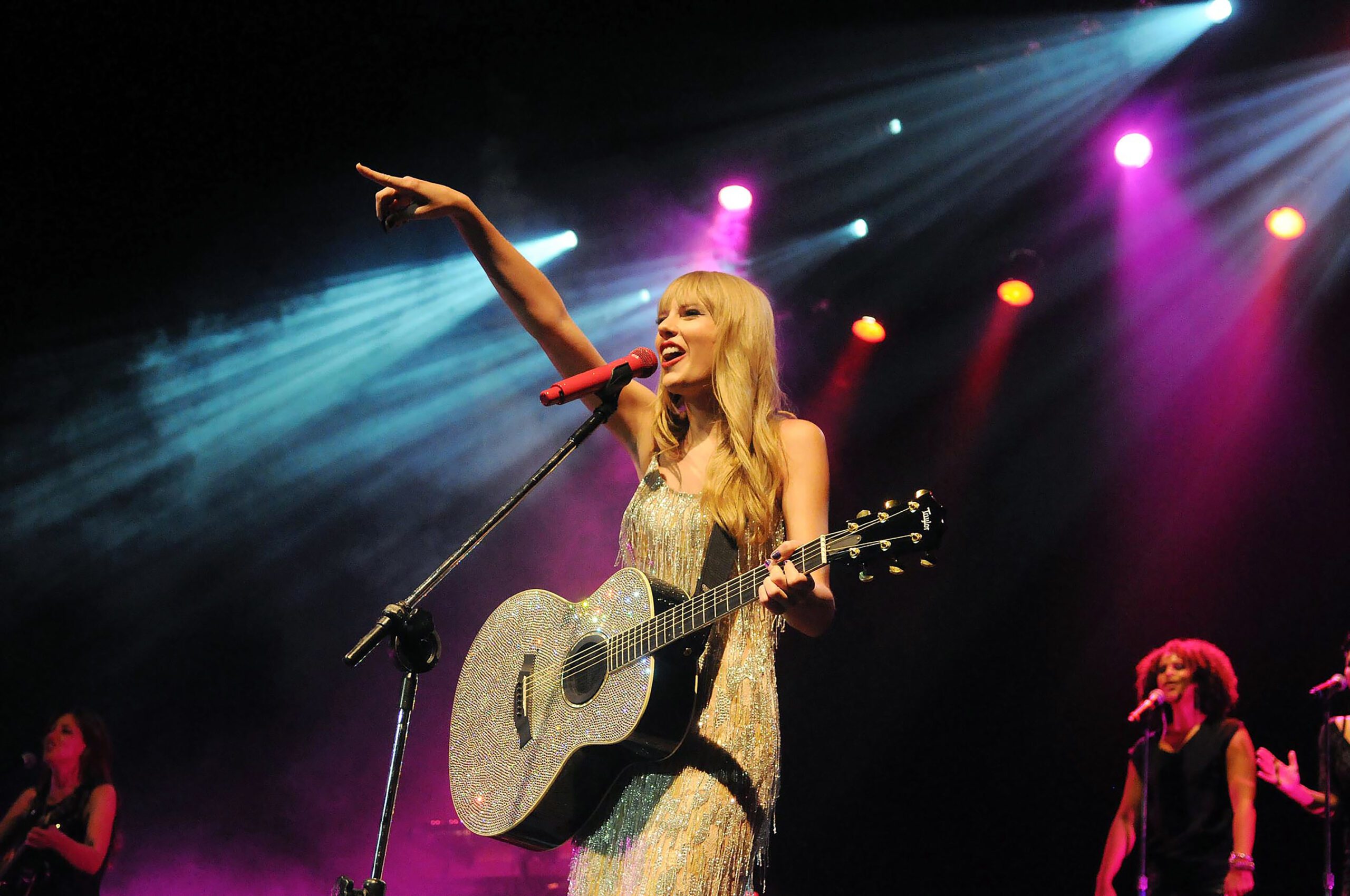 Swiftonomics: The Economics of Taylor Swift & Swifties
---
Taylor Swift has long been one of the world's biggest pop stars, setting records for highest-selling albums, singles and stadium tours, as well as becoming the first woman to ever win Album of the Year at the Grammy's three times.
Most recently, Swift's November 2022 album Midnights dominated the Billboard Hot 100 — and Swift became the first artist to ever hold all top 10 spots.
Swift's fame has come to a new head in recent weeks with the announcement of her upcoming US tour: The Eras Tour.
What is Swiftonomics?
First coined by Bloomberg reporter Augusta Saraiva, "Swiftonomics" refers to what Taylor Swift reveals about the current economic landscape of live music.
The current state of the US economy is already rocky, with sky-high inflation and interest rate hikes. Yet the music industry gives a glimpse into other factors of the economy such as pent-up demand, high levels of consumer spending, price gouging and monopolization.
The phrase is a play on "Rockonomics," a look at the economics of the popular music industry first analyzed by American economist Alan Krueger.
What is Rockonomics?
Alan Krueger, former Chairman of the President's Council of Economic Advisers, explained Rockonomics in his 2019 book "Rockonomics: A Backstage Tour of What the Music Industry Can Teach Us About Economics and Life."
In this book, Krueger uses the music industry to explain key economic principles, explaining that the music industry is a leading indicator of the US economy. There is a large focus of the book on how the music industry is one of the first to experience technology disruptions, as was seen with the advent of streaming.
One major takeaway is that before digitalization and streaming, musicians made most of their income through record sales. Today, most musicians rely on concert and tour sales for most of their income.
In an interview regarding the theory, Krueger used Taylor Swift as an example of how pop stars can use fan loyalty to increase profit, calling her an "economic genius."
The Eras Tour Ticketmaster Debacle Explained
Taylor Swift has not toured since her record-breaking Reputation Tour in 2018, as her anticipated 2020 Lover Fest was canceled due to the COVID-19 pandemic. So when she announced an upcoming US tour of 52 concerts, fans went wild.
Post-COVID pent-up demand for live entertainment has been growing across the states, as seen by Live Nation Entertainment's — the leading live entertainment provider — over 600% annual growth in mid-2022.
So it's no surprise that Swifties were no different.
According to Ticketmaster, approximately 14 million users logged into the site during the Verified Fan presale on November 15th, resulting in 2.4 million presale tickets sold. From signing up as a Verified Fan to actually attempting to purchase tickets, fans experienced multiple website glitches and errors.
Many fans sat waiting in the queue for hours and hours, some finally getting through to purchase without any tickets remaining. Ticketmaster released a statement on November 17th that the general sale would be canceled due to a lack of supply.
Millions of Swift's fans left the exile of the 2000+, unmoving queue without tickets.
At the same time, within minutes of presale opening, resale websites began showing prices as high as $60,000 for Taylor Swift tickets.
Swift showed dismay with Ticketmaster's handling of the demand, issuing a statement on Instagram saying that she and her team asked Ticketmaster repeatedly if they could handle the volume and were told it wouldn't be an issue. She compared the experience to "several bear attacks."
Swifties showed they would not simply tolerate it, responding immediately to the issues of the presale. Some lawmakers even spoke up during the presale, including New York Representative Alexandria Ocasio Cortez, calling Ticketmaster a monopoly.
The Ticketmaster Monopoly Explained
Concerns over Ticketmaster's monopolistic pricing power are nothing new.
Ticketmaster and its parent company Live Nation Entertainment Inc. were already at the center of an antitrust investigation by the Department of Justice, triggered by the inaccessibility of Bruce Springsteen tickets in New Jersey.
The 2010 merger of Ticketmaster and Live Nation was only allowed by the DOJ because of a regulatory decree which is a set of antitrust agreements that the Justice Department made Live Nation promise to uphold.
Since the merger, Ticketmaster has set up a complex network of exclusivity contracts with both artists and venues to ensure they are the only option for consumers to use.
Because Ticketmaster has such a significant market share, they are able to get away with constant website crashes, processing fees as high as 25% of the ticket price and large amounts of scalpers and bots.
Most antitrust law in the US focuses on horizontal integration, which is the consolidation of many companies that handle the same part of the production process. The merger of Ticketmaster and Live Nation is instead a form of vertical integration, where firms that handle different parts of the production process merge.
The demand for Swift tickets alone has reinvigorated the antitrust fight. Ticketmaster has monopolistic price-setting market power that allows them to charge absurdly high fees and have a website with so many bugs it may as well have been made in 2000.
Ticketmaster's Resale Program
A 2018 investigation by CBC News and the Toronto Star showed that Ticketmaster has its own underground resale program.
Reportedly, the company enlists resellers to purchase large numbers of tickets and flip them for higher prices on a Ticketmaster-owned, invite-only platform called TradeDesk.
This is profitable for Ticketmaster because they earn revenue on processing fees based on the ticket price.
If sold directly to fans, Ticketmaster generates one fee, whereas a sale to a scalper generates two fees. If resold for a higher price, that second fee is even larger.
That means Ticketmaster makes a significant profit from working with scalpers.
According to Live Nation's most recent SEC filings, Ticketmaster generated over $1.1 billion from its resale business in the third quarter of 2022 alone, more than doubling its resale volume from Q3 2019.
In the past, Ticketmaster has sued groups for using bots to purchase large sums of concert tickets. However, this prompted counterclaims that Ticketmaster itself supplied scalpers with bot software in order to profit from mass resales.
The Economics of Taylor Swift
While the chaos of the Eras Tour has gotten more economists to focus on Taylor Swift's influence, her economic prowess has a long history. Swift herself has dealt with a private equity scandal revolving around the sale of her masters, prompting the historic re-recordings of her first six studio albums.
Taylor Swift's Alternative Assets
Swift also has a massive real estate portfolio, sitting around $81 million with properties in California, Tennessee, Rhode Island and New York.
Along with an impressive real estate portfolio, Swift has shown her passion for the arts goes beyond music and film to include fine art as well.
When Swift rented a $40,000-a-month apartment on Cornelia Street in the West Village, the space was filled with pieces by Hunt Slonem. Slonem's work has been purchased by many other celebrity art collectors including Kris Jenner, Jennifer Lopez and Kate Hudson.
Taylor Swift and Streaming Platforms
Following the release of Swift's fifth studio album, 1989, she removed all music from Spotify.
Scott Borchetta, CEO of her record label at the time, stated that "Spotify only paid Swift $500,000 dollars off of her domestic plays last year."
Swift made waves in the music industry in 2015 when she wrote an open letter to Apple on her blog titled "To Apple, Love Taylor." In this letter, she outlined concerns over the development of Apple Music streaming and how little profits are actually given to artists.
It wasn't until 2017 that Swift seemed to resolve her bad blood with music streaming giants Amazon Music, Apple Music and Spotify and placed her music back on their platforms.
Since 2017, Spotify has released multiple transparency reports regarding how much in royalties they pay out to artists in an attempt to quell concerns over how little pay artists receive from streaming.
Taylor Swift NFTs?
Additionally, news recently broke that the now-bankrupt FTX crypto exchange was seeking a sponsorship deal with Taylor Swift worth more than $100 million.
Apparently, Sam Bankman-Fried, the CEO of FTX, was originally in favor of the deal because he's "a fan of Tay Tay," however the deal fell apart months before the exchange collapsed in a matter of days in November.
Taylor Swift's Fandom
Taylor Swift has been releasing chart-topping albums since 2006. Her most recent Grammy AOTY win in 2020 for Folklore and the releases of Taylor's Version of past fan-favorite albums Fearless and Red have further reignited Swiftiedom.
Swift's fans represent a specific subset of American consumers, mostly Millennials and Gen Zs who have waited over 4 years to see Swift live.
Fans that have grown up with Taylor Swift feel a special connection to her, as she has consistently maintained a more intimate connection with her fanbase than almost any other superstar.
Her first albums contained secret messages for fans to decode to better understand the meaning behind her songs. She has long invited fans into her home to listen to an album prior to release. Now, her music videos and public statements can be found riddled with easter eggs, compelling fans to read into every detail of her music.
In October 2022, The Atlantic released an article calling Swift's fandom a "true metaverse," based on how large the #SwiftTok part of TikTok has become and how Swift interacts with fans on social media.
Swift used to interact directly with fans constantly on sites like Twitter and Tumblr. More recently, Swift revealed Midnights song names one by one on TikTok in a series called "Midnights Mayhem With Me."
The Bottom Line
While Ticketmaster has maintained that the failures of the fan presale were due solely to demand shock, many are not convinced. From legislators to Justice Departments to Swifties, many across the US are concerned about Ticketmaster's monopolistic pricing power and what that means for the music industry.
It was announced by the Wall Street Journal that Swift herself was the mastermind behind canceling the general sale, leaving many fans hopeful that the remaining tickets will somehow make their way into the hands of actual fans.
One thing is for sure, Swifties will do anything to make their wildest dreams come true and see their favorite artist live — and they'll remember Ticketmaster's failures all too well.
---