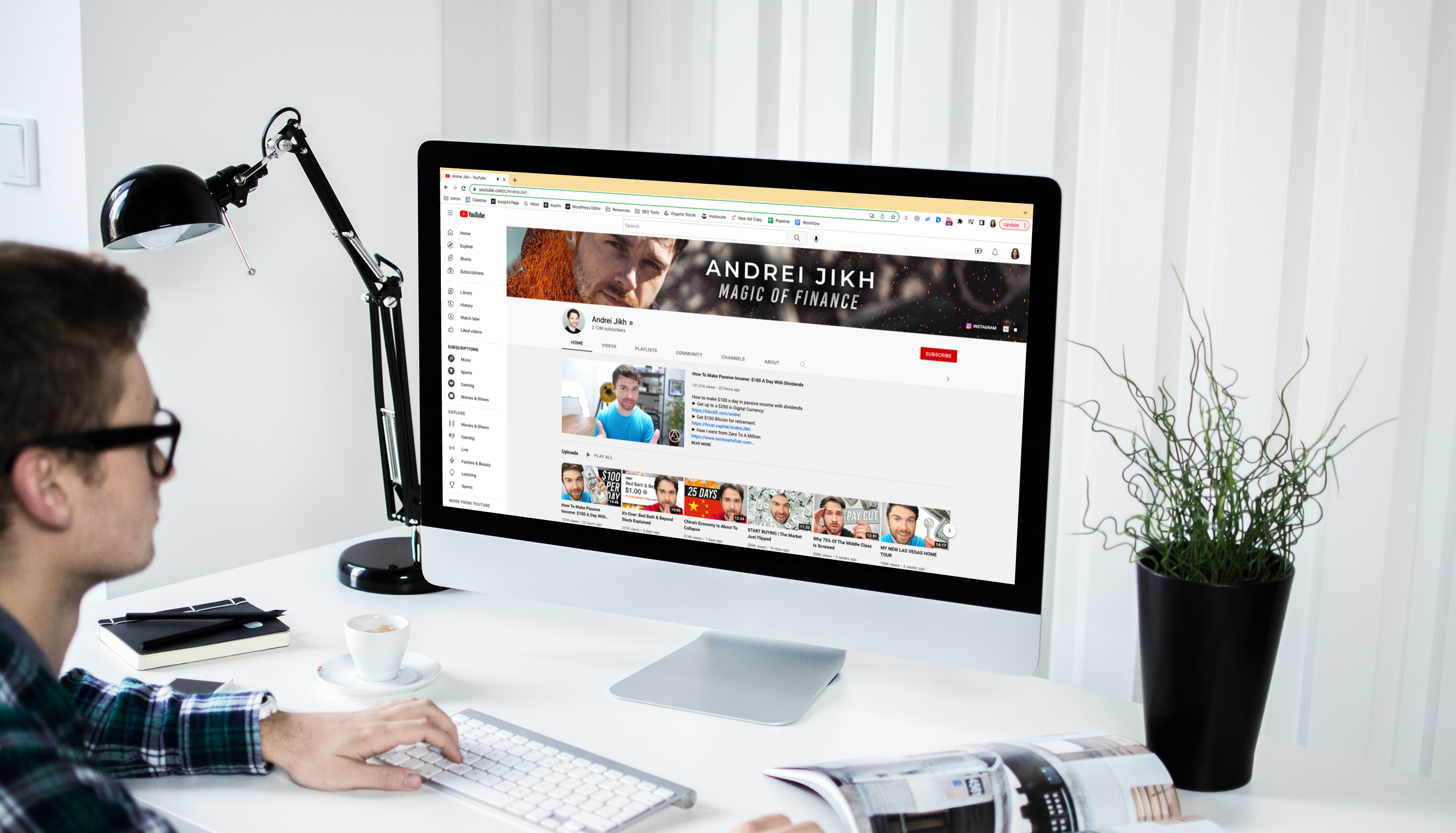 Finfluencers: All About Andrei Jikh
---
Andrei Jikh, who has over 2 million subscribers, is a full-time YouTube creator focused on personal finance, investing, and financial minimalism, and even a couple card tricks. As Andrei says, "come for the finance, stay for the magic."
Jikh is known for speaking very openly about his income and net worth, having even created a spreadsheet to track his dividend income from the stock market. 
Andrei Jikh's Background
Jikh is the son of a Russian Cirque Du Soleil circus performer who migrated to the US when he was 9 years old. Andrei Jikh, age 32, was born and raised in Las Vegas, Nevada. Before breaking into content creation, Jikh worked at a startup that taught magic tricks, specializing in the form of magic entertainment called cardistry.
In 2013, Jikh got his big break with the role as Lead Cardistry Consultant in Jon Chu's "Now You See Me 2" featuring a star-studded cast of Jesse Eisenberg, Morgan Freeman, Mark Ruffalo, Daniel Radcliffe, Woody Harrelson, Lizzy Caplan, and Dave Franco. For this role, he spent two months in London preparing the cast, training them in cardistry, and inspiring the popular card throwing scene in the film.
Andrei Jikh has said the reason he became interested in personal finance was because his parents were bad with money. Growing up in debt and sometimes not being able to pay basic bills inspired Jikh to learn everything he could about finance and to switch his career from magic to entrepreneurship.
How Did Andrei Jikh Build His Platform?
Andrei Jikh began making YouTube videos in 2019 after 5 years of investing and building enough dividend income to quit his day job. His videos took off quickly with his channel earned more than $100,000 in ad revenue in just the first year. Less than four years later, he has now earned more than that in just one month, according to his 2021 interview with Insider. 
Jikh's platform continued to grow, gaining a lot of traction in 2021 from introductory videos focused on cryptocurrency. Not only did these bring in more viewers and subscribers, but cryptocurrency videos also tend to have a better CPM rate (how much money advertisers pay YouTube per 1,000 ad views) than other financial topics.
In 2021, Andrei Jikh said his average CPM rate is $32 and his average RPM rate (how much revenue a creator earns per every 1,000 video views) is $17.
Andrei Jikh's Income & Net Worth
According to Andrei Jikh himself, he has seven passive income streams. These include dividend investing, royalties from his online courses, Patreon, affiliate marketing, Amazon links, merchandise, and ad revenue.
In February of 2020, Andrei Jikh posted a video titled "How To Become A Millionaire In ONE Year (My Plan)." By January 2021, he posted a follow-up video titled "How I Became A Millionaire In 1 Year," where he breaks down how he accomplished this goal and reflects on the past year. Jikh is known by his subscribers for being very transparent about his own income and net worth.
In December 2021, Andrei Jikh posted a video detailing each of his sources of income for the year. He reported $187,525 from sponsorships, $214,474 from Patreon, $108,247 from other ventures including his content creation courses, $1.164 million from ad revenue, and $1.747 million from affiliate revenue. In addition to that $3.394 million in revenue for the year, Jikh noted that between his stock and crypto portfolios, real estate, and NFTs (non-fungible tokens), his investments grew by about $1-1.5 million. Taking this all into consideration, his self reported net worth grew by $4.5-5 million in 2021, resulting in a total net worth of around $6.5 million.
Jikh's top revenue source, according to himself, is affiliate marketing. Jikh includes links to the brokerages he uses and recommends in the description of his videos. These links provide a commission every time a viewer signs up and deposits money into their new account.
For Patreon subscribers, Andrei Jikh updates a spreadsheet with his entire investment portfolio, including any changes to it, on a monthly basis.
Andrei Jikh Top Videos
Despite gaining his following from his personal finance advice, Andrei Jikh's top video on his channel remains a comparison video recreating the famous card scene he worked on for "Now You See Me 2," which garnered over 26 million views.
Past that, his top videos are a lot of YouTube Shorts including The Best Metaverse Investment (10M views), The Dollar Is Going To $0 (4.8M views), How I Met A Dogecoin Millionaire (3.8M views), and How The Stock Market Actually Works (3.2M views). His most popular full-length videos include:
7 Passive Income Ideas – How I Earn $700 A Day!
3M views
How I Became A Millionaire In 1 Year
2.2M views
How To Invest For Teenagers
2.1M views
10 Highest Paying Jobs You Can Learn (Without College)
1.9M views
How Much Money You Should Save (Amount by Age)
1.8M views
Additional Ventures
Millennial Money Podcast
For 75 episodes, Andrei Jikh hosted a podcast with fellow finfluencers Meet Kevin, Graham Stephan, and Jeremy (Financial Education) to discuss market news and investing strategies. Before their final episode in July 2022, the hosts published a new podcast every week on topics ranging from investing during a recession to the bursting of the tech bubble.
Patreon
A common income generator for content creators, Andrei Jikh has a Patreon for fans of his channel to pay a subscription fee to access special features. If you visit his Patreon, there are two membership levels: one to contribute $4 a month to support his work, and one that is $8 a month to access additional resources.
The $8/month membership provides up-to-date access to Jikh's stock purchases, sales, dividend portfolio, dividend raises, monthly dividend statements, spreadsheets, and research information the moment he buys and/or sells shares, as well as Discord benefits.
According to Patreon, Jikh currently has 1,117 patrons, bringing in $8,230 in membership fees monthly.
Zerotoamillion.com
This instructional course is meant to teach viewers how to build an online following and how to monetize it. From the website, customers can learn how to create visually stunning content to build an audience, how to increase your watch time through the structure of your video, and understand the YouTube algorithm.
This site offers a free 20 page guide to the YouTube algorithm for creating a social media brand. For $495, customers receive over 70 instructional videos as well as content creation tools such as a Photoshop template.
For viewers looking for more hands-on advice, zerotoamillion offers class coaching for $2,495. Coaching customers receive 6 months of one-hour-per-week group coaching sessions, exclusive private access to a members-only Discord, as well as all videos and tools offered for the $495 option. 
Begin Investing With Masterworks
Masterworks has been featured on Andrei Jikh's channel multiple times as the first platform out there making it possible to invest in multimillion-dollar blue-chip works from artists like Kaws, Basquiat, Banksy, and more.
Masterworks' industry-leading research and acquisition teams use proprietary data and art market expertise to curate a collection of iconic works of contemporary art that is available for fractional investments.
This material is provided for informational and educational purposes only. It is not intended to be investment advice and should not be relied on to form the basis of an investment decision.
---