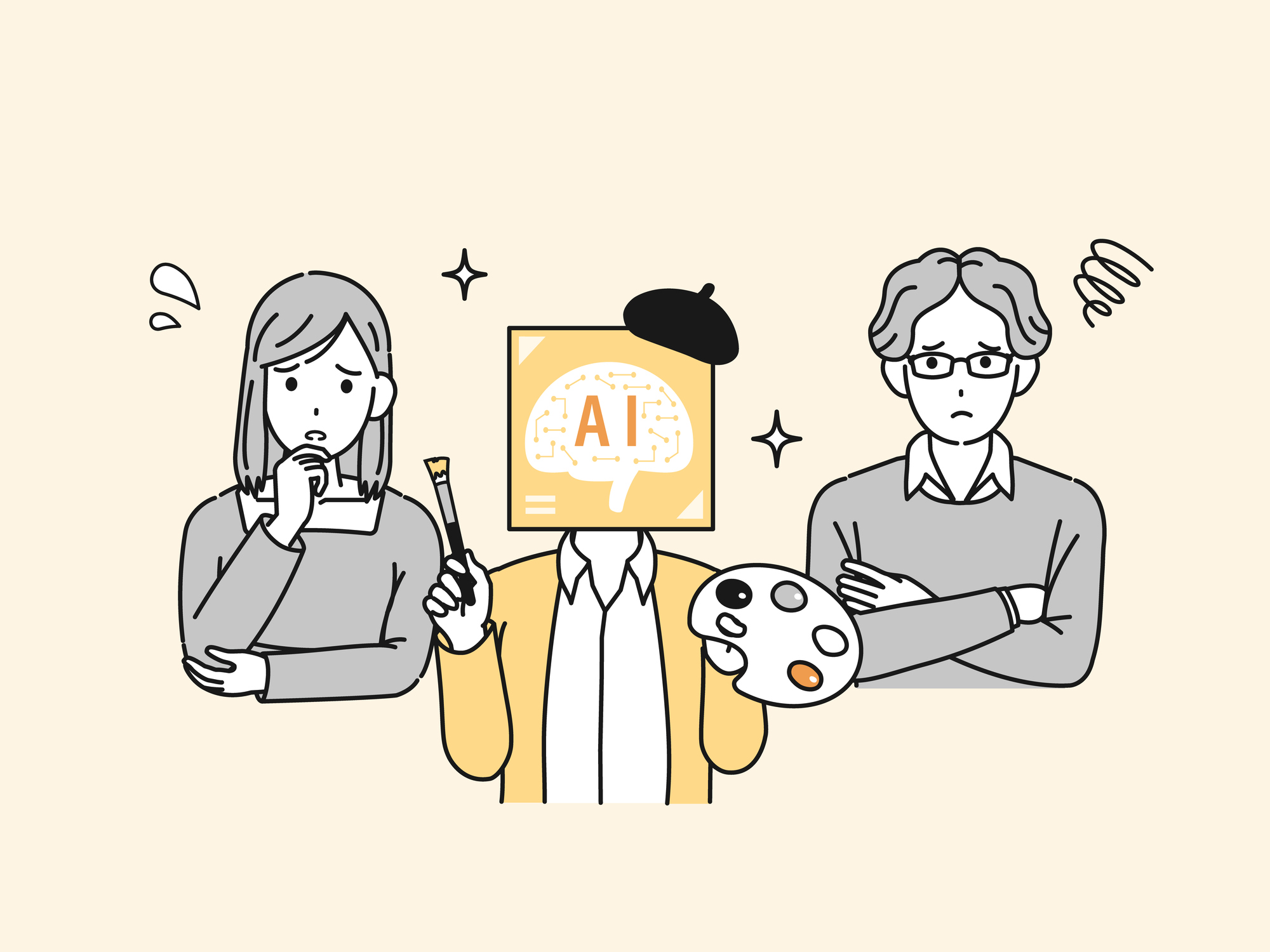 AI Time Machines & Magic Avatars: What To Know About The New AI Art Craze
---
In recent weeks there have been a plethora of AI-generated portraits shared on social media. These platforms turn anyone's photos into glamorous, fanciful, and vaguely identifiable likenesses. 
The past year has seen the mainstreaming of AI image generators, primarily driven by platforms such as DALL-E 2, Midjourney, and Dream Studio. 
These new options make things more personal for a user, with them becoming the subject of the AI, unlike other platforms that function from a text-to-image basis or create a scene with functions like outpainting.  
I myself tested out two of the new viral platforms, the Magic Avatar tool through the Lensa app and the AI Time Machine function through MyHeritage. 
Lensa's Magic Avatars
Lensa AI may not be new — it was launched in 2018 by Prism labs — but the app shot to the top of the iOS App Store over the past weekend and has been downloaded 700,000 times in the past month. Its sudden popularity is down to the rollout of its Magic Avatars feature, which generates digital portraits based on user inputs.
How To Use Lensa
To activate the feature, users simply upload 10 to 20 selfies (preferably with a range of backgrounds, facial expressions and angles), indicate their gender (female, male or other), and check out by selecting between 50,100 and 200 images, or simply signing up for a membership.
Part of Lensa AI's popularity rests with the simplicity of the user experience. All a user needs to do is to upload 10-20 of desired images that fit within the guidelines provided by Lensa to ensure the AI is the most effective.
After selecting your photos, the program will prompt you on how many images you want — the typical cost is around $8 for 100 images. Once the images are uploaded and transaction processed, the app will notify you when the images are completed. It took around 20 minutes for me to get my results.
The results are 10 images in 10 different styles. From what I have seen for women, the app gives options in the themes of fantasy, fairy princess, focus, pop, stylish, anime, kawaii, iridescent, light and cosmic.
Users are able to download their favorites of the Magic Avatars, to share or use on social media.
Faults With Lensa 
Sexualized Images
There has been a flood of recent complaints that Lensa is misogynistic and stereotypical, spitting out overtly sexualized female portraits that are often scantily clad and well-endowed. And it appears that there is a reason for that.
Because Lensa uses the stable diffusion model, which was trained through the use of LAION 5B, a dataset of 5.85 billion image/data pairs, the images it produces reflect societal biases present in its training material. 
This inherent bias says more about our culture and perception of women than the AI itself. Even when actively trying to work against the bias, using photos of myself fully clothed and just of my face, the images still show a strange amount of cleavage and bare shoulders, suggesting out-of-frame nudity.
Prisma told TechCrunch that it is working to create filters that will prevent this bias from taking full effect in the results.
Racial Bias
Aside from the sexualization issue, others have questioned the AI's ability to render non-white subjects accurately. I was surprised to find that several of my avatars looked slightly Asian, especially in the kawaii, iridescent and anime themes.
Intellectual Property
Another concern from Lensa is regarding intellectual property. There have been concerns that some avatars contain what appear to be artists' signatures, stating in its FAQ that Stable Diffusion is merely attempting to create images that look like paintings and that it learned through training that paintings often have signatures.
Therefore, what appears in a Magic Avatar isn't the remains of a signature from a real artist's work, but fake letters that mimic one.
Final Thoughts on Lensa 
In the end, I ran a couple of sets of photographs through Lensa and found the more careful I was with curating the photos, with a variety of different angles of my face, the more accurate the results were.
At first glance, I was fond of the Lensa results. I enjoyed looking at the highly stylized reflections and found it quite entertaining.
But now, the more I look through them, my sense of self is less certain. Is that my mouth? Do my eyes look like that? I feel as though I am starting to doubt my ability to recognize my own face, leaving me feeling a tad uncomfortable despite the few cute caricatures and avatars for my social media.
MyHeritage AI Time Machine 
One of the latest expansions in AI art currently is the adaptation of the AI Time Machine by MyHeritage. 
MyHeritage is an online genealogy platform. The platform is predominantly used for obtaining family trees and searching through historical records.
The new feature uses AI to generate portraits and images of "you" in different periods of time and even onto the canvas of three of art history's most significant artists: Rembrandt, Van Gogh, and Klimt. 
How to Use MyHeritage Time Machine
The first step to accessing the AI Time Machine feature is to set up a MyHeritage account.
After creating a profile, it will prompt you to upload 10-25 photos, primarily of just you with little in the background.
After uploading the photos, the AI gets to work and generates a series of images with different options of themes.
The AI Time Machine utilizes test-to-image technology licensed through Astria. Using the photos provided, it constructs a model that can depict the same person in a variety of poses and lighting conditions and then synthesizes the model with motifs from various themes to craft the rendered avatars.
The MyHeritage AI Time Machine produced eight images with about 52 themes ranging from biblical to futuristic cyborg. This service is not free and does cost $12.99 for the image generations. 
Faults With MyHeritage 
Sexualized Images 
Like my experience with Lensa, the AI does seem to incorporate a bias in sexualizing the renders. Either some of my proportions would be highly exaggerated or some would appear nude under minimal articles of clothing.
I primarily found it when looking through the themes ranging from the 16th to early 20th century. This could be partially due to women's fashion in those periods revolving around a small waist and curvy figure, however, it was jarring to see my face on a body that didn't look like my own. 
Distorted Faces and Limbs 
The other qualm was more with the facial structuring of the AI, meaning that it seemed to have a fair amount of difficulty in producing a clear facial image for some of the renders.
This could also be a user error on my part, with not using exclusively close-up photos of my face, but the MyHeritage results did give some semblance of the DALL-E and Crayon distorted faces. Regardless, for a paid service where the main pleasure is seeing "your" face in different times and scenarios, that error is fairly serious.
Unable To Render 
Aside from the distorted portrayals, there were also some themes that produced no resemblance to me at all. These were the themes that focused more on illustrative motifs like the Art Nouveau poster and 1940s Glamour Girl. The rendered images looked like a generic illustration of a brunette woman in the designated style.
Positives with MyHeritage
The obvious positives to MyHeritage are the themes and options. MyHeritage has a much more diverse array of options than Lensa, and seems to be adding new themes for continued curiosities. 
I particularly enjoyed the inclusion of artist-inspired portraits, as I considered those to some of my favorites. There's something quite charming about seeing your resemblance in a Gustav Klimt-esque portrait.
Final Thoughts
Overall my experience with the AI time machine was mixed, just as with Lensa.
It was entertaining and delightful to see my likeness through the many themes and prompts, and also to see the dynamic advances of tech and art.
However, I still left feeling concerned in regards to the potential for deepfakes found within this kind of AI art.
No matter my results, I kept feeling compelled to go back and change my input images in hopes that the likeness and AI would render more closely to my actual appearance. But no matter what, I was still questioning if it was really me at all. 
The Bottom Line
When reviewing over AI on both platforms, there are ways to break the system, and you're just out of luck. With Lensa, the algorithm is scraping off a set of data points and images. Therefore if your images are not picked up by the model, whatever the designated baseline is will be rendered back, explaining why there's an inherent racial bias. 
With MyHeritage, because the algorithm follows a text-to-image function, the algorithm acts more like a filter over the model taken from the images of your choice. This leads to the renders looking more closely like you, with the exception of the illustrative themes, but also leaves the possibility for your image to be more distorted. 
This provides a friendly reminder that AI art remains a strange new frontier, even as it grows more omnipresent.
---