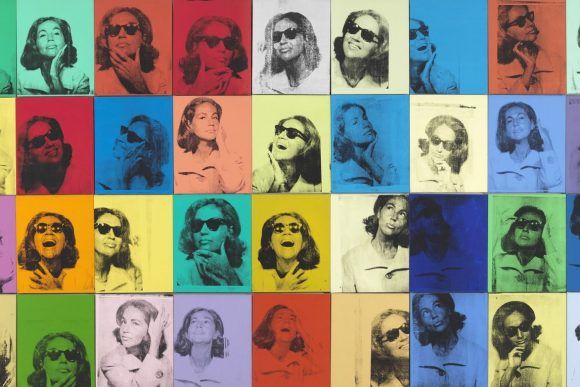 The Auction That Changed the Contemporary Art Market: The Scull Sale of 1973
---
Who were the Sculls?
Despite his humble beginnings as a child of Russian immigrants, Robert Scull became wildly successful by operating a New York City taxi fleet which he had inherited from his wife, Ethel's, father. The lucrative business allowed Robert and Ethel Scull to enjoy a life of glamorous parties and pursue their passion for collecting art. The couple befriended many artists and became well known within the small New York art scene of the 50s and 60s. As patrons, they would go out of their way to support young artists at a time when few others were interested in contemporary art, even buying up entire shows from legendary art dealer Leo Castelli.
The Ascent of Pop Art
Though Pop Art had become widely recognized by the 70s, few people knew how to access the insular New York art world. The community had been tightly knit, with collectors often buying directly from artists or a handful of well-respected dealers. Robert Scull realized that he could make a profit and simultaneously use the publicity of an auction to raise his social profile by orchestrating a sale where virtually anyone with sufficient funds could purchase previously inaccessible tokens of contemporary culture. Paired with Sotheby's high-budget promotion of the sale, including a lavish catalogue and tour of the collection to Europe, the stunning demand created the first blockbuster auction of Post-War and Contemporary art.
Extraordinary Returns on Contemporary Art: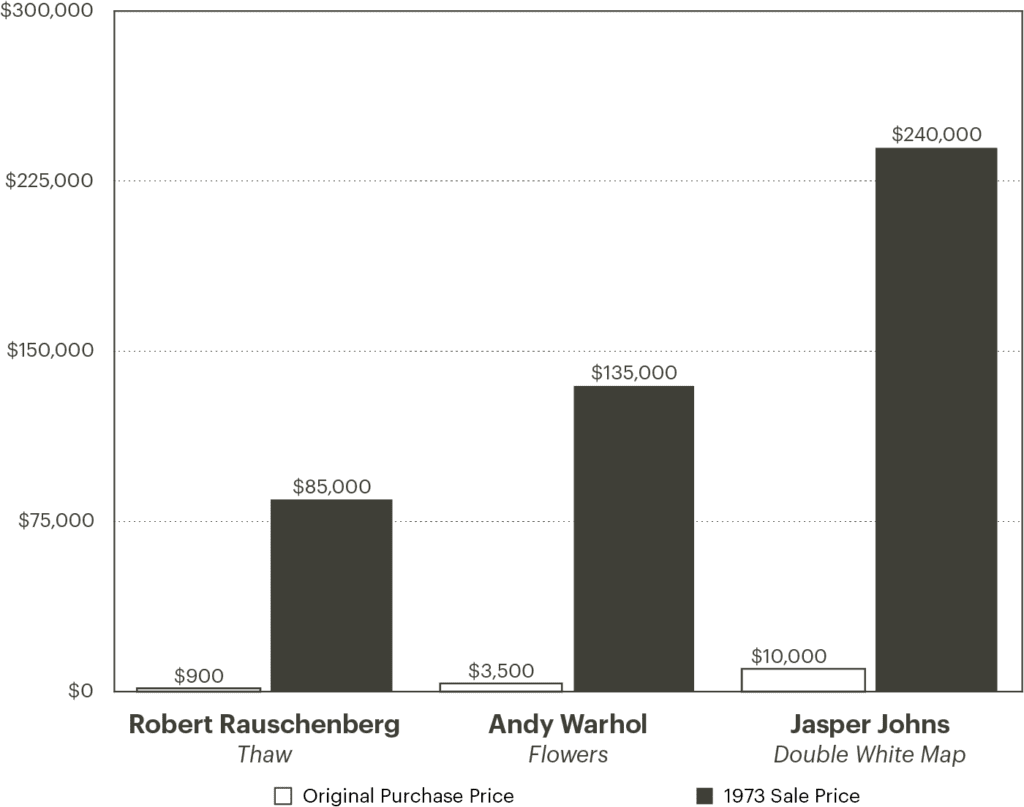 Highlights from the Sale: Where Are They Now?
Many of the works auctioned that October went on to have well documented futures. Among them, Willem de Kooning's Police Gazette, 1955, bought for $180,000 at the sale changed hands between several notable collectors; at some point the renowned gallerist Bill Acquavella acquired it for $2.2 million, then resold eventually to hotel mogul, Steve Wynn for $12 million. The work is now in the hands of hedge fund billionaire Steven M. Cohen, who bought it from Dreamworks founder David Geffen for a reported $63.5 million in 2006. All told, the painting appreciated more than 350 times, an average of 19.5% per year, in the 33 years since the Scull sale!
Willem de Kooning's Police Gazette, 1955
Other works from the Scull auction have found their way into public institutions. Among them, Jasper John's Target was recently donated by Stefan Edlis and Gael Neeson to the Chicago Institute of Art. In the recent documentary, The Price of Everything, Edlis estimated that the painting which sold for $125,000 in 1973, should now be worth around $100 million dollars. Edlis, himself, acquired the painting for $10 million in 1997.
---