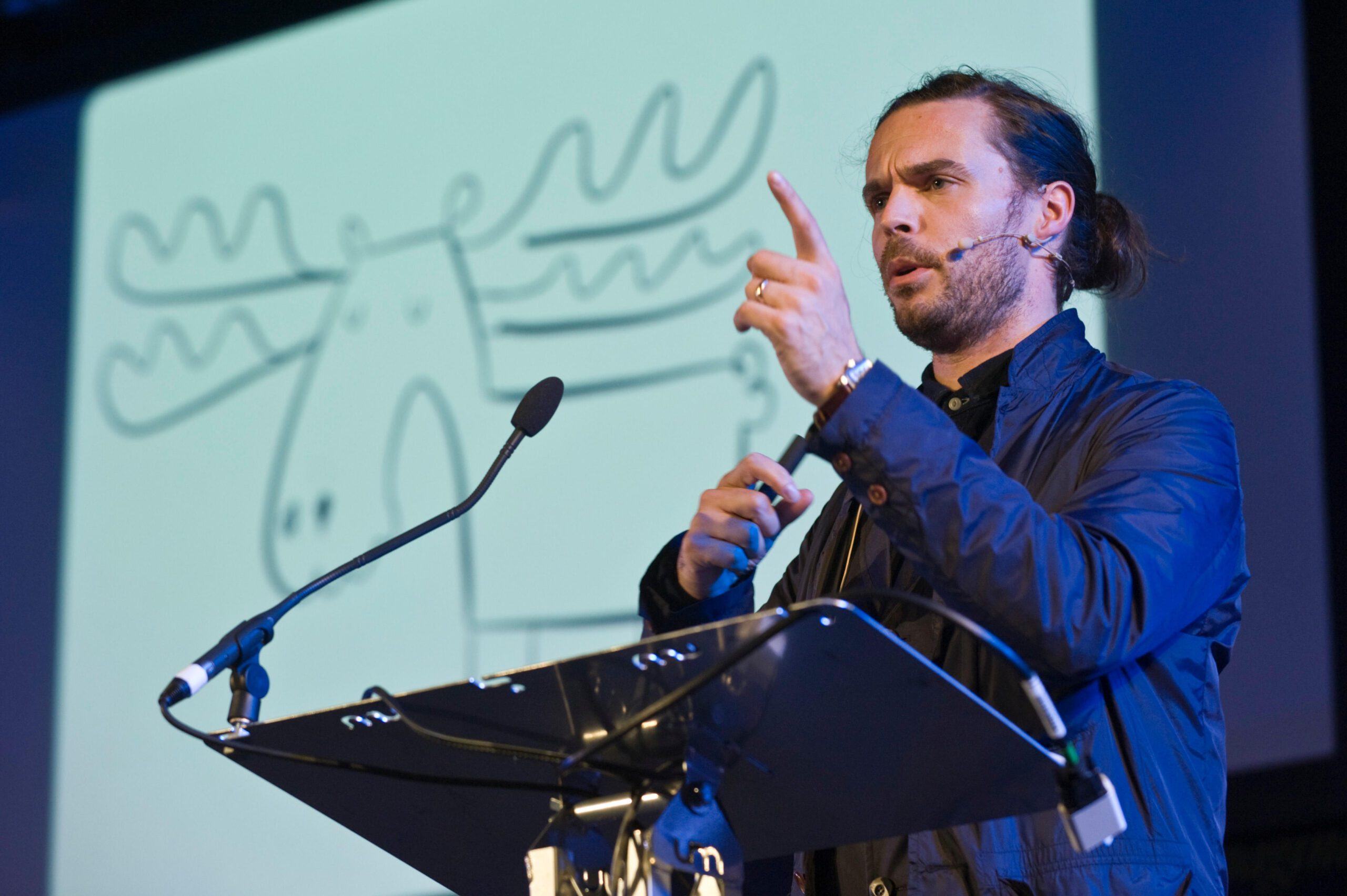 Who is Oliver Jeffers?
---
Art is supposed to be fun. Just ask Oliver Jeffers, writer and illustrator known for his picture books and mixed media collages filled with colorful landscapes and adventurous characters. Jeffers' work will make you smile instantly–his humor and imagination allow audiences to appreciate the curiosity of childhood.
Jeffers' work has been sold at key galleries and auctions with prices ranging from $500 USD to $5,835 USD, depending on the size and medium of the work. While he's best-known for his critically-acclaimed children's books, Jeffers is also a fine artist who has presented in galleries in London, New York, and Ireland. His projects span beyond a single medium, and he's collaborated with major brands and celebrities to produce short films, album artwork, installations, and more.
| | |
| --- | --- |
| Born | 1977 |
| Nationality | Northern Irish |
| Mediums | Mixed media, painting, sculpture, bookmaking |
| Movements | Contemporary |
Oliver Jeffers' Artistic Style and Career
Born in Australia and raised in Northern Ireland, Oliver Jeffers now resides in Brooklyn, where he spends most of his days creating in his lofty studio. Growing up, he had a knack for mischief and a tendency to disobey authority, according to an interview he did with the Guardian. When it came to drawing, however, Jeffers was very disciplined and knew from a young age that becoming an artist was his life's calling. Surprisingly, Jeffers never set out to be a children's book illustrator. He was more focused on the fine arts and still exhibits collections beyond the whimsical storybook illustrations he's best known for. In fact, he calls his niche an "accident," one that he grew very fond of back in art school at the University of Ulster when he came up with the concept for his first children's book, How to Catch a Star. Since then, his career has only accelerated with numerous awards, appearances on the New York Times best-sellers list, and over 14 million copies of his books sold worldwide. Currently, Jeffers is on his 18th book and has worked with clients including Apple, Lavazza, Starbucks, United Airlines, and Sony PSP.
In addition to his best-selling children's books, Jeffers is a prolific artist who has presented collections across the globe. His work incorporates some of the humorous, fantastical elements he's best known for, but he also experiments with collage, installation, and oil paintings of beautiful landscapes. Behind Jeffers' work there is always a message of activism and education, but done so in an inviting way.
Featured Works
The Day The Crayons Quit (2013)
A children's book written by Drew Daywalt with illustrations done by Jeffers, this New York Times bestseller playfully imagines what would happen if crayons went on strike. The book received numerous awards and nominations, and still remains one of Jeffers' best-known illustrated books to this day.
Dipped Painting no. 14 (2017)
The Dipped Painting Project is part fine art, part performance. This piece is one of many where Jeffers paints a complete oil portrait and dips the final piece in a single color of enamel. Jeffers made sure that no photographs were taken of the original pieces before they were dipped, which adds to the mystery and curiosity of the final work.
Here We Are: Notes For Living on Planet Earth (2017)
Here We Are is a children's book, adapted into a short film for Apple TV+, and a journey across the globe chronicling the many different landscapes, ecosystems, and communities that make the earth so special. The book was adapted into a short film with voiceover from a star-studded cast including Meryl Streep and Jacob Tremblay.
How to Buy and Sell Jeffers' Artwork
Oliver Jeffers' children's books are available online or any major book retailer. He also sells limited edition prints and posters on his website. As for his original artwork, you can purchase a variety of pieces from his collections at the Bryce Wolkowitz Gallery in New York City. The Wolkowitz gallery currently holds prized pieces, including Dipped Painting no. 14, New Liberty, Cosmos Globe, Astral Books, and Fathom Seascape no. 7. Prices are available upon request.
Most of Jeffers' popular works are reasonably sized, from small poster sizes to framed portraits that could easily fit on a wall in your home. Commonly sold work includes mixed media paintings made with oil on canvas.
Jeffers' work is consistent, popular in mainstream culture, and widely renowned, making investments in his artwork a safe, reliable bet. His books have been translated into nearly 50 languages, making him a globally recognized artist to both children and adults alike. His current momentum and collaborations with major brands make for an impressive resume that will likely keep building upon itself. Additionally, his political commentary and social responsibility make his work relevant for an acutely aware, smart audience.
Collections and Exhibits
Nothing to See Here
Sep 13th – Oct 3rd, 2013
---
Nothing to See Here, displayed in Lazinc, London, is a social commentary on censorship, ignorance, and viewers not having the full picture. The pieces are painted in a figurative, classic style, and then overlaid with Jeffers' trademark writing and illustrations.
The Dipped Painting Project
Ongoing since 2014
---
One of Jeffers' most well-known collections and installations, The Dipped Painting Project blends meticulous fine art with basic simplicity, whereby his pieces are literally dipped in a single coat of enamel for a unique look.
A Fraid of Ghosts
Oct 21st – Dec 18th, 2021
---
This collection in New York City takes a humorous, but inquisitive look at ghosts and the afterlife. Whether ghosts are real or not, Jeffers portrays them in familiar, antique-like settings to contrast the past and present.
---