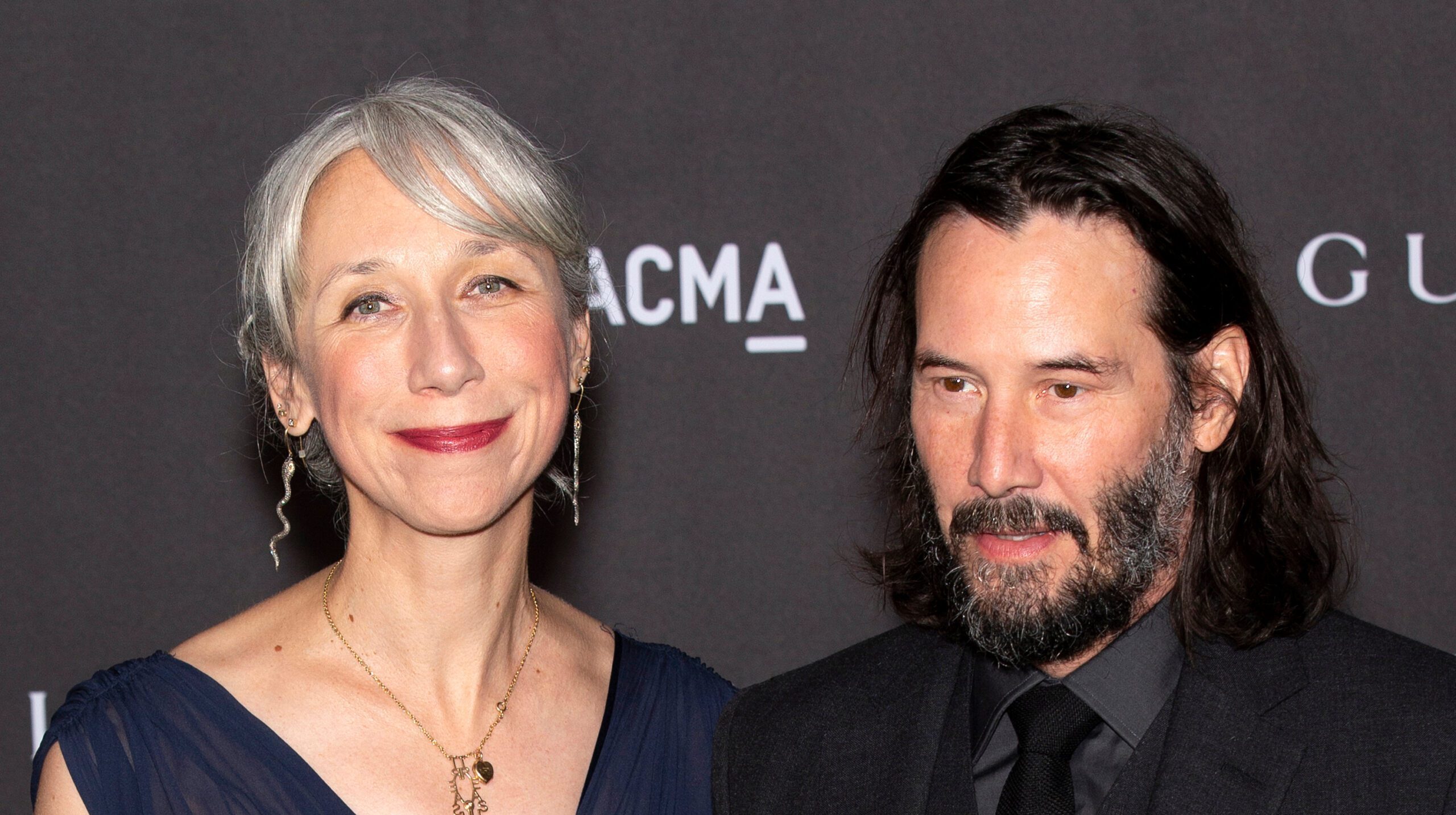 Who Is Alexandra Grant?
---
Alexandra Grant is a prolific visual artist who examines the written word through a variety of mediums. However, she may be best known for her long-term partner, Hollywood heartthrob Keanu Reeves. But in her own right, Ms. Grant is a prolific visual artist, who has exhibited around the world, developed a small publishing company, and given back enormously to her community through her philanthropic ventures.
She, as an artist, uses multiple mediums, including paintings, drawings, sculptures, films, and photography. With these media, she explores the fascinating themes of social responsibility, language, and translation. As a text-based artist, words and language feature centrally in Ms. Grant's work, represented visually and conceptually.
Collaboration is also a vital component of the artist's practice. Ms. Grant has most notably worked with Helene Cixous (one of her chief influences), the author Michael Joyce and her partner and actor Keanu Reeves, among others.
Early Life
Alexandra Grant was born in Fairview, Ohio, to the daughter of an American diplomat. Grant's father was a Scottish geology professor. As a result, the artist, currently based in Los Angeles, grew up moving between Mexico, France, Spain, and the US.
Grant graduated high school in New Hampshire and studied history and studio art at Swarthmore College. She then received an MFA in drawing and painting from the California College of the Arts in San Francisco.
Artistic Practice
Alma Ruiz curated Alexandra Grant's first solo exhibition at the Los Angeles Museum of Contemporary Art. In this exhibition, Ms. Grant included an essay from the French philosopher and writer Helene Cixous in the catalog, which profoundly impacted the artist.
In the essay "The Last Painting or Portrait of God," Cixous writes that she "would like to write like a painter…write like painting." This idea stuck with Ms. Grant, who realized she wished to paint like a writer.
As a result of moving around frequently, Ms. Grant became multilingual, speaking French, Spanish, and English. By moving between languages, Ms. Grant became fascinated by words and translation, mainly what is gained and lost in moving between languages.
While working on her education, Alexandra Grant began to explore the liminality or transition across two disciplines and the movement of when a word becomes an image of a comment. From there, she started researching the visual qualities of language.
Ms. Grant's interest in words and language is apparent in her pieces, as she explores people, books, and ideas and the changes between cultures.
For Ms. Grant, painting works differently than other media, including writing, because it can conflate time and space. Any additional work is received in a controlled, linear fashion, but with painting, the eye can take in the whole image at once without having to arrange things temporally in terms of what came first and what came next.
Collaborations & Influences
Alexandra Grant commonly cites Helene Cixous as one of her major influences, specifically about her ideas around painting as writing and writing as painting. Ms. Grant notes that she sees Cixous as writing like a painter so that the writer and artist work like mirrors of one another.  
Another significant influence for Alexandra Grant is the writer and retired professor of English literature at Vassar College, Michael Joyce.
Michael Joyce is known as the pioneer of a literary genre called hypertext fiction, which uses hyperlinks and non-linearity to confuse the expectations of traditional forms of literature.
Alexandra Grant has been known as a "radical collaborator" for her works with Joyce, Cixous, and Reeves. The collaborations begin either with the writer's text or through conversations, which Grant then turns into visual art.
Many of Grant's works, including her collaborations, have an ongoing and unfinished quality that allows them to be continued and added to, transforming the work over the years.
Exhibitions
Grant has exhibited in many galleries, mainly around the United States. Her work has been shown in exhibitions at the LA Museum of Contemporary Art (LACMA); Lowell Ryan Projects, LA; Honor Fraser Gallery, LA; Night Gallery, LA; Galerie Lelong, New York City; Galerie Gradiva, Paris; Harrie Lieberman Gallery, New York City; and many more.
The work of Alexandra Grant has also been written about in the LA Times, White Hot Magazine, Frieze, Art in America, and Artforum.
X Artists' Books
In 2017, Grant started a small book publishing company, X Artists' Books (XAB), to contribute to the literature, criticism and exhibition of art and artists.
XAB books are both about art and works of art themselves. Many of these books have been platforms for artist collaborations. One of the main drivers of this project is seeking to build community and share these books with others as introductions to art.
grantLOVE Project
Alexandra Grant also began the grantLOVE Project ad foundation in 2008 to produce and sell original artwork to support artists and art non-profits with the proceeds.
There is a strong legacy of philanthropy in Hollywood, particularly in the arts communities of LA.
Grant cites Paul Newman's and Newman's products as inspiration for initiating the grantLOVE project. The Newman's profits go to the Newman's Foundation, which supports other charitable organizations focusing on children and education.
The grantLOVE proceeds support a slew of charitable organizations in the LA area. The products for sale were created by Alexandra Grant, including hoodies and other apparel, totes, pillowcases, and necklaces, all featuring the iconic love logo.
Grant often brings her practice of collaboration to grantLOVE, most recently partnering with an illustration duo from Spain called Cachetejack. Together the artists created a series of prints in editions of 100 only.
---