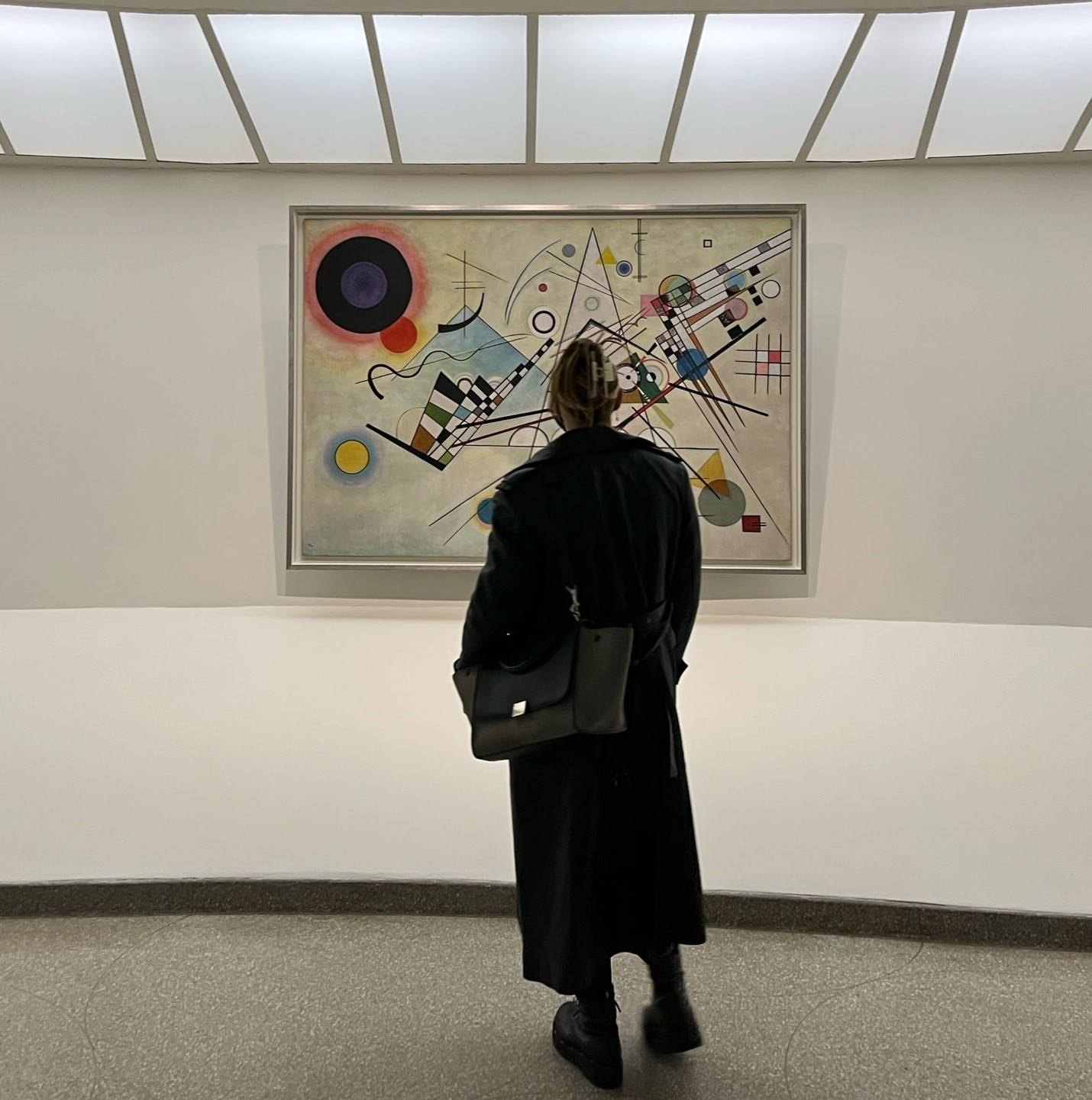 Who is Wassily Kandinsky?
---
Wassily Kandinsky was born in Russia in 1866. His father was a traveling tea merchant. As a child, he traveled and saw Florence, Rome, and Venice. Kandinsky studied law and economics at the University of Moscow. Six years after passing his exams, he received a position as a professor at Derpt University in Tartu, Russia where he taught.
He eventually quit teaching and enrolled in the private art school of Anton Azb in Moscow. He then studied tied art at the Academy of Fine Arts. In 1914, he returned to Moscow and helped establish the Museum of the Culture of Painting.
He returned to Germany in 1920 where, until 1933, he taught at the Bauhaus school of art and architecture up until its closure by the Nazis. After, he moved to France where he lived until he died in 1944.
Kandinsky's Artistic Style
Kandinsky transformed the viewer's experience and emotions through the use of shape, colors, and movement in his paintings. Using complete abstraction allowed for connection and also introspection on the part of the audience as well as the artist. His idea was that art reflected an internal necessity. Kandinsky's work is described as having a musicality, in part because his father was a musician. As a child, he learned how to play the cello and piano. His parents were from mixed backgrounds. His father was born near Mongolia and his mother was a Muscovite.
Kandinsky worked mostly in two styles. In his earlier works, he painted in an impressionistic style. These paintings are usually very colorful and highly textured. They focus on capturing the feeling of a scene or moment, rather than trying to perfectly represent it. He later pioneered the expressionist movement.
Later in his career, Kandinsky began to experiment with abstract art. This style is much more free-form and focuses on creating shapes and patterns that evoke a certain feeling or mood. Abstract art is not meant to be representational, but rather to be suggestive of something else.
Many people find it visually interesting and evocative. These instead rely on shapes, colors, and textures to create an effect. Critics consider these paintings to be some of the earliest examples of modern art.
Kandinsky's work is often cited as being an important influence on later abstract artists, such as Jackson Pollock and Mark Rothko.
He led an artistic movement and community in Munich called The Blue Riders, who worked with another German expressionist group The Bridge. They believed blue was the most spiritual color.
His paintings are still considered to be some of the most influential examples of abstract art ever created. Kandinsky was a very prolific artist and produced a large number of paintings in his lifetime.
Kandinsky's work is currently on display in museums all over the world. You can see his paintings on display at the Guggenheim, Metropolitan Museum of New York, and Lenbachhaus Gallery.
Kandinsky and Bauhaus
Kandinsky is often considered to be one of the founders of the Bauhaus movement. He was heavily involved in the early years of the school, teaching there and helping to develop its curriculum. His work at the Bauhaus was influential in shaping the direction of the movement, and his paintings helped to define its aesthetic.
Featured Works
Blue Rider
One famous work by Kandinsky is "The Blue Rider", painted in 1903. This work is oil paint on cardboard, painted in Bavaria. This impressionistic painting depicts an imaginative scene that is representative of the spiritual world. The subject matter is horse racing along with a child rider. This piece is significant as it is synonymous with the Blue Rider movement he would start with fellow artist Franz Marc in the 1910s. It last sold at auction for $44.03 million in 2017.
Painting With White Lines (1913)
This oil painting is one of the most expensive paintings ever sold. It netted $41.6 million at Sotheby's Impressionist and Modern art auction, held in London in 2017. Hugo Nathan was the buyer, who is the co-founder and director of Beaumont Nathan art advisory. He bought on behalf of a client.
This piece is a fresh, modern interpretation of a landscape. Larger-than-life florals render the same size as the sky and mountain in the distance. The piece is artistically significant in the span of Kandinsky's life. It was made when he was exploring and perfecting his abstract form.
On White II (1923)
This is another one of Kandinsky's most recognizable works. For Kandinsky, circles are used to represent the idea of infinity. In one painting, for example, he includes a small circle within a larger one to suggest that the universe is boundless.
Circles also have spiritual significance for Kandinsky. He believes that they symbolize unity and wholeness, as well as the cyclical nature of life. In this painting, Kandinsky has used circles to create a sense of motion and energy. The bright colors and bold lines seem to swirl around the center of the painting, creating a feeling of excitement and dynamism.
Several Circles (1926)
Several Circles is an oil on canvas piece that was completed in 1926. It is another in the series where he takes apart painting into its most essential visual elements. This comprises basic geometric shapes, such as circles and lines. It also builds upon itself with color blocking, with simple renditions of primary colors. Bright blue, yellow, and red feature predominantly in this piece. Its simple background of black hearkens to the quiet blackness of space.
This piece is exemplary of the premise of Suprematism that Kandinsky uses in his work. This Russian movement creates artistic visions of spiritual purity with simple geometric shapes, such as these circles.
Kandinsky intended for this piece to be a visual representation of the value of cosmic harmony. It was painted to draw the viewer in and feel the emotionality of the piece. He intended to make both a spiritual and an emotional connection with the audience.
Composition X
Kandinsky painted Composition X merely five years before his death. It is part of the period of his life known as The Great Synthesis. This lasted between 1934 to 1944.
In the works created by Kandinsky in this time, you see the composite of all of his previous paintings with a unique style all of its own.
You can see essential elements of musical performance, with sheet music and conductor part of the ephemeral setting of Composition X. The name itself references its musical subject matter.
The primary color of this painting is black. It is the last major work of his lifetime. Pastel shapes, reminiscent of a jazz band, interact with each other and the viewer in a symbology-rich mixture of shapes and color.
Major Exhibitions
Kandinsky, The Odyssey of Abstraction
Feb 18, 2022 – Jan 1, 2023
---
The immersive exhibition at Atelier des Lumières in Paris unveils the artist's quest who freed himself from the classic rules of painting to create a brand-new form of art. Often considered as the father of the first ever abstract art piece in the modern era, Wassily Kandinsky has ventured into unknown areas, making his own way to express his vision of art.
Around the Circle
Oct 2021 – Sep 2022
---
In this Guggenheim exhibition, Kandinsky's work unfolds in reverse chronological order, starting with his late-life paintings and proceeding upward along the Guggenheim's spiral ramp. His was not a fixed path from representation to abstraction, but rather a circular passage traversing persistent themes centered around the pursuit of one dominant ideal: the impulse for spiritual expression. This, what Kandinsky called the artist's "inner necessity," remained the guiding principle through the periodic redefinitions of his life and work.
Path of Abstraction
Jun – Oct 2006
---
This Tate Modern exhibition follows Wassily Kandinsky's intriguing journey from figurative landscape painter to modernist master, as he strove to develop a radically abstract language. Focusing on the first half of his career, the exhibition begins with a series of early landscapes inspired by the exquisite Bavarian countryside and folk imagery from Russian fairy tales and legends.
---