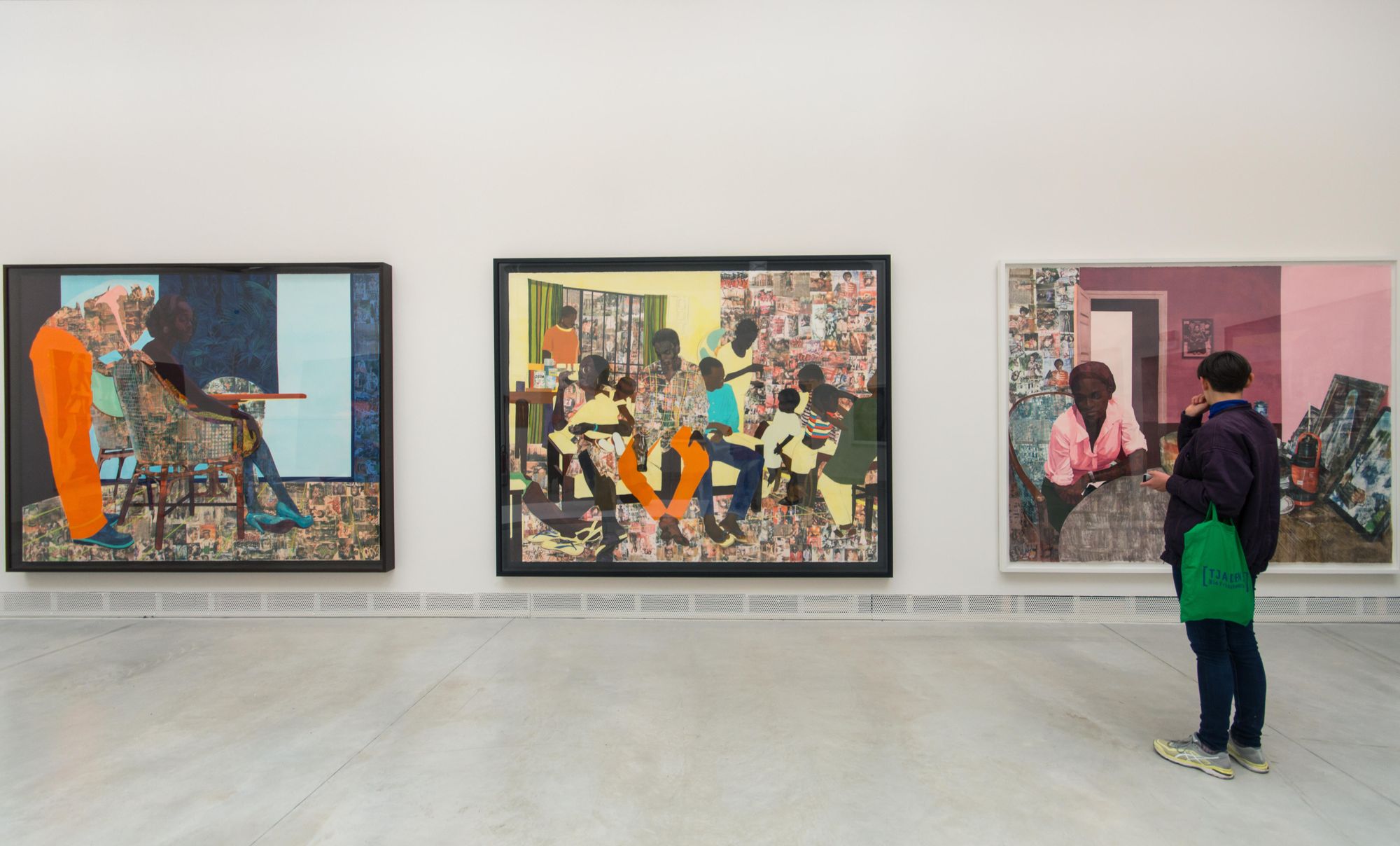 Artist Spotlight: Njideka Akunyili Crosby
---
---
Njideka Akunyili Crosby is a Nigerian American artist whose art negotiates the cultural terrain and symbolism between her adopted home, here in America and her native Nigeria. Her technique of collage and photo transfer on her paintings displays the challenges and balance between these two worlds. Her most notable works are those that reference her childhood and play to her Nigerian roots. She now works and lives in Los Angeles full time.
Biography
Born and raised in Enugu, Nigeria, Akunyili Crosby was one of six siblings to her father who was a surgeon, and mother who was a professor of pharmacology at the University of Nigeria. The family moved to Lagos when she was ten to begin her secondary school education. Art the young age of sixteen, Njideka and her sister, Ijeoma, moved to the United States.
Beginning her education in arts at the community college of Philadelphia where she began her first oil painting courses. It was there that an instructor had encouraged her to apply to Swarthmore college. Wanting to originally follow in her parent's footsteps with a career in medicine, it was not until her senior year at Swarthmore that she decided to fully embrace art as a career and to share her own experience of Nigerian and African diaspora through her artwork.  
After graduating from Swarthmore College, Akunyili- Crosby continued her studies at the Pennsylvania Academy of the Fine Arts and then further with her MFA at Yale University in 2011.
Akunyili Crosby's Artistic Career
Though her path and progression to becoming an artist were slightly different than most. As a painter, Njideka Akunyili Crosby was still able to tot garner much support from the art world. After graduating from Yale, Crosby was selected as an artist in the residence program at the highly recognized Studio Museum in Harlem in New York. The studio museum is well known for promoting and building careers for emerging African American artists. Some major themes studied during her time as an artist resident were contemporary art, postcolonial history, and of course studies relating to the African diaspora.
After her time in New York, Crosby was selected to have her first solo exhibition at the Hammer Museum in Los Angeles. That same year in 2015, another solo exhibition was organized at Art and Practice, a Los Angeles-based based artist and exhibition space.  After these two shows, Akunyili Crosby's work was attracting a lot of attention from all aspects of the art world, including museums, galleries, collectors, and fellow contemporary artists.
Just a year later, Crosby had another solo show at the Norton Museum of Art and was named Financial Times, the woman of the year. Crosby had broken more than just the glass ceiling, being renowned as one of the greatest black women artists of her time.  2016 was a pinnacle year for Crosby's market. As an artist Njideka Akunyili Crosby was producing work at her own pace had a growing demand that was prompting her prices to soar at auction. Year after year it seems that her works break the previous record. Her highest-grossing painting to date at auction is titled Bush Babies sold at Christie's in 2018 for $3.4 million.
How does Akunyili Crosby show her layered identity in her work?
As a painter Njideka Akunyili Crosby prides herself on the concept of integrating African intimacy with western painting. This type of influence is first inspired by Kerry James Marshall's work. The way that Crosby works is by taking photos of her and her family from Nigeria and collaging them with acetone transfer prints and then layering with acrylic paint, charcoal, and colored pencil. Taking the subject matter that is deeply rooted in her African heritage and layering it with pop culture and western influence is a means of bridging the gap of the two sides of her life living in the west and also holding on to her Nigerian roots.  With this being said she claims her work cannot be categorized as either American no Nigerian, but rather as an autobiography.
Recognition and Rewards
Also cannot discuss Crosby without discussing the several other awards and major exhibitions she was granted such as, in 2014 the Smithsonian American Art Museum's James Dicke Contemporary Art prize, 2016 I refuse to be invisible at the Norton, and also being given a commission for a mural at the Museum of Contemporary art in Los Angeles. In 2017 Crosby was also dubbed a MacArthur Fellow.
Signature Works
I Always Face You, Even When It Seems Otherwise (2012)
This two-panel painting is a perfect example of Crosby explaining her work as is autobiographical. This painting depicts an intimate moment of her and her family, including her American-born husband. The multiple layers of this work, both literal and metaphorical are seen in the tiny images blended with the acrylic providing visual references of Nigerian fashion and influence fused in the western painting style. This painting can speak to the complexities of cross-cultural identity.
Bush Babies (2017)
Paying homage to the history of Western painting while maintaining the socio-cultural visual vernacular of her native Nigeria, these emotionally nuanced paintings articulate the joys and challenges of a transcultural perspective "It is about what it means to be someone who has existed between multiple worlds and carries all those influences with them at once". This artwork in particular although a still life still encompasses this mentality.
Mother and Child (2016)
Another painting that peers a more personal viewpoint of the artist's life. This one puts a major focal point of a photo transfer of the young artist and her mother. This is also accompanied by images of her mother through the interior of the space that Njideka is seated in. This work was part of the series Portals originally held at the Artist's main gallery, Victoria Miro gallery.
---