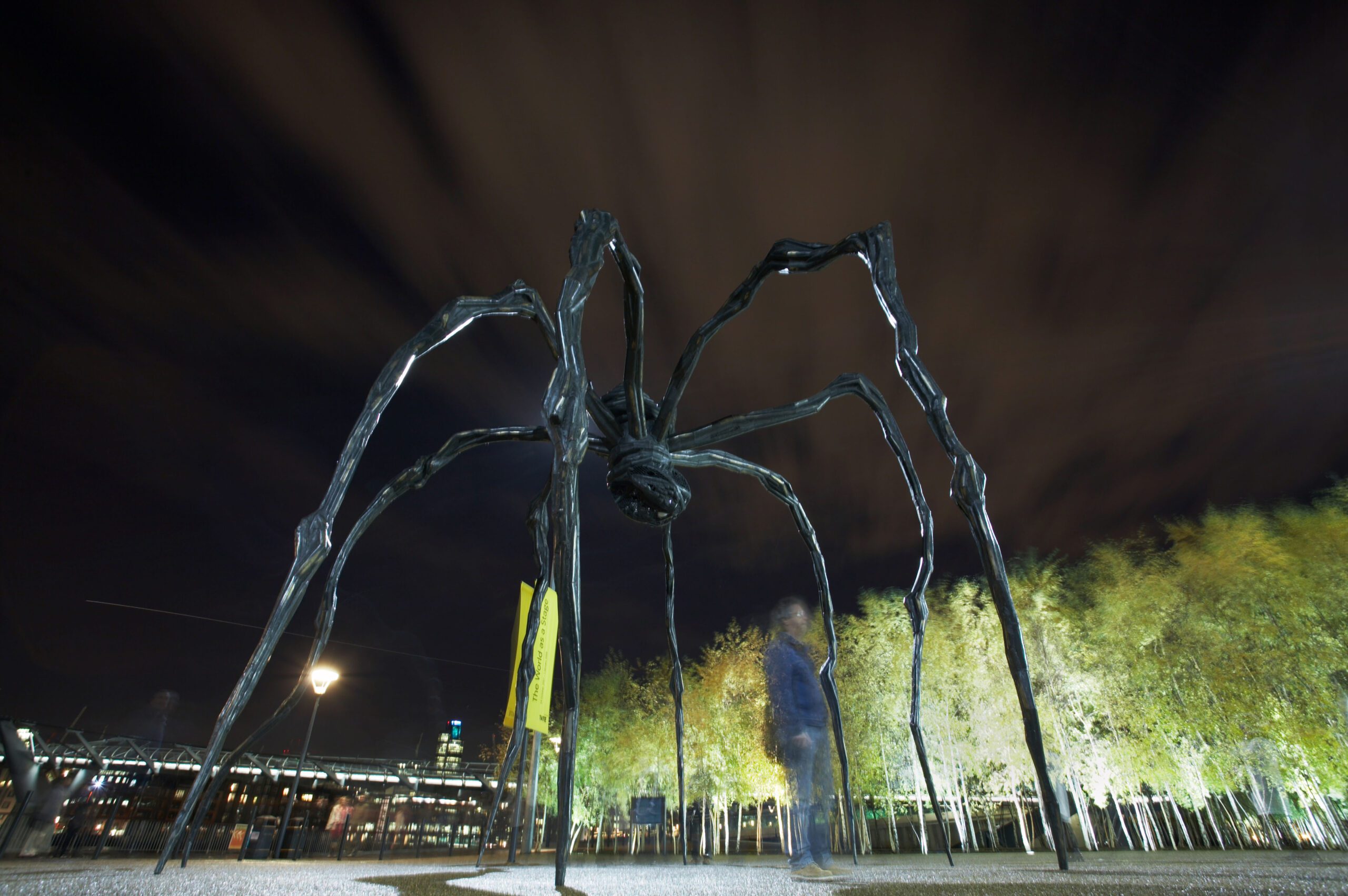 Who is Louise Bourgeois?
---
You've probably seen a Bourgeois spider before–the towering, spindly bronze sculpture of an arachnid poised outside an art gallery or public space. These massive, 30-foot sculptures are the creations of Louise Bourgeois, famed artist of the 20th century who explored themes of gender, sexuality, childhood trauma, and abandonment through painting and sculpture.
While Bourgeois was a prolific artist for nearly eight decades, it wasn't until the 1970s that her work started to get recognized, in part due to the feminist movement. When she created Maman in 1999, the original spider sculpture, her work skyrocketed in popularity as the large, hovering masterpiece toured the world from Kansas City to Ottawa to Seoul. In 2019, one of her spider sculptures sold for $32 million at Christie's in New York, the second most expensive piece sold by a female artist behind Georgia O'Keeffe. By 2019, Bourgeois reached $42m in auction sales, eclipsing her former highest-grossing year of $39m in 2015.
Today, her spider sculptures easily sell for millions of dollars, while prints, paintings, and smaller sculptures sell in the hundreds of thousands.
| | |
| --- | --- |
| Born | December 25, 1911 |
| Nationality | Parisian |
| Died | May 31, 2010 |
| Mediums | Sculpture, Installation, Painting, Printmaking |
| Movements | Surrealism, Feminism, expressionism |
A Childhood Marred by Abandonment and Fear
Louise Bourgeois was born in Paris to a family who owned an antique business and tapestry gallery. When she was just a child, her mother grew very ill with the Spanish flu and never fully recovered. As a result, the family hired an au pair to take care of Bourgeois' mother, but the au pair eventually became her father's mistress, which caused anger and confusion for a young Louise.
Bourgeois was originally interested in mathematics and philosophy, but quickly abandoned those studies when her mother died. Instead, she turned to art to cope with her depression and feelings of betrayal as a result of her father. After graduating from Sorbonne in 1935, she took art classes in Paris and eventually opened her own gallery in 1938, where she exhibited works by famous French artists Eugene Delacroix and Henri Matisse. In 1940, she moved to New York and married art historian Robert Goldwater.
Louise Bourgeois's Artistic Career
Using Art to Heal and Fight for Equality
In the early days of her artistic career, Bourgeois created prints, paintings, and mixed media sculptures from junkyard scraps and driftwood. She held her first solo exhibition in 1945 at the Bertha Schaefer Gallery in New York, which featured 12 original paintings. Four years later, she exhibited her first sculpture at the Peridot Gallery in New York. Over the next few decades, Bourgeois experimented with different themes, mediums, and materials. Her most notable work features abstract images of sexual organs, nude figures and body parts, spiders, and organic shapes.
While Bourgeois is often grouped into abstract expressionism with artists such as Jackson Pollock and Mark Rothko, she never identified with a specific group. Her work is indeed abstract in nature, with emotional themes and sexual connotations. However, she preferred to carve her own path and didn't associate with many other artists at the time.
Throughout her career, Bourgeois was an activist against censorship and a proponent of gay rights and the LGBT community. She created art to benefit multiple non-profit organizations, including an AIDS relief fund. As her work gained popularity towards the end of the 20th century, she received multiple awards, including the National Medal of Arts, the French Legion of Honor Medal, and La Biennale di Venezia's Golden Lion.
Featured Artwork
Maman (1999), steel and marble sculpture
The spider theme first appeared in Bourgeois' work in the late 1940s via drawings. It wasn't until the 90s that Bourgeois produced her most famous work of the century, Maman, a nearly 30-foot tall spider sculpture. For Bourgeois, the spider was not an ominous creature, but rather a nurturing, protective being. "The spider is an ode to my mother," she said. Just like her mother who worked in the tapestry business, the spider weaves and builds webs of protection.
Destruction of the Father (1974), installation
Bourgeois used art to navigate feelings of loss from her childhood. Her first installation, Destruction of Father is a grotesque, sexually-explicit presentation of life, death, and familial relationships. The scene features a table of body parts cast from animal limbs sprawled onto a table. Above and below the table, we see large, bulbous shapes that resemble breasts. The installation is illuminated by a crimson light, as if the viewer were inside the human body.
Janus Fleuri (1968), bronze and gold patina
Towards the 1960s, Bourgeois' work became more sexual in nature as she experimented with images of male and female sex organs. However, Bourgeois never set out to define gender in a binary way; instead, she defined her work as "pre-gender" and blended male and female attributes to create new forms. Janus Fleuri is a quintessential example of this philosophy and features a symmetrical sculpture with phallic shapes and an abstraction of the female reproductive system.
Top Collections & Exhibits
Eccentric Abstraction
1966
In the 1960s, Bourgeois caught the eye of art critic Lucy Lippard who included several of her pieces in the Eccentric Abstraction exhibition at the Fischbach Gallery in New York City. Lippard valued Bourgeois' take on femininity and sexuality compared to works by male artists at the time. This exhibition helped thrust Bourgeois' work into a circle of female artists and influential women, making her become an unanticipated hero of the feminist movement.
Louise Bourgeois: An Unfolding Portrait
Sep 24, 2017 – Jan 28, 2018
One of the larger exhibitions of her work, An Unfolding Portrait brings together over 300 works from the MoMA archive, mainly prints and early drawings that set the stage for Bourgeois' career. It is a raw look at her creative process unfolding and the development of prevalent themes she is known for today.
Louise Bourgeois: Maladie de l'Amour
Jun 19 – Sep 26, 2021

Translated to "love sickness", the Maladie de l'Amour exhibition explored Bourgeois' relationship to the Other–be it family members or romantic partners–and the fear of rejection and abandonment. Pieces such as Shredder (1983) and Couple (1996) view relationships in a dark light with themes of codependency, jealousy, and hostility.
---