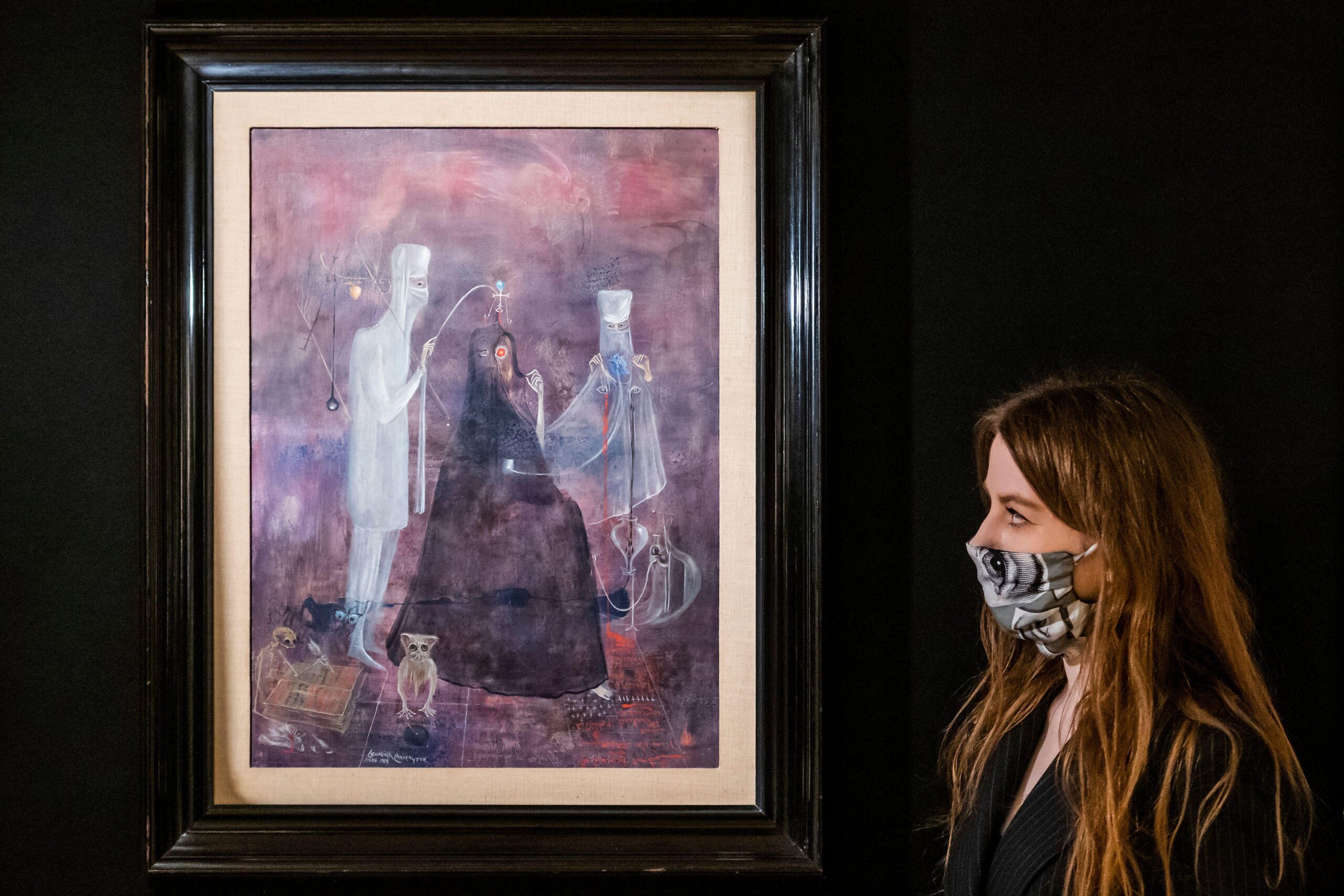 Who is Leonora Carrington?
---
Mary Leonora Carrington was a British-born Mexican artist, surrealist painter, and novelist. She lived most of her adult life in Mexico City and was one of the last surviving participants in the surrealist movement of the 1930s. Surrealist painter Carrington was born to English-Irish parents in Lancashire, England in 1917. Her British upbringing was repressed and stoic, so much so that Carrington rewrote the story of her birth into a fantastical creation myth to extricate it from her less than favorable origins. Carrington's education began at convent schools in England until she was kicked out twice and subsequently sent to Florence, where she began her formal artistic education at Mrs. Penrose's Academy of Art. Her art education continued at the Chelsea School of Art in London and later the Amédée Ozenfant Academy of Fine Arts.
Leonora Carrington: Painting is a Need
Her parents were generally ambivalent about her deciding to be an artist: her mother was encouraging while her father was oppositional. As such, Carrington's relationship with her father was quite strained. Of course, Carrington's inherently rebellious nature further strained her familial relationships. She noted "I didn't have time to be anyone's muse… I was too busy rebelling against my family and learning to be an artist."
At age ten, Carrington's life was forever changed when she encountered her first surrealist painting in Paris. The fantastical themes and dream-like imagery completely captivated her imagination. Nearly a decade later, in 1936, Carrington discovered the works of Max Ernst, once again disrupting her views of modern painting. The following year, she met the artist behind the art, and the two quickly became a couple and moved to Paris. At that time, Ernst was deeply entrenched in the French surrealist movement, and thus soon Carrington became involved too, entertaining companions such as Andre Breton, the founder of surrealism.
At the outbreak of World War II, Ernst had to flee the Nazis, and thanks to the help of collector and gallerist Peggy Guggenheim, he fled to New York. His move to the United States brought an end to his relationship with Carrington. Devastated by the loss of Ernst, Carrington sought solace in Madrid, where she ended up suffering from a nervous breakdown and consequently spent time institutionalized in a Spanish mental hospital. Upon her release, she received word that her parents had decided to send her to a sanatorium in South Africa. She fled to Portugal, turning to the Mexican Embassy in Lisbon for aid, and ended up marrying the diplomat Renato Leduc to receive immunity.
In 1942, Carrington finally settled in Mexico City, Mexico, where she would spend the rest of her life. Carrington fully embraced the Mexican lifestyle, integrating herself into a community of artists there. She wrote her first book, The Hearing Trumpet, and continued making progress with her artworks, eventually leading to her inclusion in an exhibition of surrealist art at Pierre Matisse Gallery in New York City. Around this time, Carrington married and had two children with photographer Emeric ("Chiki") Weisz, and struck up close friendships with fellow surrealist artists Remedios Varo and the Hungarian photographer Kati Horna. As with many women artists who were part of the surrealist movement, Carrington did not readily identify as a surrealist artist. She found the formal title stifling and was wholly unwilling to be subjugated solely into the role of muse.
Carrington's work in the late 40s and 50s turned more to the spiritual rather than the surreal, as she began to deeply study the Kabbalah, Buddhism, and Mexican mysticism. In the later part of her career, Carrington began to divide her time between Mexico City, New York, and Chicago. In the 1970s she became increasingly involved with the women's liberation movement in Mexico. She spent the last 20 years of her life experimenting with sculpture, in addition to her usual drawings, prints, and paintings. Leonora Carrington died in 2011, at the age of 94.
Carrington's Artistic Style
The fantasy worlds of Leonora Carrington's surrealist works are steeped in magical realism and alchemy. They encompass mythical creatures, supernatural symbolism, and otherworldly realms. Her writing is no different— whether it be a novel, short story, or memoir, Carrington's writings are infused with her worldview, oscillating between the realities of her nervous delusions and her surreal imagination.
One of her earliest and most formative works is Self Portrait (Inn of the Dawn Horse), from 1937-38. Now residing in the collection of the Metropolitan Museum of Art, this painting exemplifies Carrington's warped perception of self and the world around her. In the image, the artist is seated, on a blue chair with wild hair and wearing riding clothes that are identifiably neither male nor female looking. One hand is stretched out towards a hyena that is mirroring Carrington's stance. Mounted on the wall behind her is a white rocking horse, recalling the white horse seen through a gold gilded window, frolicking in a lush forest. The imagery in this painting hearkens back to Carrington's upbringing in the English countryside but juxtaposes it with ideas of freedom and rebellion. It shows Carrington's need to distort the reality of her lived experience and inject elements of magic and fantasy.
Along with her iconic paintings, Carrington proved to be quite a prolific writer as well. Her children's book "The Milk of Dreams," is being used as the catalyst for this year's Venice Biennale theme. This anthology of children's stories includes Carrington's drawings accompanying stories about children befriending crocodiles, a boy who has wings for ears, and other whimsical tales. The drawings are mostly done in ink and watercolor and add a colorful charm to their corresponding stories.
Leonora's Legacy: Surrealism Enduring in the Modern Age
On the heels of major surrealism sales at Sotheby's in early March, and the 59th Venice Biennale taking its exhibition title and theme from her writings, Leonora Carrington is having her moment in the spotlight in the contemporary art world. Her visual vocabulary paved the way for other contemporary artists such as Louise Bourgeois and Kiki Smith.
Featured Work
The Giantess (The Guardian of the Egg)
This proves an excellent example of Carrington's early surrealist images. Featuring an oversized woman in a red dress and pale green cloak, The Giantess towers gently over the forest in which she stands. She is surrounded by birds who circle the sky around her and dive within the folds of her cloak. The barefoot Giantess protects an egg, cradling it softly in her too small for her body hands. Carrington's The Giantess uses its many symbols to create parallel worlds. The egg represents new life, new possibilities, a new world whilst the world it is born into is filled with the strange and the absurd. Similarly, the sky and the sea behind the Giantess seem to blend into each other, blurring the edges between two worlds, and making fantasy and reality inextricable.
Exhibitions & Collections
Surrealism Beyond Borders
Oct 11, 2021 – Jan 30, 2022
This exhibition at the Metropolitan Museum of Art reconsiders the true "movement" of Surrealism across boundaries of geography and chronology—and within networks that span Eastern Europe to the Caribbean, Asia to North Africa, and Australia to Latin America. Including almost eight decades of work produced across 45 countries,
Leonora Carrington: The Story of the Last Egg
May 23 – Jun 29th 2019
Gallery Wendi Norris presents "Leonora Carrington: The Story of the Last Egg." Gathering four decades of painting and sculpture, a new curatorial direction will present her visionary perspective from a contemporary vantage point, advancing the examination of Carrington's ecofeminist worldview. The show includes more than 20 paintings and six sculptures by the British-born Mexican-exile will coalesce to explore Carrington's philosophy as it's depicted through a vast visual vocabulary forged from her encyclopedic knowledge of ancient myth and religion
Irish Museum of Modern Art
Sep 18, 2013 – Jan 24, 2014

The first major retrospective of Leonora Carrington's work in Ireland, this iconic exhibition is a timely rediscovery of this Surrealist painter and her role in the Surrealist art movement. Carrington is known for her figurative dreamscapes filled with extraordinary and complex narratives informed by her rich interest in mythology, alchemy, fairy tales, and the occult.
---