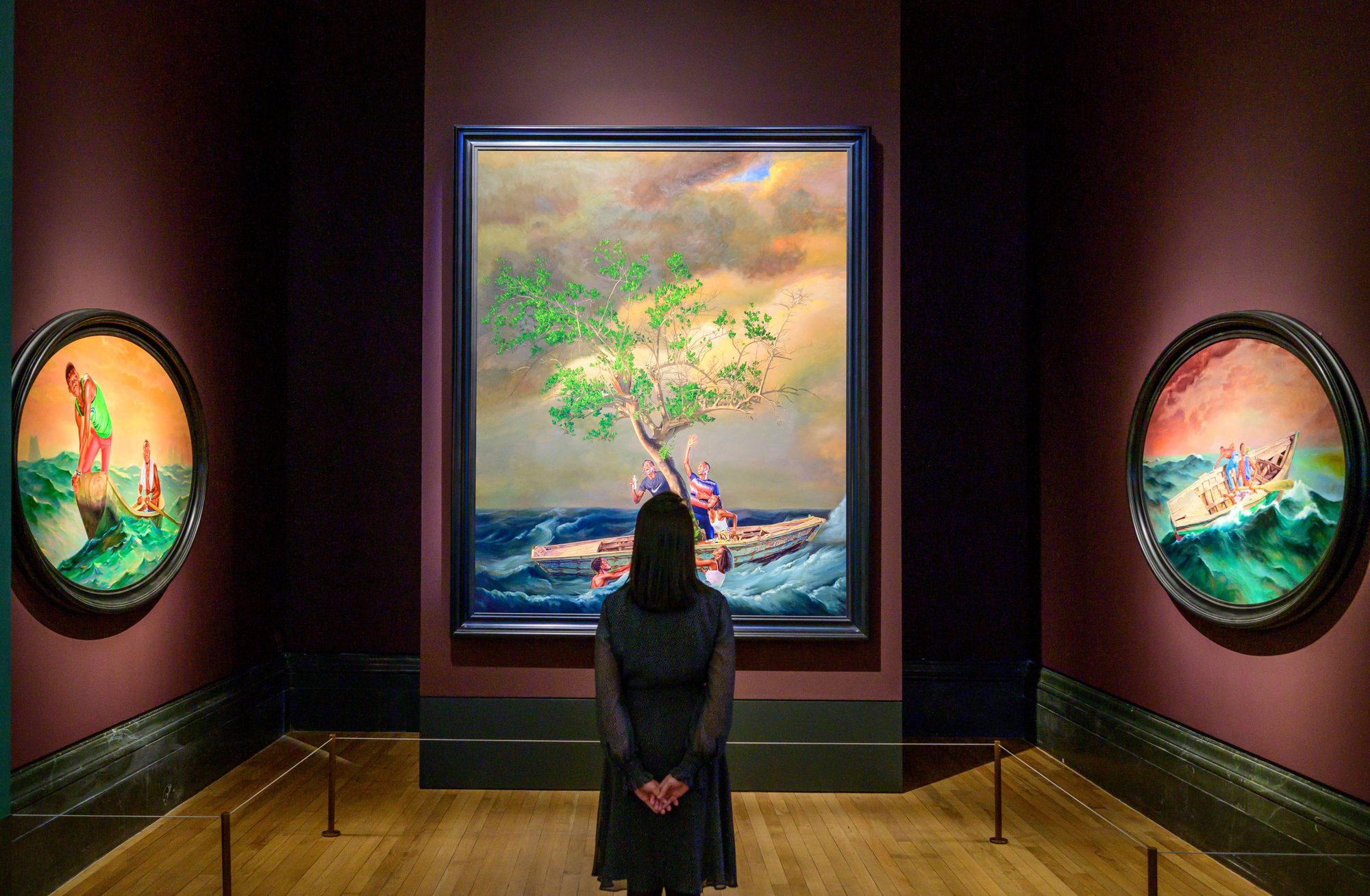 Who is Kehinde Wiley?
---
Artist Kehinde Wiley is an American portrait painter that is best known for his highly naturalistic paintings of Black culture which incorporates a heavily referenced old master style and subject matter in his paintings. Wiley has been noted for revolutionizing portraiture with his immense talent and unique take against the status quo. One of his most famous works would be the Presidential Portrait of Barack Obama for the Smithsonian National Portrait Gallery.
---
Biography
Born February 28th, 1977 in Los Angeles California, Wiley was born into a Nigerian-American household that nurtured his and his twin brother's interest in art. His mother actively enrolled a young Wiley into after-school art courses, which drew him into interesting opportunities. Both he and his brother were selected to spend time at a conservatory outside of St. Petersburg Russia, where he said his passion for portraiture began. Wiley and his family had lived in extensive poverty through most of his life until earning his BFA from the San Francisco Art Institute in 1999 and then continued his education at Yale University, School of Art in 2001. Wiley later became a resident artist at the Studio Museum in Harlem. Since his humble beginnings, Wiley had been exhibited at several galleries and museums in Chicago, New York, and London.
Kehinde Wiley's Style and Artistic Career
Wiley's signature style pays homage to old master style paintings but reimagined in contemporary themes, starring Black protagonists as the subjects. His artwork is blurring the lines of influences and styles incorporating things familiar to his experiences such as urban hip-hop culture and West African textile designs and the classical motifs found in traditional portraiture.
Wiley has taken signature old masters paintings and replaced the previous subjects with African-American men as the models. An example is his rendition of Napoleon Crossing the Alps (1800) by Jacque Louis David. In this piece, Wiley replaces Napoleon with an African-American rider waving bandanas. Through this method, Wiley can create parallels between history and contemporary space through his art. His portraits explore the perception of Blackness in a modern world, and bridging it with fine art has proven successful in lending him one of the most influential contemporary artists.
Wiley uses the likeness of anonymous Black men and women he meets in his encounters. For much of his earlier work, they were models he met in Harlem. Later he began to travel extensively to Brazil, Mumbai, and Senegal.  Wiley's work continues to bridge the aspects of identity politics and art history.
In 2017, Kehinde Wiley was chosen by Barack Obama to paint the official Presidential Portrait. Amy Sherald was selected to paint the portrait of former first lady, Michelle Obama. Both were the first Black artists to paint an American Presidential and First lady portrait. Wiley's portrait took a different direction than those of past presidential portraits.  Wiley had depicted Obama seated in a chair, seemingly floating against a backdrop of foliage. Each flower in the official portrait was selected to represent a particular chapter of Obama's life.
In 2016, Wiley had several retrospectives held at the Seattle Museum of Art and Kehinde Wiley: A New Republic at the Virginia Museum of Fine Arts in Richmond.
---
Kehinde Wiley's Most Famous Works
Napoleon Leading The Army Over The Alps (2005)
This painting takes influence from Jacques-Louis David's well-known portrait Napoleon Crossing the Alps (1800), which commemorated the renowned French general Napoleon Bonaparte. In keeping with his practice, Wiley preserves the pose and composition in the original while swapping the heroic figure of Napoleon for a contemporary Black man wearing camouflage and Timberland boots. Wiley also transforms the blue sky in David's painting into a red textile embellished with gold floral motifs. This notion of a remix of traditional western art is typical of Wiley's work, where he is then able to elevate ordinary, overlooked people to heroic status. This work is on view at the Brooklyn Museum.
The Virgin Martyr St. Cecilia (2009)
Like much of Wiley's work, there is a bridging of contemporary art to classical and old master styles. This work pays tribute to a sculpture of the same title by Stefano Maderno (1599). The original sculpture is to mimics the body of the exhumed Saint Cecelia. Wiley replaces the figure of Cecelia with that of a young man draped in delicate cloth set against a floral backdrop. This painting was sold at Sotheby's Contemporary Day Auction in November of 2021 for $649,200.
Rumors of War (2019)
The sculpture is one of the largest by Wiley. Titled after the series that examines equestrian portraiture in the canon of western art history, this sculpture was created in response to a confederate statue of general J.E.B Stuart in Richmond Virginia. This sculpture features a young African American man with dreadlocks, jeans, and Nike high-top sneakers. This statue that stands at 27 feet high was first featured in Times Square in New York in 2019, before moving to its permanent home at the Virginia Museum of Fine Arts.
---
---