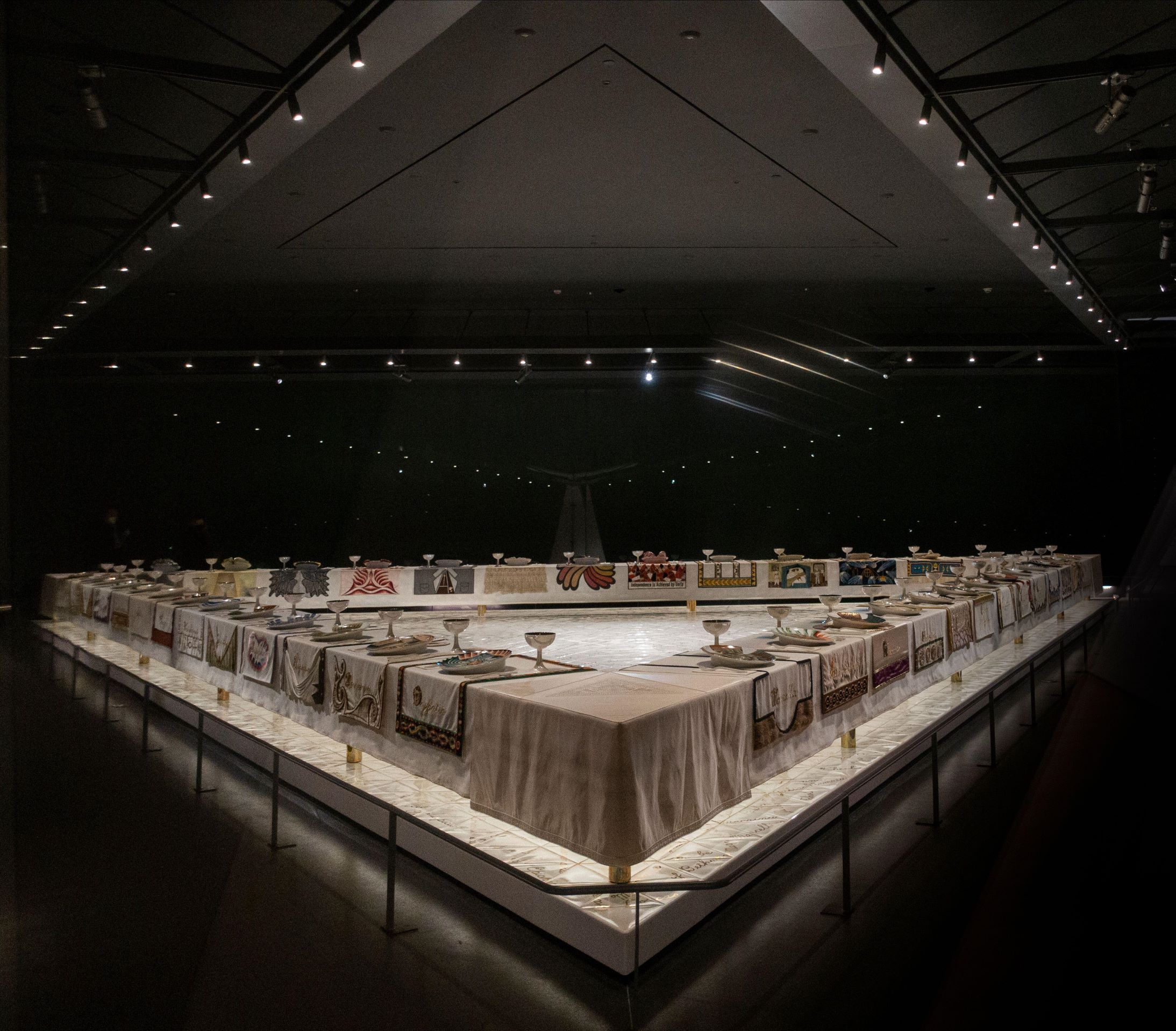 Happy International Woman's Day 2022
---
Happy International Woman's Day! On this day we want to give praise and recognition to some of the most inspiring women of art history and western civilization. What better way to give these women a seat at the table than by analyzing Judy Chicago's The Dinner Party (1979).
The Dinner Party is a monument to women's history and accomplishments. It is a massive triangular table—measuring 48 feet on each side—with thirty-nine place settings dedicated to prominent women throughout history and an additional 999 names are inscribed on the table's glazed porcelain brick base. The triangular shape has long been a feminine symbol. The table is an equilateral triangle, to represent equality. The 999 names, titled, The Heritage Floor, are written in gold, gleaming softly, suggesting a hallowed or liminal space. This portion of the installation took five years in the making (1974-1979) and the product of the volunteer labor of more than 400 people, hence making The Dinner Party a testament to the power of feminist vision and artistic collaboration.
This tribute to women, includes individual place settings for such luminary figures as the Primordial Goddess, Sacajawea, Susan B. Anthony, Georgia O'keefe, and more. Each place setting has an exquisitely embroidered table runner that includes the name of the woman, utensils, a goblet, and a plate. In order to understand The Dinner Party, we must keep in mind that the sculptural painted plates were intended to be metaphors rather than realistic representations. These ceramic objects, which become increasingly three-dimensional during the procession from prehistory to the present in order to represent women rising, look somewhat like flowers and butterflies.
The Dinner Party celebrates traditional female accomplishments such as textile arts (weaving, embroidery, sewing) and china painting, which have been framed as craft or domestic art, as opposed to the more culturally valued, male-dominated fine arts. While the piece is composed of typical craftwork such as needlepoint and china painting and is normally considered low art, Chicago made it clear that she wants The Dinner Party to be viewed as high art, that she still subscribes to this structure of value.
The Dinner Party was produced from 1974 to 1979 as a collaboration and was first exhibited in 1979. Despite art world resistance, it toured to 16 venues in six countries on three continents to a viewing audience of 15 million. Since 2007, it has been on permanent exhibition at the Brooklyn Museum in Brooklyn, New York.
---