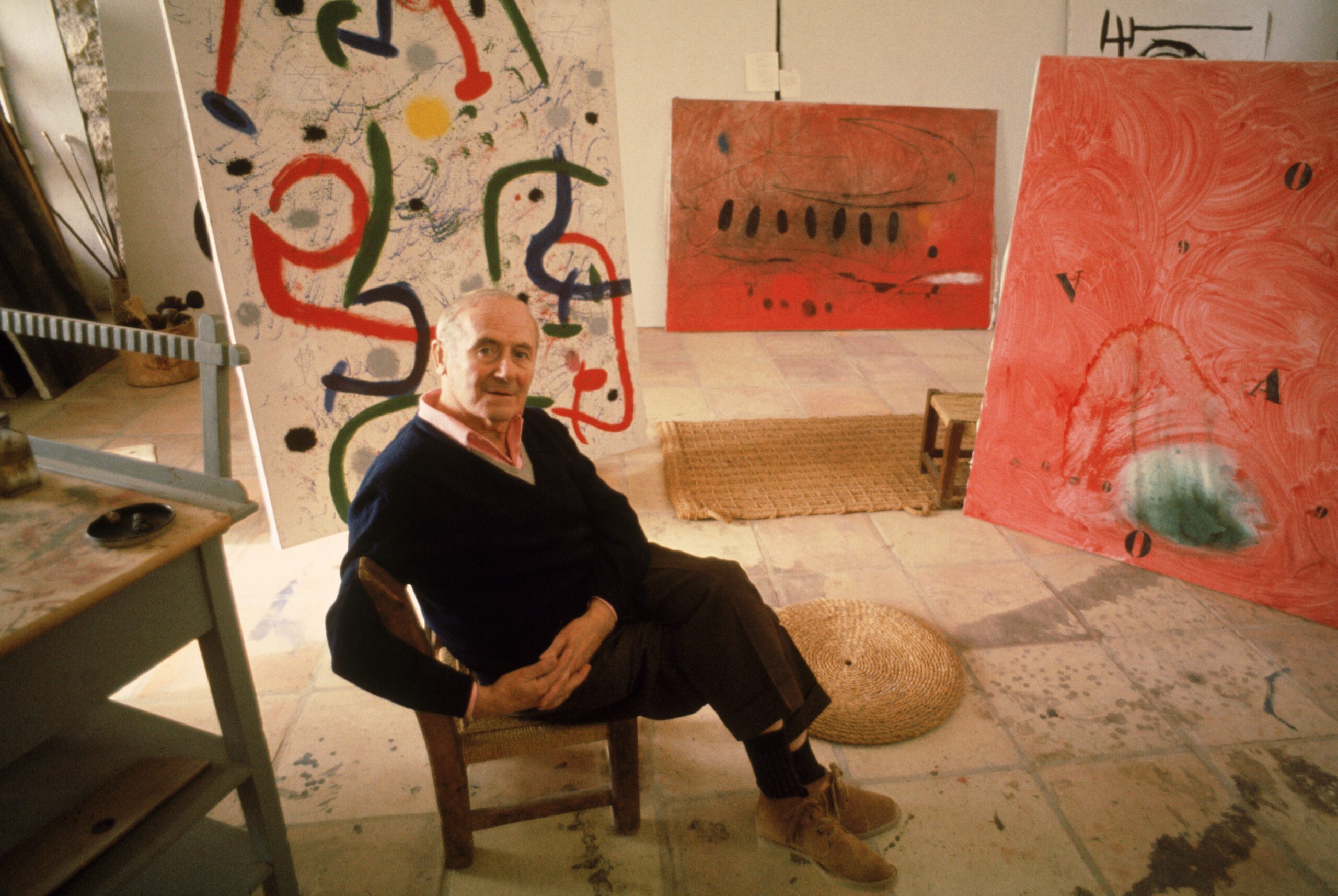 Who is Joan Miró?
---
Spanish artist, Joan Miró, was known for aggressive surrealism. During his lifetime, Miró received the Grand Prize for Graphic Work at the 1954 Venice Biennale, exhibited at the first Docmenta exhibition in 1955, and enjoyed multiple high-profile retrospectives. A museum dedicated to his work, the Fundació Joan Miró, was established in his native city of Barcelona in 1975, and another, the Fundació Pilar I Joan Miró, was established in his adoptive city of Palma de Mallorca in 1981.
Joan Miró's work, which was sold at auction for eight figures, can be found today in the permanent collections of The Art Institute of Chicago and the Museum of Modern Art, and many other institutions. His public sculptures, murals, and other works are found in many cities, including Barcelona, Paris, Milan, and Paris.
| | |
| --- | --- |
| Born | 1893 |
| Died | 1983 |
| Nationality | Spanish |
| Mediums | Oil on canvas, sculpture, and a wide range of other media |
| Movements | Fauvism, Cezannism, Magical Realism, Surrealist |
About Joan Miró
Joan Miró was born into a family that included a watchmaker and a goldsmith. His father Miguel, a goldsmith and watchmaker, wanted his son to choose a more practical profession and encouraged young Miró to attend the School of Commerce. After starting his career as a clerk, he suffered a nervous breakdown and a severe case of typhoid fever. As Miró recovered, his family purchased Montroig in the countryside, outside of Barcelona. There, Miro continued to work as a clerk but soon devoted himself to art, abandoning all commercial pursuits.
The artist would return to Mont-roig every year to continue his work in symbolism, nationalism, and the like. The symbolic language that would dominate the art of his next ten years is exemplified in two of Miró's first Surrealist works, Catalan Landscape (The Hunter), and The Tilled Field.
Joan Miró Artistic Style
Joan Miró's early art was influenced by Paul Cezanne and Vincent van Gogh. Scholars have dubbed this period the Catalan Fauvist Period because of the resemblance between Miró's work and that of the intermediate generation. While attending the Cercle Artistic De Sant Lluc, Miró had his first solo exhibition in 1918 at Dalmau Gallery at the behest of Dalmau himself. The exhibition was a disaster, with both critics and the public ridiculing Miro's work and even destroying it. He didn't sell one painting.
Inspired by surrealist and Cubist exhibitions abroad, Joan Miró settled in Paris a few years after his 1918 Barcelona solo show. Once in Paris, Miró said, "Definitely never again Barcelona, Paris and the countryside until I die." He finished many of the paintings he started at his summer home in Mont-roig del Camp. The Farm, one such painting, showed a shift to a more personal style with some nationalistic qualities. Ernest Hemingway later bought the piece and compared it to James Joyce's Ulysses. He said that it "contained all the feelings you have about Spain when you visit there, and all the feelings you feel when you travel and can't go there."
Featured Works
Joan Miró was a prolific artist, producing more than 2,000 paintings, 5,000 drawings, and collages, and 500 sculptures and ceramics. These statistics are startling, illustrating the nature of the painter: free and inspired. The range of Miro's work can be seen in the number and types of artistry that are currently available.
PEINTURE (ÉTOILE BLEUE)
oil on canvas, sold on Jun 19, 2012 for £23,561,250 ($37,015,668.)
Created at the heights of Surrealism and one of the artist's favorites. PEINTURE (ÉTOILE BLEUE), is an exceptional image of extraordinary grace and visual power, It belongs to Joan Miró's celebrated 'dream painting' cycle, in which he pioneered an abstract poetic form that is widely considered his greatest achievement.
FEMME ET OISEAUX
1940–paper, sold on Jun 21, 2017,for £24,571,250
This work belongs to a series of paintings that Miró made in 1949–50 in Majorca. Miró's use of simple shapes and bright colors constitutes a highly personal visual language, often charged with symbolic meaning.
Joan Miró Collections & Exhibits
Barcelona: Fundació Joan Miró
Ongoing
---
The collection of paintings, drawings, sculptures and works on paper displayed at the Fundació is one of the most comprehensive selections of Miró's oeuvre, offering a thorough overview of all the stages of his life and career.
Museum of Modern Art (NY)
Summer 2019
---
Running until July 2019, the exhibit showcases 60 pieces of work from the inception of Miró's career, and including the influence of the World Wars. The exhibit features 60-foot canvasses as well as smaller 8-foot paintings, and the influences range from cubism to abstraction
Gran Palais in Paris
October 2018
---
In October 2018, the Grand Palais in Paris opened the largest retrospective devoted to the artist until this date. The exhibition included nearly 150 works and was curated by Jean Louis Prat Retrospective
---