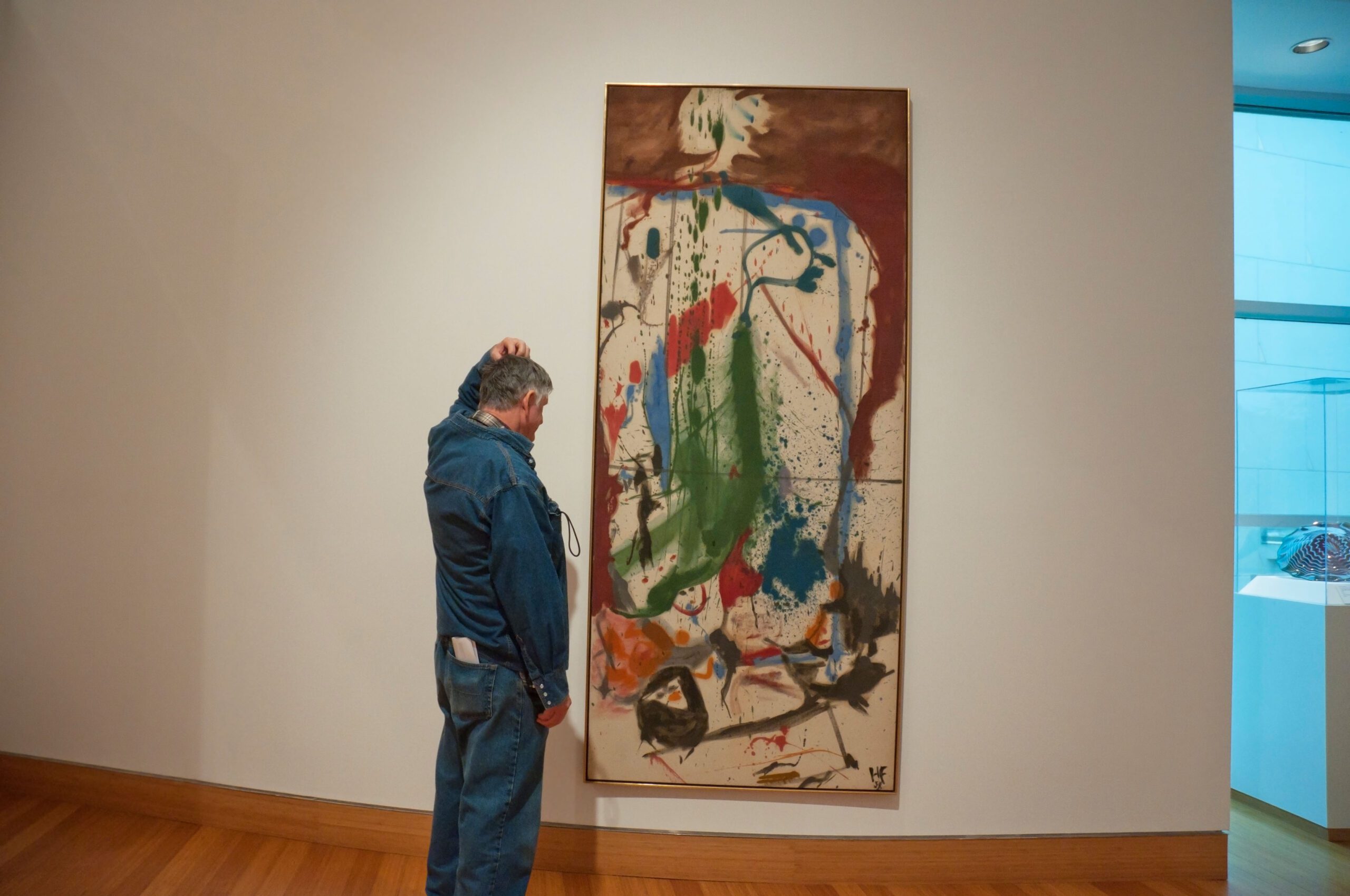 Who is Helen Frankenthaler?
---
When you look at a painting by Helen Frankenthaler, you're immediately gifted with a sense of calm and ease. Her paintings are known for their soft colors and sweeping brushstrokes defined by a movement she created called "Color Field Painting". Frankenthaler has been named one of the most important female artists of the 20th century and had a prolific career spanning nearly six decades.
Today, you can find a Frankenthaler painting at most major art museums and galleries. Her work has been sold at auction for millions of dollars, with her record price for Royal Fireworks hitting $7.9 million at Sotheby's. Because she was such a tireless, experimental artist, she has a large body of work including sculpture, ceramics, printmaking, and even set design.
| | |
| --- | --- |
| Born | December 12, 1928 |
| Nationality | American |
| Died | December 27, 2011 |
| Mediums | Painting, Sculpture, Printmaking, Ceramics |
| Movements | Abstract Expressionism, Color Field Painting, Minimalism |
Talent Nurtured From a Young Age
Born and raised in the wealthy Upper East Side of Manhattan, Helen Frankenthaler grew up in a privileged home with two older sisters. Her Jewish family was cultured and progressive, which allowed Frankenthaler to think for herself and pursue the arts with support from her parents. From a young age, Frankenthaler was captivated by the outdoors–landscapes, seas, and skies–which she readily absorbed on her family vacations outside the city.
Frankenthaler studied art at the Dalton School in New York and later enrolled at the Bennington College in Vermont, where she was taught by abstract artist Paul Feeley. She achieved success early on, which was rare for female abstract artists at the time. When she was just 22 years old, she began exhibiting her work professionally and had her first solo exhibition in 1951. Throughout the next three decades, Frankenthaler displayed work across the globe with major shows in New York, Paris, London, Venice, and Los Angeles.
Frankenthaler's Artistic Career
A Pioneer in "Color Field Painting" and Artistic Invention
Many art historians cite Frankenthaler's color field movement as a definitive departure from the first generation of abstract expressionism. While the latter was known for deep context, emotional narrative, and religious symbolism, color field painting emphasized the basics: lines, shapes, and color. Color field painting stripped away potentially convoluted meanings of contemporary artwork and kept things simple for the viewer.
While Frankenthaler's work has been criticized for lacking depth, there is no debate that she created unique artwork nobody else was doing at the time. Frankenthaler was the first person to use the "soak-stain" technique, a method in which she placed the canvas on the floor, thinned her oil paints, and covered the surface with large areas of pigment. From there, she would manipulate the medium with tools like sponges and windshield wipers to create fluid, gestural shapes. The end results were big, beautiful canvases that looked like sprawling, abstract landscapes. According to Frankenthaler, "There are no rules…that is how art is born, that is how breakthroughs happen."
Throughout her career, Frankenthaler was innovative and experimental, and went through multiple periods of artistic creation. Towards the late 1950s she started experimenting with more rounded shapes and lines versus the fluid, untethered gestures of before. During the 1960s, she was known for painting large strips of color near the edges of paintings and using more solid colors against white backgrounds. By the 1970s, she'd done away with her soak-stain method and preferred thicker paint.
Like most artists who seek to defy the norm, Frankenthaler's career wasn't without controversy. During the 1980s, she took a highly public, conservative political stance, which was made known in a New York Times opinion piece. Here, she stated that the government shouldn't be funding the arts or providing grants because it had "spawned a monster". This brought more criticism to her artwork by those who claimed that her work did not carry the intelligence of her abstract predecessors.
Nevertheless, Frankenthaler's work continues to go anywhere from $30k to $600k depending on medium and size. Her most expensive pieces have been sold at auction for several million. She was the recipient of numerous awards and honors, including the National Medal of Arts in 2001 and being appointed an Honorary Academician of the Royal Academy of Arts in London in 2011. She also served on the National Council for the National Endowment for the Arts from 1985 to 1992.
Featured Works
Mountains and Sea (1952), oil and charcoal on canvas
This painting kickstarted Frankenthaler's career as a professional artist and is a perfect example of the color field movement. The large, floating pastel shapes were created with her classic soak-stain method and are reminiscent of florals and bodies of water.
Provincetown (1964), acrylic on canvas
Later on in her career, Frankenthaler abandoned oil paints and showed people that acrylics could be just as refined and beautiful. In Provincetown, one can make out an abstract beachscape, sun, and clouds made of primary colors (red, yellow, blue). Frankenthaler spent over a decade of summers in Provincetown, where she studied under Hans Hofmann.
Grey Fireworks (1982), acrylic on canvas
One of her later paintings, Grey Fireworks is a major departure from her early soak-stain method and uses thick dollops of paint, darker colors, and more defined lines. The color also extends to the edge of the canvas, which you did not see in her early work where most of the compositions were centered.
Collections & Exhibitions
Post-Painterly Abstraction
1964
---
This exhibit in the Los Angeles County Museum of Art highlighted thirty-one artists associated with abstract movements during the 1950s and 60s. It was curated by Clement Greenberg, art critic who was romantically involved with Frankenthaler. The collection showcased artists who were experimenting with new forms of abstraction that were more rigorous and formal than previous examples of abstract expressionism, rejecting inwardness and mysticism.
Pretty Raw: After and Around Helen Frankenthaler
Feb 11th – Jun 7th, 2015
---
The Pretty Raw exhibition asked the question, what if a female artist started the post-war modern art movement? This collection of work in The Rose Art Museum at Brandeis University featured paintings by Frankenthaler and other female artists, including Grace Hartigan and Jane Freilicher. Although Frankenthaler didn't associate her work with feminism, the theme is inherent, considering modern art was dominated by male artists back then.
Giving Up One's Mark: Helen Frankenthaler in the 1960s and 1970s
2015-2015
---
This exhibit at the Albright-Knox Art Gallery in Buffalo, New York featured more than 17 paintings and a selection of prints that showcased the artist's development during the 1960s and 70s. During this time, Frankenthaler used heavier paint that wasn't diluted from thinner and experimented with bold, geometric shapes. The body of work was pulled from public and private collectors and included large, monumental paintings all the way to smaller, more intimate works.
---