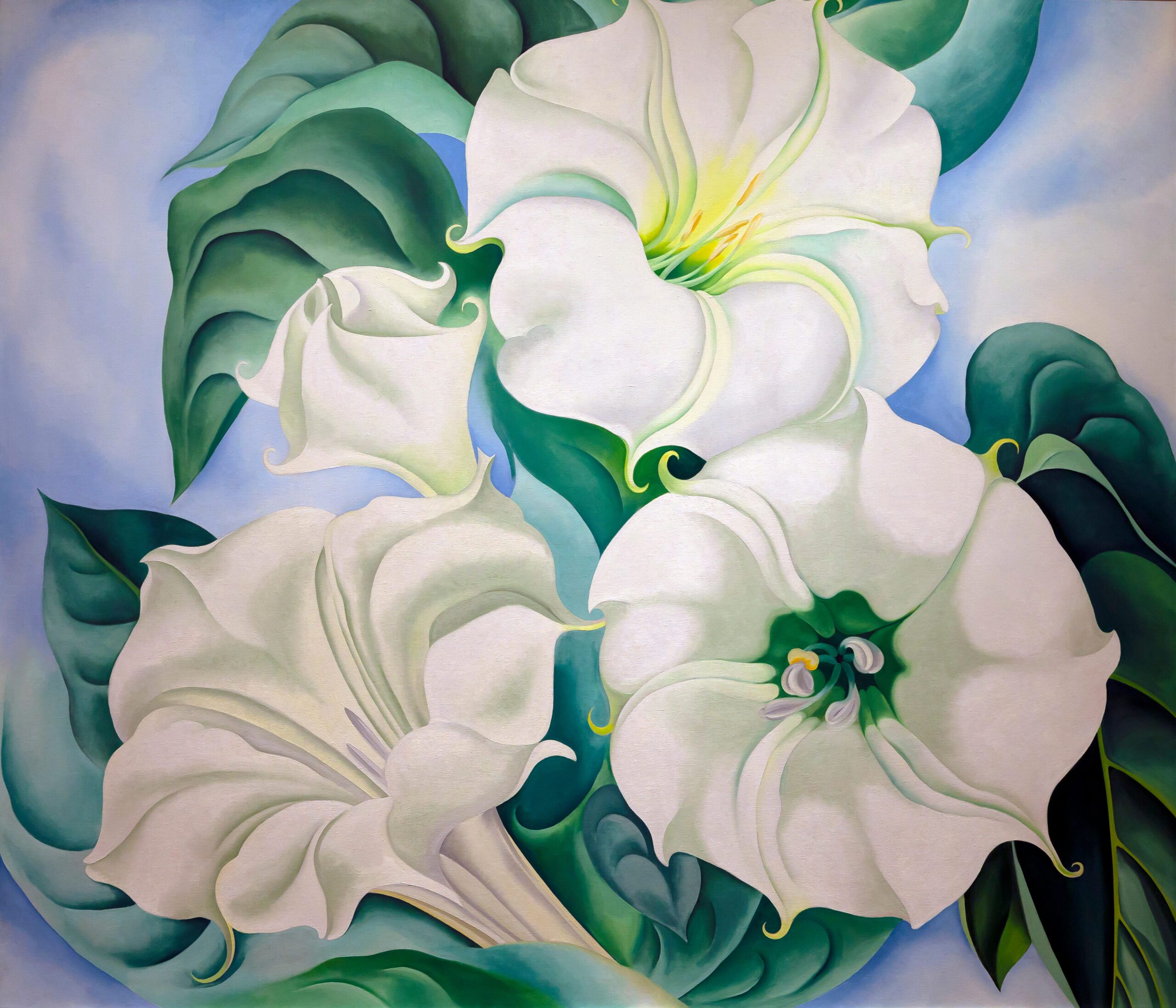 The Masterworks' Georgia O'Keeffe Buying Guide
---
There is no doubt that Georgia O'Keeffe is among the renowned artists who top the bill for modern art. Not only is she the first female to gain recognition in New York, but she's also one of the pillars of American contemporary art. This article will help you learn more about her, her works, and where to acquire and sell them.
Exploring the Uniqueness of O'Keeffe's Works of Art
O'Keeffe has a penchant for the delineation of elements through abstraction. She manipulated composition, lines, and colors into what seemed like an effortless technique but a highly-skillful aesthetic, and her work encapsulated her relativity to the world around her. The themes in O'Keeffe's paintings revolve around flowers, landscapes, skulls, or views that bring in various textures. 
Arthur Wesley Dow's principles perpetuated O'Keeffe to delve into in-depth abstract and composition strategies. Her persistence enabled her to create her vocabulary of approaches. She became astute in creating crafts using oil, watercolor, pastel, and charcoal during her journeys.  She's exposed to natural wonders and tried to capture the essence of what was in front of her. Her travels paved the way for her signature art style, which integrates abstraction and the realism of the natural world into a canvas.
The "Blue, Black, and Grey" art pieces in 1960 prove how she could imbibe various methods that she developed from experience.   You can see art strategies such as using fine lines, shading, massing, and contouring of abstract elements in them.  As a result, O'Keeffe's works may vary from each other, but all of them encapsulate the distinctiveness of her art style [source: Georgia O'Keeffe Museum].
An Overview of O'Keeffe's Value
Despite O'Keeffe's passing, her art pieces continue to draw in art enthusiasts and collectors.   O'Keeffe's highest valued piece is the White Flower No.1 or Jimson Weed" painting bought at Sotheby's in New York for $44.4 million or £28.8 million. It was a remarkable feat for O'Keeffe as she snatched away for Joan Mitchell the record on having the highest-paid artwork made by a female artist.  Mitchell's "Untitled work" was sold for $11.9 million or £9.5 million, that is $32.5 million or £18.9 million difference from O'Keeffe's painting's value [source: BBC]. 
In the past, the Georgia O'Keeffe museum has sold the Jimson Weed painting at a lower price alongside two other art pieces. In 2001, the painting cost $6. 2million or £3.9 million.  The museum preserves the legacy of O'Keefe and contains not only her works but also pieces made by her friends. [source: US News].
Once, O'Keeffe's painting entitled "My Last Door" was showcased in the American crime hit TV series "Breaking Bad" episode "Abiquiú." 
Notable Paintings
Among the artworks of Georgia O'Keeffe, the "Sky Above Clouds IV" was deemed comparable to French impressionist painter Claude Monet's water lilies paintings [source: Visual Arts Cork]. Said lilies painting uses the Plein-art technique, which means "in the open ai."It aims to capture the essence of a view by capturing the place's ambiance [source: Virtual Academy]. In O'Keeffe's art piece, she shows the distinctiveness of the horizon filled with sequenced clouds that are in non-conformity with each other as per their unrefined and varying shapes.  The painting brings the viewer to the scenic view found on a plane's window seat. It tricks the eyes on the infinite stretch of elements from darker colors to lighter hues. The "Sky Above Clouds IV" is also the last painting that O'Keeffe made before she retired as an artist due to blindness.
The "Cow's Skull: Red, White, and Blue" painting had become an American West symbol in terms of influence. It was an allude to the American soul and its strength. She used a skull and the shades of the American Flag to externalize her message. The painting responds to the art trend of 1931 when artists craft pieces that highlight American-related themes or elements [source: ATX Fine Arts].
 Acquisition of O'Keeffe's Works
There are several places where you can attend an auction and buy an art piece by O'Keeffe. To date, 69 auction houses have sold her work, and amongst them, we handpicked three to discuss here.
In New York, you can visit "Sotheby's," which has been in the business since 1774. Every year, Sotheby's facilitates 250 auctions across 40 countries. Apart from its headquarters in New York, it has branched out to other locations like Switzerland, the United Kingdom, Italy, France, China, Hong Kong, India, and United Arab Emirates. The said auction house also sold Georgia O'Keeffe's highest-paid painting of a Jimson Weed [source: Invaluable Sotheby's].  
"Freeman's," which is at three locations in Philadelphia[source: Invaluable Freeman's]. Freeman's accept and sell arts, pieces of jewelry, and antiques. It holds more than 30 auctions every year online or live. It also provides other services such as consignment, collection management, insurance, private sales, and museum services[source: Freeman's].
.
Meanwhile, if you are in California, you can visit Goldberg Coins & Collectibles, Inc. For 80 years, the auction house provided services to a broad clientele, including bidding art pieces to a series of collectibles.  It has cataloged and conducts either virtual or physical auctions. Goldberg Coins & Collectibles, Inc. also engaged in mainstream promotions such as magazine and newspaper advertisements.
---