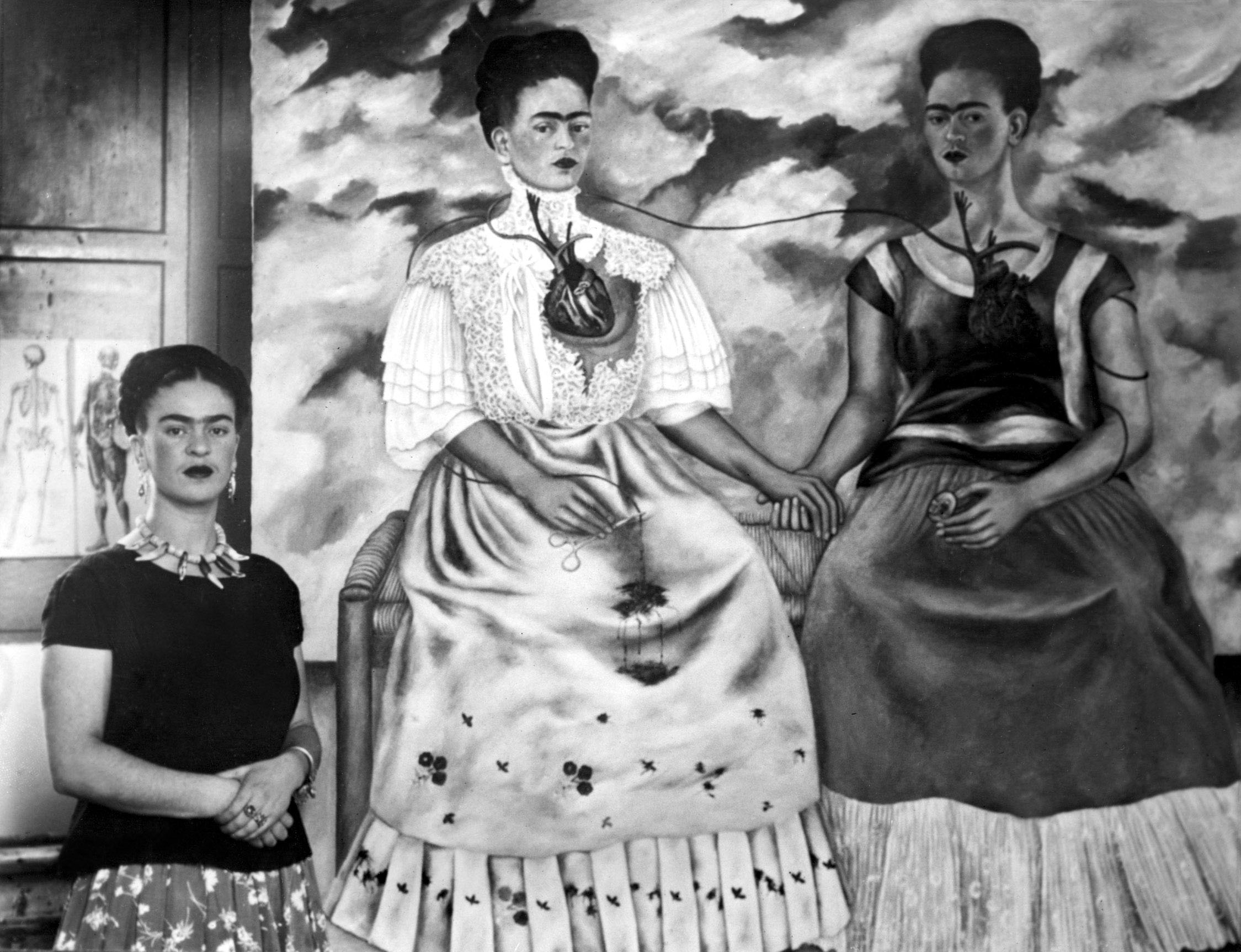 Who is Frida Kahlo?
---
Magdalena Carmen Frida Kahlo y Calderón was a Mexican painter known for her many portraits, self-portraits, and works inspired by the nature and artifacts of Mexico. Frida Kahlo had a life marred by pain and suffering, but she used her trauma to create beautiful paintings and become one of Mexico's most treasured artists of all time. While she only lived to be 47 years old, she produced approximately 200 pieces that sell for millions today at auctions and through private collections.
Kahlo is best-known for her colorful self-portraits that depict femininity and exploration of identity in a powerful, transfixing manner. While she is associated with the Surrealist movement of the mid-20th century, Kahlo herself never liked to identify with the movement, stating, "I never painted dreams. I painted my own reality."
Due to Kahlo's short lifespan and health ailments, her body of work is relatively small (200 paintings, drawings, and sketches), which makes the rarity of her work incredibly valuable. Just last year, self-portrait Diego y Yo sold for $34.9 million at auction, becoming the most expensive Latin American artwork to ever be sold.
| | |
| --- | --- |
| Born | July 6, 1907 |
| Nationality | Mexican |
| Died | July 13, 1954 |
| Mediums | Painting |
| Movements | Surrealism, Modernism |
Painting as a Form of Healing
Frida Kahlo was born in 1907 to a Mexican mother and German immigrant father. Her father was a photographer and from a young age Kahlo would help him in the studio, where she learned how to be detail-oriented and disciplined. When she was only six years old, Kahlo suffered a bout of polio that left her with a limp; a handicap that stayed with her for the rest of her life. Tragedy struck again at age 18 when she was hit by a bus and impaled by a steel handrail. She was left with a fractured pelvis and spine, and had to receive nearly 30 operations just to be able to walk again.
Originally, Kahlo actually studied science and medicine at the National Preparatory School in Mexico City and never intended to be an artist by trade. However, her traumatic bus accident forced Kahlo to spend time on her own as she lay recuperating in a hospital bed, and she used her recovery period to teach herself how to paint and refine her trademark style.
In 1938, Kahlo exhibited her first solo exhibition at the Julien Levy Gallery in New York. It was a massive success and she sold 25 paintings. At this time, Kahlo was also married to Mexican painter Diego Rivera and the two had an on and off, tumultuous relationship throughout the 30s and 40s. While Kahlo experienced major success with her artwork, which was revered by surrealist philosopher André Breton, her personal life was marred with anguish, heartbreak, drinking, and drug use. Both she and Rivera had multiple affairs and Kahlo desperately wanted a child, but ultimately experienced several miscarriages.
To this day, Kahlo is still the most cherished female artist to come out of Mexico, and her legacy lives on through the Casa Azul Frida, a museum in Mexico City, as well as exhibitions and galleries across the globe.
Kahlo Artistic Career
Before Frida Kahlo, it was rare to see such raw displays of feminine struggle in painting. The misogynist attitude towards women at the time, framing them as hysterical or insane simply for communicating their deepest fears and emotions, was prevalent. Kahlo gave women a voice with her abstract self-portraits, which wrestled with loss of children, identity, beauty, life, and death.
As a self-taught artist, Kahlo developed her own style, which was influenced by indigenous Mexican art, European realism, surrealism, and symbolism. While the subject matters in her paintings are often melancholy, the visuals are filled with bright colors, deep hues, and vibrant scenes from the natural world.
In 1931, Kahlo first shared her work with the public at the Sixth Annuel Exhibition of the San Francisco Society of Women Artists. In 1938, Kahlo exhibited her first solo exhibit at the Julien Levy Gallery in New York. It was a massive success and she sold 25 paintings. Surprisingly, her first solo exhibit back in Mexico wasn't until 1953 at the Lola Alvarez Bravo Gallery, a year before her death. In 1946, she received the National Prize of Arts and Sciences from the Mexican Ministry of Public Education.
From the very beginning, Kahlo's work was deemed controversial. Images of exposed organs, abstractions of miscarriages, and female sexuality were uncommon at the turn of the century. As a member of the communist party, she was an outspoken political activist who denounced capitalism and championed free speech. She even had a brief love affair with Leon Trotsky, the Marxist revolutionary.
Featured Works
Frida and Diego Rivera, 1931, oil on canvas
Painted two years after the two were married, this piece features a portrait of the couple in a traditional Mexican folk art style. The strained intimacy between the couple is apparent–Rivero looks large and domineering compared to Frida, who lightly clasps his hand and whose feet daintily touch the ground.
Henry Ford Hospital (The Flying Bed), 1939, oil on metal
This haunting, personal piece symbolized Kahlo's struggle with pregnancy and the sadness that followed an abortion. In it, Kahlo lays naked on a hospital bed with six umbilical cords floating from her abdomen, one including her deceased child. The painting was one of several pieces of work depicting death, gore, and exposure of internal organs.
The Two Fridas, 1939, oil on canvas
Considered one of her most notable paintings, The Two Fridas is a self-portrait depicting Kahlo's dual heritage. On the left, you see Kahlo in a traditional Tehuana dress, while on the right you see a European-style dress from the Victorian era. The painting symbolizes Kahlo's exploration of identity and reflection of the self.
Exhibitions & Collections
The Frida Kahlo Museum 
Ongoing
Also known as "Casa Azul", or "The Blue House", The Frida Kahlo Museum is located in Mexico City and was Kahlo's childhood home. The museum displays collections of artwork by Frida Kahlo, Diego Rivera, and various Latin artists. Additionally, you'll find memorabilia, personal items, and artifacts saved by the couple over the years.
Timeless: Cleve Carney Museum of Fine Art 
Jun 5-Sept 12, 2021
Timeless offered a comprehensive look at the life and death of Frida Kahlo and the politics, cultural events, and personal struggles that influenced her art. The exhibition showcased 26 paintings, including the vibrant self-portrait Frida on a White Bench.
Appearances Can Be Deceiving: Brooklyn Museum 
Feb 9- May 12, 2019
One of the largest U.S. Kahlo exhibitions of the 21st century, Appearances Can Be Deceiving included paintings, artifacts, and photographs from the Jacques and Natasha Gelman Collection of 20th Century Mexican Art.
---