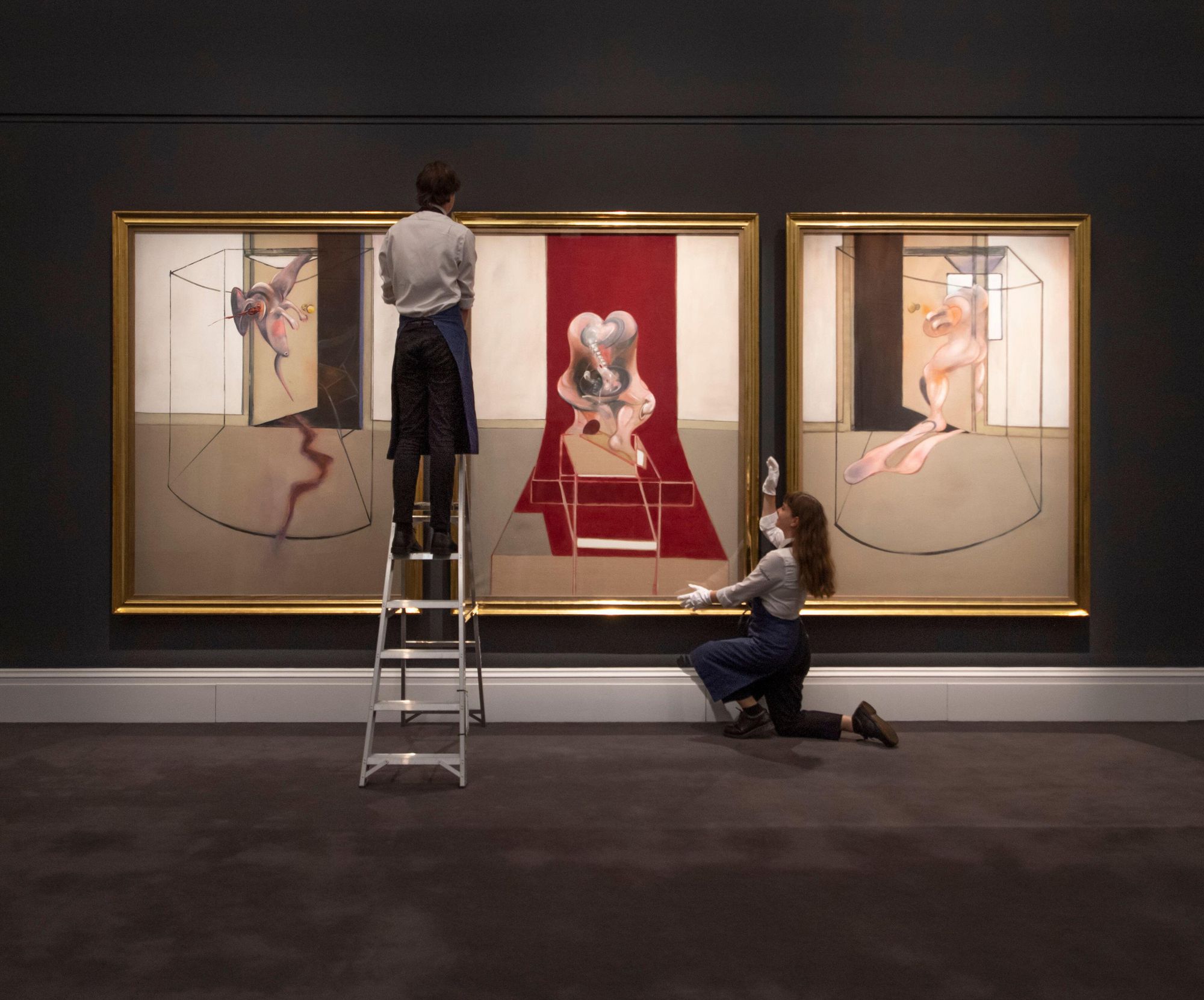 Who is Francis Bacon?
---
---
English painter Francis Bacon was well known for his dark and disturbing paintings. He began his career in post-war England; the unsettling state of national affairs became an inspiration for Bacon's bleak body of work. Playing off the emotions of fear, anxiety, and existentialism that were prevalent at the time, Bacon's paintings often elicit the same emotions in his viewers, even today.
Growing up between Ireland and England, Bacon felt a continued sense of displacement throughout his youth; he often described his childhood as being cold and uninviting. His father raised racing horses, and a young Bacon helped tend to the horses and stables. The distant relationship with his father was a source of tension for Bacon, and it would ultimately shape the course of his life and artwork. His father's discomfort with his son's emerging homosexuality caused a significant rift between the two. After a rebellious spree, Bacon's father sent him out to live on his own. Bacon traveled around London, Paris, and eventually, Berlin, where he was able to flourish in self-discovery and broaden his knowledge of Europe beyond the small Irish farm he grew up on.
Francis Bacon received no formal art education; this was not a detriment to his work but a strength. He leaned heavily on Picasso's cubist works for inspiration, as he felt they didn't require the skilled drawing techniques he lacked. His early work was prided on being quite mature, specifically his crucifixion pieces. Despite its less than successful reception, Bacon's work, Crucifixion (1933) — which was partly based on Pablo Picasso's The Three Dancers (1925)— became his foot in the door in establishing himself as an emerging artist in London's growing bohemian scene. After the creation of this work, Bacon became discouraged with his practice and nearly gave up painting for a decade. At the onset of World War II, Bacon joined the Air Raid Precaution sector, as he could not join the Armed Forces, due to his asthma. During his time with the Air Raid Precaution sector, Bacon participated in search and rescue but was quickly discharged from the unit, when he fell sick from the dust and rubble in the wreckage.
What Did Francis Bacon Make Art About?
1944 proved to be a critical year for Francis Bacon. During this year—which could be argued as the beginning of his career—Bacon was picked up by Marlborough gallery and had his triptych Three Studies for Figures at the Base of a Crucifixion (1944) displayed. The show sent shockwaves through London. Chris Stephens, Head of Displays and Lead Curator, Modern British Art at Tate Britain called the work:
"a turning point in the history of British art. It's one of the masterpieces in Tate's collection… It's a work that was seen immediately as a brutally frank and horrifically pessimistic response to the Second World War. It was first exhibited in April 1945, and though the two were not directly related, the fact that this painting was unveiled the month that the concentration camps were revealed to the world, inevitably led to the way it has been understood as a statement of human brutality and suffering."
The triptych features phallic imagery and haunting mouths of seemingly unidentifiable bodies, flailing on one another. This painting displayed the inner workings of Bacon's mind and was meant to provide a viewer with a window into his anxieties and experiences. As Europe emerged from the fire of World War II, the work summed up not only Bacon's personal fears and anxieties but many of the global ones as well. Following the critical reception of Three Studies for Figures at the Base of a Crucifixion, the public would not forget Francis Bacon.
Bacon's work in 1944 led him to much success in subsequent years. He began a fruitful professional relationship with gallerist Erica Brausen, who donated one of his works to MoMA in 1948. She also granted him a solo show at Hanover Gallery in 1949. This proved to be another critical turning point for Bacon– the exhibition was where he first showed his series Heads, which was his first foray into portraiture, and introduced the central motifs of "the scream" and "the pope". These symbols ended up being recurring themes that would haunt Bacon's body of work for the rest of his life.
---
---
What Are Recurring Symbols in Francis Bacon's Work?
Throughout his career, Francis Bacon relied heavily on many different motifs that thematically link his work. Beginning with his earliest pieces and ending with his final works, triptychs, crucifixions, screaming heads, and popes are the most common symbols that haunt the works of Francis Bacon.
In Bacon's oeuvre, the crucifixion has taken on multiple meanings. Used in his very first triptych in 1933, the symbol of the passion of Christ has evolved along with Bacon's work. Initially intended to express ideas of bodily harm and morbidity, by 1944 Bacon was associating the idea of the crucifixion with meat and slaughterhouses. The crucifixion also hearkens back to Bacon's fascination with old masters such as Velazquez, Rembrandt, and Titian.
Triptychs were a crucial recurring mode of expression for Francis Bacon. Inherently identified with religion, Triptychs allowed Bacon to add religious meaning to any work. Bacon painted triptychs throughout his career; he completed 28 between 1944 and 1986. One Triptych, titled Triptych 1986-7, is a classic example of Bacons' work, which is being offered for sale by Christie's with auction estimates of £35,000,000-55,000,000 during their 20th/21st Century: London Evening Sale on March 1st.
---
---
Screaming heads began appearing in Bacon's work towards the end of the 1940s, during his first gallery show at Hanover Gallery. For these works, Bacon drew inspiration from the works of Matthias Grünewald and Sergei Eisenstein's 1925 film Battleship Potemkin. The symbol elicits panic and fear, two feelings heavily referenced throughout Bacon's work.
Popes first came into play for Bacon in the 1950s, the most notable example being Study after Velázquez's Portrait of Pope Innocent X (1953). Obviously inspired by Spanish painter Diego Velazquez, Bacon modernized the original work, imbuing it with his classic sense of terror and distortion. For Bacon, there was not a singular literal meaning to anyone symbol in his art, but many believe that the continued depiction of the pope is tied to representations of power and the suffering of humanity.
Who Was Francis Bacon's Muse?
Most artists have their share of beautiful muses and inspirations, and despite his disturbing subject matter, Bacon is not excluded from this. Most notable was his tense relationship with a young pilot, Peter Lacey, whom he met in 1952. Their relationship was documented as being violent and abusive, so much so that at one point Lacey threw Bacon out of a window (he sustained minor injuries). Bacon painted Lacey many times over throughout their relationship, but destroyed several of the works in a frustrated rage. The most famous of the surviving paintings is "Study for a Portrait of PL," painted by Lacey posthumously, in 1962. Their relationship began to deteriorate in the late 1950s after Lacey moved to Tangier, but it held on until Lacey died in 1962.
After the death of Peter Lacey, Francis Bacon met his next muse, George Dyer in 1963. Dyer was a vagrant and a ne'er do well, and as such this new relationship was as, if not more, tumultuous than the last. Bacon turned a new leaf, through his depictions of Dyer, which are simultaneously tender and strong. Portrait of George Dyer Crouching (1966), an image belonging to a suite of nine paintings total, displays this duality, depicting Dyer in a mangled but reflective state. Bacon and Dyer remained lovers through 1971; Bacon stayed with him through severe alcoholism and increasingly erratic behavior. After Dyer passed in 1971, death was no longer a recurring theme for Bacon, but a constant one.
---
---
How Did Francis Bacon Die?
Francis Bacon spent the majority of his life dedicated to his disturbing, haunting images. He was creating art almost up to his death, which occurred in 1992. Bacon sadly passed from a heart attack while vacationing in Madrid, at the age of 82. The entirety of his estate was bequeathed to John Edwards, a close friend of Bacon's.
How Much Do Francis Bacon's Paintings Cost?
After his death in 1992, the price of Francis Bacon's work skyrocketed. In 2013, he set an auction record for being the most expensive work ever sold at the time, with the sale of his painting "Three Studies of Lucien Freud'' for a stunning $142.4 million. Bacon's work regularly fetches prices between about $40 million to $80 million at auction. Some examples* of these are:
---
---
Triptych in 3 Parts (1976) sold for $86,281,000
Triptych Inspired by Oresteia of Aeschylus (1981) sold for $84,550,000
Three Studies for a Portrait of John Edwards (1984) sold for $80,805,000
Portrait of George Dyer Talking (1966) sold for $70,207,152
Study from Innocent X (1962) sold for $52,680,000

*All data provided by Artnet database
---
---