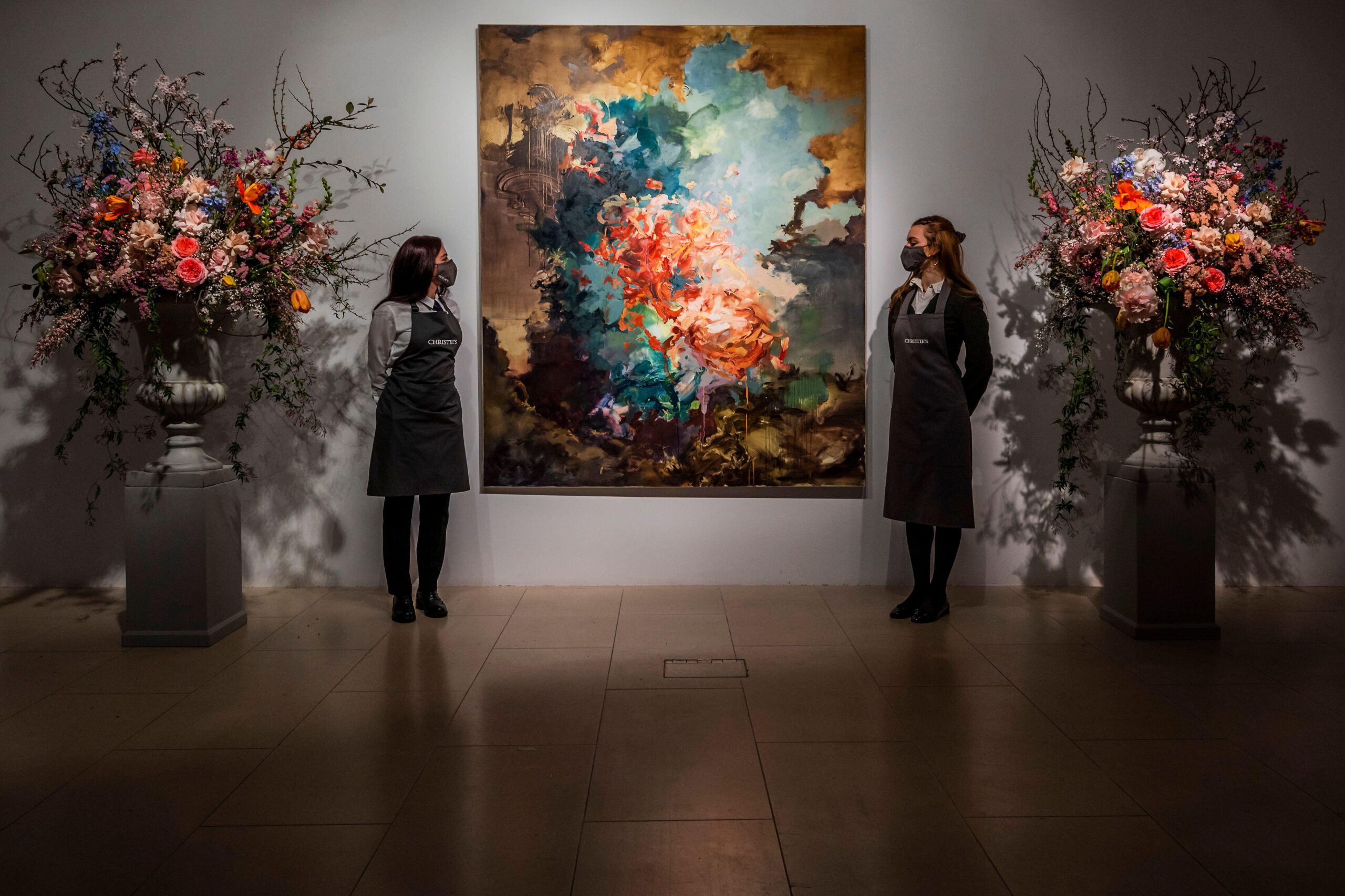 Who is Flora Yukhnovich?
---
One of the hottest new artists of today, Flora Yukhnovich blends 18th century Rococo style with modern pop culture references for an entirely new brand of artwork. Yukhnovich has ascended rapidly into the blue chip art market, selling out nearly every show and generously exceeding sales estimates. Her record-breaking sales indicate the recent appetite by collectors for Rococo reinterpretations, which only began appearing at auction early in 2021.
Yukhnovich's large paintings are inspired by Rococo masters such as Jean-Honoré Fragonard and François Boucher. Recently, Pretty Little Thing sold for $1.2 million at auction, and I'll Have What She's Having sold for nearly $3 million. Yukhnovich's massive success at such a young age is uncommon for artists today, making her one of the most sought after artists of her generation.
| | |
| --- | --- |
| Born | April 5, 1990 |
| Nationality | British |
| Mediums | Painting |
| Movements | Rococo |
Flora Yukhnovich Biography
Flora Yukhnovich was born in 1990 in Norwich, England. She began her studies at the Kingston University in 2009, then studied portraiture at the Heatherley School of Fine Art from 2010-2013. It wasn't until she received her master's from the City and Guilds London School of Art that she took up a fascination with Rococo-style paintings and emulating the painterly qualities of French and Italian masters like Fragonard, Boucher, and Giovanni Battista Tiepolo.
Right after getting her master's, she had her first solo exhibition in Brocket, London. She has recently exhibited at Parafin, GASK, the Jerwood Gallery Hastings, and the Blenheim Walk Gallery. In 2019 she did a 2-month residency with the Victoria Miro Gallery in Venice, Italy to absorb the Venetian culture and study Tiepolo ceiling frescoes. She later signed with Victoria Miro in 2021, and has been represented by this gallery ever since.
Flora Yukhnovich Artistic Style and Career
Yukhnovich's paintings are filled with sweeping brush strokes, vibrant colors, and abstract shapes that resemble figures and landscapes. When looking at Yukhnovich's work, you can immediately see the strong influence derived from the 18th century Rococo masters. The painterly, energetic qualities of her pieces are reminiscent of Fragonard pastoral landscapes and dramatic Tiepolo ceiling decorations.
Yukhnovich successfully blends art history with modernity, drawing inspiration from unlikely subjects including Kim Kardashian, Lady Gaga, and Bridgette Bardot. For example, she has a picture of Kim Kardashian's "wet look" at the 2019 Met Gala, where Kim wore a stunning, skin-tight Thierry Mugler dress. A look inside Yukhnovich's studio reveals a vibrant, highly inspirational environment with printed images from art history and magazines scattered on the floor, or pinned up against the wall. Yukhnovich says she "gets inspiration from the world" and visits museums, watches films, and looks for visual connections in her daily exploration to bring back to her paintings. She calls it, "Restocking my brain."
Despite her quick rise to success, some are critical of the frenzy surrounding Yukhnovich, saying it is too much too soon. To achieve such high auction prices at a young age is rare, and some argue that the recent Rococo reinterpretations are merely a trend. Nevertheless, Yukhnovich's work is still masterfully crafted with beautiful, exuberant qualities that are hard to find. Her studious background and deep understanding of art history gives credence to her work, which will hopefully last favorably in the eyes of today's art collectors.
Flora Yukhnovich Top Works
Nobody Puts Baby in the Corner (2018)
Oil on linen
Originally sold at the Victoria Miro Gallery, Nobody Puts Baby in the Corner is titled after the classic line by Patrick Swayze in Dirty Dancing. The painting alternates between abstraction and figuration and uses signature elements of Yukhnovich's work, including the large, gestural brushstrokes and luminous, radiating colors. By titling her pieces with pop culture references, Yukhnovich adds a sense of irony and humor to her work and breaks the barrier between fine art and modern disconnectedness.
Thank Heaven for Little Girls (2019)
Oil on linen
Drawing again from pop culture references, Thank Heaven for Little Girls alludes to a song from the 1959 movie Gigi, dubbed as "the creepiest, most pedophiliac movie ever to win Best Picture." This is perhaps Yukhnovich's contemporary take on the sensual, erotic Rococo paintings featuring young girls and couples in precarious situations. The painting blends abstraction with references to florals, gardens, and landscapes.
I'll Have What She's Having (2020)
Oil on linen
A reference to a line from When Harry Met Sally, this Fragonard-inspired painting features abstractions of floating cherubs and supine figures gazing towards the sky. The painting sold for $3.1 million at Sotheby's in London, making it the most expensive piece by the artist to date. The visceral brushwork is playful and colorful, and evokes feminine qualities with its softness and eroticism.
Flora Yukhnovich Collections & Exhibits
Thirst Trap
Mar 1st – Mar 26th, 2022
Shown at the New Exhibitions of Contemporary Art in London, this series of new paintings by Yukhnovich draw inspiration from the Roman goddess Venus through both ancient and contemporary lenses. Yukhnovich takes the viewer back in time to ancient mythology and philosophy, and brings it back full circle to modern pop culture references, from the 1960 film La Dolce Vita to femine images of musician Doja Cat. Thirst Trap blends intellectualism with evocative femininity in this popular exhibition.
Fête Galante
Feb 28th – Mar 20th, 2020
The French term fête galante, which translates to "courtship party" is a type of painting style made popular by Antoine Watteau in 1717. Fête galante displays images of wealthy, decoratively-dressed men and women enjoying extravagant parties and leisurely activities in beautiful parklands and landscapes. In this solo show at the Blenheim Walk Gallery in the Leeds Arts University, Yukhnovich draws inspiration from the fête galante genre to experiment with the French division of Rococo style. Pieces such as Warm, Wet N' Wild address the stereotypical fetishization of women during the time.
The Venice Paintings
May 19th – Jun 20th, 2020
Created during Yukhnovich's residency at Victoria Miro, The Venice Paintings showcase some of Yukhnovich's first famous Rococo-style works. In 2019, Victoria Miro created a studio space in Venice for a select group of artists including Yukhnovich. Yukhnovich used this time to ingratiate herself in Venetian culture and study sources such as the music of Vivalda, the frescos of Tiepolo, and written memoirs of Jacques Casanova. The exhibition is an exquisite representation of Yukhnovich's ability to balance art history with a cheeky, contemporary lens.
---