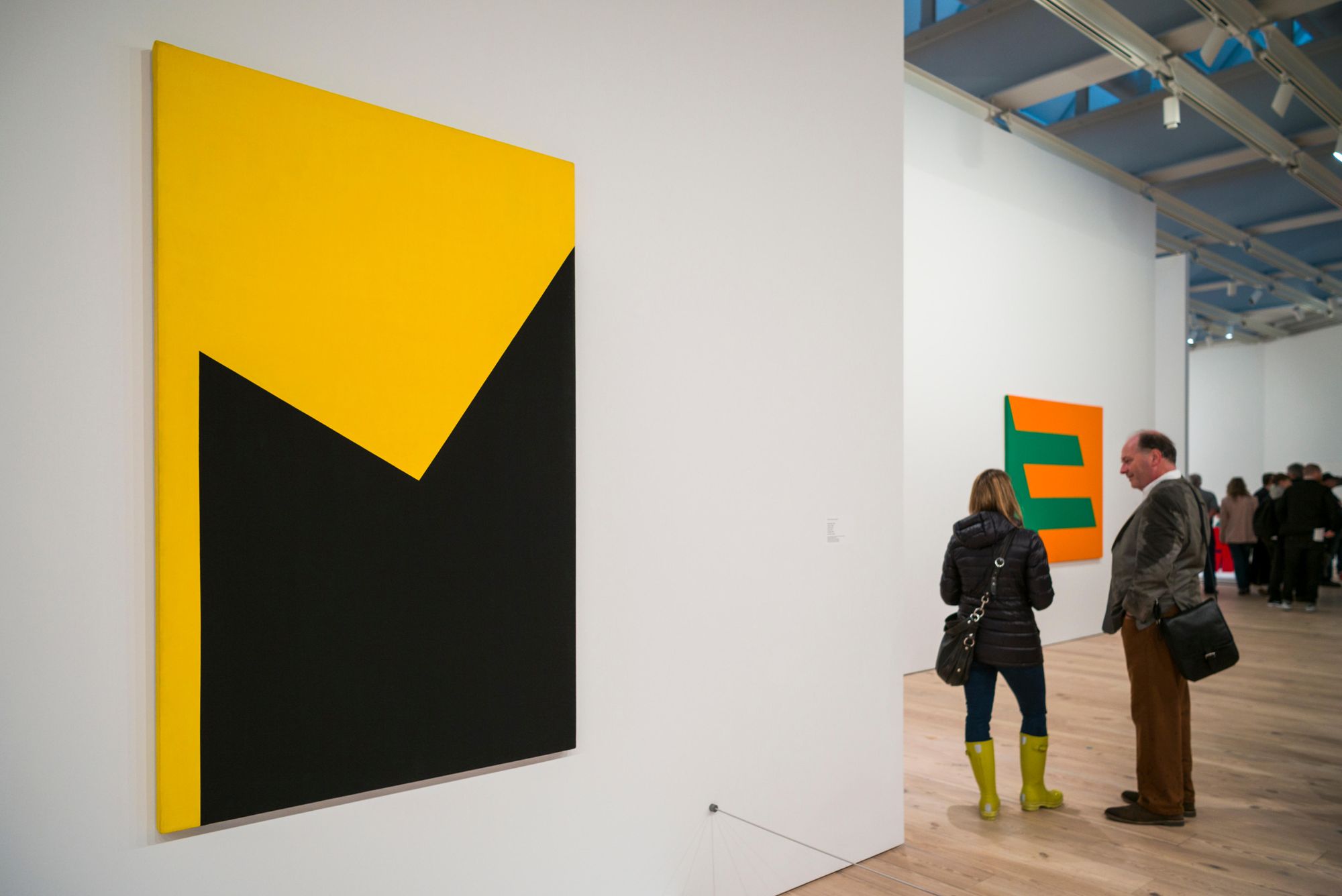 Artist Spotlight: Carmen Herrera
---
Cuban-born artist, Herrera was best known for exploring geometric shapes, vibrant colors, and asymmetry in her paintings and sculptures. She and her artwork encapsulated a drive for formal simplicity and provide a variety of movements, rhythms, and spatial tensions through her artwork. With her professional career starting much later in her life, Herrera was still able to capture the hearts and attention of the contemporary art world with major solo exhibitions and retrospectives at some of the largest institutions in the United States. With all her success she also remained humble in her work and story as a woman artist navigating her place in the history of American artistry.
---
Biography
Born in Havana Cuba in 1915, Herrera was one of seven siblings growing up during the scores of revolutions in her native Cuba. Her family was described as intellectuals that often discussed concepts of feminism, social reform, in the household and regularly. Carmen began taking her first art courses at a very young age, she showed a great interest in drawing, much different than the hard-edge geometric abstraction she is known for today.
Herrera has attempted to pursue a degree in architecture at the Universidad de Habana but unfortunately due to the multiple revolutions and riots at the time, cut her education short after a year. Carmen Herrera had described that year as extremely influential in her interest in sharp lines and geometric shapes. Herrera relocated to New York after meeting her husband, Jesse Lowenthal. Whilst in New York, Herrera took advantage of the city's opportunities for art education and enrolled at the Art Students League from 1943 to 1947. There she studied painting but felt that it was difficult to be included in exhibitions in and around New York. In 1948 she and Lowenthal moved to Paris, a city that would become an important career-maker for Herrera. Paris at the time was the hub for the bohemian and artistic lifestyle, which attracted intellectuals and artists. It was around this time that Herrera began forming relationships with artists such as Theo van Doesburg, and Piet Mondrian at the Salon des Réalités Nouvelles.
After her stint in Paris, Herrera relocated to New York where she would spend the remainder of her life. It was during this period that she began to form relationships with the likes of many artists like Rothko and Ellsworth Kelly. Through this whole period, Herrera was honing her craft and continuing to paint and produce artwork but had faced a lot of backlash and rejection from the artistic institutions.
Herrera's Artistic Career
It would not be until her 80's that Carmen Herrera would achieve great artistic success. Her first major solo show was held at the now-defunct Alternative Museum in 1984. This only was followed by another solo show at El Museo del Barrio found in Harlem, New York City in 1998. This show hosted a profound collection of Black and White's paintings completed from 1951 to 1989.  
Another important solo exhibition of the artist's career was in 2009 at the Ikon gallery in Birmingham England. This show exemplified a serious commitment to hard-edged abstractions insufficiently appreciated in preceding years.  2016 both they and The Whitney Museum of American art held retrospectives of the artist. The most recent was a major retrospective held at the Museum of Modern Art in 2019. She was also the focus of a feature documentary. This was a significant one celebrating the artist's 100th birthday titled the 100 years' show a documentary was made to celebrate the female artists' upcoming 100th birthday.
Herrera's market, although fairly fresh despite her age at 89, was lively. There were a few of her works shown at the Latin Collector Gallery in New York city which captured the attention of art critic Holland Cotter. He later wrote of his experience at the gallery and Herrera's work in the New York Times. This attention was crucial for Herrera's recognition and reputation in the art world, providing long-overdue praise.
Today, Herrera's work can be found in several museum's permanent collections such as the Guggenheim, Abu Dhabi; The Metropolitan Museum of Art, Museum of Fine Art, Boston; Museum of Modern Art, New York City; and Tate Modern, London. Along with these, she had reviewed several awards such as she was made an Honorary Royal Academician by London's Royal Academy in 2019; in 2020 she was named a National Academician by the National Academy of Design in New York, and in 2021 she was awarded the prestigious Ordre des Arts et des Lettres by the Ministry of Culture in France.
In the past several years, Herrera was selected for several mural commissions: the Blanton museum of art in Austin Texas, and the Manhattan east school of arts in Harlem. Living to the ripe age of 106 we are touched by her story of perseverance through her craft and the career of a strong woman artist. In honor of what would have been her 107th birthday, Lisson Gallery, which has represented Herrera for the past 12 years, will be hosting a solo exhibition at their New York space in May.
---
Significant Works
Blanco y Verde (1962)
When this painting came up for auction at Phillips in November of 2018, it was described as one of Herrera's most seminal works. This work was one of fourteen with many others being held in museum permanent collections, reflecting the importance of this series of works and this one appearing for purchase. The painting sold for $2,655,000.
Untitled (1952)
Featured in the series the Black and white paintings are Untitled 1952. This painting perfectly showcases Herrera's love for hard-edge abstraction, minimal color palette, and geometric shapes. Herrera's work projects a sense of dynamic totality through the simplest of strokes. This work is part of the permanent collection at the Museum of Modern Art.
Projects with Public Art Fund (2019)
In 2019 Estructuras Monumentales was commissioned in partnership with the Public Art Fund. This series of sculptures exude the vibrant and minimalist style of Herrera's canvas works into three dimensions for the public. These were found in City Hall Park in New York City.
---
---