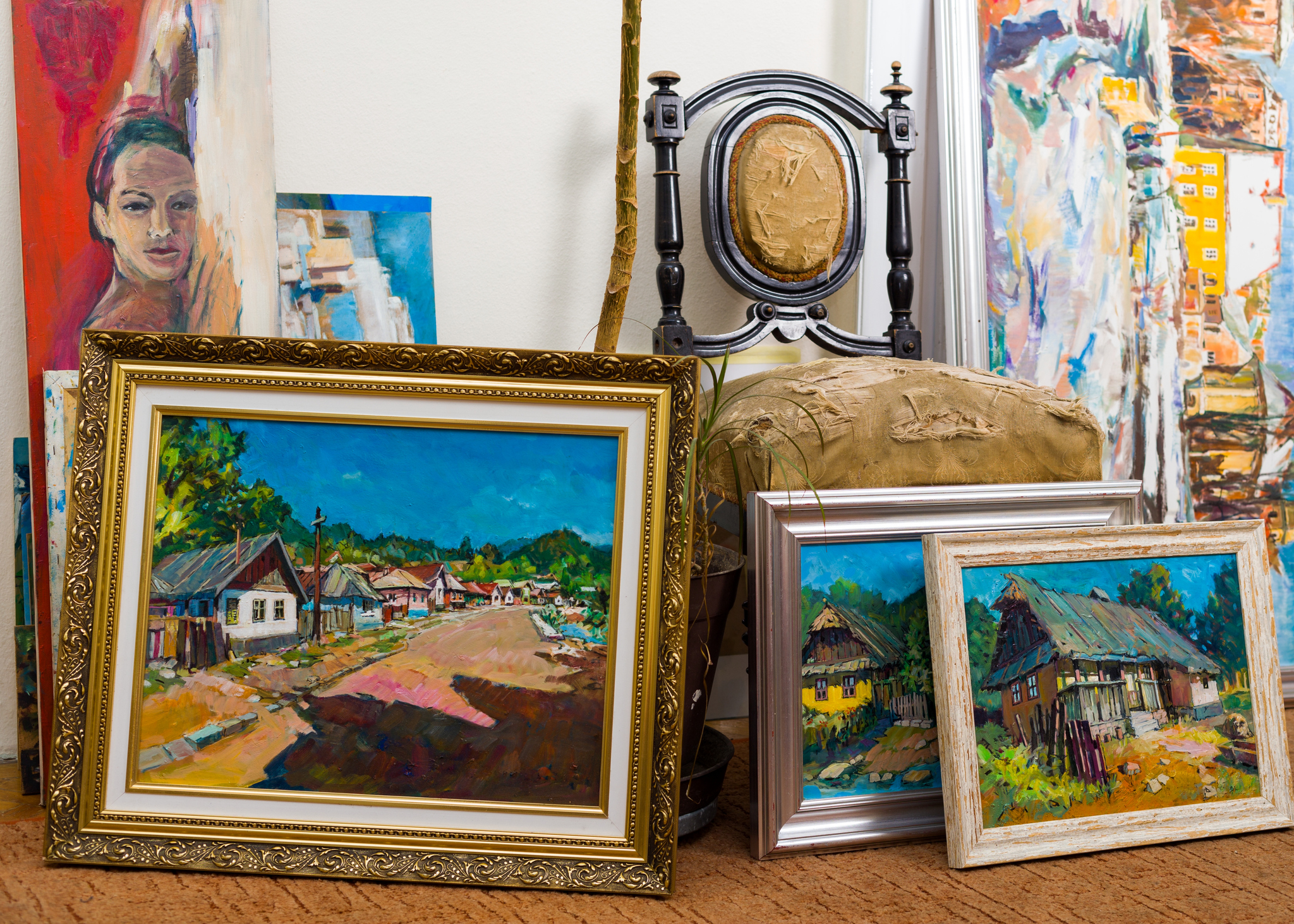 8 Billionaires and celebrities that invest in art
---
Why make millions (or billions) if you're not going to spend it? 
But what to spend it on? What costs tens, even hundreds of millions, and can grow your wealth in return when you're done with it? Try an iconic piece of art! Something worthy of the Louvre or the Met is sure to catch the eye of any billionaire or celebrity – and here's a list of 8 famous collectors to prove it.
1. Jeff Bezos
Jeff Bezos got rich off of his Amazon stock and has made dozens of investments in early stage tech startups like Airbnb, Twitter and Uber. But his recent $53 million investment in a single piece by Ed Ruscha shows that he has a flair for collecting too. At that same auction, Bezos also purchased Kerry James Marshall's 'Vignette 19' (2014) for $18.5 million. With a net worth hovering around $200b, Bezos is sure to be dipping his toe back into the art market in the future.
2. Oprah Winfrey
While building her media empire, constructing her dream compound in Hawaii, and becoming one of the most recognizable faces on the planet, Oprah devoted herself to another high-flying hobby; art collecting. Her 2016 sale of a Gustav Klimt painting is probably the most well known celebrity art flip, and for good reason; she grossed approximately $62 million after selling the piece for around $150 million to an anonymous (and wealthy) Chinese buyer. Her collection is so expansive, that in 2015 she sold "over 500 lots of English, French, and continental furniture, decorative arts, paintings, prints, drawings, porcelain, crystal, silver, memorabilia, clothing, and accessories." (ArtNet)
3. Leonardo DiCaprio
Having been a Hollywood fixture since 1997's 'Titanic', Leonardo DiCaprio has had plenty of time (and blockbuster roles) to grow his fortune, deciding to invest millions into the art world. In 2015 he acquired a 1973 work by Frank Stella. In May 2013, he pocketed a Takashi Murakami painting at a Christie's sale he himself orchestrated. He's also a longtime admirer who covets the work of Jean-Michel Basquiat and Ed Ruscha. And as an ultimate emblem of his art world stature, he's sat for a portrait by Elizabeth Peyton. Recently, Leonardo was seen viewing Andy Warhol's 'Flowers' at the Eykyn Maclean gallery, and later attending the Contemporary Art Auction at Christie's Auction House.
4. Steve Cohen
As a wildly successful businessman (and less successful sports-team owner) Steve Cohen has amassed a net worth of approximately $13.6 billion. And an entire $1 billion-plus of that fortune is in the form of a massive art collection, consisting of only the best; paintings and sculptures by icons like Pablo Picasso, Andy Warhol, Jeff Koons, Jasper Johns and Peter Doig. Sculptures by Jeff Koons, Richard Serra and Keith Haring are also spread across the lawns of his massive estate in Greenwich, CT.
5. Elton John
As a legendary singer/songwriter and one of the UK's greatest cultural exports, Elton John has been making millions since he broke out in 1972 with 'Honky Chateau' as a #1 album. So it's no surprise his extravagant collection includes works by Damien Hirst, Pablo Picasso, Francis Bacon, Andy Warhol, and Jean-Michel Basquiat, to name a few. The lineup shows Elton's taste in selecting well-known painters, and since he's been collecting since the 70's, he's sure to be sitting on a treasure trove.
6. Bill Gates
Having been Forbes world's richest person for nearly 20 years straight, Bill Gates has had plenty of time (and money) to build a collection of blue-chip art and artifacts worth approximately $127 million. This world-famous collection includes a $36,000,000 Winslow Homer piece 'Lost on the Grand Banks' , and one of Leonardo DaVinci's original journals 'The Leonardo Codex' – purchased for around $30 million. He also owns pieces by Childe Hassam, George Bellows, and William Merritt Chase.
7. Jay-Z
After being seen rubbing shoulders at a charity auction with Tom Brady, Kim Kardashian, and wife Beyonce, many were shocked at the $1.5 million custom watch Jay-Z casually donated to be auctioned off. But he feels comfortable at an auction house; according to Sotheby's, Jay-Z purchased the Basquiat painting "Mecca" for over $4 million in 2013. Today, his collection of blue-chip art is worth over $70 million, featuring many icons of African American art.
8. David Geffen
As a renowned entertainment mogul and philanthropist, Geffen has amassed a staggering array of masterpieces from various genres and periods, including some of the most iconic names in art history, especially post-war artists like as Jackson Pollock, Willem de Kooning, Mark Rothko, and Jean-Michel Basquiat. He is listed in the ArtNews Top 200 collectors list, and his collection is estimated to be worth $2.3 billion, which would make it the most valuable art collection owned by a single person.
---
These collections may seem so out of reach, either physically or because of their legendary status, as to be unattainable. But that's all changing, thanks to the power of technology, and a group of art and finance experts working out of Manhattan's financial district at a company called Masterworks.
Masterworks' art investing platform is transforming and democratizing the art market, allowing anyone to collect and actually invest in masterpieces by artists like Picasso, Banksy, Basquiat, and more. They've already offered over 300 masterpieces ranging from six-figures to eight-figures in value. (Across Masterworks' first 282 qualified offerings (not exited), the average offering amount was $3,003,300.) However, Masterworks members can invest in shares starting as low as $20 per share.
It's finally possible to build a diversified portfolio of famous artworks at a fraction of the typical cost of buying whole artworks. Additionally, through October 2023, Masterworks has exited – or sold – 16 of their works. They've all recorded positive returns and provided over $10 million in profits to investors (net of fees).*
*[Please note: All investing activities involve risks and art is no exception. Risks associated with investing through the Masterworks platform include the following: Your ability to trade or sell your shares is uncertain. Artwork may go down in value and may be sold at a loss. Artwork is an illiquid investment. Costs and fees will reduce returns. Investing in art is subject to numerous risks, including physical damage, market risks, economic risks and fraud. Masterworks has potential conflicts of interest and its interests may not always be aligned with your interests.
Liquidation timing is uncertain. Expenses and fees are listed in our Offering Circulars. Note: Fees are 1.5% per annum (in equity), 20% profit share, and certain expenses are allocated to the investment vehicle. Investors should review the offering circular for a particular offering to learn more about fees and expenses associated with investing in offerings sponsored by Masterworks. Masterworks will receive an upfront payment, or "Expense Allocation" which is intended to be a fixed non-recurring expense allocation for (i) financing commitments, (ii) Masterworks' sourcing the Artwork of a series, (iii) all research, data analysis, condition reports, appraisal, due diligence, travel, currency conversion and legal services to acquire the Artwork of a series and (iv) the use of the Masterworks Platform and Masterworks intellectual property. No other expenses associated with the organization of the Company, any series offering or the purchase and securitization of the Artwork will be paid, directly or indirectly, by the Company, any series or investors in any series offering. For more information, see "IMPORTANT DISCLOSURES" at Masterworks.com/cd
This post was sponsored by Masterworks.com/cd
---