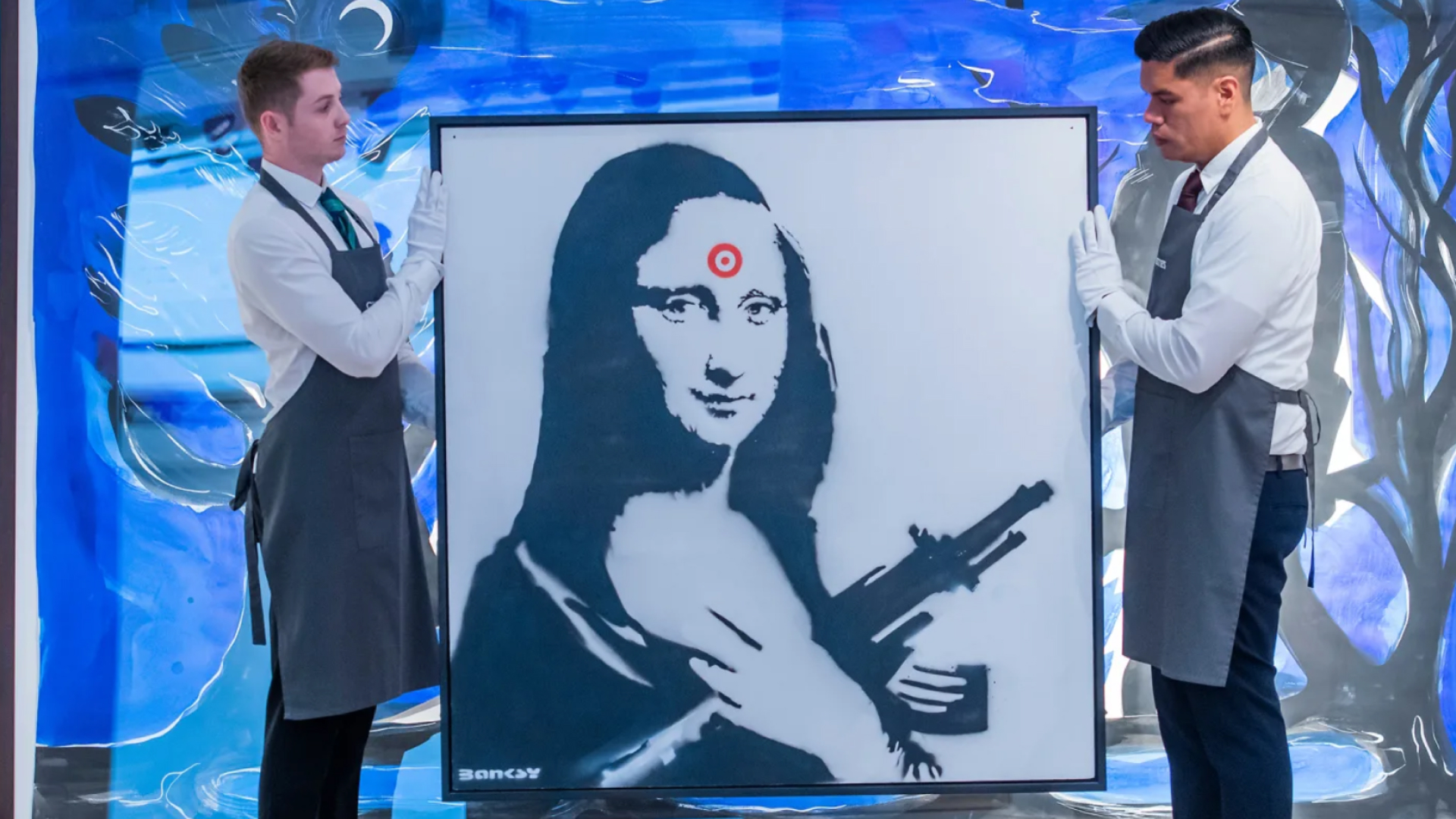 The Most Expensive Picasso, Monet, Banksy & More Fetched This Much at Auction
---
From the celebrated brushstrokes of the Old Masters to the groundbreaking works of contemporary visionaries, these artist's auction records have grown to send shockwaves through the art world.
Join us as we unpack the extraordinary auction records that have propelled artists into a league of their own, reaffirming the art market's resilience and ability to captivate the hearts of collectors and investors worldwide. These are the most expensive pieces sold by Picasso, Monet, Banksy, and more…
Picasso: Les femmes d'Alger (Version 'O') – $179.4 million
"Les Femmes d'Alger (Version 'O')" is part of Picasso's renowned series inspired by Delacroix's work. It was created in 1955 and sold in 2015 for a record-breaking $160 million (before fees) at auction. Its provenance traces through private collections, ultimately culminating in its iconic status as a pinnacle of Picasso's oeuvre.
Monet: Meules, from haystack series – $110.7 million
Claude Monet's "Meules, from Haystack Series" is an Impressionist masterpiece created in 1890. Its provenance includes various private collections and exhibitions, contributing to its status as an iconic work of art. In 2019, it sold for over $110 million, underscoring its enduring value and significance in the art world.
Banksy: Love is in the bin – $21.8 million
"Love is in the Bin" is a conceptual work by street artist Banksy. Originally titled "Girl with a Balloon," it was partially shredded by remote control after being auctioned in 2018. The partially shredded work then sold for a record-setting (for the artist) $21.8mm after fees.
Basquiat: Untitled (1982) – $110.5 million
"Untitled (1982)" by Jean-Michel Basquiat emerged during the height of the artist's career. Its provenance involves private collectors and exhibitions, solidifying its status as a pivotal work in the Neo-expressionist movement. In 2017, it fetched a record-breaking $110.5 million at auction, affirming its significance in contemporary art history.
KAWS: Untitled (Infinity Nets) – $10.9 million
Crafted in 2005, The Kaws Album is a reimagining of appropriation, where KAWS interprets The Simpsons' The Yellow Album, itself a nod to the Beatles' Sgt. Pepper's Lonely Hearts Club cover. During Sotheby's Hong Kong's NIGOLDENEYE® Vol. 1 sale on April 1st, the piece fetched a staggering $14.7 million, smashing its estimated value of $760,000–$1 million with a breathtaking conclusion, establishing a new auction record for the artist.
Kusama: Untitled (Infinity Nets) – $10.9 million
"Untitled (Infinity Nets)" by Yayoi Kusama, an iconic piece from her renowned series, reflects her fascination with repetition and patterns. Its provenance includes notable private collections and exhibitions, underlining its significance in contemporary art. In a milestone sale, it fetched over $10 million, affirming its esteemed status in the art world.
Condo: Force Field – $6.8 million
"Force Field" by George Condo, an exemplary piece from the artist's oeuvre, emerged in 2006. Its provenance traverses private collections and prominent exhibitions, underscoring its significance in contemporary art. In a notable sale for over $6 million, it garnered acclaim, affirming its esteemed status in the art world.
Ed Ruscha: Hurting the Word Radio #2 – $52.4 million
"Hurt the Word Radio #2" by Ed Ruscha, a significant work from his repertoire, was created in 1964. Its provenance involves esteemed private collections and exhibitions, emphasizing its impact on contemporary art, when it was then sold to Jeff Bezos for over $50 million.
---
These pieces may be so expensive as to seem unattainable, but Masterworks' art investing platform is transforming and democratizing the market.
They've already offered over 300 masterpieces ranging from six-figures to eight-figures in value. (Across Masterworks' first 282 qualified offerings (not exited), the average offering amount was $3,003,300.) However, Masterworks members can invest in shares starting as low as $20 per share.
It's finally possible to build a diversified portfolio of famous artworks at a fraction of the typical cost of buying whole artworks. Additionally, through October 2023, Masterworks has exited – or sold – 16 of their works. They've all recorded positive returns and provided over $10 million in profits to investors (net of fees).*
The content is not intended to provide legal, tax, or investment advice. Past performance is not indicative of future performance. Investing involves risk. See important disclosures at masterworks.com/cd
*[Please note: All investing activities involve risks and art is no exception. Risks associated with investing through the Masterworks platform include the following: Your ability to trade or sell your shares is uncertain. Artwork may go down in value and may be sold at a loss. Artwork is an illiquid investment. Costs and fees will reduce returns. Investing in art is subject to numerous risks, including physical damage, market risks, economic risks and fraud. Masterworks has potential conflicts of interest and its interests may not always be aligned with your interests.
Liquidation timing is uncertain. Expenses and fees are listed in our Offering Circulars. Note: Fees are 1.5% per annum (in equity), 20% profit share, and certain expenses are allocated to the investment vehicle. Investors should review the offering circular for a particular offering to learn more about fees and expenses associated with investing in offerings sponsored by Masterworks. Masterworks will receive an upfront payment, or "Expense Allocation" which is intended to be a fixed non-recurring expense allocation for (i) financing commitments, (ii) Masterworks' sourcing the Artwork of a series, (iii) all research, data analysis, condition reports, appraisal, due diligence, travel, currency conversion and legal services to acquire the Artwork of a series and (iv) the use of the Masterworks Platform and Masterworks intellectual property. No other expenses associated with the organization of the Company, any series offering or the purchase and securitization of the Artwork will be paid, directly or indirectly, by the Company, any series or investors in any series offering. For more information, see "IMPORTANT DISCLOSURES" at Masterworks.com/cd
This post was sponsored by Masterworks.com/cd
---