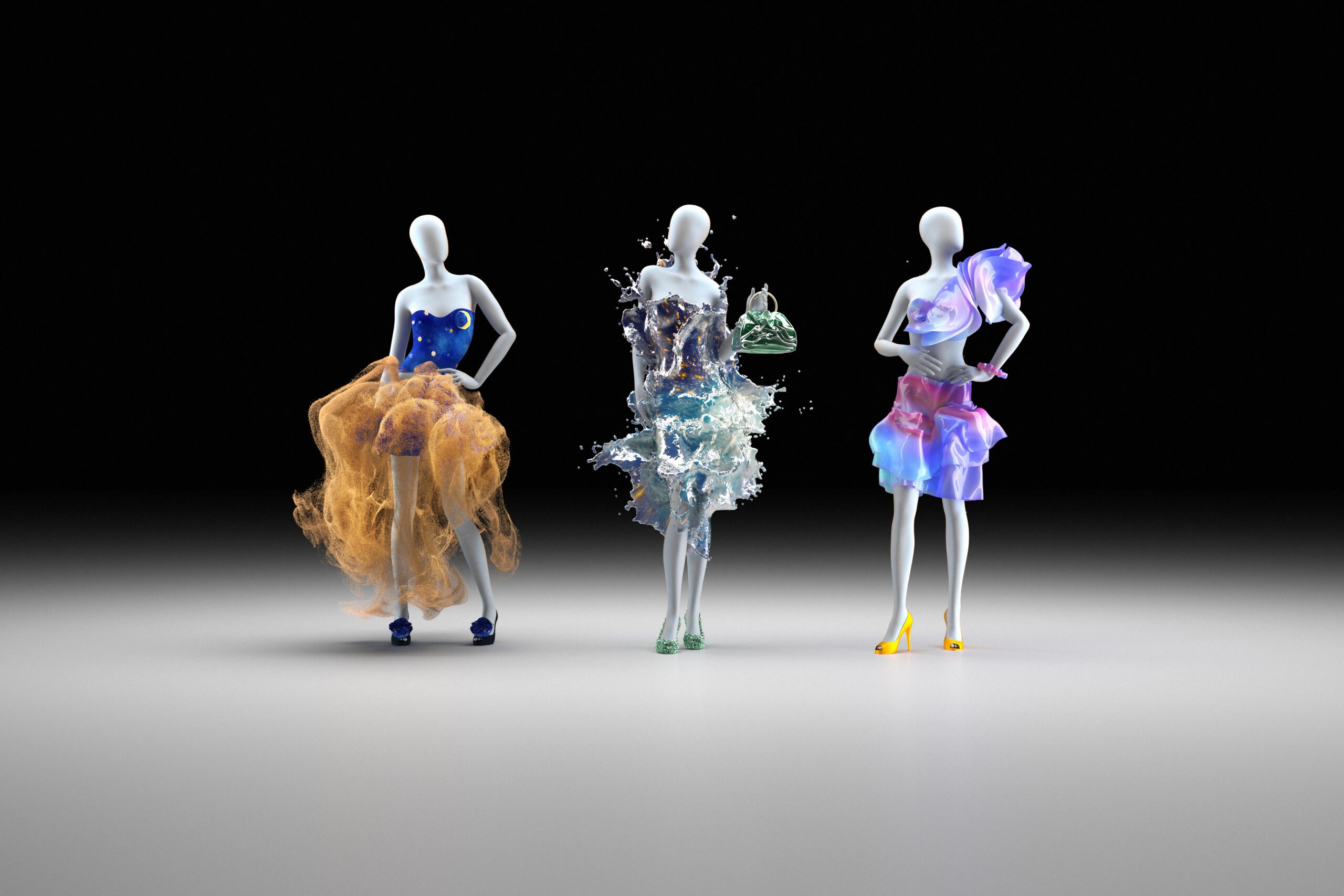 Fashion Metaverse: Luxury NFT Collections
---
In September, all 28 editions of Vogue will come out under the global theme of "Fashion's New World" as an exploration of how the metaverse and blockchain technology has changed the landscape of high-end and couture fashion. It looks like luxury NFT collections are here to stay.
NFT collections seem to be everywhere: in sports, video games, music, auctions, and on the runway. As NFTs rose in popularity, more and more industries began dipping their toes in.
NFTs were designed to create a streamlined way to prove ownership of an exclusive asset. For many luxury consumers, luxury products are symbolic of wealth and status, similar to owning a one-of-a-kind NFT. With an emphasis on exclusivity, it shouldn't be a surprise that luxury fashion brands have begun to dip their toes in.
Along with NFT releases, crypto payment options and digital stores in the metaverse are quickly becoming a part of the luxury fashion industry playbook.
Introduction of the Fashion Metaverse
The luxury sector was one of the last to make its way into e-commerce in the late 90s as many brands saw the in-person experience of luxury shopping as essential. Moving into the next phase of internet development, these brands are determined to not make the same mistake.
In September 2021, Philipp Plein became the first global high-end fashion brand to accept crypto as an online and in-store payment option. More recently, crypto exchange FTX announced it would target luxury brands to help benefit from the fast-moving trend of luxury NFT collections.
Most of the fashion world's investments in the metaverse so far have been through video game skins, an approximate $40 billion a year market. Skins represent a relatively low-cost way to engage the fashion gaming community and NFT holders.
Balenciaga partnered with Fortnite in 2021 and worked with their parent company, Epic Games, to create a video game for the Fall 2021 runway show. Luxury design has long been seen as a conceptual, unattainable dream — converting it to the digital world as one-of-a-kind tokens is a logical step forward.
13 Luxury NFT Collections
Gucci
View this post on Instagram
Gucci was one of the earlier luxury brands to engage in the NFT market. In early 2022, the legendary Italian fashion house partnered with digital character brand Superplastic to launch a SuperGucci NFT collection.
Created by Gucci's head of design Alessandro Michele, the concept of the collection was to combine classic Gucci themes and designs with SuperPlastic digital characters Janky & Guggimon. Each NFT within the three-part series came with its own ceramic sculpture figurine, made by Gucci's own ceramicists in Italy.
The beginning of Gucci's NFT experiments launched in May 2021 when Gucci released its first Metaverse-related product. The product was a four-minute film, Aria, created to accompany a runway show.
The film offered an exclusive look into the company's design and production process while also allowing viewers to experience the items through virtual emulation by Microsoft HoloLens. It eventually sold for $25,000 USD at Christie's auction house.
Gucci's latest blockchain endeavor, 10KFT Gucci Grail, is a digital clothing line consisting of two looks, in multiple colorways, inspired by the Gucci Aria and Love Parada collections. Gucci collaborated with the owner of the popular metaverse shop 10KFT, Wagmi-san.
Prada x Adidas
Adidas and Prada recently partnered to create the Prada Re-Nylon collection which included a Metaverse element. Titled the Adidas for Prada Re-source project, the NFT collection included a compilation of images crowd-sourced from 3,000 fans. Each person chosen was allowed to mint their own NFT featuring their photograph.
Famed digital artist Zach Lieberman compiled the composite NFT, which was sold for 30 Eurotheum, approximately $97,559 USD.
The composite NFT forms a lookbook shot of a model in Prada and Adidas' track jacket and bucket hat.
Prada x Cassius Hirst
Following its first NFT made in collaboration with Adidas, Prada announced its first solo NFT drop titled the Timecapsule NFT Collection, a collaboration with Cassius Hirst, son of artist Damien Hirst.
The NFT project is a monthly online event that allows shoppers to access both a gender-neutral shirt in black and white and a gifted NFT on the first Thursday of every month. Customers will have 24 hours to secure the offerings. The NFTs are a GIF of a black or white pill capsule.
Each limited-edition Timecapsule item has been customized with a unique serial number and comes delivered in exclusive packaging. Buyers of the release will receive a free airdropped NFT to go along with their physical merch purchased from the Prada x Cassius Hirst collaboration.
Barbie x Balmain
Balmain, a French fashion house founded by Pierre Balmain, released a Balmain X Barbie collection in January 2022 that included digital fashion pieces.
In January 2022, Balmain released a Balmain X Barbie collection, bringing the iconic dolls to the metaverse. The collection included a series of three Barbie avatars created in collaboration with FORGOT ME NOT GMBH. These avatars were accompanied by a physical Barbie doll when sold at auction.
For the real world, Balmain and Barbie already teamed up to release a ready-to-wear collection of branded apparel and accessories. Denim jackets, handbags, and T-shirts sport a Barbie-fied version of the Balmain logo, while footwear and knitwear is printed with a hot pink rendering of the house's geometric monogram.
In the metaverse, Barbie manufacturer Mattel launched an NFT auction offering up three unique Barbie avatars clad in digital renditions of the physical collection. Auction winners will also receive a physical set of doll-sized Balmain clothing.
Jacob & Co
In April 2021, famed watchmaker Jacob & Co. turned its SF24 Tourbillon timepiece into an NFT digital asset. The piece sold for $100,000 at auction on the ArtGrails NFT platform. The digital watch mirrored the physical item's function tourbillion and world time zone display, but rather than displaying cities, the flap system shows cryptocurrency prices.
Astronomia Metaverso – Jacob & Co's debut NFT collection channels galactic inspiration. Five actual watches rolled out alongside the eight timepiece-themed NFTs designed by founder Jacob Arabo.
The Astronomia Metaverso collection contains a luxury watch for each planet in our solar system, incorporating cues directly into the design of each watch by color-matched gemstones.
Ray-Ban
Ray-Ban and NFT artist Oliver Latta, also known as ExtraWeg, teamed up to create the first ever pair of NFT Ray-Ban aviators. Titled The NFT Aviator, the work centers around a 16-second loop of a man's rotating head, wearing classic Ray-Ban aviators.
Ray-Ban's NFT sold on NFT marketplace, OpenSea, for 1.8 Eurotheum, or $5,869 USD.
Dolce & Gabbana
Dolce & Gabbana was the first fashion house to release an NFT collection, collaborating with UNXD to create Collezione Genesi. UNXD is a curated marketplace for digital luxury and culture.
Collezione Genesi is a one-of-a-kind clothing line consisting of nine pieces: five NFTs that were accompanied by custom physical pieces and four strictly digital NFTs. The collection sold out for $6 million, setting a new record for virtual/physical sales of NFT collections.
Givenchy
Givenchy collaborated with famous digital artist Chito to create 15 unique avatar items. These NFTs were sold on OpenSea.
Givenchy's creative director Matthew M. Williams collaborated with Mexican-based artist Chito not only on a new fashion line but on a Chito x Givenchy NFT collection, too. Like most NFTs, each in the collection is entirely unique. The Chito x Givenchy collection presented 15 NFTs which primarily featured pitbulls and young characters, both a young boy and a girl.
The NFTs are created in Chito's signature graffiti style, giving the impression they were made with spray paint rather than a paintbrush on canvas. Each NFT in the collection was already auctioned off on OpenSeas.
Tiffany & Co
In August 2022, Tiffany & Co debuted and quickly sold out a limited collection of 250 custom jewel-encrusted pendants for holders of CryptoPunks, a popular NFT collection. Noah Davis, CryptoPunks' new brand lead and former head of digital sales at Christie's, told CNN that the collection is "essentially the cave paintings of Web3 art."
Each "NFTiffs" can be minted and redeemed for custom-designed CryptoPunks pendants and a matching NFT art piece. Tiffany designers create these custom pendants based on the buyer's CryptoPunk.
This drop was exclusive to owners of CryptoPunks, but the LVMH company had no problem selling each for 30 ETH, or around $50,000 USD.
Jimmy Choo
Legendary luxury shoe brand, Jimmy Choo, launched an NFT collaboration with world-renowned artist Eric Haze. The winner of the sold-out collection received a unique designer sneaker by Eric Haze, an exclusive copy of the shoes they were made for, and 8,888 NFT worth of mystery boxes containing Jimmy Choo infamous stilettos.
Louis Vuitton
In honor of the late founder's 200th birthday, Louis Vuitton released Louis the Game, which could be downloaded on mobile devices. The game featured Louis Vuitton's customizable figurine "Vivienne" through her journey through 200 virtual worlds to find two hundred birthday candles.
Upon finishing the game, players can look for thirty hidden collectible NFTs, ten of which were designed in collaboration with digital artist Beeple.
Luxury brand Louis Vuitton partnered with digital art pioneer Beeple to create its first-ever NFT game, "Louis: The Game." It was released on April 8, 2021, to celebrate the 200th birthday of brand founder Louis Vuitton. Players join the brand's mascot, Vivienne, in search of 200 collectible candles.
The game features 30 NFTs, some of which were created by Beeple himself. Players are able to collect the NFTs, but they are not able to resell them. The game is available on all mobile devices by the Google Play or Apple app store.
Burberry
Burberry recently partnered with Mythical Games for their second NFT collection in Blankos Block Party. The newest NFT for the collection is a unicorn named Minny B that wears the Burberry TB Summer Monogram.
NFT-based game Blankos Block Party includes an exclusive Burberry character. The games creator, Mythical Games Inc., collaborated with the British fashion house to launch its first digital item in the Burberry's B-Series, an NFT called "Sharky B" that can be collected and sold among the players in the game.
Burberry even launched its own collection of in-game NFT accessories for Sharky B to show off, including jetpacks, arm bands and pool shoes. The accessories can be added to other in-game characters, too. The game is available on Microsoft Windows and Macintosh operating systems.
Salvatore Ferragamo
Salvatore Ferragamo has opened a concept store in the Soho neighborhood of Manhattan that contains an NFT booth allowing customers to design and purchase customizable sneaker holograms. The 256 NFTs will be free and are a collaboration with digital artist Shxpir.
The newly developed 6R3ENE sneakers offer the user a chance to customize them with images of their choice, made possible by hologram projection.
Takeaways
Even amongst a crypto winter and a slump in NFT trading activity, luxury brands seem excited by the potential of NFT-related projects in the fashion space. Other luxury brands have adopted payment from crypto wallets while some have created entire metaverse landscapes to accompany fashion week events or just general shopping.
Gucci is the first brand to accept ApeCoin in US stores, Tommy Hilfiger released clothing collections to the metaverse, and the inaugural Metaverse Fashion Week has held in Decentraland in 2022. As new use cases for NFTs continue to develop, it looks like the luxury fashion world will continue to find ways to engage with them. 
This material is provided for informational and educational purposes only.  It is not intended to be investment advice and should not be relied on to form the basis of an investment decision.
---