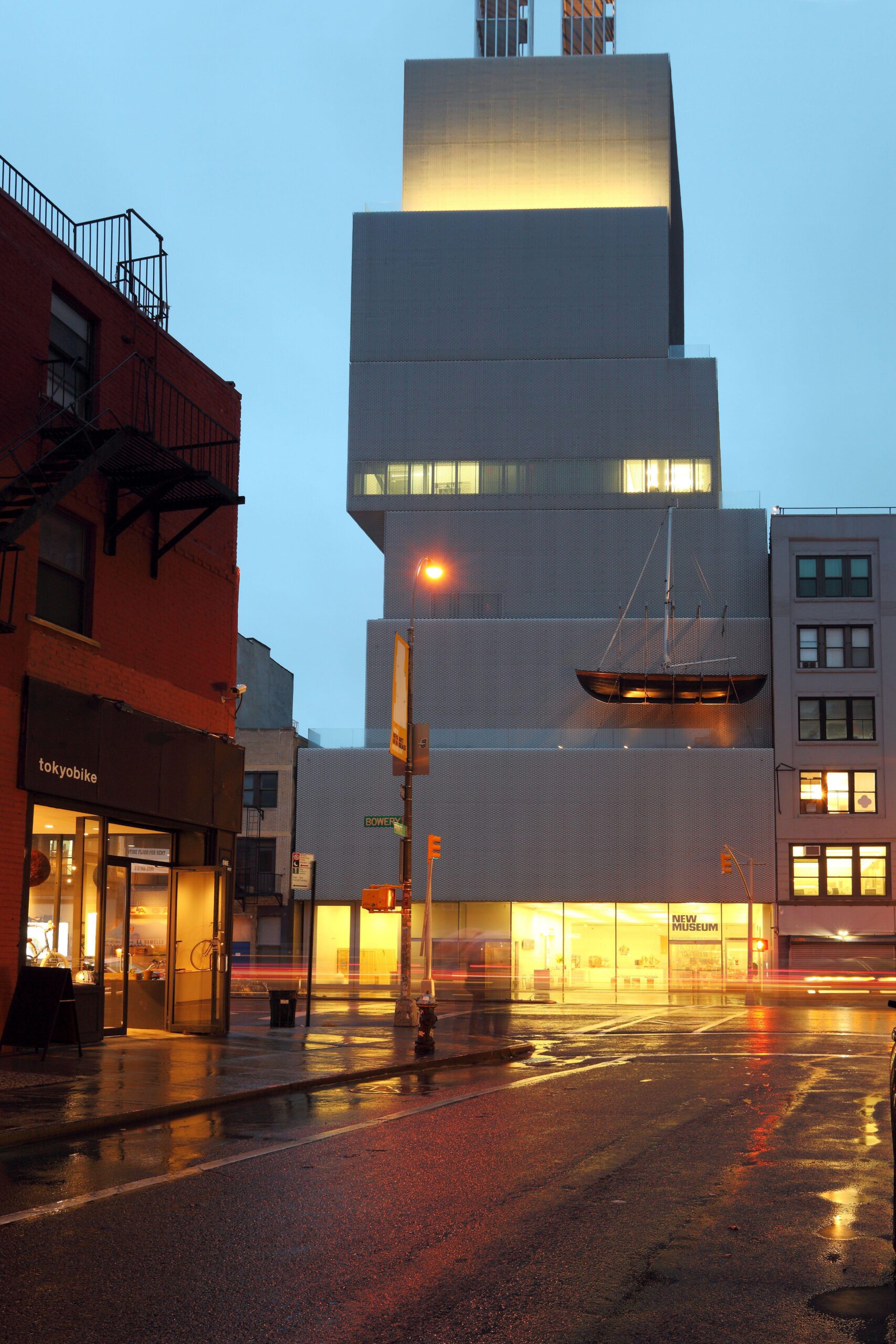 Unique and Intriguing: The New Museum's Poignant Appeal
---
"Far from expectation" best describes the New Museum of Contemporary Art or New Museum. It's an art space where creative minds who thinks out of the box come together. The originality of the artworks at the New Museum has set it apart from its competitors. Anyone seeking new art with a distinct flair has just found a perfectly well-suited place, the New Museum.
Establishment
Withstanding the tests of time, the New Museum has come a long way from being a small gallery within a limited space to becoming a huge hub situated in its multi-floor building at Bowery, New York. Initially, Marcia Tucker, a former Whitney Museum of American Art curator, founded the New Museum in 1977. Back then, it started showcasing contemporary art. The museum also focused on sparking dialogue among artists and the public. The first exhibition by New Museum, "Memory," depicted personal and collective memory [source: New Museum History].
After continuous facilitation of exhibitions and movement from one place to another, the New Museum has grown immensely. It was able to work with artists from many countries and had even been affiliated with Rhizome, which is known as a global new media art platform online. It has roughly 1,000 art pieces in different media forms. It promotes not only established but also upcoming and overlooked talented artists. The New Museum's hub building has a Resource Center of a physical and digital archive. There are 7,500 materials that artists and researchers can access. Also, 4000 stakeholders, such as curators, artists, and organizations related to the museum, are searchable through an online database [source: Wikipedia].
Ardent Promotion of Artistry
Since 2009, the museum has been facilitating the "Triennial." It is the only international exhibition held in New York that serves as a platform for budding artists worldwide. It happens in a recurring manner. Massimiliano Gioni managed the "Younger Than Jesus" exhibit at the onset. It was followed by "The Ungovernables," "Surround Audience," and "Songs for Sabotage." The most recent is the 2021 Triennial entitled "Soft Water Hard Stone," which is based on "Água mole em pedra dura, tanto bate até que fura" or Soft water on hard stone hits until it bores a hole, proverb in Brazil. Said exhibit comprised 40 artists and collectives [source: New Museum Exhibitions].
Meanwhile, a famous exhibition done by the museum is "Black President: the Art and Legacy of Fela Anikulapo-Kuti."  The collection highlights the works of 34 international artists who depicted the life of  Anikulapo-Kuti, a multi-talented artist known as the father of Afro-beat and also a Nigerian president candidate. Said exhibit didn't put an emphasis strongly on political narrative. It instead defined the course of his being [source: Bomb Magazine]. He is deemed as a musical revolutionary who sided with the oppressed as a utopian visionary. Thus, earning him the moniker of "Black President" [source: New Museum Archive].
The Value of the New Museum
New Museum is one of the priceless nurturers of artistic talents. It presents unique installations that immerse the viewers. One example is Mart Munikin's "La Menesunda" installation, deemed an "exclusive pop-up environment." Said installation showcases early times of media experimentation that leaned toward being chaotic and bringing about confusing situations described in the namesake, an Argentine slang. Some of the installation divisions include a hall of sponges, an intestine room, closed-circuit footage, and mirrored confetti chamber, amongst others [source: Artnet].
Apart from the art pieces and installations, the New Museum's Bowery building is considered an artistic architectural structure. Its outer appearance was embellished with off-axis boxes and cantilevers in a clean minimalistic-like aesthetic. There are seven stories, a 200-seat black box, a café, bar, media lounge, and other functional gallery areas. The structure was once included in Time Magazine's Top 10 Best Architectural Marvels and Conde Nast Traveler's New Seven Wonders of the World. It is also a receipt of the Pritzker Architecture Prize from The Hyatt Foundation. The New York Construction News hailed it as the Best Cultural Project of the Year 2007 [source: Sciame].
Accessibility 
For an in-depth experience, you can become a member of the museum. Members enjoy a myriad of perks inclusive of different membership schemes you apply to for an annual fee. The new museum offers schemes such as Standard, $50 to $110; New Ideas Fellows, $400; and New Art Fellows, $1000. These memberships can be acquired not only for personal use but can also be given as a gift to another person.
Upfront benefits in all of the schemes are free unlimited general admission and invitation to members-only exhibition viewings and parties. Additional perks vary across the membership schemes. The most costly one, though, New Art Fellows, would provide you with access to the museum's happenings, including invitations to VIP previews, private exhibition tours, and biannual Gallery Hops [source: New Museum Visit Membership].
The museum can be explored virtually or in person in terms of visitation. The virtual tour is by schedule. It is conducted live for 45 minutes and is interactive through Zoom, where a museum teaching fellow would share insights. Typically, the said tours are set for the first week of the month. It is free for the public and K-12 public schools groups, but groups from colleges or universities are charged with $150 fee [source: New Museum Visit].
A Guide for Your Next Museum Visit
Currently, the New Museum offers timed tickets. You can choose between 11 am to 5 pm, from Tuesday to Sunday, as your visitation schedule. Note that if you choose 5 pm, you will have until 6 pm to stay at the museum as it is set close on the said time. In terms of the price of the tickets, adults need to pay $18, both seniors and people with disabilities are $15, while visitors aged 18 years and younger are free but required to bring a valid ID for verification. The museum staff, affiliates, and community partners are also free of admission. Tickets are non-refundable [source: New Museum Ticketing].
In observance of COVID-19 health protocol, the museum only accepts fully vaccinated visitors. Upon entry, you will be asked to show proof of your vaccination and ID. The evidence that the museum accepts as per vaccination is the NYC COVID Safe App, Excelsior Pass Plus, CDC Vaccination Card or its photo, NYC Vaccination Record, and Official immunization record from a healthcare provider within the US. If you are vaccinated outside the US, you need to provide an immunization record that has your First and Last name, Date of birth, Vaccine product name, which should be included in the authorized vaccine of WHO, and the date and place where it was administered. On the side, the New museum accepts IDs with photographs, such as driver's licenses, government ID, IDNYC cards, passports, and school ID cards. It requires wearing the facemask.
Expect a coat and bag check upon entry. Strollers, sketching, cellphone, and cameras are allowed inside the museum. However, videotaping and the usage of tripods are discouraged. Only closed water bottles can be brought in. There are assistive listening devices, headsets, and neck loops that you can use at the museum. Wheelchairs are also available by request.  The museum also facilitates tours of up to fifteen guests per tour guide.  The fee for the tours varies from $100 to $350. You can visit the New Museum at 235 Bowery, Manhattan, New York, NY [source: New Museum Visit].
---