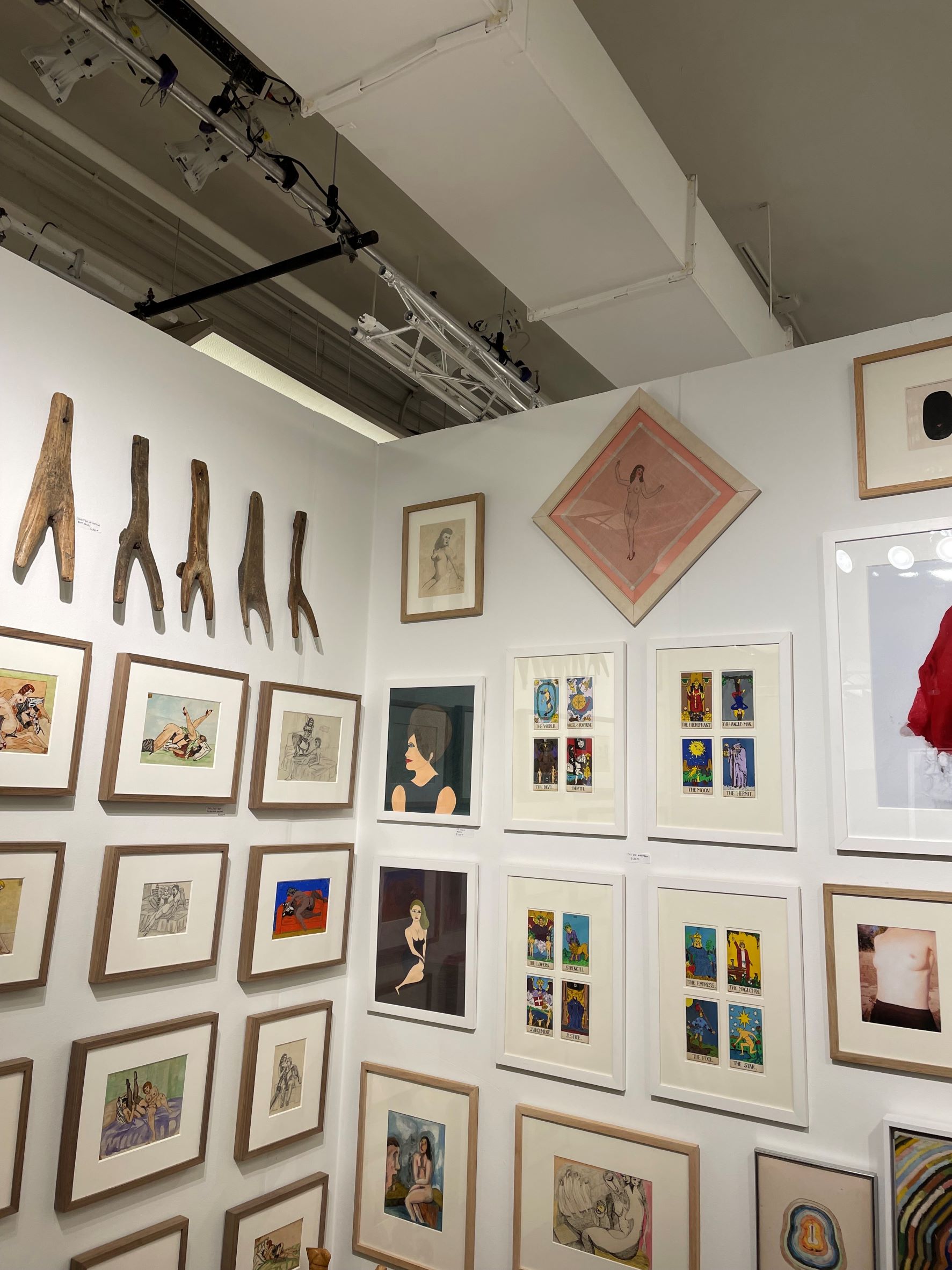 The Outsider Art Fair Returns
---
This weekend, the Outsider Art Fair (OAF) returned to New York City for its 30th anniversary edition. Taking place at the Metropolitan Pavilion in Manhattan, this year's long awaited fair finally began almost two years after the the last one, due to the COVID pandemic. The fair took place from March 4th-6th, with a VIP press preview on March 3rd. Art dealers and exhibitors gathered from as near as Brooklyn, New York and as far as Marseille, France to welcome fair goers, and hopefully sell a piece or two.
What Makes Someone an Outsider Artist?
Outsider art typically refers to art made by artists who are self taught, or have no formal artistic training. Outsider artists generally operate outside of the conventions of the art world, making work from unusual materials such as cardboard, wire, fabric, or in the case of the artist James Castle, soot and saliva. Outsider art also references unconventional subject matter such as hallucinations, fantasy worlds or mental illness. The term outsider art was originated by the art critic Roger Cardinal, in 1972. He used it as an english translation of "art brut," meaning "raw art" or "rough art." Art brut was first used in the 1940s by the artist Jean Dubuffet to describe art that was made outside of the conventional traditions of art.
Outsider Art Fair Overview
Outsider Art Fair New York was bustling and full of excited viewers Saturday afternoon. Tessa Solomon of ARTnews described the atmosphere as having "a joyfully chaotic feeling." Started in 1993, this year the fair celebrated its 30th anniversary, adding to the commotion and excitement. About 65 galleries participated in this year's fair, filling the exhibition hall. Unlike most contemporary art fairs these days, the Outsider Art Fair boasts fairly affordable prices, with many pieces in the low thousands, rather than the hundreds of thousands or even millions, at fairs such as Frieze or Art Basel. Collectors and viewers of all ages came out to the Metropolitan Pavillion this weekend to enjoy the best of the unconventional art world.
What Were the Best Booths at the Outsider Art Fair?
As one of the key sponsors of the Outsider Art Fair, Andrew Edlin Gallery had several exhibitions throughout. Field Trip: Psychedelic Solution, 1986-1995 was the largest and most exciting of their offerings. This show, curated by artist Fred Tomaselli, featured many amazing relics of the folk art aspects of psychedelic art, including a drum head painted by Jefferson Airplane front woman Grace Slick, and the original ink drawing of skulls and roses that inspired the Grateful Dead logo.
Carl Hammer Gallery had an eclectic mix of some of the biggest names in outsider art: Howard Finster, Henry Darger and Joseph Yokum, to name a few. A particular highlight at this booth was Howard Finster's "The Devil and His Wife Plans To Take Over the Whole World". Finster, a Southern Baptist Minister, began creating self-taught art based on divine inspirations from God starting in the early 1960s. His original art graced the cover of art rock band Talking Heads' 1985 album "Little Creatures;" incidentally, Talking Heads' frontman David Byrne was spotted Saturday afternoon at the Outsider Art Fair, checking out some work at Nexus Singularity Gallery's booth.
Electric Lady Studios kept with their musical theme and presented a collection of works by the indie folk singer and visual artist Daniel Johnston. The exhibition was mostly of works on paper, and had many of Johnston's iconic pen and marker drawings. Best known for the "frog" illustration on the cover of his 1983 album "Hi, How Are You," Johnston's art and music are intrinsically linked. The artist suffered from schizophrenia and bipolar disorder, themes of which are present in his work.
Fierman Gallery had one of the most contemporary selections at the fair. Showing the Los Angeles based artist Seth Bogart, it was one of the only galleries completely dedicated to ceramic works. Bogart's display included many ceramic reproductions of popular books, such as Joan Didion's Play it as it Lays, and Susan Sontag's Against Interpretation, smut magazines, and snake-like ceramic toothbrushes wearing high heeled shoes.
Bruce Bickford was shown at Booth C17 with much fanfare. The exhibition was a featured OAF curated space, curated by Eric White and Aaron Guadamuz, two fellow artists. Bickford was a film maker primarily known for his collaboration with the rock star Frank Zappa in the 1970s and 80s. The late artist and animator had many drawings available, but the main draw was the artist's miniature topographical model of the fictional town of Twin Peaks, from the cult TV show of the same name.
For those unable to attend the fair in person, an online viewing room is available at www.outsiderartfair.com. The Paris edition of the Outsider Art Fair will take place September 15-18 at Atelier Richelieu.
---