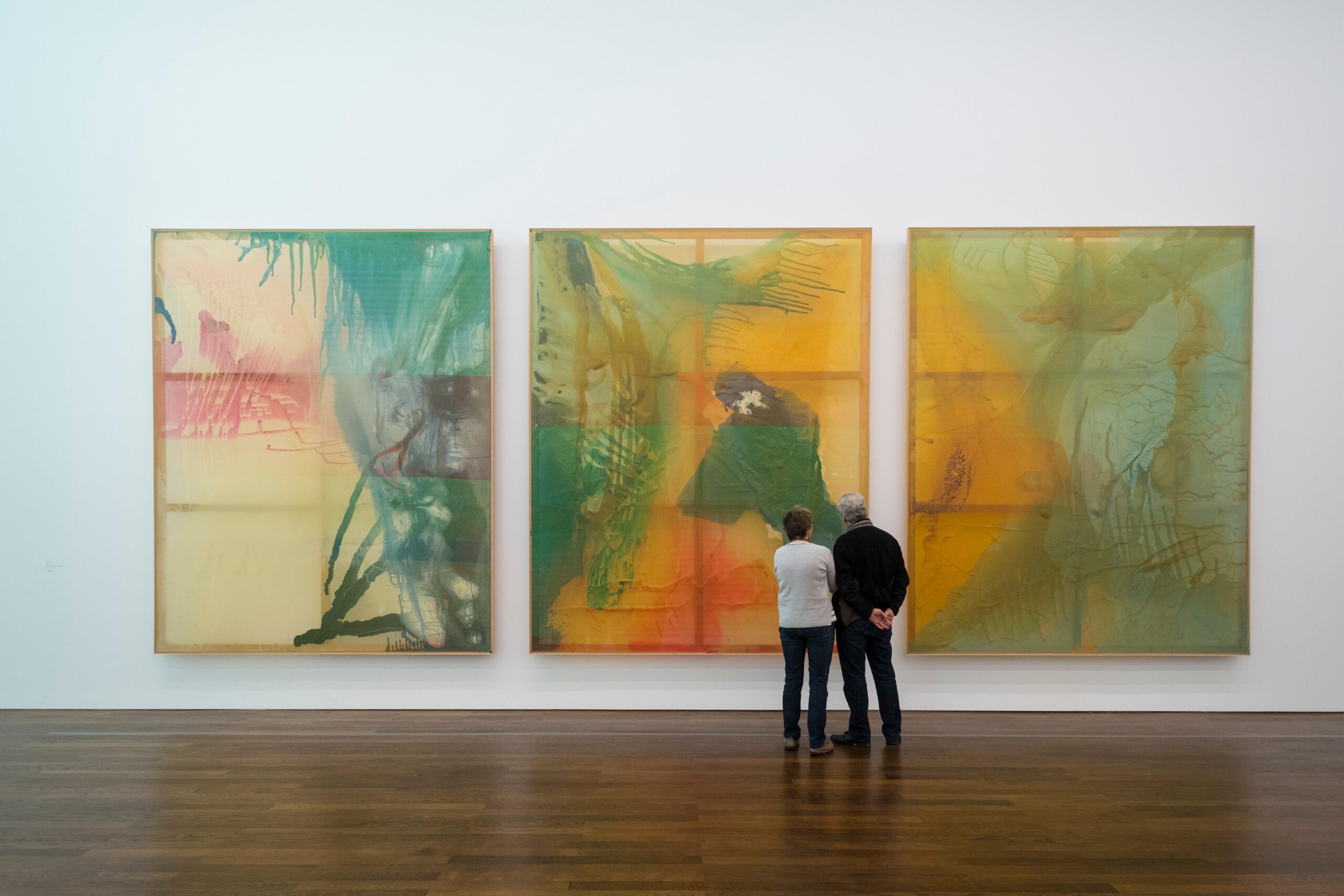 Who is Sigmar Polke?
---
A tortured soul who lived through some of the most harrowing WW2 events, Sigmar Polke is hard to define as an artist. He was a lifelong experimentalist who tried on multiple identities, exploring abstract realms of photography, painting, film, and mixed media. His work is laced with social and political commentary, and he is often referred to as the "anti-artist" who tried to subvert modern forms of art and pop art appropriation.
Polke's works from the mid-1960s (his Capitalist Realism era) remain his most popular and have sold handsomely at auction. In 2007, Raster-dot painting Strand (Beach), sold for $5.3 million at Christie's. Several years later, City Painting II and Jungle sold for $7.4 million and $9.2 million, respectively.
| | |
| --- | --- |
| Born | February 13, 1941 |
| Died | June 10, 2010 |
| Nationality | German |
| Mediums | Painting, Sculpture, Photography, Filmmaking, Performance |
| Movements | Capitalist Realism, Pop Art |
Sigmar Polke Biography
Labeled as one of the most influential artists of the post-war era, Sigmar Polke was born in the small town of Oels, Poland. He was one of eight children and raised in a poor household. In 1945, he fled with his family to Thuringia, Germany when the Germans were expelled from various Eastern European countries following WW2. Eventually, his family settled in West Germany when they had to escape the Communist regime in East Germany. As a child, Polke used art to cope with the tragic loss and fear that surrounded his upbringing.
Originally, Polke trained as a glass painter and was an apprentice in a Düsseldorf factory. He later enrolled at the ​​Düsseldorf Arts Academy in 1961 and studied under contemporary German artists, including renowned teacher and performance artist Joseph Beuys. The 60s were a transformative period not only for Polke, but for Germany at large. The country was going through major political and social changes influenced by a rapid cultural shift following the war. This burgeoning energy allowed Polke to freely experiment with all kinds of mediums and unconventional forms of art, much of which had deep political messages.
Sigmar Polke Artistic Style and Career
Due to his wide range of mediums and subject matter, Polke's style is rather hard to pin down. While he is most known for his paintings and photographs, he also created films, installations, prints, stained glass windows, and 3D lightboxes.
Some of Polke's most popular works include paintings from early on in his career, specifically his Rasterbild and Capitalism Realism pieces. Rasterbild, or Raster-dot, is a technique similar to Lichtenstein's Ben-Day dots that use tiny dots of paint (or other material) to create a larger image. The technique mimics the appearance of printed images in newspapers and posters and was used in famous paintings such as Girlfriend I and Rasterbild mit Palmen.
Capitalist Realism, on the other hand, was an entirely new movement started by Polke and two of his German contemporaries. The movement heavily critiqued Pop Art and its commodification of images, and was a reaction against the nationalistic Soviet Social Realism. The latter style dominated Soviet art from 1932 to 1988 and was characterized by idealistic depictions of Soviet life. Polke despised what he viewed as false narratives of happiness and joy presented by pop art and the ideals of western capitalism. Polke's ability to confront social and political themes in a carefully executed manner is apparent in works such as Flüchtende, which depicts refugees fleeing their country, to Amerikanisch-Mexikanische Grenze, an emotional painting of men dragging themselves over the border of Mexico to the United States.
Polke is also known for experimenting with unsuspecting chemical materials and their reactions together, including uranium, meteorite dust, soot, arsenic and snail mucus. Throughout the 70s and 80s he continued to experiment with unconventional techniques and would mix together solvents and varnishes for entirely new textures. In 2002 he developed "machine painting", where he altered images on the computer and then photographically transferred them onto large sheets of fabric.
Surprisingly, Polke's first exhibition was organized with friends at a butcher shop in Düsseldorf where he first introduced the concept of Capitalist Realism, which ultimately launched his career. He began doing solo shows in 1966 at the Galerie René Block in West Berlin, and later at the Galerie Michael Werner. In 1972 he was featured in documenta 5, an enormous retrospective featuring 222 artists. During his lifetime, he was included in numerous international biennales and received the prestigious Golden Lion award in 1986 and the Carnegie Prize in 1995.
Sigmar Polke Featured Works
Hallo Shiva (1974)
Lithograph on paper
Polke made Hallo Shiva while living in Düsseldorf. The abstract piece features multiple images divided into eight rectangles and combines a variety of pop art references. The upper quadrants feature four comic strip images with a bird sitting atop planet Saturn, while the lower quadrants use film stills of a nake woman and figures standing on top of a building. The images are all somewhat manipulated and superimposed onto each other, for a layered, abstract effect.
Girlfriend I (1967)
Lithograph on paper
An example of Rasterbild, Girlfriend I simulates the visual effects printing and advertising for an enlarged image that appears commercial in nature. Two young, smiling women are depicted in a field of black dots, their eyes deep set and dark, adding an eerie feeling to the lithograph.
Watchtower (1984)
Acrylic paint and dry pigment on fabric
Featured in the MoMA's Alibis exhibition, Watchtower uses Polke's Capitalist Realism style with an image of a sinister-looking watchtower. The image is abstracted and layered with various materials, including commercial yard goods and mesh. The multiple layers add depth and intensity to the piece, and give the work an ominous, looming feel.
Sigmar Polke Collections & Exhibits
Alibis: Sigmar Polke 1963–2010
Apr 19th – Aug 3rd, 2014
One of the larger exhibitions of Polke's work, Alibis was organized chronologically and featured a wide range of mediums, from the intimacy of Polke's notebook to a group of monumental paintings made with soot on glass. Included in this MoMA exhibition were also 13 films by Polke (eight of which had never been seen), multiple drawings, prints, and sculptures.
The Estate of Sigmar Polke
Ongoing
The Estate of Sigmar Polke is currently represented by the David Zwirner Gallery in New York City. For the last several years, Zwirner has been curating exhibitions across the globe, including the major solo exhibition of Polke's work at Palazzo Grassi in Venice.
Eine Winterreise
May 7th – Jul 22nd, 2016
Eine Winterreise was the first exhibition Zwirner dedicated to the works of Sigmar Polke when he acquired the estate. The exhibition featured works from Polke's travels around the world during the 80s that took him to Indonesia, Australia, and Thailand. During this time, Polke embraced the practices of different cultures and incorporated new material forms, colors, and subject matter into his work, which represented his own inner intellectual journey.
---